My mom and aunt are coming to visit me in India. This made me wonder, what would be the best time for us to visit Chennai? I polled my local friends and travelers and I have found the answer…
The best time to visit Chennai is: January. The weather is in the low 20s Celsius (70s Fahrenheit), the tourist season is slightly past its peak, and the Pongal festival is held. November through February is also good. December is the busiest month.
January is the most ideal time for many people.
Nice Weather: The weather is perfect. Last year at that time it was warm during the day and cool at night for sleeping.
Less Crowded: Many tourists do visit at this time, however, December is the busiest month. Followed by August and November. So there will be relatively fewer crowds.
Pongal: This four-day festival is like the Thanksgiving of India. They celebrate the harvest. Local people paint their cow's horns, make chalk mandalas (kolams) outside their door, and they cook Pongal rice. There is a lot to see and experience!
Let's take a look at the other times of the year so you can consider if this or another time is better for you…
The Busiest and Least Crowded Months To Visit Chennai
In 2016, the state of Tamil Nadu where Chennai is located received the highest number of foreign tourists… 4.72 million.
Chennai is one of India's largest cities and is a main attraction in this state. It is known as the cultural capital of the south. Located right on the Bay of Bengal, there are beaches, monuments, temples, museums, restaurants and everything else you'd want in a metropolitan city.
"People are going to be nicer here. They will help you if you ask them. In Mumbai, you could be dying in the street, and someone will just walk over you." My Indian friend told me this, haha, and while I can't speak to how Mumbai is, I did find the people of Chennai to be helpful.
Champion Traveler analyzed the search data for "tourists seeking accommodations" and determined found that December was the busiest month for tourists. August and November followed behind.
This makes sense because while it is Monsoon season during August, it is starting to dry out. In November, the winter is beginning so the weather is drier and the temperatures are in the low 20s (70s Fahrenheit).
Weather in Chennai by Month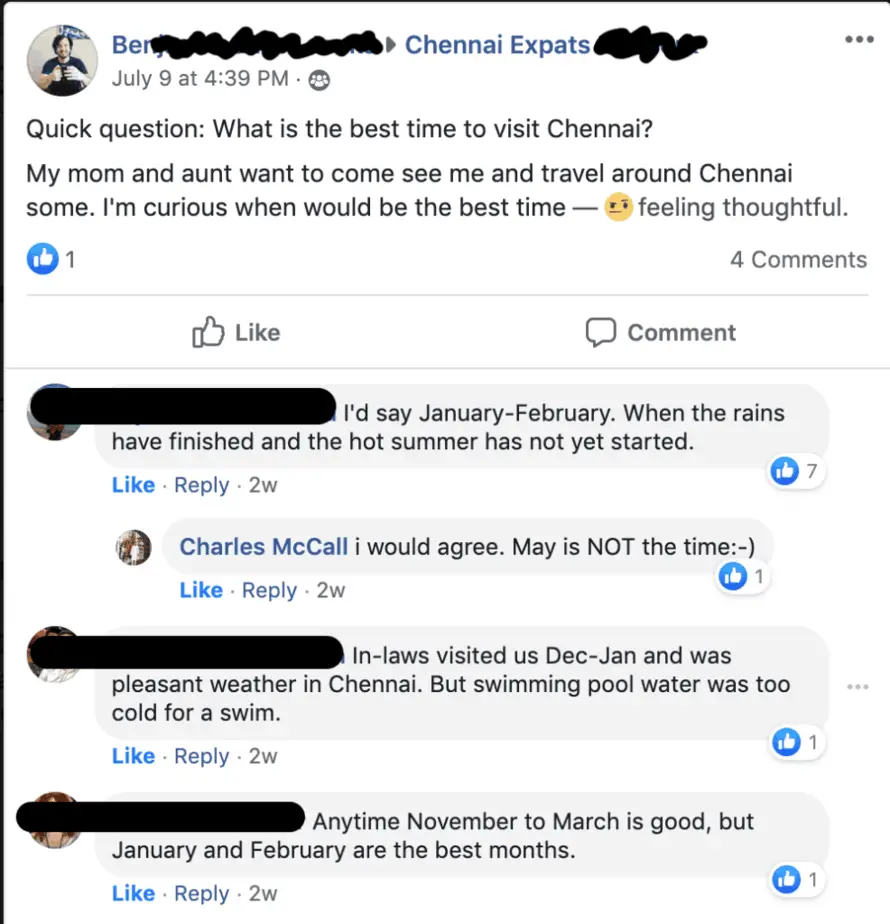 Chennai is ranked in the 43rd percentile for pleasant weather – when compared with other tourist destinations around the world.
It is in a tropical region so it is usually at least warm and often hot. It never snows. It does have heavy rainfall, cyclones, and floods during the monsoon season. There are also strong winds during storms.
The temperatures in January are the coolest.
If you prefer warmer weather, you may enjoy coming in March as the crowds start to lessen as the heat comes on. Or maybe you want to be around big crowds, then December would be best for you.
Winter: November through February
This is generally the best time to visit the city. During the day, it will be warm maybe even hot some days, but cool breezes will come in off the ocean.
The temperatures stick in the 20s, so is very pleasant. There might be occasional rains, however last year it only rained one time during that entire time for me.
This would be an ideal time to spend your days outside visiting the attractions without tiring yourself in the oppressive heat. Then at night, it is cool enough to get a delicious sleep.
Summer: March through June
Welcome to the summertime in India! I just finished my first summer and it was "interesting."
In May, temperatures were over 105 F (40s C) every day. Sometimes they were even higher.
In March, it is still possible to go out during the day and if you enjoy hot weather you could see the attractions in the morning and evening. Since the tourists are starting to leave, you could have fewer crowds to deal with and get better rates on hotels.
I would only recommend visiting in April, May, and June if you only want to see a few sites, and want to prioritize being around fewer crowds. The heat is very difficult and you would only have 1-2 hours in the morning before it was too hot to be out. The hotel rates are very reasonable during this time though, so if you weren't as interested in seeing the sites. This may be ideal for you.
As a digital nomad, I loved the summer because I spent my time inside in cool A/C and got a lot of work done. I could still go out for a quick chai during the day. It was also okay to go out in the morning or at sunset and I would take walks.
This would not be for everyone though!
Monsoon: July through September
It would be difficult to travel in Chennai during these months.
Chennai is right on the ocean, so the rains are heavy and can last a long time. You can pretty much expect rain every single day, so if you were adventurous and wanted to brave it, then always bring a raincoat and umbrella.
There are also cyclones to consider, haha.
But if you want to avoid tourists, will only be seeing a few tourist attractions and prefer to stay indoors, then maybe this time would work for you. The hotel rates are much less.
If you do come, the rains are not as bad at the onset of the season.
Pre-Winter: Late September Through Early November
This could be a good time if you prefer to avoid the crowds and don't mind some rain or warmer weather.
There will still be regular rains, however, it won't be as often as during the monsoon season.
The temperatures are also going to be in the 90s Fahrenheit (30s Celsius) so it will be warmer.
Festivals and Events by Month in Chennai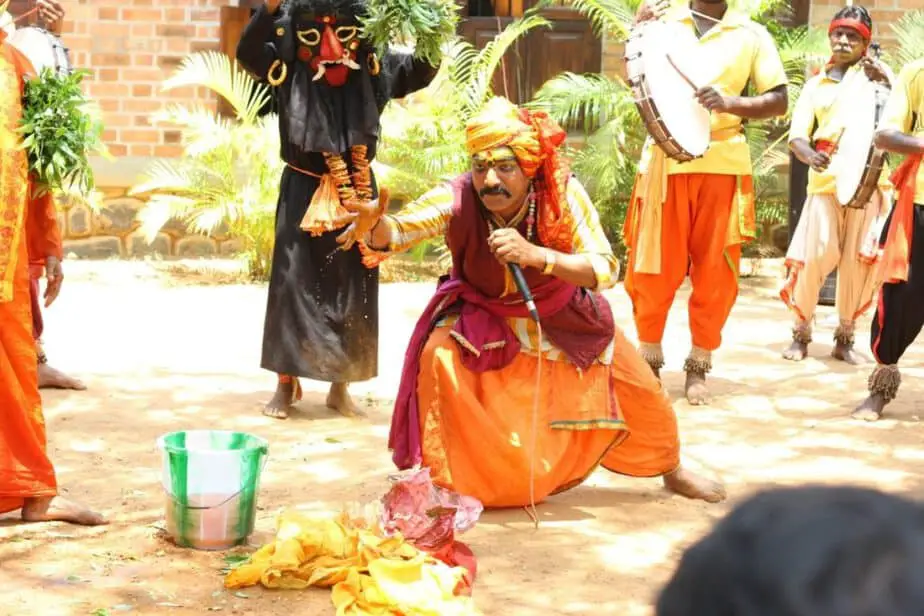 Another thing to consider when deciding when to visit Chennai are the: festivals and events.
One thing I love about India is how often they celebrate. It seems like there is a festival every month, every week they are celebrating something, and every day someone is lighting off fireworks!
However, the festivals and events do vary based on location, so let's look at a comprehensive list of festivals and events happening in Chennai.
January: Festivals and Events in Chennai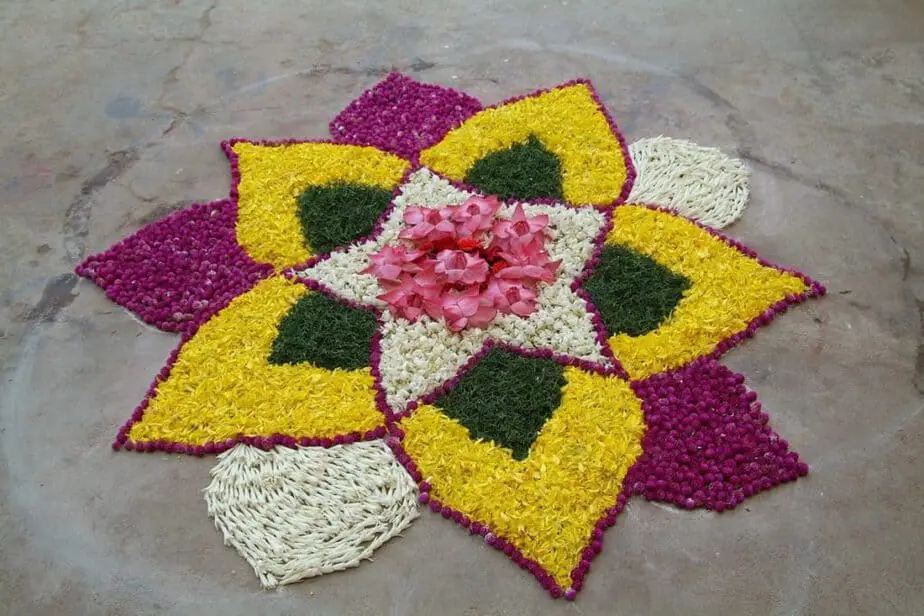 January 1: New Year's Day – the beaches are filled with people and there are a lot of fireworks to be shot off.
January 15: Pongal – the harvest festival that is celebrated for 4 days. The first day is Bhogi or the cleaning out of the old. The locals will throw out old clothes. The second day is the main celebration. To commemorate a good harvest, rice and milk are cooked until they boil over. Pongal literally means 'it boils.' Then the food is offered to the gods and people eat to cleanse themselves of their sins. The third day is known as Mattu Pongal or the festival of the cow. All the cows and oxen are washed and decorated.
January 16: Thiruvalluvar Day – This poet and philosopher came from Tamil and has written a work of ethics.
January 17: Uzhavar Tirunal – This is the fourth day of Pongal when everyone thanks their family and friends who helped during the harvest.
January 26: Republic Day – is a national holiday that commemorates the establishment of the Constitution of India. It is usually celebrated with parades, loud patriotic songs, exhibitions and celebrating the unity of India.
March: Festivals and Events in Chennai
Mid-March: Holi Festival – This is the festival of colors and is the most vibrant of Hindu festivals. There will be dancing around a pyre and people throwing powdered colors or throwing water balloons filled with colors. In Chennai, there will be many parties and festivities especially in busy areas like Sowcarpet.
April: Festivals and Events in Chennai
April 6 (varies by year): Telugu New Year's Day – In 2020 this holiday will actually be in March. Then in 2021, it will be in April again. It occurs every 260 days and marks the beginning of the change in the moon's orbit. Basically, it is the Lunar New Year's Day for people in Telugu and Kannada communities. This is the day Lord Brahma created the universe so it's pretty special.
April 14: Dr. Ambedkar Jayanti Day – The birthday of a well-known Indian politician who helped earn equal rights for the untouchable people.
April 14: Tamil New Year – Similar to the Telugu New Year, this is when it is said that Lord Brahma created the universe. It also coincides with the Vernal Equinox.
April 17: Mahaveer Jayanthi – Celebrates the birth of Mahaveer, a great sage in Jainism. Many businesses will be closed. There will often be prayers and fasting.
April 19: Good Friday – There'll be church services in the mid-day to coincide when Jesus was crucified. Many churches reenact the process to depict his final hours.
May: Festivals and Events in Chennai
May 1: Labour Day (May Day) – The first May Day was celebrated in Chennai on Marina Beach. There will be parades to celebrate the working class.
June: Festivals and Events in Chennai
June 5: Ramzan – This day is the festival of Eid al-Fitr, the Festival of the Fast breaking, it is the end of Ramadan. There will be a lot of samosas and haleem to eat.
August: Festivals and Events in Chennai
August 12: Bakrid – The Feast of Sacrifice is the most important feast for Muslims. It falls on the 10th day of Dhu al-Hijjah, the twelfth and final month in the calendar in Islam.
August 15: Independence Day – The day India renounced British rule and there will be flag-hoisting ceremonies.
August 23: Krishna Jayanthi – This is the celebration of Lord Krishna's birthday. There will be plenty of sweets to eat and milk products given as offerings.
September: Festivals and Events in Chennai
September 2: Ganesh Chaturthi – On this day all Hindus celebrate Lord Ganesh, one of the most populate deities. Hymns are sung, offerings are made. Clay idols of Ganesh are placed outdoors or in homes for people to show their respect.
October: Festivals and Events in Chennai
October 2: Mahatma Gandhi's Birthday
October 7: Ayudha Pooja – It is a Hindu festival part of the Navratri festival. This is a day of the 'love of devices.' In the scriptures, Arjuna took back his weapons, therefore if you begin learning to work you can also become a success like the god in his war.
October 8: Dasshera – a 10-day celebration with rituals, worship and celebrations. It is the start of winter.
October 27: Diwali – It is the Festival of Lights, marking the start of the Hindu new year. There will be many celebrations with candles, lights, gifts, sweets, and feasts. Watch for many fireworks. Indians love their fireworks!
December: Festivals and Events in Chennai
Tourist Attractions in Chennai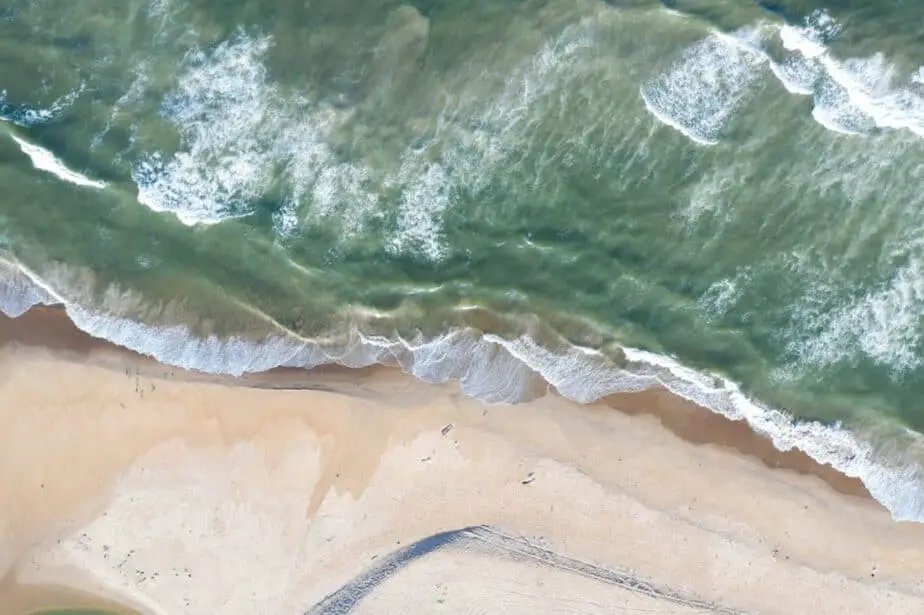 Depending on what you're wanting to see, it may affect when you want to come. If you want to enjoy the beautiful beaches, then the wintertime is a great time. Or if you want to explore some cultural museums, maybe you could come when there are fewer tourists. Here are some of the major attractions in Chennai…
Marina Beach
Marina Beach this natural beach along the Bay of Bengal is the longest beach in India and the second-longest in the world. The length of the beach is 13 km (8 miles).
It can become the most crowded beach in the country. More than 10,000 to 25,000 visitors visit the beach during the week, and +50,000 visitors visit the beach during holidays.
Great place to come in the morning before it gets too hot and crowded. At night families come and it's fun to watch people wading in the waters in beautiful dresses or business clothes. No swimming though, since there are powerful riptides.
Kapaleeshwarar Temple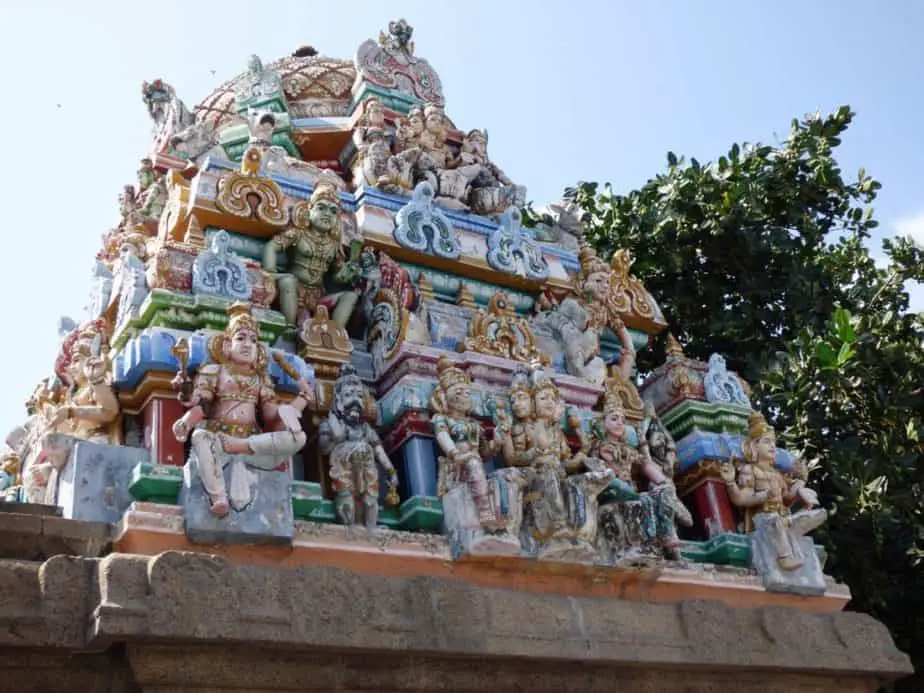 Kapaleeshwarar Temple is a well-known temple of Lord Shiva located in Mylapore, a neighborhood in central Chennai.
The word "Kapaalam" means "Head" in Tamil and "Eshwar" refers to Lord Shiva. Goddess Parvati, Shiva's wife, is worshipped at this temple as well.
Government Museum
This museum is said to be the largest home of Gandhara sculpture collections. You can spend your entire day here surrounded by jaw-dropping art and sculpture.
Santhome Cathedral
Santhome Cathedral Basilica was built by Portuguese explorers. The Portuguese landed on the shore and made it one of their business centers. The Church of Chennai bears evidence of the Indian history and long-gone days.
Edward Elliot's Beach
Just south of Marina Beach, Elliot's Beach is among the cleanest beaches in all of South India. It is also called 'Bessei' among the inhabitants, it is a well-known place for chilling and basking in the sun.
It is a quiet beach without jet skiing or other water sports. Instead, you can enjoy the surrounding natural beauty and gaze at the endless Bay of Bengal.
Close by there is a wide range of multi-cuisine restaurants and fast food centers. You can dig into the tempting South Indian snacks. You will find some famous restaurants which include Karaikudi restaurant, Ponnuswamy restaurant, Lee's Chinese restaurant and the New Shangri La, a Malaysian restaurant.
This is why this area has become one of the best hangouts for the younger generation, as well as travelers who are looking for some serene beauty and delicious dinners.
Guindy National Park
Guindy National Park is one of the tiniest National Parks in India.
You can wander among the habitat of endangered black bucks and a few other animals. You can enjoy the clean fresh air and the feel of the untouched nature, right inside a metropolitan city.
It is a great place for a relaxing morning walk.
Arignar Anna Zoological Park
This was the first zoo opened in India in 1855. Since then it has been transformed into a major center where a person could spend many hours of walking through the reptile house, aviary cage, nocturnal animal house, and you can even go on a lion safari.
Valluvar Kottam
The Valluvar Kottam stands at the crossroads of Kodambakkam High Road and small village road. It honors the memorable and scholarly poet Thiruvalluvar for his masterpiece in Tamil classical literature, on the philosophy of ethics, the Thirukural.
B.M. Birla Planetarium
This planetarium offers to the public more than 100 astronomical projects dealing with various facts of astronomy, astrophysics, space and more.
Chennai Lighthouse
This well-known landmark on Marina Beach was built in 1976 replacing the old lighthouse. The lighthouse was opened in January 1977. It also houses the meteorological department.
It is also open to visitors and offers breath-taking views of one of the longest beaches in India.
Semmozhi Poonga
Semmozhi Poonga is Chennai's first botanical garden. Come to see the flora of India, with flowers, trees, fountains and more. There is a rock garden, bonsai trees, and a kids park so it's a nice place for the whole family.
MGM Dizzee World
MGM Dizzee World is a theme park located in East Coast Road. The park has a Ferris wheel, roller coaster, spider ride, log ride, the funny mountain, dashing cars, super trooper, a water rides and it also hosts many seasonal shows.
There is also an artificial snow shower with a snow-capped mountain and a snowman.
VGP Snow Kingdom
It never snows here, so this is a popular attraction. You can escape the heat and into the sub-zero temperatures of the Snow Kingdom.
It is a snow theme park with slides, sleds, and snowball fights. You can make snow angels and snow castles and dance in the snow showers.
VGP Universal Kingdom
VGP Universal Kingdom is an amusement park located on East Coast Road near the Snow Kingdom. It is a big park that sprawls over 44 acres with plenty of rides for children and big children (adults).
You can find attractions like a petting zoo, beach concerts, Paneer fort, and a large number of water rides to cool off when it's hot.