As a digital nomad, I'm never too far away from my phone. As I'm traveling in India, I'm always looking for apps to make things easier.
I've spent hours testing and researching apps and here are the best ones for traveling India. Plus I threw in 38 other pretty good ones. 😎
The best app for India is…
1. Booking.com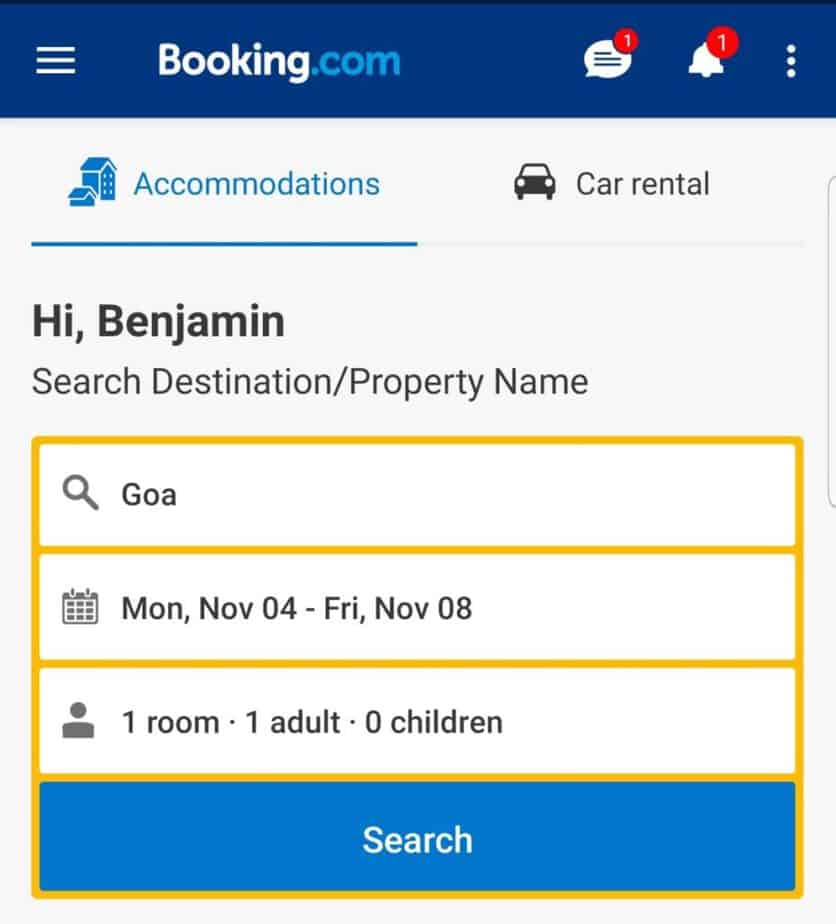 It's a boring option, I know… but we all need a place to lay our head. The fact that you can get your money back so close to your reservation date makes this the best travel app for India.
You can find hotels in 28,719,948 total reported listings, in 40 languages, for 151,546 destinations in 228 countries and territories worldwide. Each day, more than 1,550,000 room nights are reserved on their platform.
I've always used the app to book my rooms and I've found the hotels to be what I was expecting. I currently have 3 hotels booked for future trips, and I LOVE that I can cancel my reservation. I like to book two for a trip (one fancy hotel, and one budget) then if my finances are looking good… I'll treat myself to the nice one.
And here are 38 pretty useful apps…
2. Oyo Rooms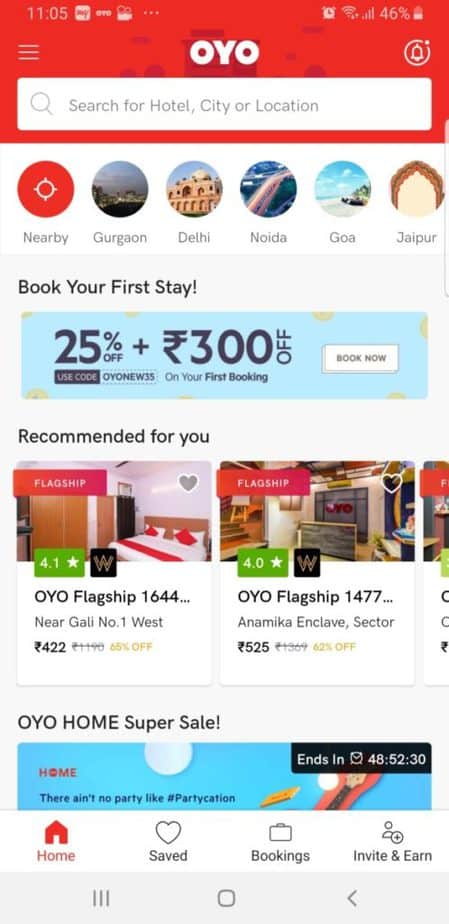 Oyo is like Booking.com meets McDonald's. You'll book hotel rooms, yet all the rooms will have similar amenities and services no matter where you go. You'll have:
Air conditioning
A TV
Clean linens
Free breakfast
Free Wi-Fi
Clean bathrooms
Complimentary toiletries.
3. AirBnB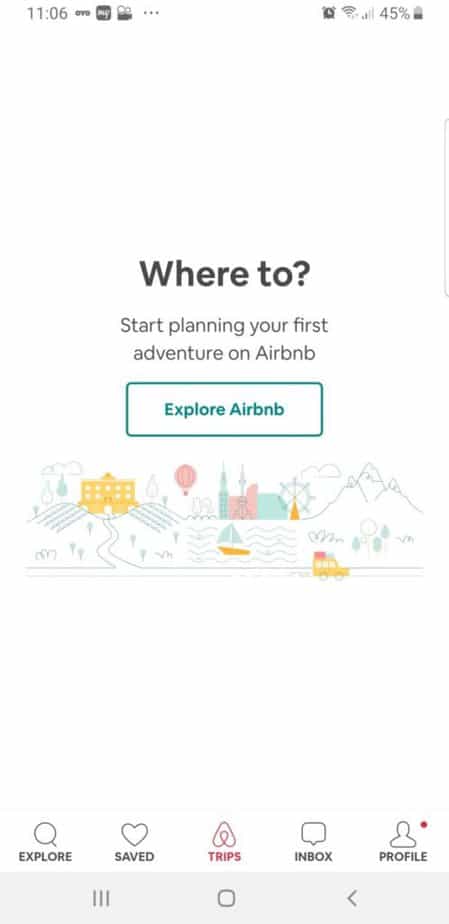 Even in the small-ish town that I live in there are 41 rental options.
You can stay in someone's home, the prices are reasonable, and there are some weird options. I'm looking through the options in my town and you can stay in a mud house for $15 USD a night.
I looked up my state and found that I could stay in a tree house, on a floating room on a lake, or a guesthouse on a plantation in coffee country.
4. EaseMyTrip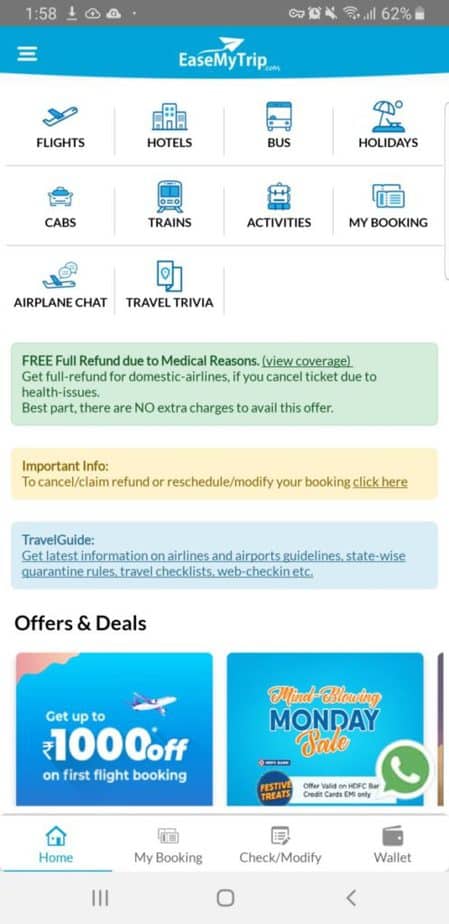 You can use EaseMyTrip for everything when it comes to traveling India – booking flights, buses, trains, hotels, cabs, tours, and more. This is one of my go-to apps to use for booking flights, especially because they have some of the lowest prices and lots of flight choices.
I love that there's also an option for a full refund for medical reasons, since it reduces my risk when booking during COVID times. 
When I'm planning my trips I like to check the Activities tab because it can make booking tours for interesting experiences very easy. For instance, when I go to Mumbai I'd like to book a local street food tour but there are many other options. 
5. CouchSurfing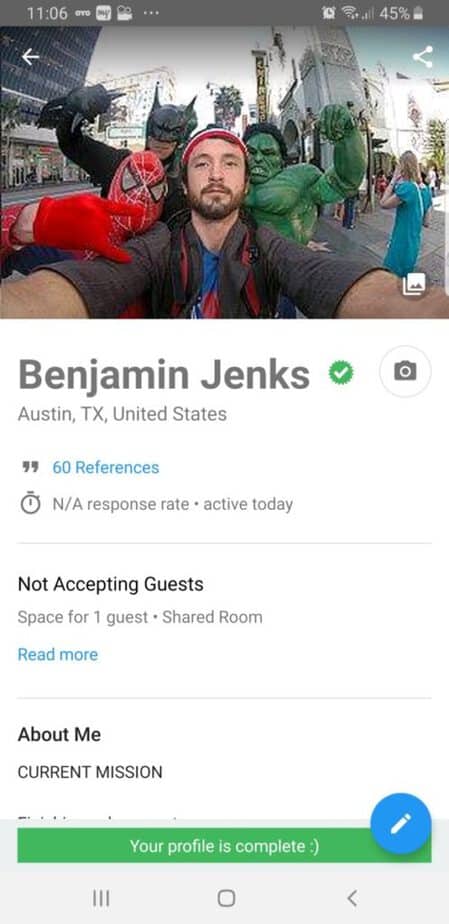 I once hitchhiked around the USA and couchsurfed with over 60 people.
I loved how I was invited into someone's home to be a small part of their family or friend circle for a night, a few days or a week.
I looked up the options in the town I live in here in India to see how popular it is. There are 63 hosts.
I also looked up Goa and found +2000 hosts, 82 travelers, and 8 events. Sounds like this could be a great resource for a traveler looking to meet locals and travelers.
6. Make My Trip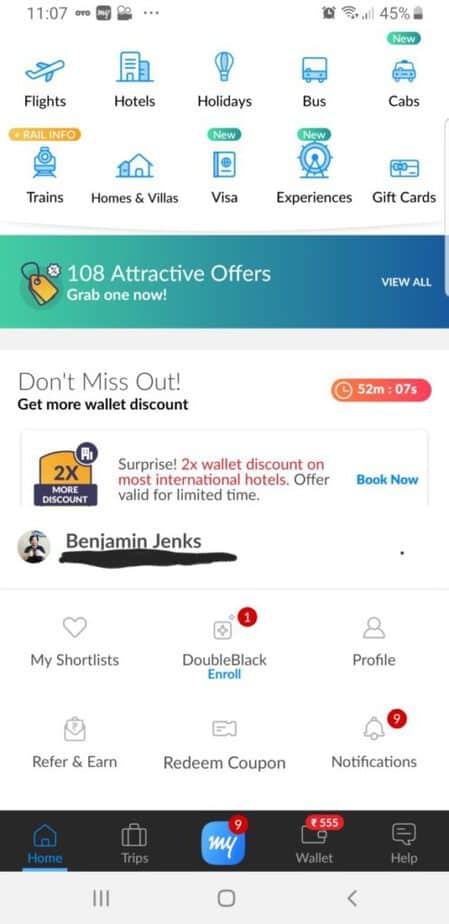 You can do so much with this app – book your flight, bus, train, cabs, and hotels. Similar to Expedia, if you book a hotel and a flight, you can get discounts.
They've also added some new sections to get a tourist visa. You can find homes and villas if you want a try a different option than AirBnB.
There are also Experiences. I looked up the nearby city of Chennai and found a cool Snow Kingdom amusement park. In Bangalore, I see there's an Innovative Film City (I love films, and am watching classic silent films now!).
7. ClearTrip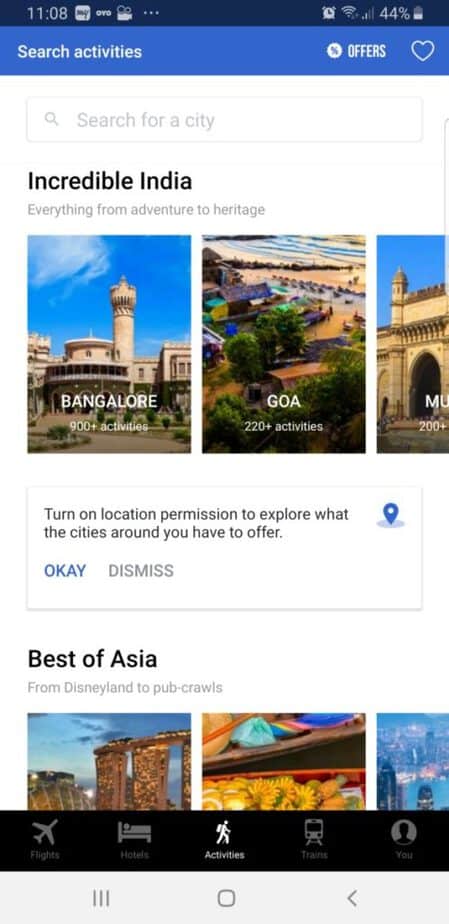 Similar to MakeMyTrip, you can book flights, hotels, trains, and activities.
I see there are 900+ activities in Bangalore, 220+ activities in Goa, 200+ activities in Mumbai, and 150+ activities in New Delhi. There is a tour planner app that allows you to find weekend getaways.
Seems like MakeMyTrip has more options though!
8. HolidayIQ
You can use this app to find interesting destinations to travel to. It has over 2000 places and some that are off the beaten path.
You can find deals on packages, get hotel reviews, and find ideas for weekend trips. I like the social network function because you can see other travelers photos and reviews. They will even give you points if you submit a review.
Their blog has some helpful articles as well.
9. Momondo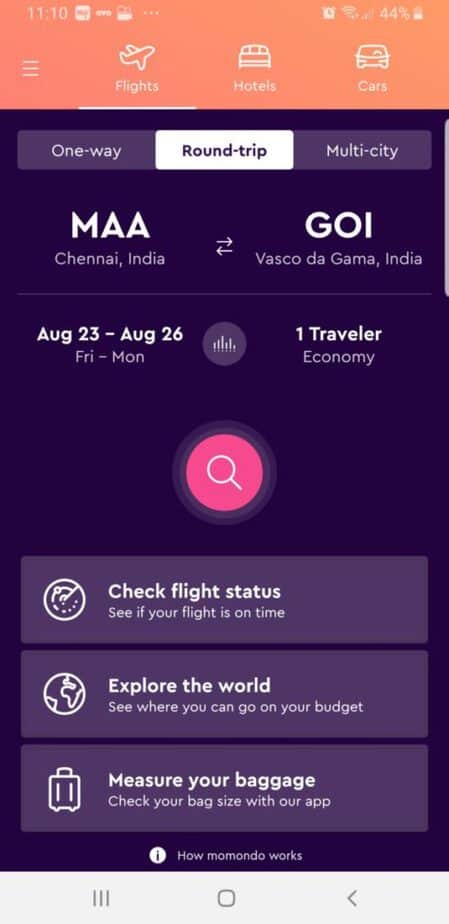 This is my favorite flight booking app. Mostly because there some cute girls in the photo as you open the app, haha. You can also book hotels and cars, but I would NOT recommend it.
I looked up flights for my next trip to Goa and I like that the calendar highlights the days that have a "great price." I like that there are filters to search the flights from cheapest, quickest, best, and custom. I'm using the cheapest 🤓 
You can setup Price Alerts for a destination you want to visit. You can also Save Trips and track your next travels.
I compared Cheapest since that's my preferred filter and I see that I can find a flight for $90. Let's check Kayak's price…
10. Kayak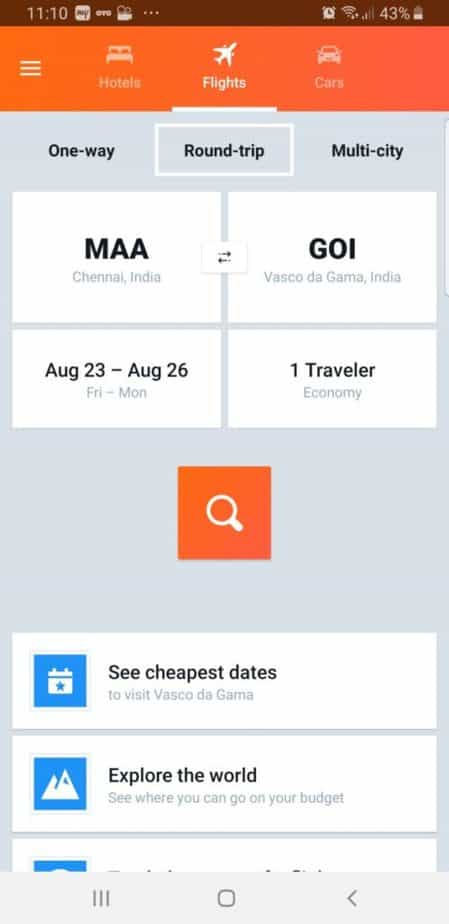 This is my second favorite flight booking app. It lost mostly because there are no cute girls in the photo when you open it, haha.
I looked up flights to Goa for my next trip and the calendar also highlights the days that have a great price. You can also "See Cheapest Dates" to visit Goa. You could plug in your budget and find options for your next trip.
The filters in this app are Best, Cheapest, Quickest, and Earliest, so there are more options.
I compared Cheapest since that's my preferred filter and I see that I can find a flight for $92. There are more options for flights. Momondo only had 3 in the Cheapest filter. With Kayak, I can keep scrolling and scrolling.
Verdict: Check Momondo first for better prices. Check Kayak for more options.
11. Uber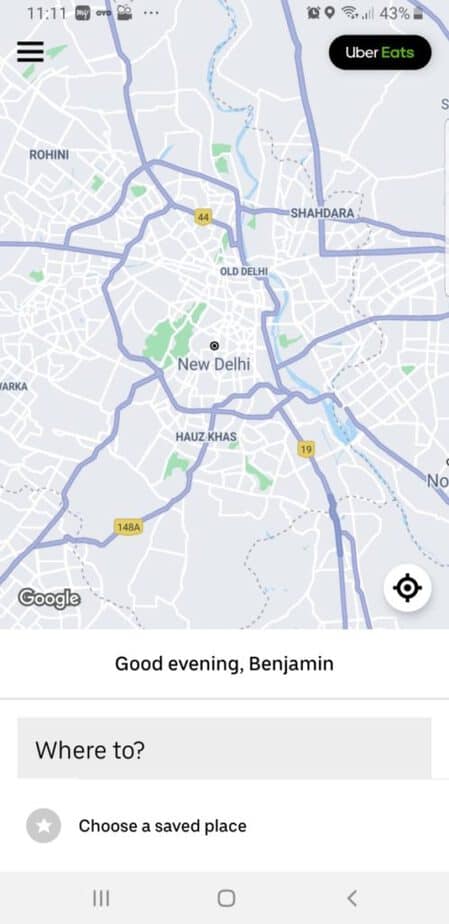 What's great about Uber is the fixed price, you can avoid the taxi scams and the higher tourist prices.
The problem with Uber are basic stuff you'll find in India in general.
I used Uber leaving the airport when I arrived and because it was mayhem outside, it took me an hour to find my ride even though the little dot was right next to me. He just kept driving around and missing me.
But I've used Uber to travel on 4-hour trips too.
I booked one for a multi-city trip. As the driver pulled up he looked confused… "You know you can only go in the city."
I asked if this was possible, I could pay. He called his boss and in 15 minutes we had agreed on a price, and we were off. I paid double what I would have if I had booked the taxi in advance, but the convenience of leaving in 15 minutes was worth it. Still reasonably priced too.
12. Ola Cabs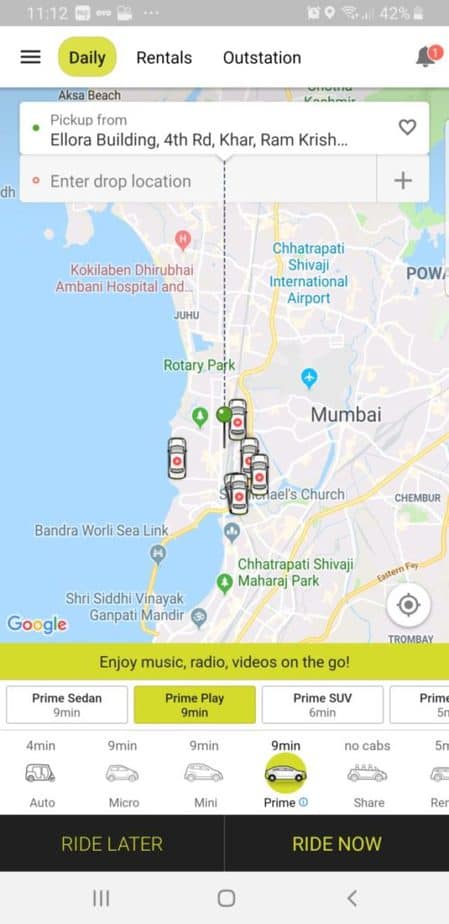 This is the Uber of India. When you download the app you can get 50% off rides.
If you are in the airport they actually have a place to get picked up, so this could be a better option than Uber (I'm skeptical though, knowing how it runs in India. It's probably a sign in a parking lot that the driver doesn't know about ;).
The design is similar to Uber. You can also get hourly packages, multiple stops, advance booking, round trips.
13. Meru Cabs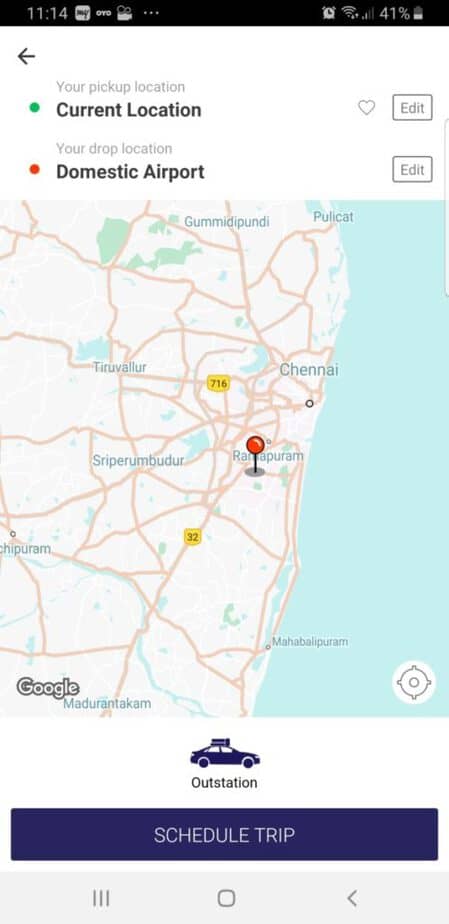 I would NOT recommend this app. It only has the typical trip you can book on Uber or Ola cabs. The design isn't as strong and ease of use.
I'm reading reviews only and on Mouthshut.com there are 9,149 votes with only a 1.5 star rating out of 5 stars.
The only thing you may like about this is you can book trips between cities.
Verdict: Two thumbs down, unless you're feeling adventurous!
14. RedBus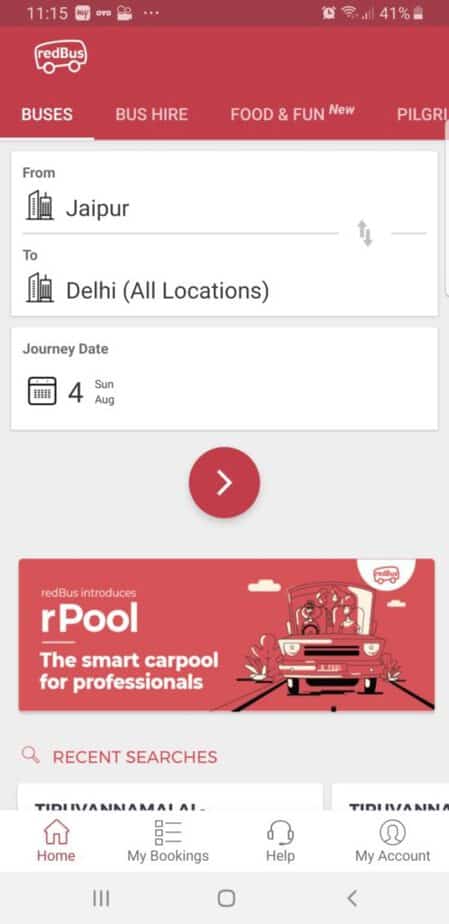 It's a bus booking app.
The buses in India are a trip, I've heard stories that if you take the local buses for a few hours, then you better also book a session at a local chiropractor.
On the other hand, there are also high-end coaches with air conditioning and all the perks.
In the app, I see I can book a bus trip and it's giving 7 Top Locations. I plugged in the small town I live in and another city 2 hours away which is the beach city of Pondicherry and I keep getting "No Services Found, Try another date."
I tried other dates and still no options.
I then tried bigger cities. I plugged in my small town and the destination would be Goa and I see there are 3 options leaving from a nearby city. There are no direct buses from my city. Still that seems helpful since I know I live in a smaller town.
15. IRCTC Connect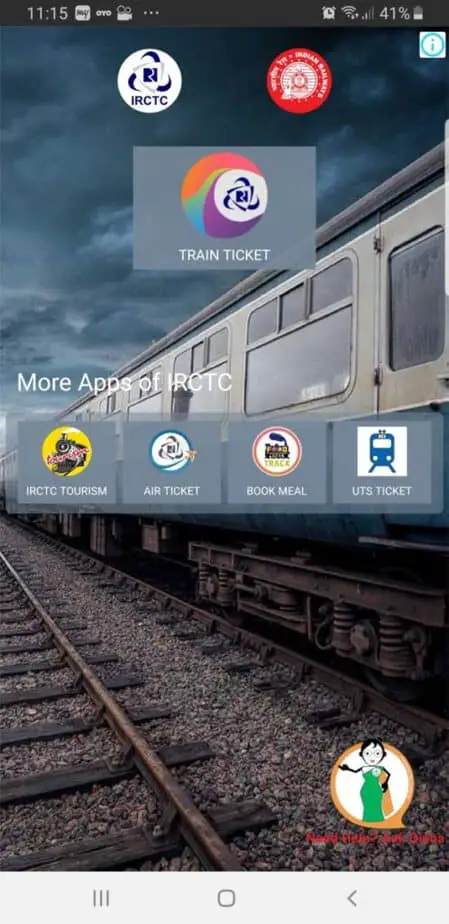 If you have a dream of an epic Indian train trip, then this is the official app for booking your train tickets online.
In theory, this should be really cool. But this app gets two thumbs down from me because I couldn't register my account.
It's a beast to try to get working, you must book a ticket 4 months in advance.
16. ConfirmTKT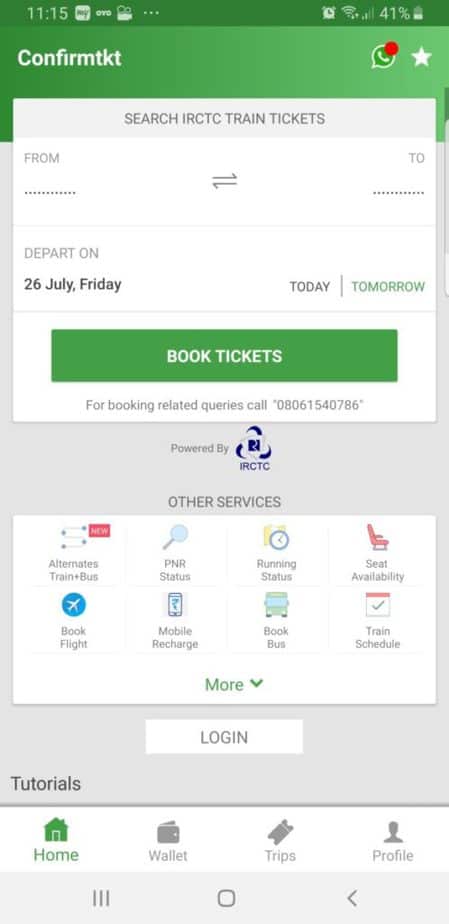 This train ticket booking app has potential. It will help you book a train ticket without having to book it 4 months in advance.
The design is clear and I was able to navigate it easily. I see options for options for Bus+Train, if you need connections between cities without a rail. I see PNR and Running Status to check the updates on your ticket and train.
You can also book flights and buses, and recharge your mobile phone too, haha.
17. Travelkhana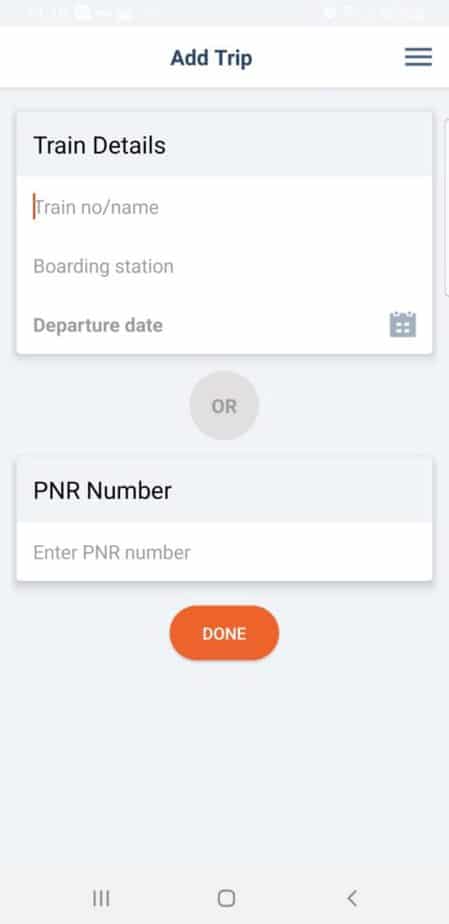 This is like Uber Eats if you're on a train. What a great business idea!
It's a 24-hour delivery service that will deliver food if you're waiting on a train. Some ambitious team partnered with restaurants near the stations and made an app that you can order up a dosa or some paneer butter masala, while you wait before heading off to your next destination.
18. Zomato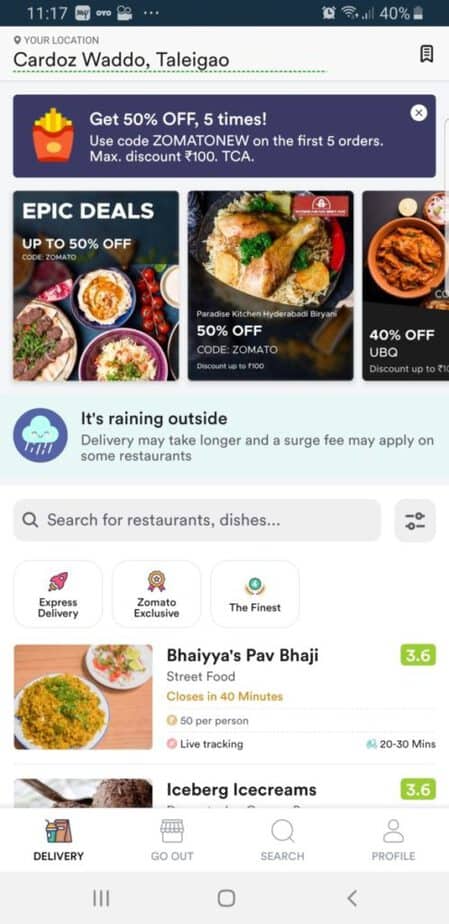 Ugh, this company advertises on Youtube with terrible ads, so I'll resist the urge to give them an instant thumbs down.
On the positive side, it's one of the largest food delivery apps so their prices are good. I put my location in Chennai and found some delicious looking options.
Epic Deals for 40% off, pizza for 30% off, discounts of 300 rupees. It looks like it has more options than what I saw in the USA actually with even options for McDonalds and Burger King if you're wanting some American comfort food.
The downside is that they're not in smaller towns where I live. Boo.
19. Swiggy
Similar to Zomato, this is the local food delivery app where I live.
There are 26 restaurants on this app for me and I can get biryani, juice, lassis, and even chicken, pizza, mojitos, smoothes, Chinese and Mexican food.
Since I live in such a small town I usually eat at the restaurants near me and stick to a local South Indian diet of Masala Dosa with chutney. I use this app on the weekends when I want to stay home and veg out with some movies.
20. Incredible India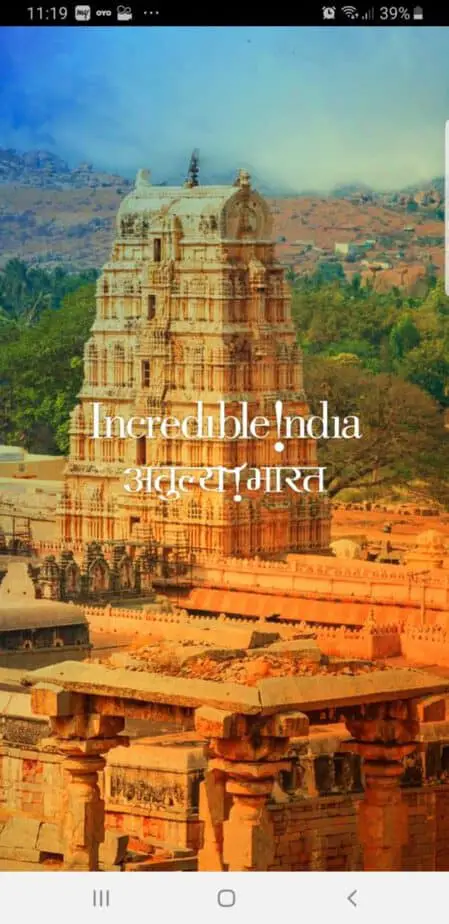 My aunt is visiting me in India soon, and she's the super-intelligent type who will devour guidebooks and novels about a place so she feels like she knows it.
If you're like my aunt, this is the app for you.
This app is built by the Ministry of Tourism and it has tour guide-like information about popular destinations and major attractions. You can find categories like Food & Cuisine, Arts & Crafts, and Things To Do.
You can also find events which could be a cool way to plan a trip if you want to see an exciting festival.
21. Incredible India Calendar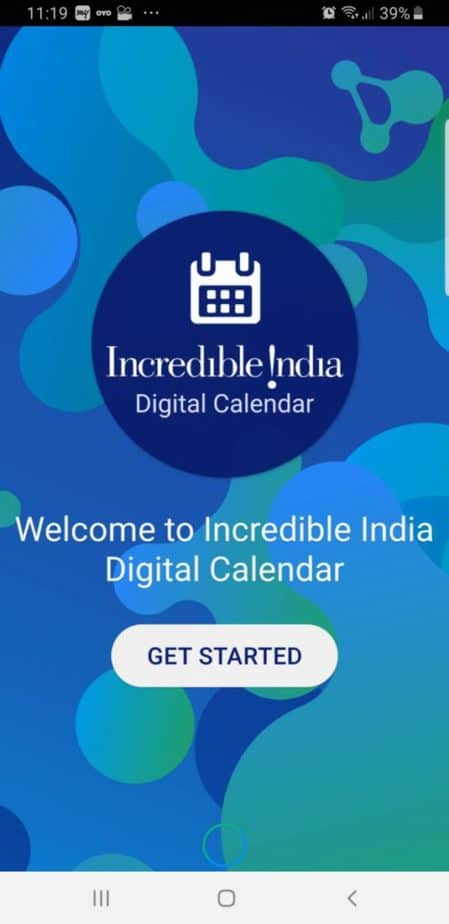 This is another app made by the Ministry of Tourism in India.
You can use it to find fun events to plan trips around. It's meant to be used similar to Google Calendar, except there are beautiful photos of Indian destinations like some mountains in Kashmir.
You could plan your trip with it and get notified of events. I would only use it for the events and would setup notifications so you could be sure to hit festivals and celebrations.
Verdict: Stick to a better calendar for day-to-day use.
22. India Travel Guide by Triposo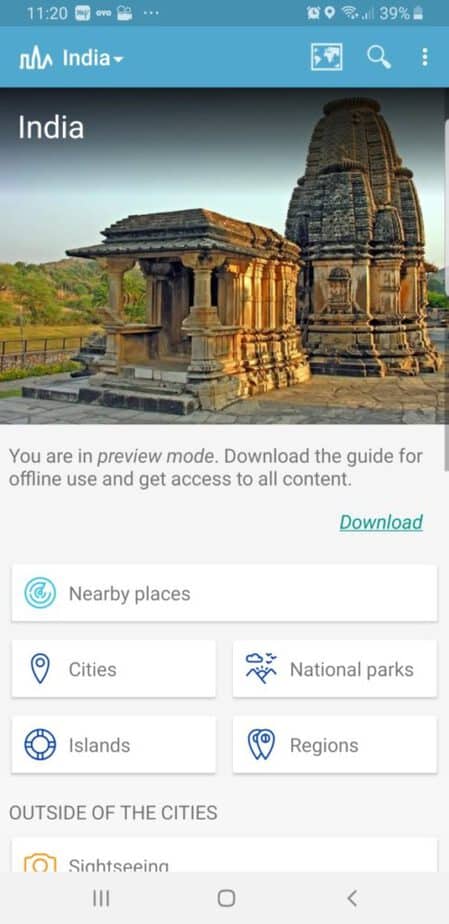 It bills itself as Your Smart Travel Guide. It is pretty nerdy too, it takes free information from online sources like Wikipedia, WikiTravel, OpenStreetMaps and pulls it together in one place.
There are categories for Cities, National Parks, Islands, and Regions.
You can find experiences like Tours, Multi-day tours, Activities and Day trips.
You can also find a Community with Mini-Guides like one they have about the Silk Road.
There's more, but one of the best things about this is if you can use it offline. So if you don't want to get international data charges and don't have a local SIM card, this could be a great way to learn more about India's destinations.
23. NaviMaps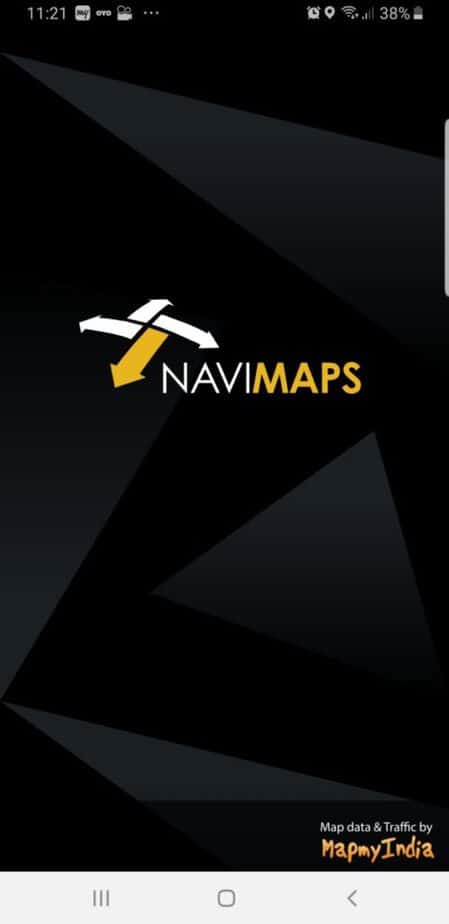 It's more accurate than Google Maps. So while it has typical features like traffic info, suggested routes and offline navigation. It also has 3D maps, so it feels like you're in a video game.
Verdict: Great for walking tours!
24. Google Maps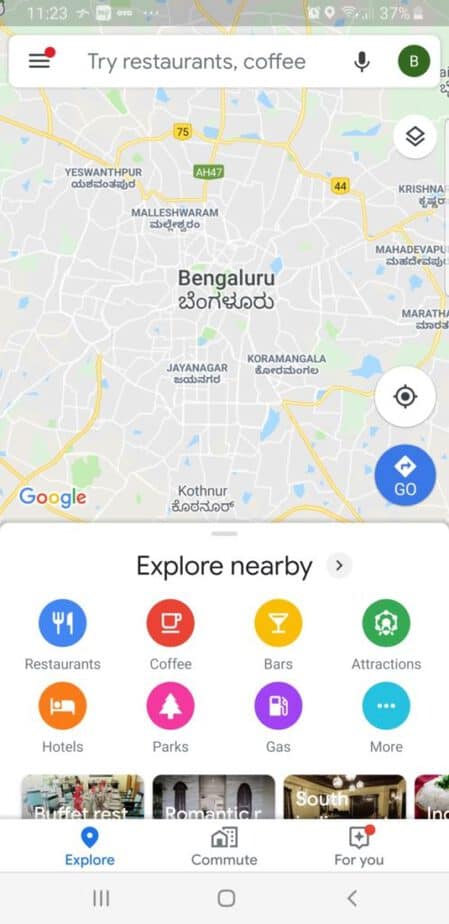 A few things you didn't know you could do with this tool:
Find airport parking
Check the time in any time zone
Find red light cameras
Convert currency
Track flights
Make a map out of a photo
Add photos to your map
See the world at night
Map out movie filming locations
Learn about the Wonders of the World
See where UFOs have been sighted
Measure your walking or running route
Locate a nearby mailbox
Find a WiFi hotspot
Track a package
Get the latest news in your area
Check out what's happening in the neighborhood
Map your blog and website visitors
Find your elevations
Track tourism and suspicious events
Obviously this one is a no-brainer!
25. Paytm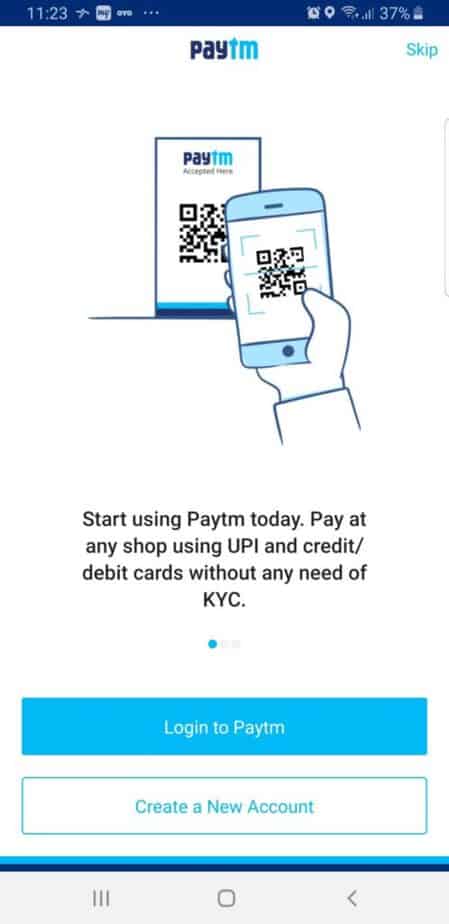 This is the Venmo of India. It is an Indian e-commerce payment system and digital wallet company.
There are some transactions you can not make as a foreigner in India. For example, you can't buy a train ticket easily. You can't pay your utility bills online.
You can use this tool to pay back a local friend or guide if they book your tickets for you or pay your bill.
Some businesses accept this as payment as well, if you look for the small sign near the cash register.
26. XE Currency Calculator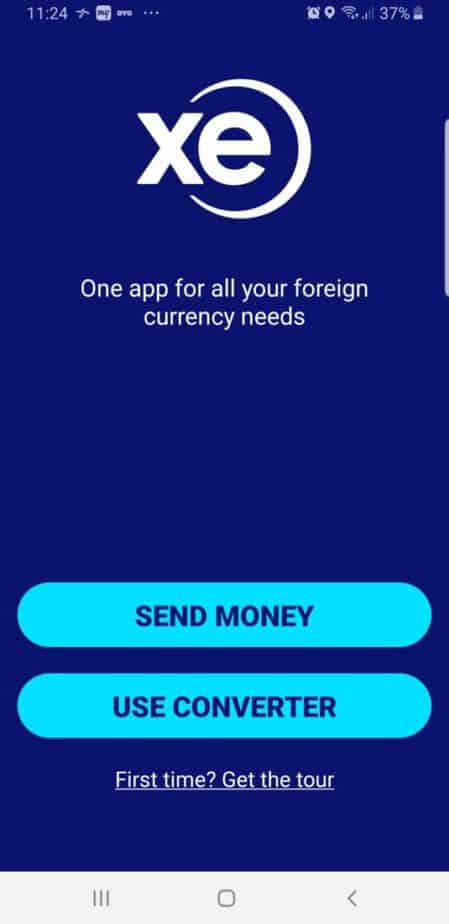 This is one of the most recommended currency apps.
You can find it on Apple and Android, and it will tell you the live rate of any currency. It can be helpful if you're exchanging money and you want to be sure you're getting the best deal.
Or instead of having to do the dreaded maths, this app does it for you to figure out how much something costs in your home currency.
You can also add many currencies if you're traveling often, or just an international finance weirdo 😏
27. Radius Bank App
This is not a travel app but if you live in the USA this is a good online bank for travelers.
I use this app because there are no ATM fees even if I use an ATM that is out of network.
When I was using Bank of America, I would get charge $5 from them, $5 from the ATM bank I was using, and a $3 international transaction fee. It would cost around $13 to get ~$150 out (the limit). Not a great deal.
With Radius there is a 1% transaction fee, so I pay a total of about $1.50 every time I pull out $150. Seems worth it to me!
Another benefit is that you can get an account even if you have terrible credit like me 🙁
If you have great credit, then Charles Schwab's online bank account is even better.
28. Discover Card App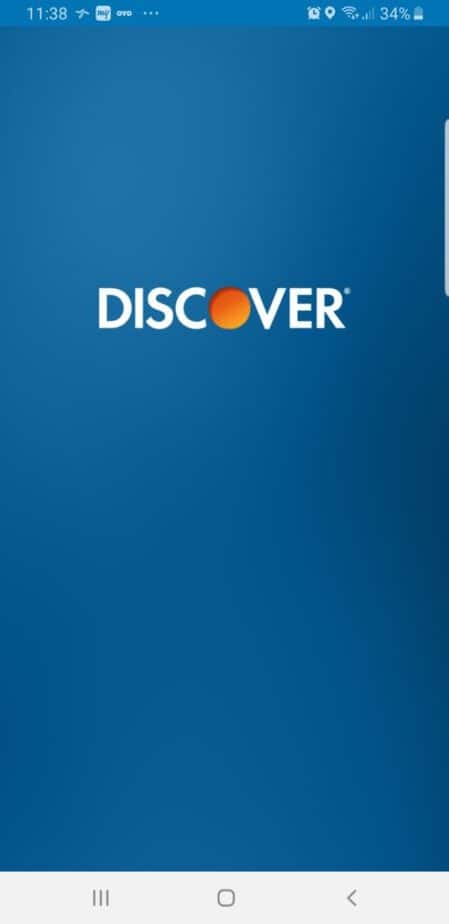 This is the credit card I use because it does NOT have international transaction fees.
Most cards will have an international transaction fee.
This card is also great if you have terrible credit. There are better cards and apps if you have great credit!
29. Skype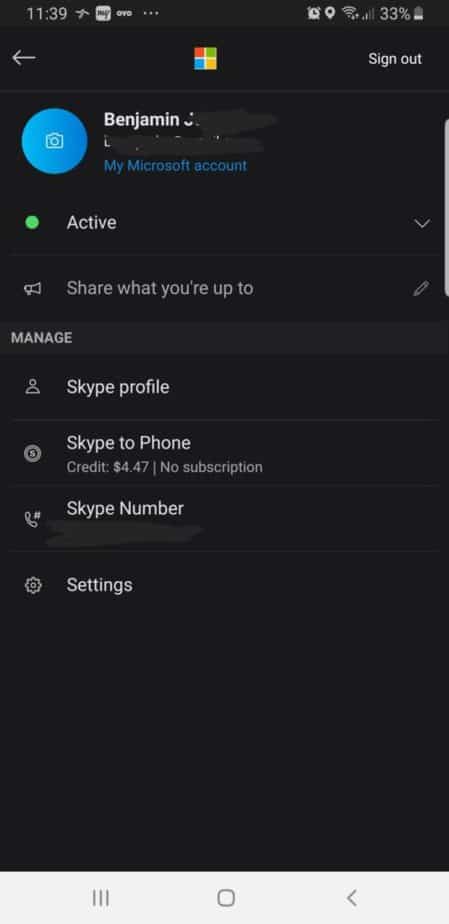 My parents don't have a Skype account, they wouldn't use Google Hangouts, they would have no clue what Whatsapp is, and they know much about using FB Messenger to call.
I wanted to make inexpensive calls from my phone to my parent's mobile phones in the USA, so I use Skype to do that.
I bought a number with Skype for $5 and I can now call my parents mobile phone. It's been almost 7 months here in India and I haven't had to pay anymore and I call my parents every 2 weeks or so.
30. Amazon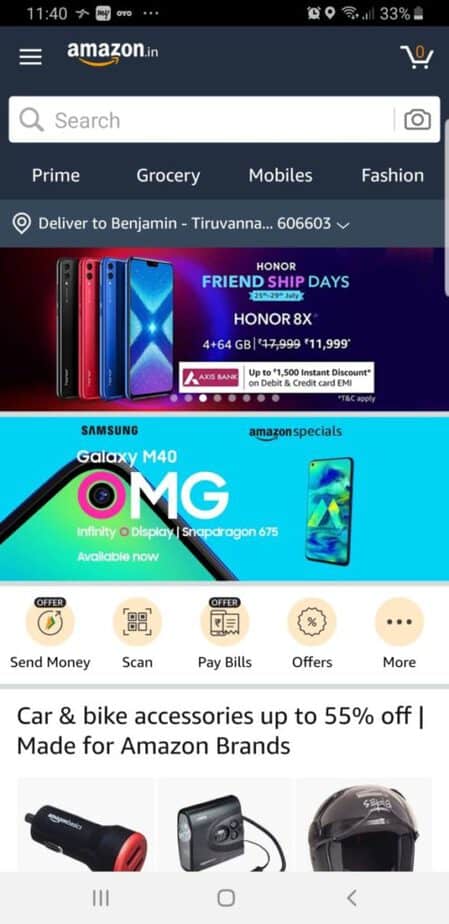 I didn't realize I would be able to order so much from Amazon here. I've ordered things like:
A Desk
Shelves
~25 books – You can get great prices on classic novels (working through War & Peace now)
Coffee table
Electric skillet
Coffee maker
Tea kettle
Second monitor
I won't bore you with all the things I've bought but before I came, so I hope this helps.
You can trust you can find most things on Amazon if you're going to be living and working here as well. There is just less of a selection.
31. Justdial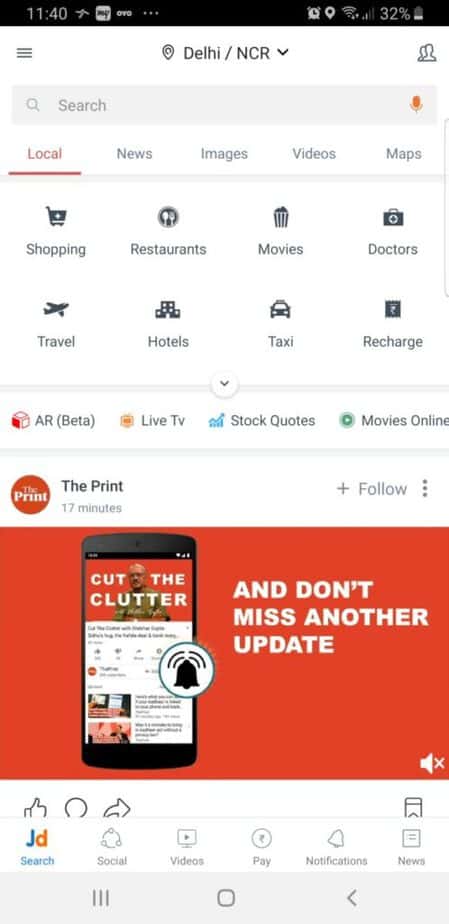 You can find products, services and businesses in your area. If you're looking for a doctor? Check this app. If you need a pharmacy? Check this app. Need to find a coworking space? Check this app.
You can also send money to someone similar to Venmo.
It has news and a lot of other traveler information: Shopping, Restaurants, Movies, Doctors, Travel, Hotels, Taxi, Mobile Recharge.
You can even keep up with the local cricket scores, if that's your thing.
32. Speedtest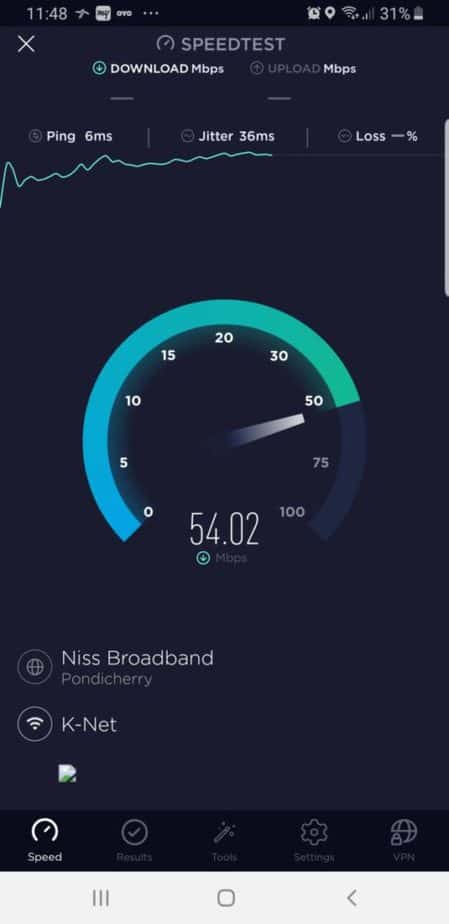 This one's for digital nomads… You can check the internet speed at a coffee shop, hotel or restaurant.
Saves me a lot of time if I want to work somewhere, I can just go inside and test the WiFi. If it's too slow, I can quickly leave without having to setup my computer.
33. Google Translate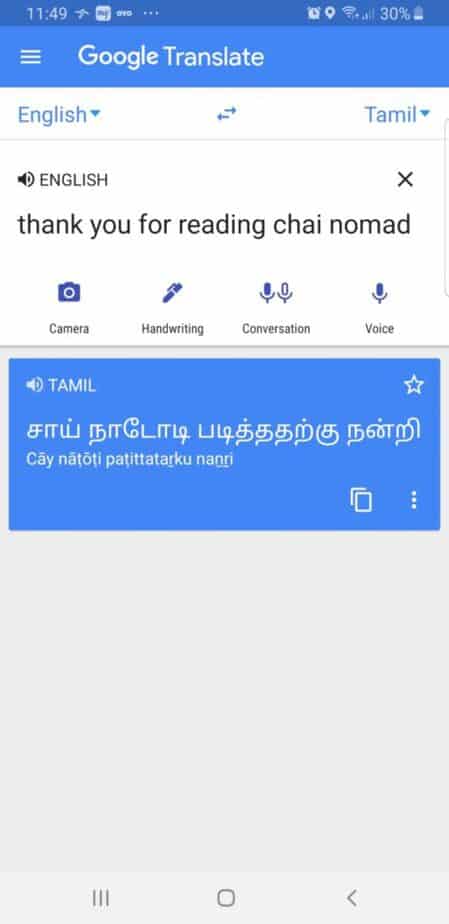 This translation app is so cool.
Camera: You can take a photo of a sign in an airport and it will translate it.
Handwriting: It does pretty good and reading handwriting
Conversation: You can turn this on and it can translate audio.
Voice: You can have someone say something into the app and it will translate, or vice versa.
34. Fake GPS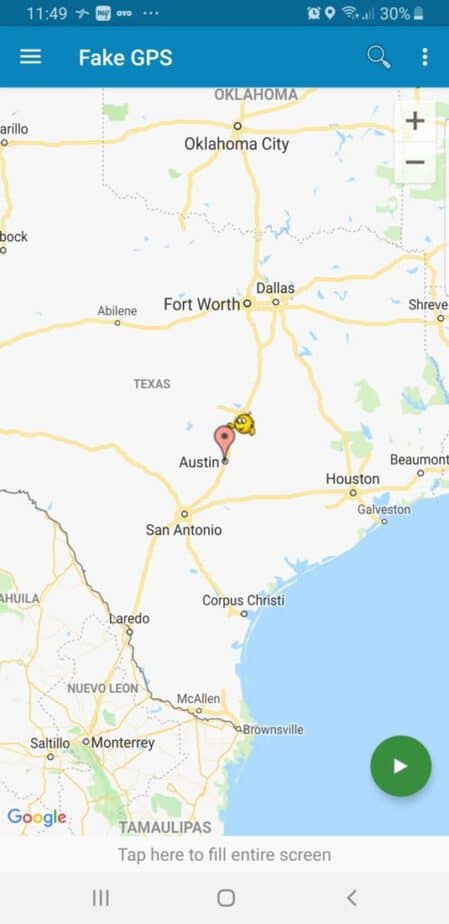 This one's Android only.
You can make the location on your phone appear as if you are anywhere in the world.
How can you use it?
I use it to deposit checks back home in my bank. I will "fake" my location there, then my dad will log in on his phone to deposit the check. It's not 100% pain-less as we need to coordinate the 2-step verification, but it works.
You could also use it to change your location on Tinder or Bumble in a new city without having to buy a premium service.
35. ExpressVPN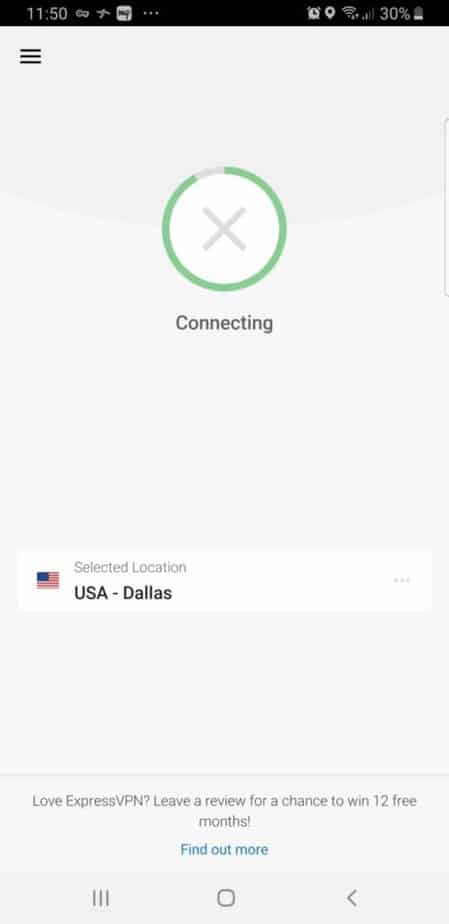 While FakeGPS changes your location on your phone, this app changes the location of your IP address on your phone.
It also protects your internet connection when you're on free WiFi networks.
ExpressVPN is one of the best VPN services according to my friend who's a professional tech guy. It has locations all over the world and is a reasonable price.
If you want to mock your dating location or deposit a check in your local bank, you would also need this tool.
36. AccuWeather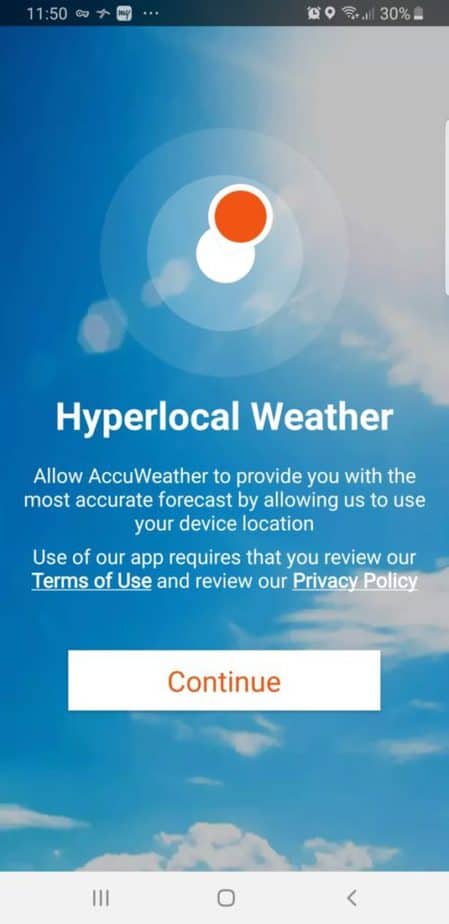 If you want to get detailed weather about your next destination, this is one of the best weather apps.
It is about as accurate as the local weatherman, haha. But it has a nice design and good projections.
37. Bumble
This dating app might help you meet some "nice" locals if you're in a big city and want to start dating.
Bumble just arrived in India in 2019 and is becoming very popular. It would be my top recommendation for a dating app.
It's better for women which should mean it's better for everyone.
38. Whatsapp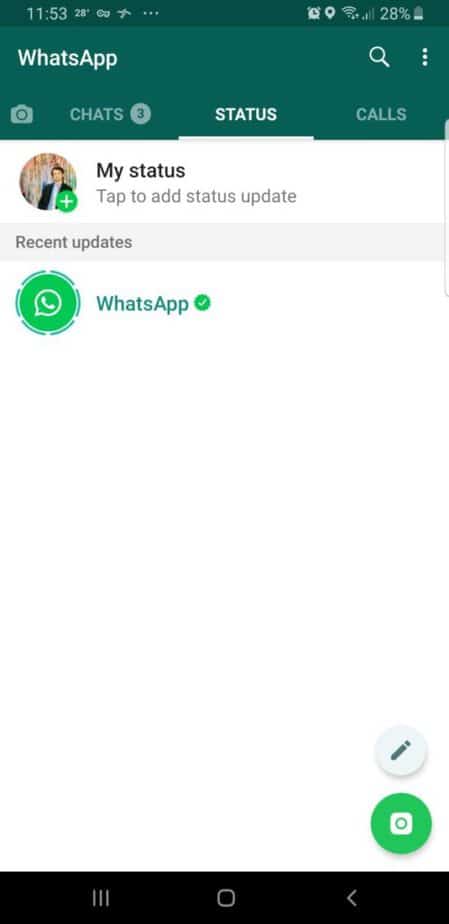 I'll spare you the basics but you can have one way of communicating with your family and friends, even if you are using multiple SIM cards.
You can use this for calling when you have wifi. This is how a lot of travelers and even locals communicate.