Buying a small package of Indian food as a souvenir for friends and family is a sure way to make them feel a part of your trip. As I've traveled I've been looking for delicious-yet-easy-to-carry food souvenirs to take back to the US and here are the best that I've found…
What Indian foods make the best souvenirs?
Saffron
Cardamom
Turmeric
Mango pickles
Amla pickles
Lotus pickles
Darjeeling Tea
Assam Tea
Galub Jamun
Jalebi Mix
Petha
Hara Chiwda
Wine
Liquor
Coffee
You could also buy them a food-related souvenir and I have a couple of options at the end of the post that they are sure to love. First thing though…
Can You Bring Food Back Into Your Country?
You can't bring any type of food through customs, so as much as I'd love to take in some recently-made paneer butter masala (my favorite Indian dish!), the options below are limited to what you can bring through the airport. Although I'm using the US Customs as a guide, your country might be different so please check those rules.
Here's what you can NOT Bring:
Fresh, dried, or canned meat or meat products
Milk
Rice (it could have insects)
Packaged food which appears unsafe and/or contaminated
Fresh fruits or vegetables (it could spoil or have insects or diseases)
Liquid cheese such as cottage and ricotta from countries of the Middle East, Africa, and Asia (specifically countries which are known to have foot and mouth disease)
Eggs and products made from raw eggs
Spices from the citrus family such as including lemon, lime, or orange
What Can You Bring In?*
Most unopened, commercially labeled and packed foods are okay. Unless it is a meat product (no Indian Spam is allowed 😉
Dry spices
Alcohol up to 1 liter, if you're over 21 years old
Most cheeses
Bakery items
Chocolate
Candies (not Kinder Surprise Eggs)
Condiments like ketchup or mustard
Oils
Vinegar
Coffee
Honey
Tea, packaged teas only if they do NOT contain cocoa, barberry or loose citrus leaves
*There are more options on the website, I've only included options that would apply to the products I'm recommending.
Important: Please declare all your food souvenirs as well, because if you do not and it is discovered, you could be issued a fine of up to $1000.
Saffron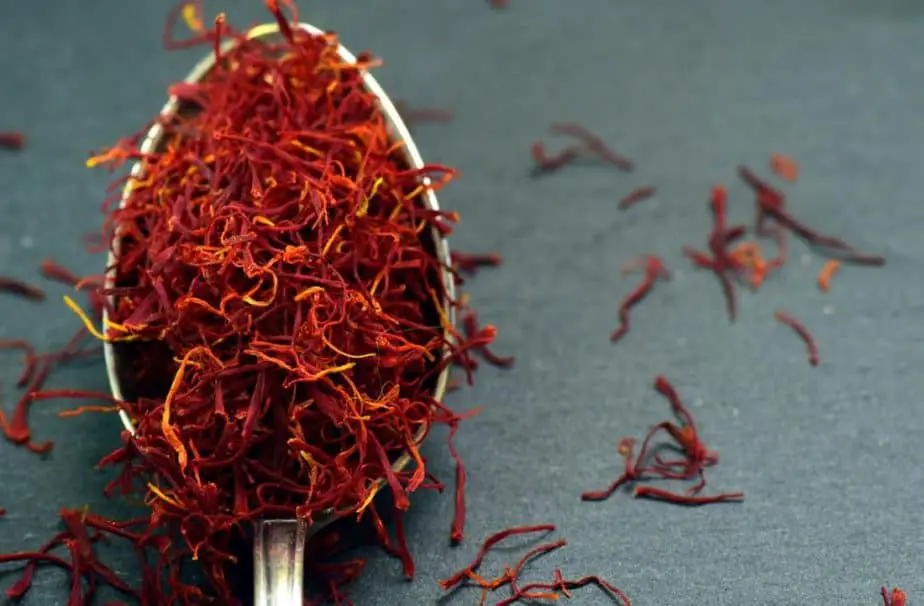 Saffron is the most expensive spice in the world, and by weight, is worth more than gold. To harvest the spice, the stigmas of the flower must be picked and there are only 3 per flower. It takes 224,000 stigmas to make one pound of saffron. You only want to buy the threads from a government-owned store, since marigold is often sold in its place. If you choose the powder, it will often be mixed with other spices like turmeric.
If you are buying for a food-lover or chef, saffron would be a luxurious and treasured gift. It's grown in Kashmir, yet sold all over India.
Price: $5 to $20 for 1 gram
Where to buy: Anand Bhandar in Karol Bagh, New Delhi
Cardamom
Cardamom (elaichi in Hindi) originated on the Indian subcontinent and is the third most expensive spice in the world. There are two types of cardamom: Black and green.
Cardamom adds spice to your years and years to your life.

Old saying
Green cardamom is most popular in curry recipes and basmati rice. Black cardamom is used in dishes that simmer on the stove for a long time like soups, stews, lentils, rice, grains, and some meat dishes.
Price: $6 to $10 per ounce
Where to buy: Masala Shop in Chandi Chowk, New Delhi
Turmeric & Other Spices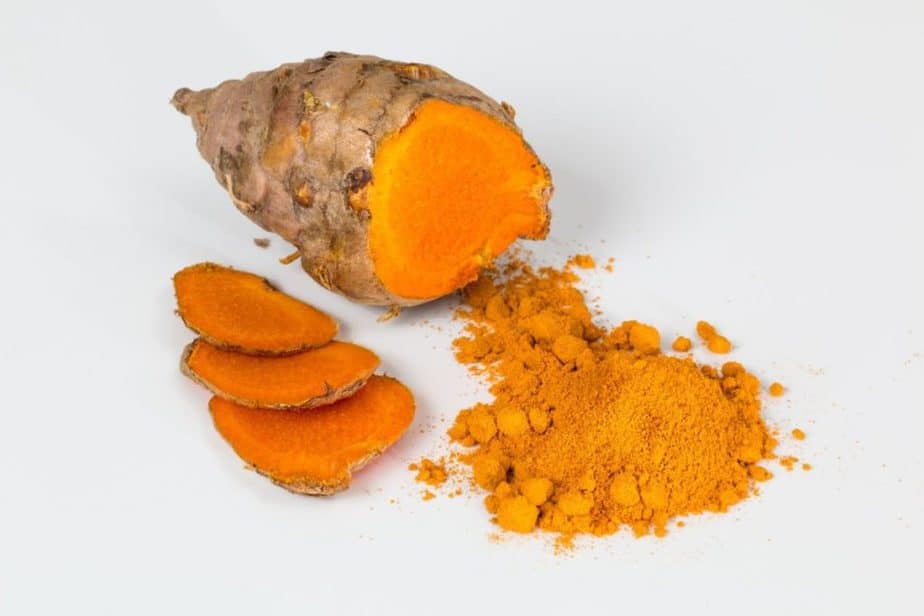 Eighty to ninety percent of the world's turmeric production comes from India.
Turmeric is very healthy. It helps prevent diseases like Alzheimer's and dementia. It can help your joints from becoming inflamed, reduce liver damage, and get rid of your cold.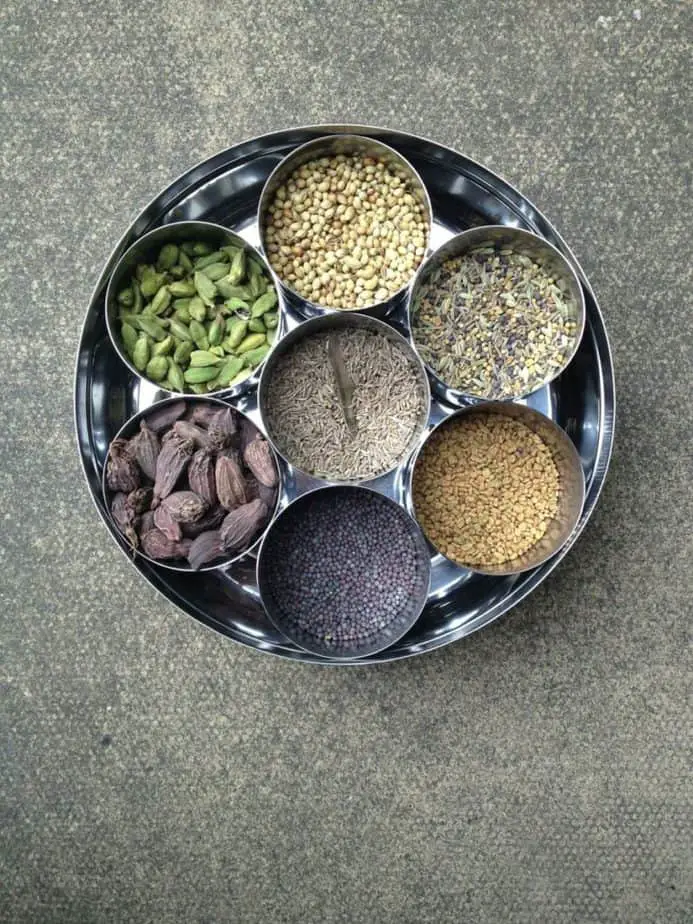 It has vitamin C, iron, potassium, and magnesium. It's also a dye though so be careful about getting it on your clothes.
Turmeric is in so many dishes like curries and dals.
Price: $3 for 500 grams
Where to buy: Any grocery store
Mango Pickles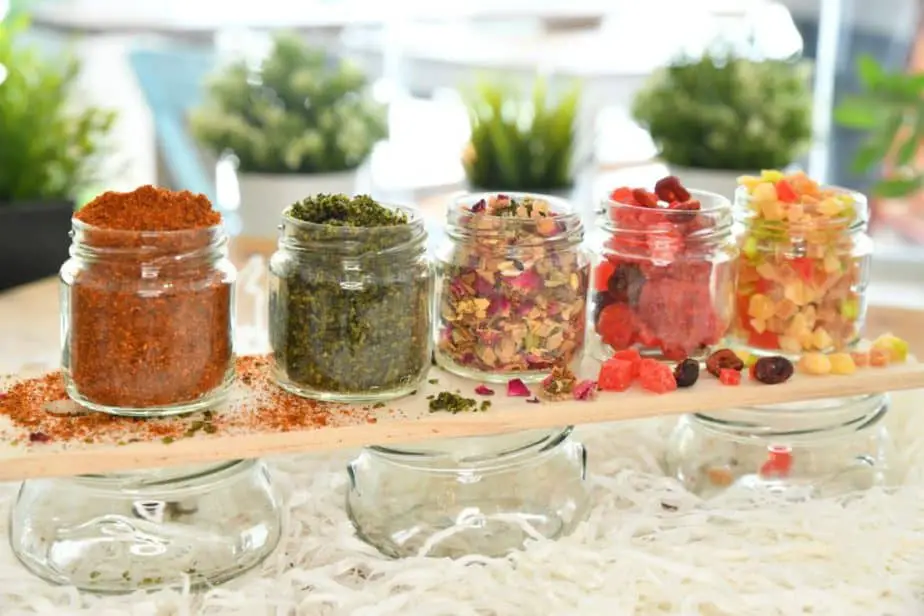 Pickles are one of the best food souvenirs in India, and there are many varieties. Mango pickles are the most popular type though and because mangoes are sooo delicious, they'd be my #1 choice for a souvenir. Because pickles don't need refrigeration and will never go bad, they make for the perfect souvenir.
Many Indian homes put a scoopful of pickles on the side of all their meals.
Since mangoes are the most delicious fruit in the world and there are so many varieties here, why not try this.
The flavors are sweet, sour and spicy. It's often made with raw mangoes, chili, garlic, mustard seeds, and fenugreek seeds, then kept in oil.
Price: $3 for a small jar
Where to buy: Sethi's Achar Shop on Khari Baoli Rd, New Delhi
Amla Pickles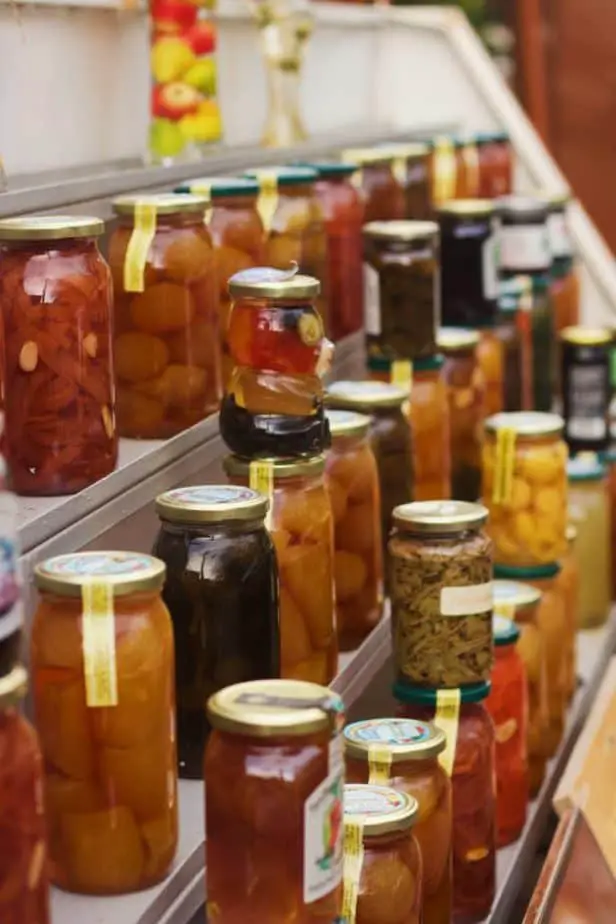 Amla is an Indian gooseberry and is also very healthy. It has a lot of Vitamin C, is a strong antioxidant and has minerals like calcium, phosphorus and iron.
The pickles help with digestion as well, and while there are many ways to make them, it is spicy and sour.
Price: $3 for a small jar
Where to buy: Sethi's Achar Shop on Khari Baoli Rd, New Delhi
Lotus Pickles & Other Types
There are so many different types of Indian pickles, so if you go browse a good pickle shop like Sethi's Achar Shop in New Delhi, then you can find a type you might really love.
I recommend lotus pickles because they are more uniquely Indian than some other types.
The lotus stem has Vitamin C, zinc, iron, magnesium and copper to help you stay healthy. If you are trying to lose weight, it also can help you feel more "full" for longer.
These type of pickles originated in Kashmir.
Price: $3 for a small jar
Where to buy: Sethi's Achar Shop on Khari Baoli Rd, New Delhi
Darjeeling Tea
Darjeeling tea is the "champagne of teas" and is named after a town in the state of West Bengal. It's in the Himalayan foothills and all the tea in the region is grown on 87 estates.
Darjeeling tea is a black tea that known for a unique muscatel flavor. There are three tea seasons or flushes, and each has its own distinct appearance.
Price: $10 to $40 for 100 grams of the best quality
Where to buy: Mittal Tea House, where many of the staff are from Darjeeling
Assam Tea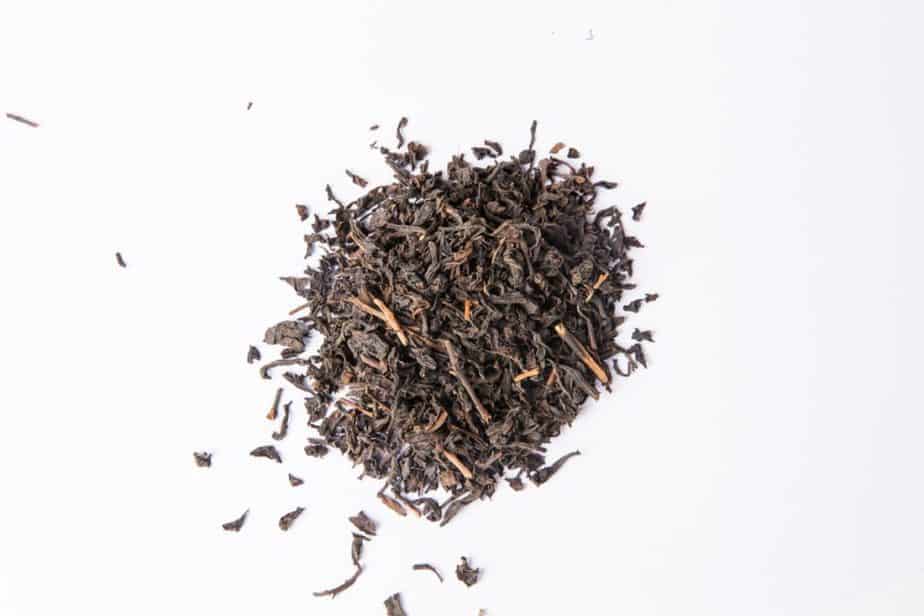 The Assam Tea Company started production in 1840, and it's a state in Northeastern India. Assam is the largest producer of tea churning out 1.5 million pounds each year.
Assam is a black tea with a malted flavor and is often sipped for breakfast in England and around the world.
Price: $10 to $40 for 100 grams of the best quality
Where to buy: Mittal Tea House or their stores, which are around New Delhi like on Barakhamba Road
Galub Jamun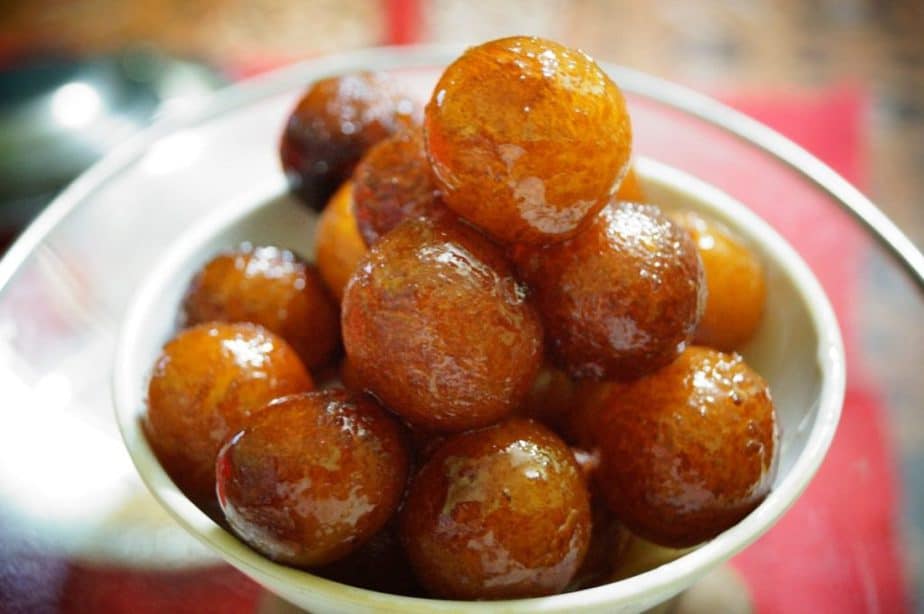 Galub jamun is from India but is now eaten in many Asian countries. This small ball of dough is soaked in syrup and flavored with saffron, cardamom, and rosewater.
For a sweets lover, you can find a tin of these little delicious things and you can be sure to delight them.
Price: $2 and up
Where to buy: Bangla Sweet House on Bangla Sahib Rd, New Delhi
Jalebi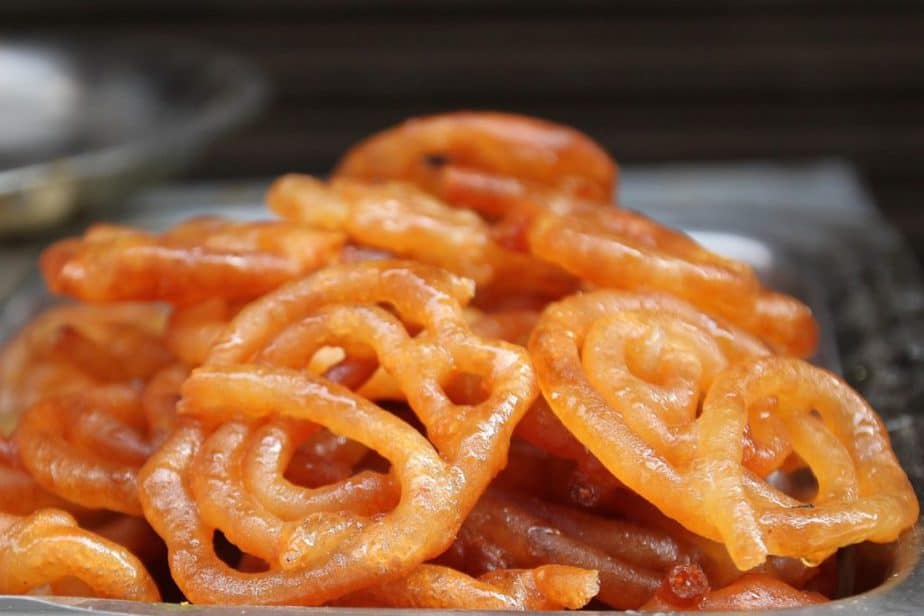 Jalebis are a popular street food in India, but you can also find packages of them or a mix that someone could make at home.
Jalebis are usually made from maida flour and soaked in syrup. The street vendors have a cool way of shaping them into pretzels. There are other varities of jalebis as well such as paneer jalebi (cheese) or mawa jalebi (thickened milk).
Price: ~$1
Where to buy: Bangla Sweet House on Bangla Sahib Rd, New Delhi
Petha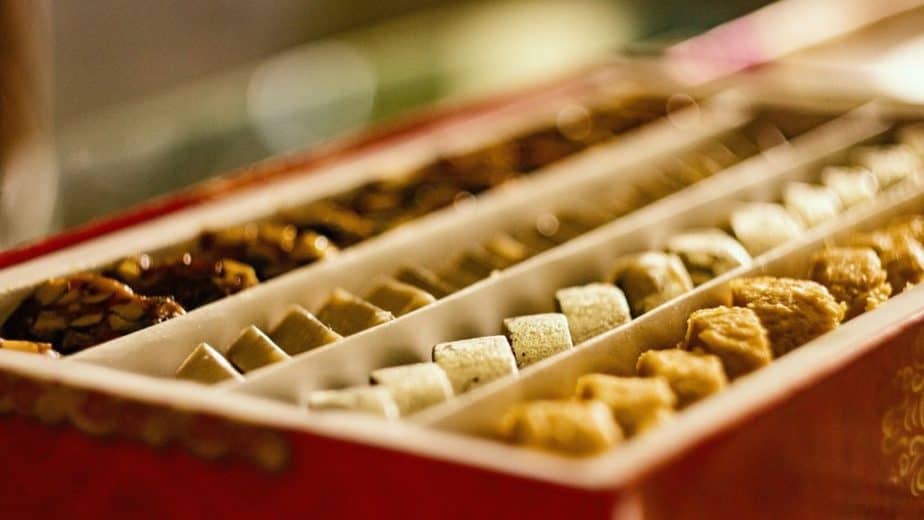 Petha is the signature dessert in Agra, and was invented by the chefs of Shah Jahan. The emperor who created the Taj Mahal wanted a candy that was as pure and white as that iconic marble tomb.
Petha is only made of fruit, sugar and water so is considered very pure. The candy was once only made with white pumpkin, but now there are hundreds of flavors such as saffron, grapes, paan, chocolate and more.
Price: ~$3 for 1 kg
Where to buy: Panchhi Petha in Agra
Hara Chiwda
Hara Chiwda is a packaged savory snack with puffed rice, nuts and raisins. It deliciously blends spicy and sweet flavors.
You can easily buy a small bag and throw it in your luggage. Hara Chiwda is one of the most popular types but you can find similar snacks from a company called Haldiram's like a cornflake mix or Kashmiri mix.
Price: $1
Where to buy: Krishna Supermarche 37 in New Delhi
Samosa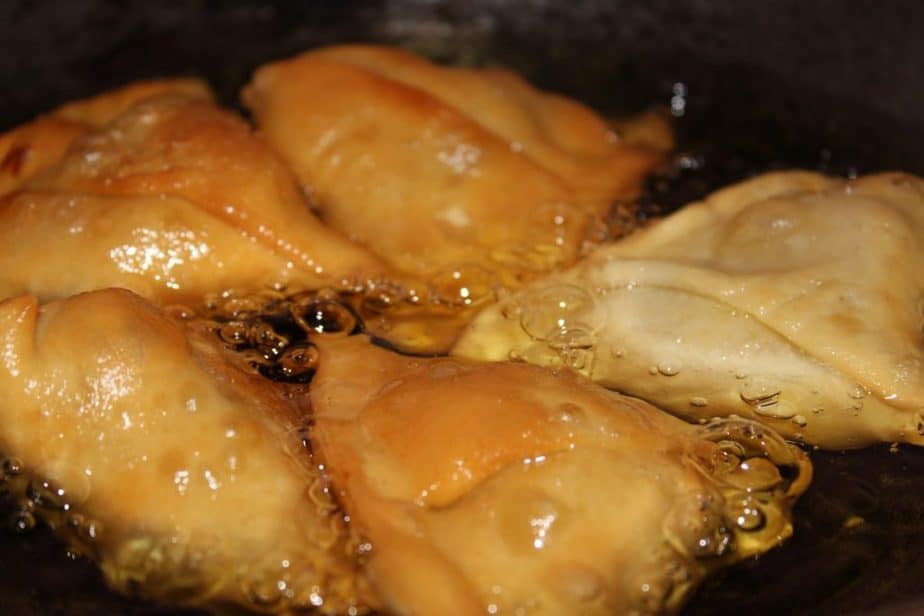 Samosa's are another super popular street food, so if you buy a packaged version it would be something that is authentically Indian for your friend.
You can find these spicy fried snacks with different types of fillings such as cashews, raisins or more.
Price: $1
Where to buy: Grand Bazaar in Kailash Colony Market, New Delhi
Indian-made Wine
India's wine market is still in its infancy, however a bottle of wine is always a good present so there are a few vineyards to try:
Grover-Zampa Chêne: A delicious red wine with oak (chêne means oak in French), chocolate and coffee notes.
Fratelli Sette: One of the most popular wine brands, it has complex, layered and full flavors.
Price: $5 to $20
Where to buy: Wine Shop in Sunlight Colony, New Delhi
Indian-made Liquor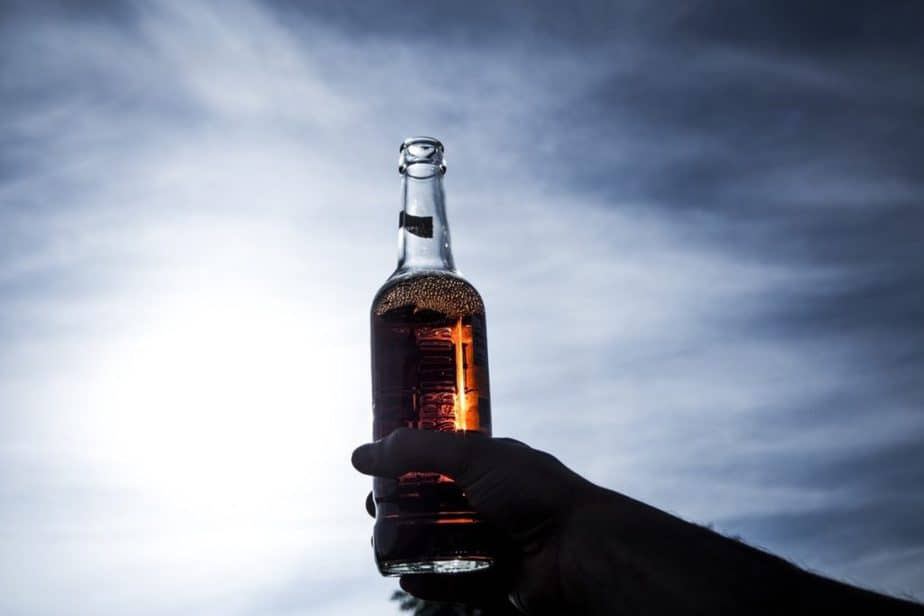 Amrut is the first single malt whisky in India and was only founded in 2004, so the market is still very young. You can find some delicious flavors though and it would make a good addition to a friend's liquor cabinet. Paul John is another delicious single malt whisky.
In Goa, you can find a blue-green agave liquor (basically tequila, yet you can NOT call it that unless it is made in Mexico) distilled by Desmond Nazareth. There are many different flavors. Cabo is another coconut liquer made in Goa.
Price: $15 to $50
Where to buy: Government Wine & Beer Shop in Mayur Vihar
Indian-sourced Coffee
South Indian's are actually known more for drinking 'kaapi' (the way it sounds when they say coffee) than tea. Filter coffee is as popular on the streets as tea vendors and if you try some you might want to bring some back for your coffee-loving friends.
Blue Tokai is one of the best coffee that has estates and roasteries across India. You can also order a bag online and they will roast them the way you want them.
You can find other great brands making coffee in India like Marc's and the Flying Squirrel.
Food-Related Souvenirs
If you don't want to take food through customs, there are a few other good ideas for food related souvenirs.
Tiffin Containers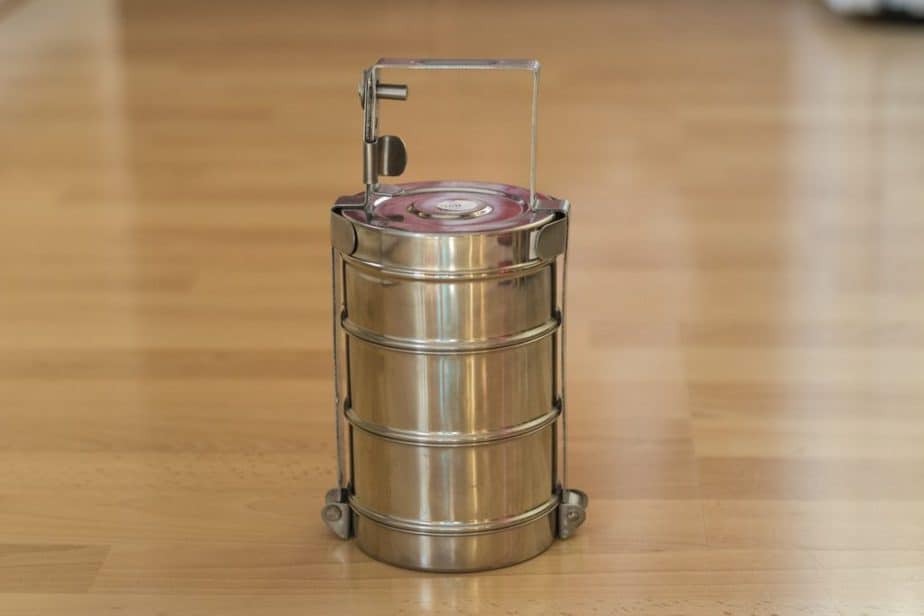 Indians have a cool way of separating their dishes, and on any given day you'll see someone carrying their lunch in these stainless steel tiffin containers. They are leak-proof and will last for a long time.
Price: ~$10
Where to buy: Batra Novelties – The Wholesale Gift Shop in New Delhi
Cookbooks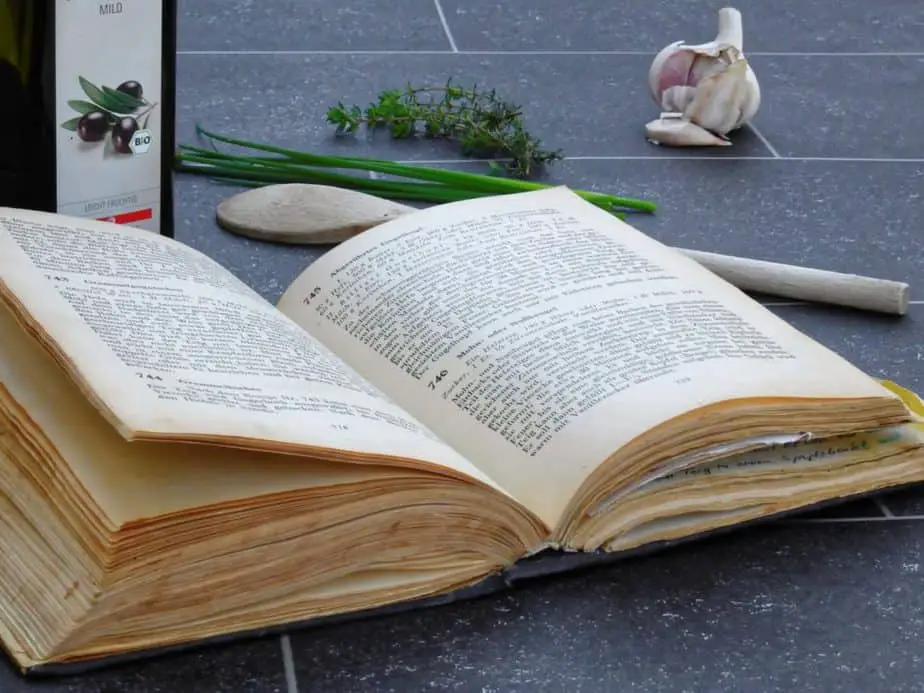 Or you could try a cookbook so they can make authentic Indian dishes for friends and family.
660 Curries by Raghavan Iyer can show you the diversity of flavors in the definitive cookbook on curry. Or An Invitation to Indian Cooking by Madhur Jaffrey is a classic from the 'godmother of Indian cooking.'
Price: $15 to $50
Where to buy: Oxford Bookstore on Connaught Place, New Delhi