Before I moved to India, I knew I was going to be working on my MacBook a lot and I had heard India's electricity situation was "interesting" …so I was looking for a good travel adapter. Finding the right answer was more confusing that I expected, so I spent hours doing some research and I thought my findings may help you as well… I even included what would work in 16 other countries like Canada, the UK, Russia, Germany and more 🤓 
What's a good travel adapter for India? First, consider the shape of the Indian plug versus the shape for your home country. The plug shape in India is C, D, and M. In the USA, the plug shape is A and B. In the UK, it's G. In Russia and Germany, it's C and F (more below). Most devices are dual-voltage, so the voltage difference is not a problem. You do want to protect your device against power surges though.
With the frequent power surges, even if you get a travel adapter that works, power surges are common in India and they could turn your precious mobile phone or Macbook into a smoldering pile of metallic rubble. Eek!
To prevent that, let's take a look at the different factors to consider so you can use your devices as safely as possible…
We'll look at the different voltage, frequency and plug types of a number of countries.
We'll also go into how a travel adaptor is different from a voltage converter (and why you don't need one).
Then I'll show you how to keep your device safe from power surges.
A Comprehensive List of Factors To Consider When Looking for a Good Travel Adapter: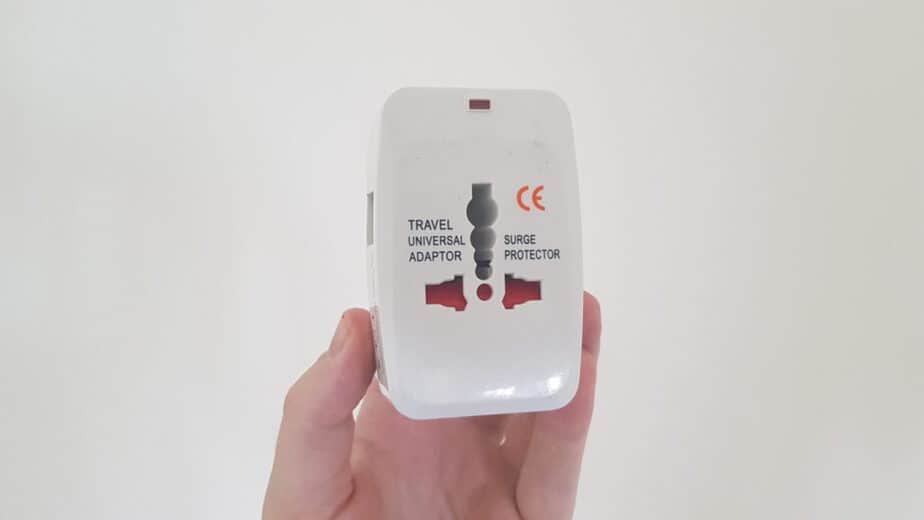 There are three factors to check off when choosing an adapter for your devices:
Plug Type: It's the shape of the outlet and there are 14 different types of plugs throughout the world (Type A through N). Type A through C are the most frequently used.
Voltage: Most countries use between 220 and 240 Volts. There are countries that operate between 100 and 127 Volts though too. The US is 120V and India is 220V.
Frequency: Most of the world is at 50 Hz, although the USA and other parts of the Americas and Asia can be 60 Hz.
If you want to reliably and safely use your laptop or another device, then you need the right plug type. However, it can be good to understand how voltage and frequency work… most devices are equipped to handle different voltage levels.
What is the Plug Type, Voltage and Frequency for Your Country?
Here are the 16 countries that most visit India with their respective plug type, voltage and the frequency for their electricity:
| | | | |
| --- | --- | --- | --- |
| Country | Plug Type | Voltage | Frequency |
| India | C, D, M | 220 V | 50 Hz |
| USA | A, B | 120 V | 60 Hz |
| Canada | A, B | 120 V | 60 Hz |
| UK | G | 230 V | 50 Hz |
| Germany | C, F | 230 V | 50 Hz |
| France | C, E | 230 V | 50 Hz |
| Australia | I | 230 V | 50 Hz |
| China | A, C, I | 220 V | 50 Hz |
| Japan | A, B | 100 V | 50 Hz / 60 Hz |
| Thailand | A, B, C, O | 230 V | 50 Hz |
| South Korea | F | 220 V | 60 Hz |
| Singapore | G | 230 V | 50 Hz |
| Russia | C, F | 220 V | 50 Hz |
| Malaysia | G | 240 V | 50 Hz |
| Vietnam | A, B, C | 220 V | 50 Hz |
| Sri Lanka | C, D | 230 V | 50 Hz |
Now that you know this information, what does it mean though? Well, it actually may all be simpler than what we originally thought (story of my life 🙂 Let's check it out the difference between Single and Dual Voltage…
The Difference Between Single or Dual Voltage
Single voltage devices, such as irons and hair dryers, can only handle a small voltage range (100 – 120 Volts). You should NOT bring these devices to India because it will be very difficult for you to power them, therefore it's highly likely they'll turn into a smoldering pile of trash.
Here's a list of common single voltage devices:
Coffee Makers
Toasters
Blenders
Dual-voltage devices, such as laptops, cell phones, and tablets, can handle a larger range of voltage. This means you do NOT need a voltage converter or transformer for these items. You only need a travel adapter for these.
Here's a list of common dual-voltage devices:
Laptops
Phone Chargers
Tablets
Cameras
Hair Dryers
Electric Razors
Electric Toothbrushes
Irons
Battery Chargers
External Hard Drives
"MOST travel devices are dual-voltage but check the tag to be sure."

Ben Jenks
What's the Difference Between a Travel Adapter and a Voltage Converter?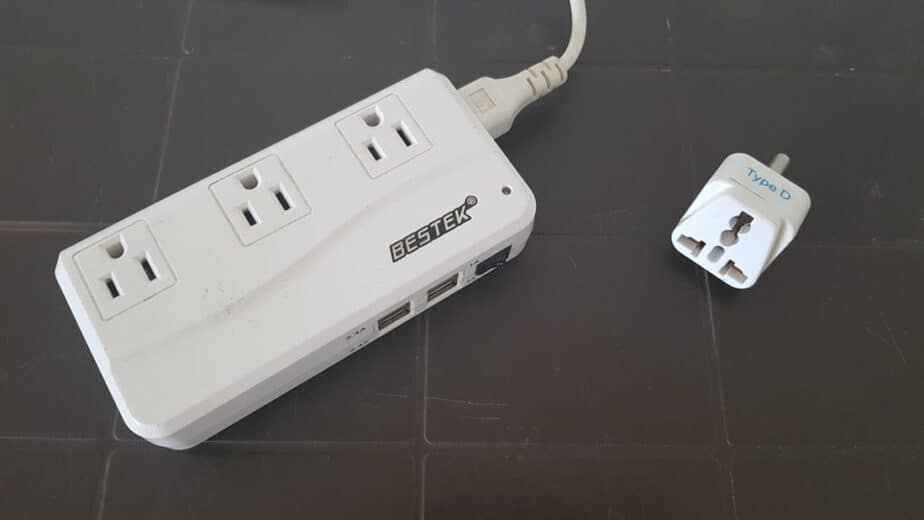 A travel adapter adapts one plug type to another plug type.
A voltage converter converts one voltage level to another voltage level. For example, the voltage in the USA is 120V and the voltage in India is 220V. Wouldn't this mean you need a voltage converter?
Do I need a Voltage Converter for India?
If you are going to be living in a home in India like I am and you are using single-voltage devices (like if you brought a US blender).
I bought one, but in hindsight, I didn't need it because I didn't realize how common dual-voltage devices were.
Therefore you do NOT need a voltage converter for India or to convert the voltage of your devices. However, you do need to protect your MacBook from power surges. These are the most dangerous thing that could happen to your devices 😱
The Dangers of Only Using a Travel Adapter
The voltage in India is officially 220 Volts but it does vary and can vary quickly. So if the volt shoots up to 280 Volts, then your MacBook could be destroyed.
To protect yourself, this is why I use a voltage converter with short-circuit protection when I go out. What I don't like about this one though is that it has a fan and makes noise.
This one (click that link to check the price on Amazon) has a surge protector and I really like it. When I traveled to Sri Lanka that is what I used.
When I'm at home, I use an Indian surge protector that I bought from my local store and a great travel adapter (click that link to check the price on Amazon).
Tip: Buy a handful of travel adapters and keep one for each device. It can be easy to lose them so each of my devices has their own adapter that I just leave plugged in.
What Words Should You Understand When Learning About Electricity For Traveling in India
As I read about this topic, I came upon a number of words and concepts I just didn't understand. For instance, when I was checking the voltage necessary for my G-Drive External Hard Drive, it said it was 12 V. And I was like, wait a minute, the standard voltage for the USA is 120 V, how is this not fried? But I didn't understand the difference between DC and AC voltage.
I'll explain this concept and other weird, foolish and some logical words/phrases so you can understand them too:
Direct Current (DC): This is the type of current that an electronic device uses. It does not come out of the wall in this format. Check the label to see what yours is.
Alternating Current (AC): This is the type of current that comes out of the wall. This is why your MacBook has a big square white thing in between the wall and your computer. It is converting the electricity from AC to DC.
AC Adapter: This is the box that converts AC from the wall to DC that is necessary to power your device.
Travel Adapter Plug: This allows one plug type to fit into another. We spoke about this above.
Frequency: This is the speed the electricity alternates at. It is the number of waves that pass by in one second. It is measured in Hertz named after the German physicist.
Grounded Plugs versus Ungrounded Plugs: Grounded plugs have 3 prongs (usually). Ungrounded plugs have 2 prongs.
Voltage Converter: You'd use one of these for single-voltage devices. It changes the voltage from 120 to 240 V or vice versa. One important note is to check the wattage rating of the transformer. It should always be larger than the wattage rating of the appliance you're plugging in.
NOTE: Travelers do not need a converter since travel devices are dual-voltage.
Related Question:
Do European plugs work in India?
Maybe. Germany and France use the C plug type. India also uses the C plug type. The UK uses the G plug type so it wouldn't work.