I've spent many months in Tiruvannamalai in Tamil Nadu in southeast India. It's a beautiful pilgrimage town in the Annamalai Hills at the base of the holy hill Arunachala.
Tiruvannamalai or Tiru as locals affectionately call it, is known for one of the tallest Hindu temples in India that attracts millions of Indian tourists. It also is home to the popular Sri Ramana Ashram that acts as a hub for Western visitors.
My friend calls it "spiritual Disneyland" because, on a given day, you'll meet local holy men, tourists going to a yoga teacher training, seekers attending a spiritual retreat, or expats just spending their day meditating in the ashram.
You can also find some good restaurants, hotels and guesthouses. The prices are better than many tourist places in India because Tiruvannamalai is relatively a hidden gem (although a friend says it's past it's prime, it used to be like "the Shire.")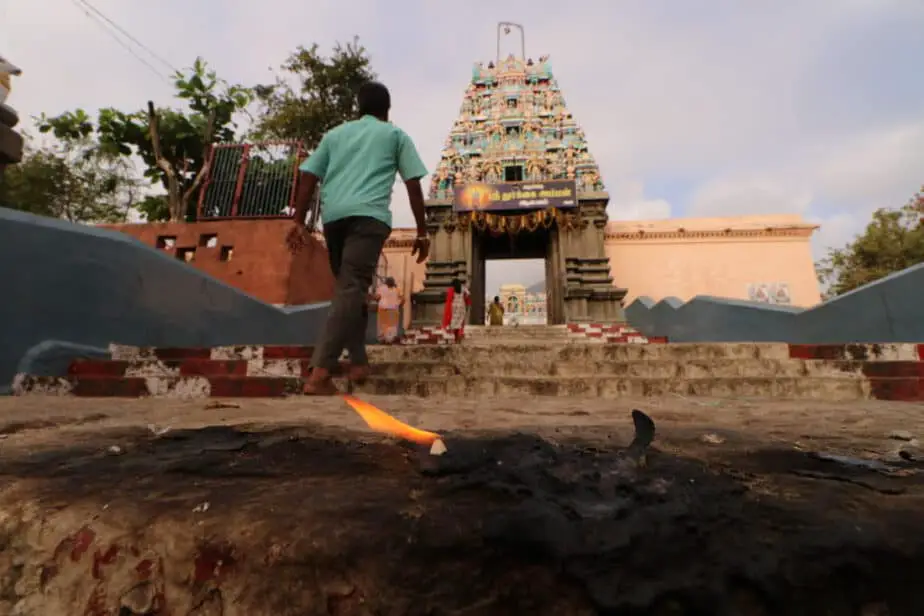 As I've explored and researched this town, it's been a joy to get involved with the daily life of the locals at the street markets and the festivals.
For this post, I read a guidebook about Tiruvannamalai, I hired a local guide to share what it was like growing up here, and I've had hours of talks with other locals and expats.
Whether you're only visiting for a day, a week or longer, below you'll find the main tourist places in Tiruvannamalai, as well as some off-the-beaten-path destinations you'd need to learn about from the locals.
If you want to understand why this quirky little town is such a hub, first you need to know who Lord Shiva is…
Who is Lord Shiva?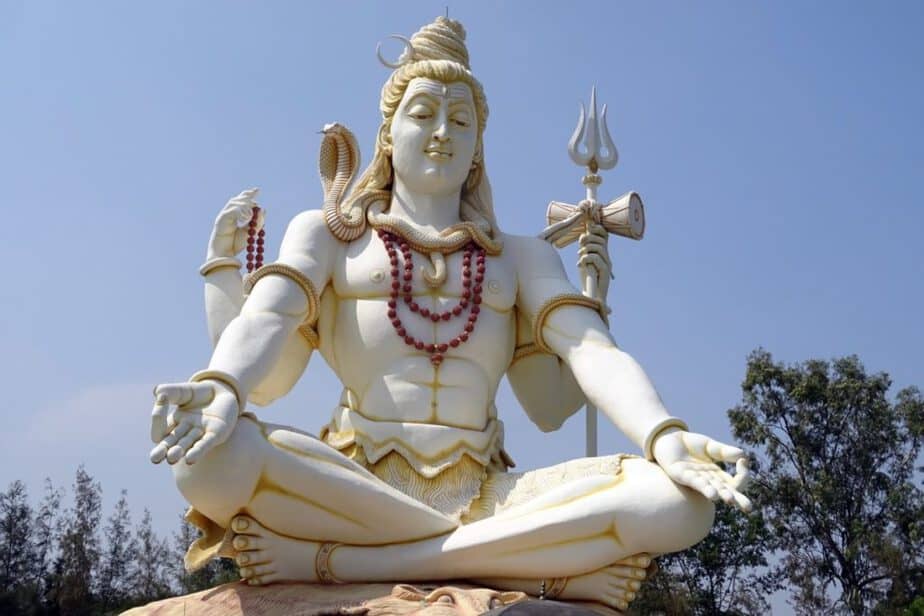 Many centuries ago, it is said that Lord Shiva appeared here and formed Mt Arunachala, which is why there are a famous temple and ashram here.
Now, I'm no Hindu scholar (my degree is still in the mail apparently 🤓 ) but in less than 500 words, I'll give you an overview of this Hindu god and how he'll impact your stay in Tiruvannamalai.
Lord Shiva or Lord Siva is a major god in Hinduism. He is called the Destroyer, the Transformer, the Terrific One, Lord of Dance, and Lord of the Universe. He's a pretty big deal, and worshipping him is one of the primary traditions in Hinduism.
Well, one day, Lord Brahma and Lord Vishnu (a couple of other gods) were fighting and Shiva appeared as a column of fire to point out how ridiculous they were being. It worked and as the gods stopped focusing on themselves, they both were humbled and became friends again, haha.
The gods asked Shiva to take the form of the holy hill Arunachala.
Shiva symbolizes our ego, and by not focusing on our ego, we can be humble and happy.
Tiruvannamalai was built around the holy hill of Arunachala and thousands of years ago, the royal devotees of Shiva built temples in his honor.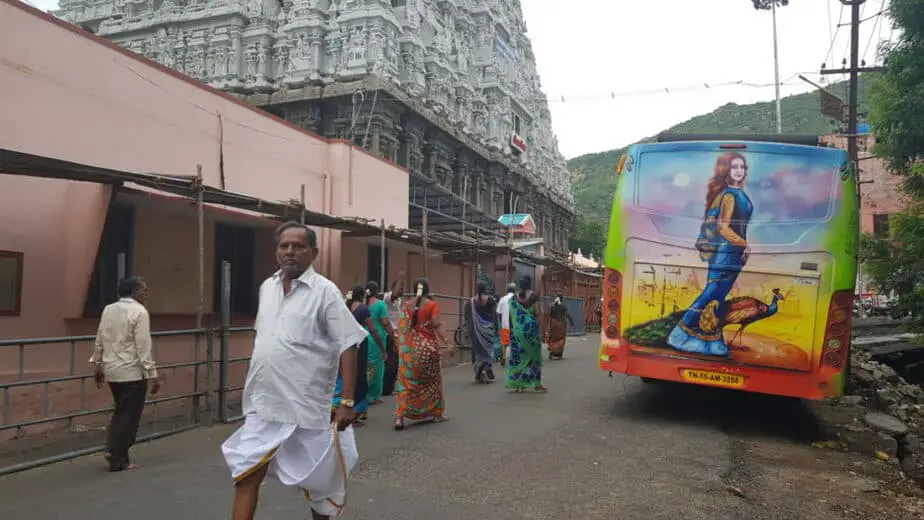 Today, the tourists come to honor this god, but they will also walk around the hill for spiritual, physical and mental health.
Every day you can see people walking barefoot around the mountain, and every full moon the streets are packed with pilgrims walking around the mountain all night long.
Many of the ashrams in Tiruvannamalai are dedicated to more modern sadhus, saints, and sages who were devotees of Shiva and came to this town to worship and live.
When To Visit
Most people visit in December and January. These are the winter months, so the days are warm and the nights are cool. It never rained during those months last year, so all you would need is a sweater for the mornings.
Local festivals Deepam and Pongal are celebrated in December and January and are fun times to see the town. I'll give you the details about them further down the post.
February and March are also good if you don't mind hotter weather. My friend visited in March and it was hot (average temperature in the 80s, but can often get into the 90s). We still explored during the morning and went out to dinner in the evening. You wouldn't be able to stay out exploring all day long though.
April through June is very hot. It's usually over 105 degrees Fahrenheit in May, as it is the peak of the summer. If you want to avoid the crowds, then this is the time as the streets are pretty bare and only the locals are here. Many people will go to spend the summer in the north. I loved these months because I rented a home and had AC, so I could get a lot of work done.
July through September it is still hot but getting cooler and there are rains now and again. These would be good months if you want to avoid the crowds but don't want to brave the sauna-like temperature of the summer. You still wouldn't be able to explore all day, but the mornings and evenings can be pleasant.
October through November is the monsoon season. All year there is a dry lake bed (great for photos of the mountain), but during these months it will often fill with water. This is NOT the best time to visit Tiruvannamalai.
LOCAL TIP: If you want to get an in-demand guesthouse or home rental, come at the end of November. You will have first-choice on home rentals and guesthouses, before most of the tourists arrive. If you stay for the season or longer you can negotiate around 25-40% off the price.
Once you arrive, here are the main tourist places to visit…
Arulmigu Arunachaleswarar Temple (Big Temple)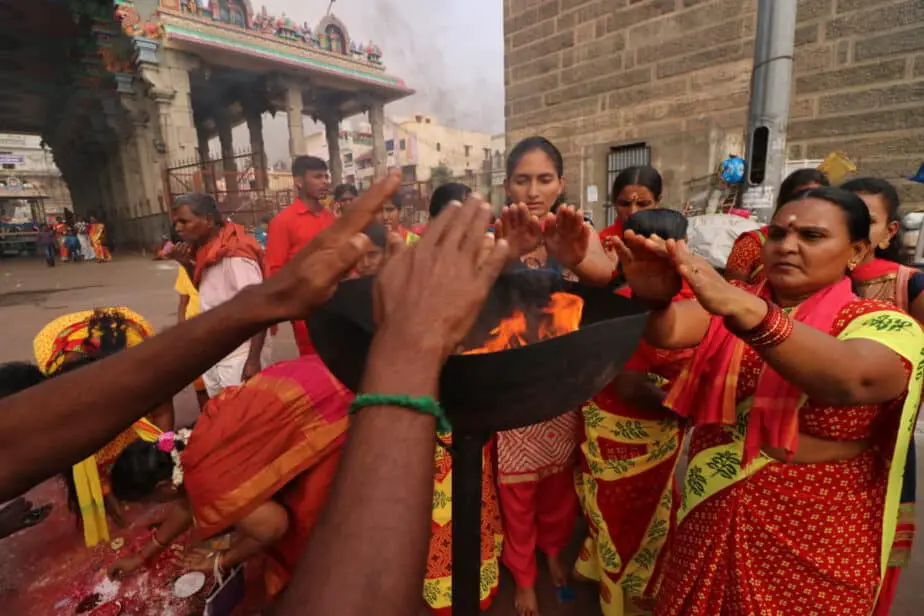 The Arulmigu Arunachaleswarar Temple could be the largest temple in the world built for Lord Shiva and has been visited for thousands of years. It is also called the Annamalaiyar Temple… Annamalaiyar is another name for Shiva.
This temple is right in the heart of the town and will take your breath away! The intricate carvings tower above you with Arunachala hill in the background. The temple is built on a 25-acre plot of land surrounded by bustling street markets and tour buses with beaming pilgrims.
The eastern tower (gopuram) is one of the tallest in India. Since Shiva is associated with fire, you can see pilgrims stopping at the small fire in front of the main entrance and waving the smoke over themselves.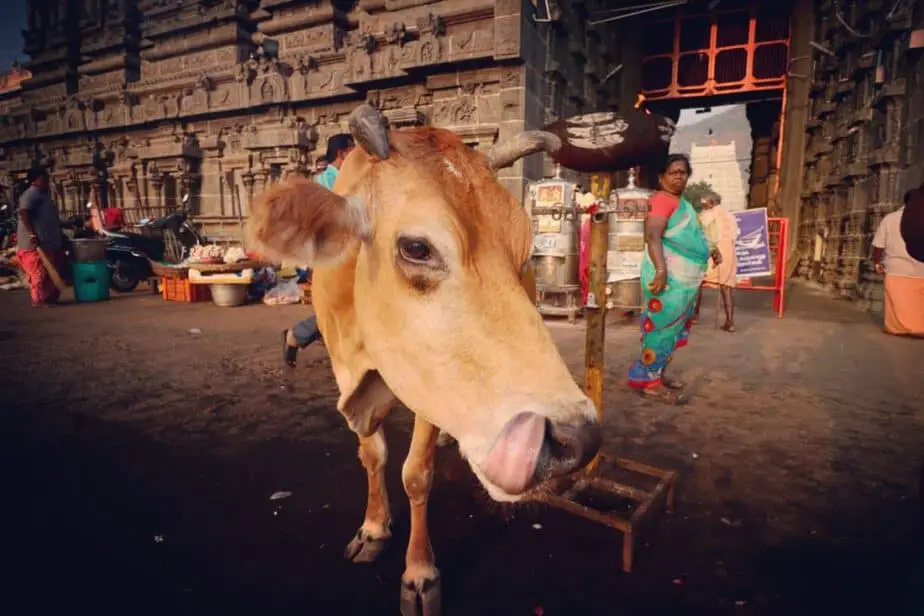 Pooja is a ceremonial "prayer," here's the schedule:
5:30 AM
8 AM
11:30 AM
5:30 PM
7:30 PM
9 PM
Foreign tourists are allowed inside but wear clothing that covers your knees and shoulders.
LOCAL TIP: Go at sunrise as the city is just waking up. You can get a hot masala chai and South Indian style breakfast of idli (rice cake) and vada (lentil donut) and chutney at the New Annapoorna Hotel, just to the north of the main entrance of the Temple.
Sri Ramana Ashram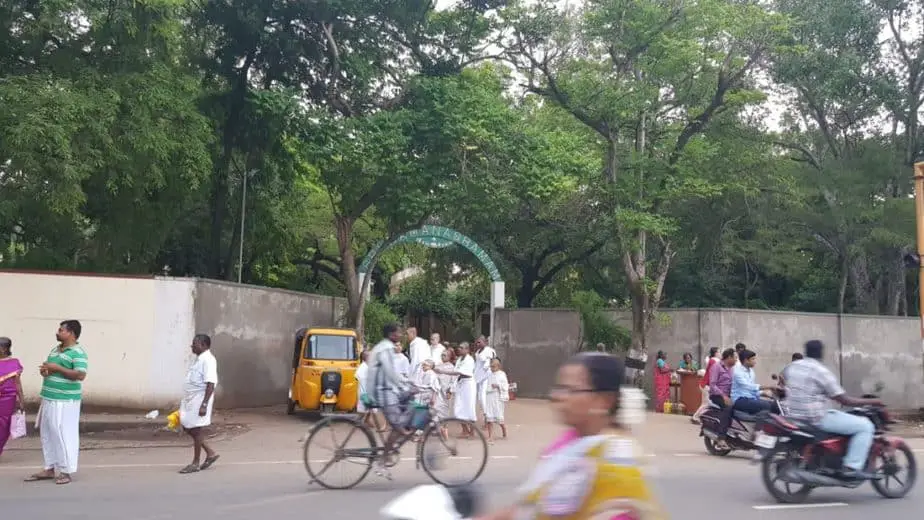 About one mile from downtown is the Sri Ramana Ashram (also called Ramanashram).
Indians and foreign tourists alike revere Ramana Maharshi in the same way he worshipped Lord Shiva.
Who is Ramana Maharshi?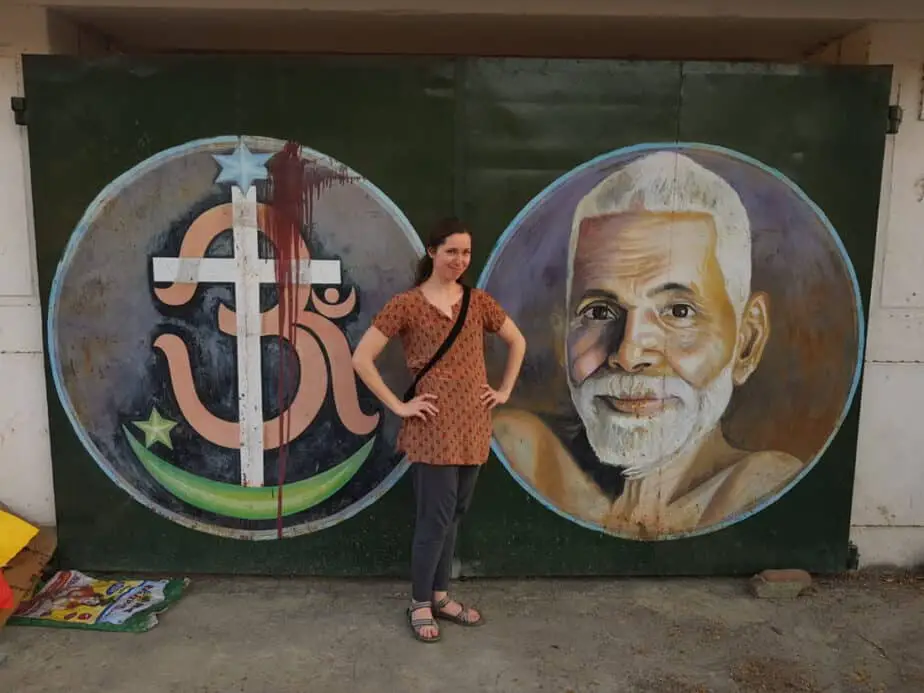 He was born in a village near Madurai, met a man from Tiruvannamalai who told him about Tiruvannamalai and Shiva. He then ran away from home to worship here and he spent 55 years of his life living here.
He once said he had walked on every rock on Arunachala.
He started as just a loin-cloth-wearing teenager, who would sit in silent meditation for weeks. He didn't even speak to his mother who came to plead with him to return home.
In time, he attracted many spiritual seekers and he began to answer their questions. As the years went on he drew devotees and the ashram (which started as a small hut) was built to shelter him and his followers.
Ramana Maharshi wrote books "Who Am I?" and "Self-Inquiry" which became popular with spiritual seekers in the West.
What to Expect at Ramana Ashram: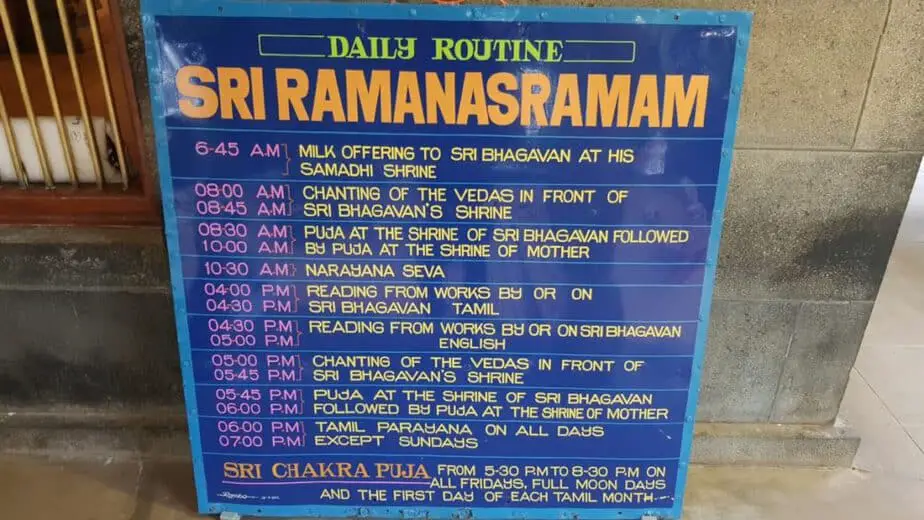 Today, hundreds of visitors come to the ashram every day, and it is a tourist attraction devoted to his memory.
The ashram is free to enter
All religions and beliefs are welcome
Visitors are asked to wear clothing that covers your shoulders and knees
If you are a devotee, you can request accommodation and you will be provided with food.
The New Hall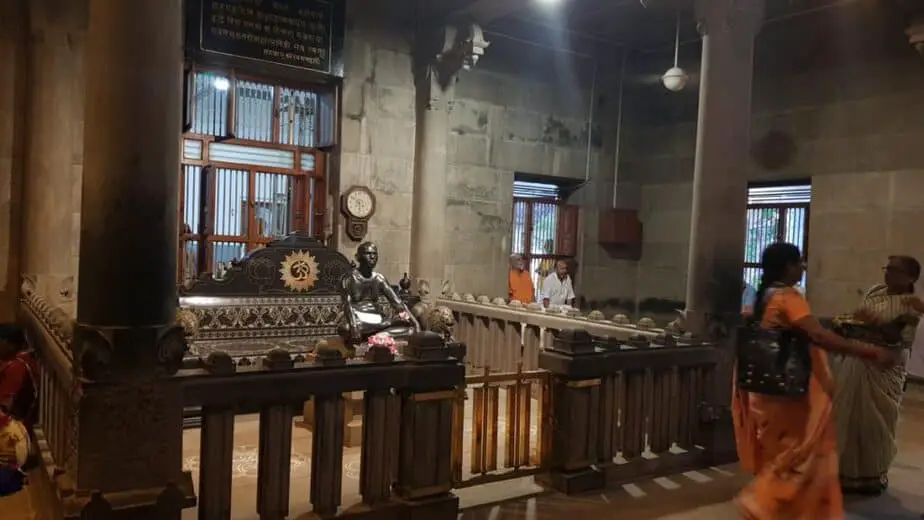 You'll see an impressive life-sized statue of Ramana that was carved from one stone. It is polished so smoothly that it appears like it comes from black marble.
Hours:
5 AM – 12:30 PM
2 PM – 9 PM
The Old Hall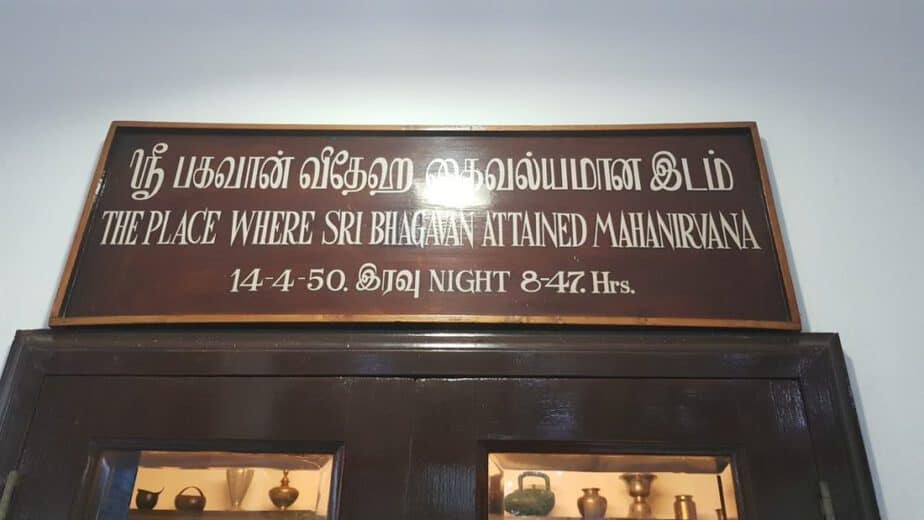 Way back in the day, the original devotees used to chill and meditate with Ramana here. As their numbers grew, the New Hall was built.
You'll also find Ramana's Tomb, a library, the Nirvana Room (where he attained enlightenment many years ago), a meditation room, and a beautiful tree at the entrance that is said to be 450 years old.
You can find many people sitting in meditation throughout the rooms. There are many tourists coming to experience first-hand where their guru lived.
It's a pretty peaceful place with the mountain towering overhead and it's relaxing to spend a few hours here.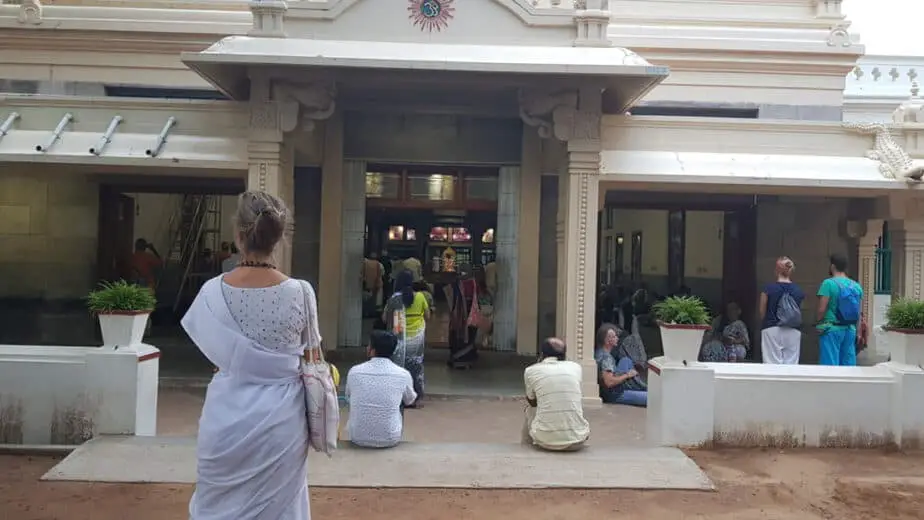 Skanda Ashram
If you walk up the mountain path for 30 minutes, you'll come to an ashram built into the side of Arunachala.
Ramana lived here from 1915 to 1922 with his mother. His mom could make food here instead of having it brought up from the small hut that was the ashram at the base of the hill.
There is a small inner chamber that feels like you are going inside the mountain with a picture of Ramana and a small lamp.
In the morning there is a chant.
You can see his mother's chamber with a picture of her as well.
If you want to hear detailed stories, there are amateur local "guides" who will tell you the story of Ramana. Keep in mind that if you go along with them, they will ask for money and I've paid them about 150 rupees to have them show me the places where Ramana used to meditate and tell me stories from his early days.
Virupaksha Cave
If you continue on the path past Skanda Ashram, then you can walk another 15 minutes to the Virupaksha Cave.
LOCAL TIP: The path to the cave goes steeply downhill and then uphill on your return, so it is only recommended if you're in pretty good shape.
Ramana lived in this cave from 1899 to 1916. The cave has been respected for hundreds of years though.
In the 1300s, the saint Virupaksha Deva lived there as well. This is what drew Ramana to live there.
He spent much of his time in meditation and was brought food from seekers coming to see him.
Today it has a small building, reminds me of a tiny house, with a bed. The cave feels like you are going inside the mountain it is very warm when lit with a small candle.
The cave is set into the rocks and you can hike up to the top to get a nice view of the temple and town below.
As I toured this cave with a local guide, I couldn't help but want to renounce my worldly possessions and come live here as well. I like this better than the main ashram because it's set in nature and super quiet.
Seshadri Maharishi Ashram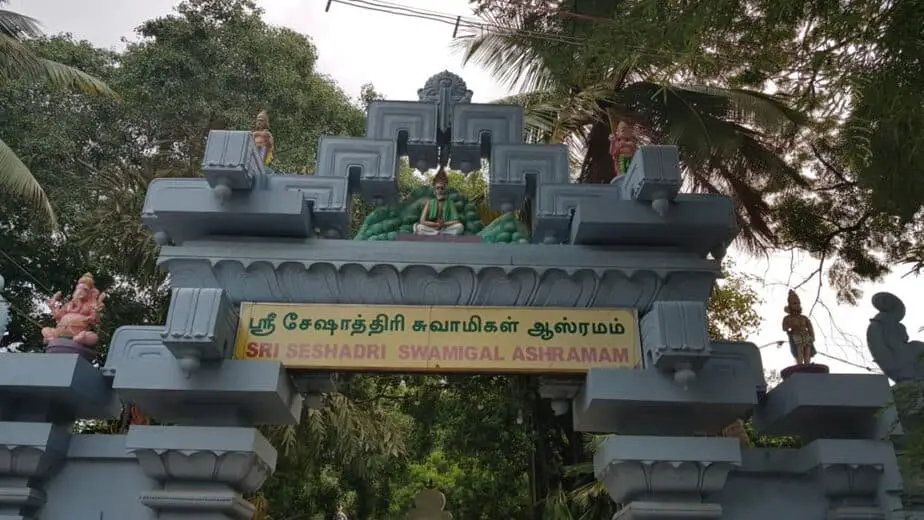 Back at the foot of the mountain just to the north of Sri Ramana Ashram is another ashram dedicated to a respected holy man.
Seshadri Maharishi also came to Tiru in his teens and was here with Ramana at the same time.Unlike Ramana, he did NOT devote himself to Shiva, instead, he was a devotee of the goddess Shakthi.
If Shiva is like the fire-y male god, Shakthi is the flow-y divine feminine "mother" god. She is also called Parvati, the wife of Shiva.
Seshadri was considered special and divine even as a kid. Apparently, he was walking in a shop with his mother and he wanted a small statue of Krishna. His mother didn't have money, yet he stubbornly wouldn't budge unless he had it. The shopkeeper noticed this and gave it to him as a gift. After that those Krishna statues sold very well and the shop keeper told everyone that the boy had divine powers.
He was taught the traditions of the Bhagavad Gita, the Vedas, Upanishads and other spiritual writing.
Seshadri didn't live in one place in Tiru, instead he would wander the streets, sleeping wherever he got tired. It also sounds like he was a bit "interesting" and would be found talking to himself. He would throw rocks and run away from devotees. He would eat at restaurants and wouldn't pay. It was considered a good omen if he ate there, so the restaurant owners or shop keepers would have big sales after he left.
But it is said he could bless people and reach the future.
In the ashram, you'll find fewer tourists but it's still very nice. They also have accommodation and food, although it may be more difficult to find someone who speaks English.
Yogi Ram Ashram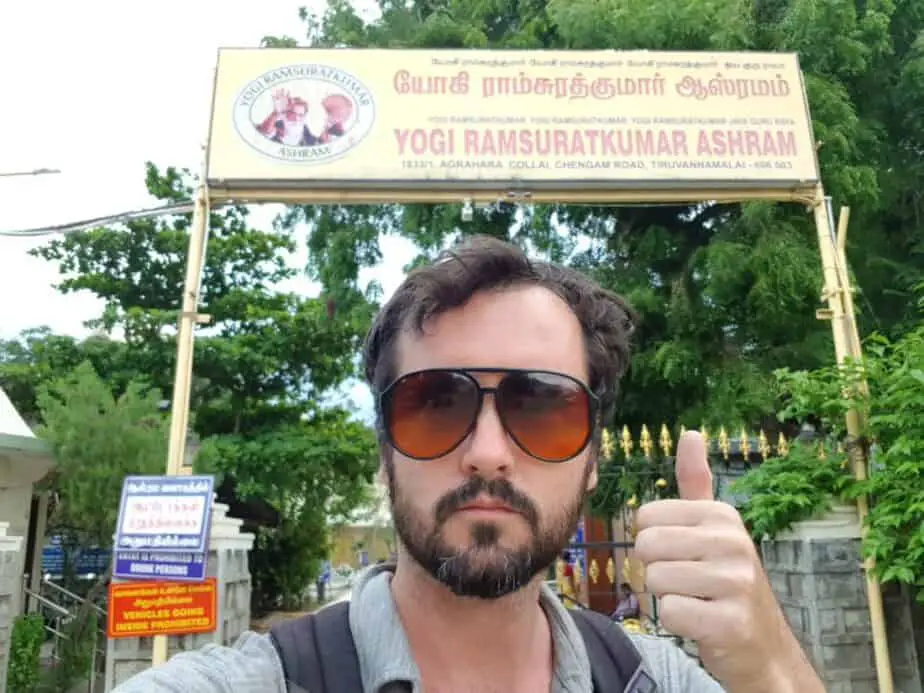 Less than a mile from Sri Ramana Ashram is another ashram of a local holy man.
Shri Yogi Ramsuratkumar was younger than Ramana and Seshadri. He was born in 1918, grew up on the banks of the Ganges River, where he would spend most of his time with the holy men. Over his life, he traveled around Tamil Nadu and India, but later in his life spent much of his time in Tiruvannamalai.
He arrived in Tiruvannamalai in 1959 after he had become enlightened but to many people, he just appeared like a beggar. He was like one of the hundreds of sadhus that live around the mountain today, except over time he began to gain more of a following and people would ask him for a blessing.
He lived in a rented house for a while but as more and more people came to see him, they bought him 4 acres of land for an ashram.
Now, there is a massive hall for services that can hold as many as 4,000 seekers. There is a shrine and a statue for him as well.
Siva Sakthi Ammaiyar Ashram and Home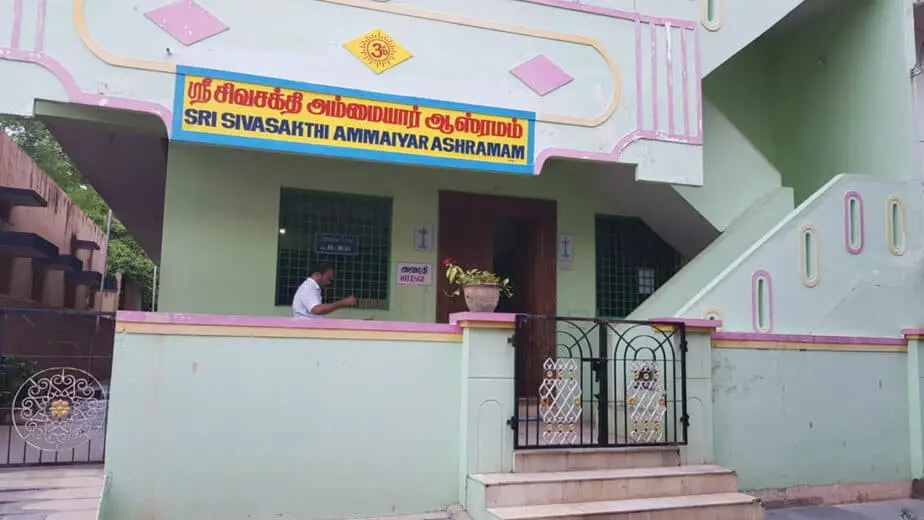 If you want to meet a living enlightened saint, then you can come to meet Siva Sakthi. She holds meetings (darshan) in her home in Tiruvannamalai during the winter months at 10 am. Come early because it will be crowded with seekers.
My friend lived in her home for years as he was seeking enlightenment and she is known throughout India for her wisdom.
Meetings (Darshan): 10 am during November – February on a quiet road Ramana Nagar, less than 1 mile from Ramana Ashram.
The Lake
Most of the year it's actually a pasture for goats and cows, but if you come in December and January after the monsoon season, it is usually filled up with water.
It's a beautiful place to take photos of Arunachala, and it's a nice walk to get there. It's a 45-minute walk from Ramana Ashram, you will go through a small village with goats and cows and kids running around. Then you walk along the edge through a row of palm trees, near an ancient banyan tree.
There is a small concrete dock with idols and what could be called a brick 'diving board', haha.
LOCAL TIP: It's beautiful at sunset, but come on a scooter so you can leave before dark. It's also a place where local high school kids will hang out, and since it's a little ways from town, you don't want to be alone there after dark.
The Street Market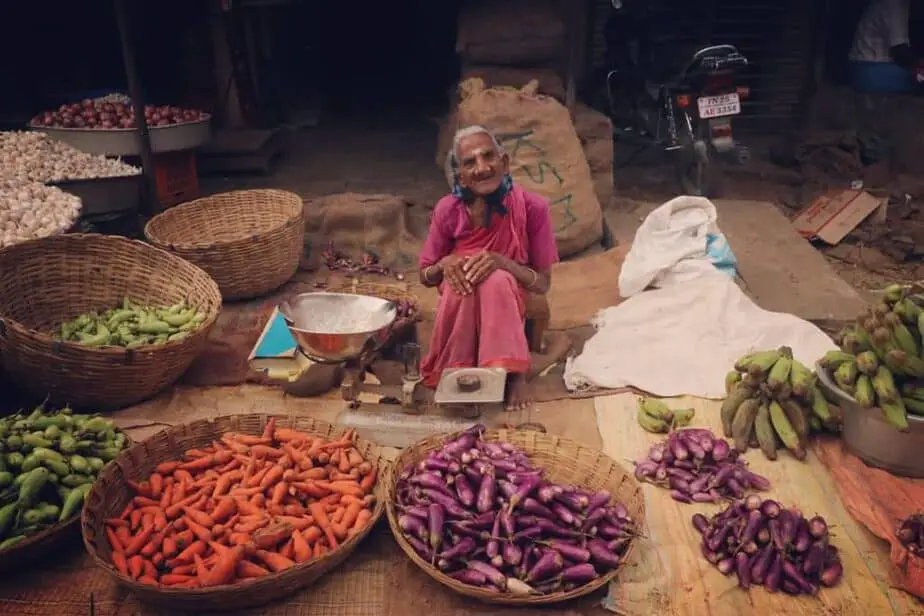 Downtown, just to the south of the Annamalaiyar Temple is a local street market. It's my favorite place for street photography. You can find hundreds of vendors selling pomegranates, limes, cucumbers, carrots, and all other local vegetables and fruits.
Be sure to negotiate the prices, as the first price you're quoted is NOT the final price. Shoot for 50% of the first price, but start your negotiates at 25%, and quickly move up and match as they move down.
Local Festivals:
There are often holidays and celebrations, which can make traveling more fun, yet also more difficult if you're looking for a room or needing to get somewhere on time.
Tiruvannamalai is known for monthly full moon celebrations and the town gets packed with pilgrims. There are also a couple of annual holidays that are widely celebrated and it's a cool time to visit to see the passionate pilgrims.
Girivalam
Hindus consider it sacred to walk barefoot around the mountain, even more so under a full moon.
Every month thousands of devotees come to walk around the mountain under the moonlight.
INSIDER KNOWLEDGE: The god Shiva has a crescent moon on his head!
It is thought that if you walk around Arunachala (remember they consider it the form of Shiva) you are reborn and shall become enlightened. Plus it is good exercise.
To do it properly, you must walk barefoot, walk slowly, bathe before you go, cover yourself in sacred ash, and wear rudraksha beads. Some devotees will chant. You'll see families going together. Some devotees will even roll along!
Tips for your Girivalam:
It's 8 miles.
Go in the morning before it's too hot.
Bring water, but you can find more as you go. Chai is sold as well.
You can also get an auto-rickshaw if you want to get to enlightenment faster 😉
Take time to appreciate the shrines and resting places.
If you can find a friendly sadhu (there will be hundreds) then some will be happy to tell you about the area. They will ask for a donation, 50 to 100 RS is generous.
There are some cool sculptures in trees as you go.
You'll go through some small villages, then end by walking past the main temple downtown where it is busier.
Deepam
It is the festival of lights. They burn butter on top of the mountain for 10 days.
Shiva once appeared as a column of fire here, so to celebrate this, the locals haul 3 tons of ghee (clarified butter) up the hill of Arunachala and light it on fire.
When I first arrived here, this was going on and it is beautiful and kinda trippy see a big fire on top of a mountain at night. It reminded me a little of Burning Man actually, on a much smaller, more serene scale.
The locals will also clean their homes, make rangolis (colorful chalk mandalas) in front of their door, and light lamps, which symbolize our egos.
There will be plenty of fireworks going off as well 🧨
Pongal
This is the harvest festival in January. You'll find rangolis (the colorful chalk mandalas) outside most doors in the morning, they paint cow horns, and eat lots of Pongal (a rice dish).
There are celebrations at Arulmigu Arunachaleswarar Temple and the Ramana Ashram.
Restaurants
Dreaming Tree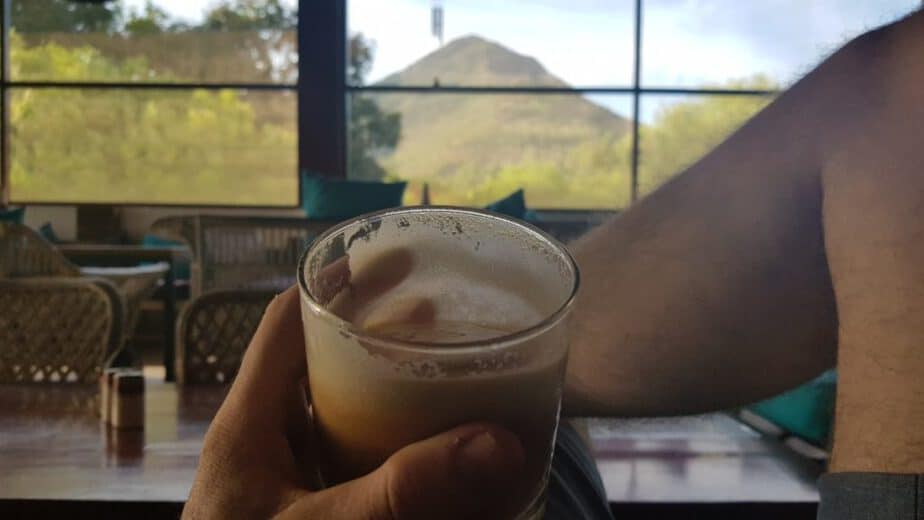 "This place reminds me of Bali." This is a quote from a US traveler I met. It's a "mostly-organic" restaurant on a rooftop with beautiful views of Arunachala. Their WiFis pretty good and during power cuts they have a generator.
The food and drinks are delicious and safe to eat. I would eat anything on this menu and my stomach would be fine.
It's more expensive than other restaurants in town. One of the only restaurants you could spend $7 for a meal in Tiruvannamalai. You'll find lots of tourists come here and it is a great place to meet other travelers.
LOCAL TIP: The Soul In A Bowl with potatoes, quinoa, carmelized onions and cream cheese is delicious. The cheese and vegetable omelette has super stringy cheese. They also have some of the best espresso in town. The pizza is not great, unless you're into cardboard.
Akash Hotel
This place is also one of the nicest restaurants in town with super cool AC and delicious Indian food.
You'll spend less than $5 for a big meal.
LOCAL TIP: The paneer butter masala will make you cry tears of joy 😋
Auro Usha Hotel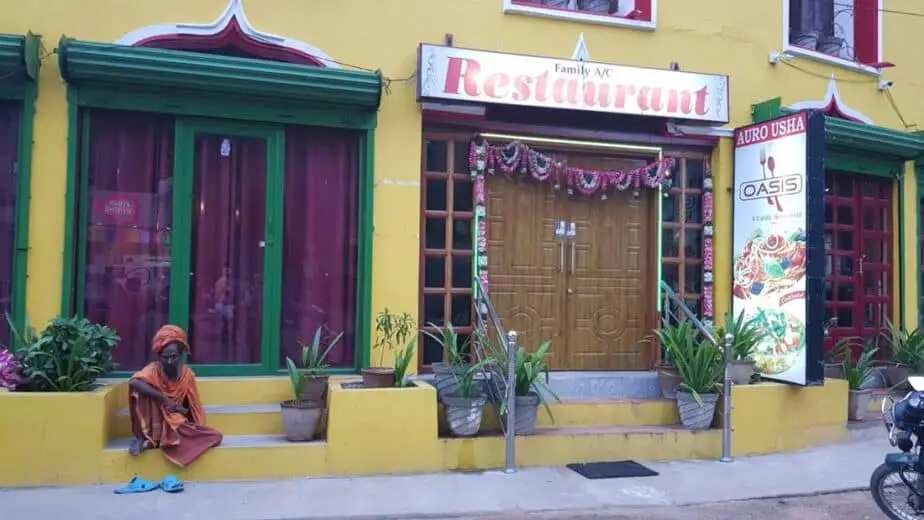 One of the only other restaurants with AC. They have a good lunch buffet and some of the best free WiFi in town.
Sathya Cafe
I ate here 6 days a week for months and spent less than $2 for local dinners. It's run by a warm local family and is about a 20-minute walk from the Ramana Ashram (5-minute scooter ride or 50-rupee rickshaw).
You can find local South Indian food with decent chai and better coffee. It's one of the only places you can find eggs near the Ramana Ashram.
LOCAL TIP: Masala Dosa with two eggs, a parotta (chewy flat bread), and two chai's is about $2. They serve good pizza on Wednesday. Bring bug spray.
Margheritaly
It has the best pizza in town and good ice cream. You have to drive to the other side of Arunachala but if you want the best pizza and gelato in town it is here. You can't get pepperoni or any meats of course, but you can get buffalo mozzarella cheese.
Good AC here too.
Chai Stand across from Ramana Ashram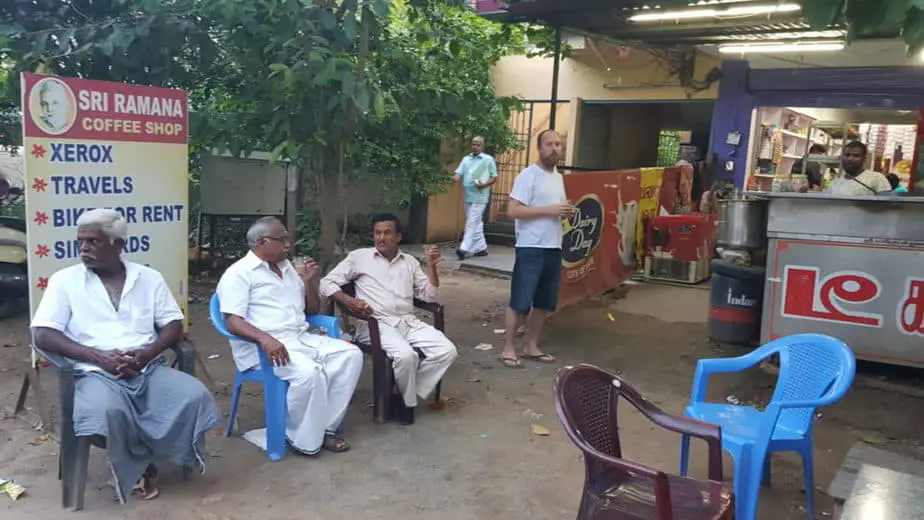 This small stand has the best ginger chai in town. It's across from the main entrance to the Ramana Ashram and you can have a chai or three before you check out the ashram.
Great place to meet travelers and seekers, as many people will chill here and people watch.
Hotels
Dwarka Guesthouse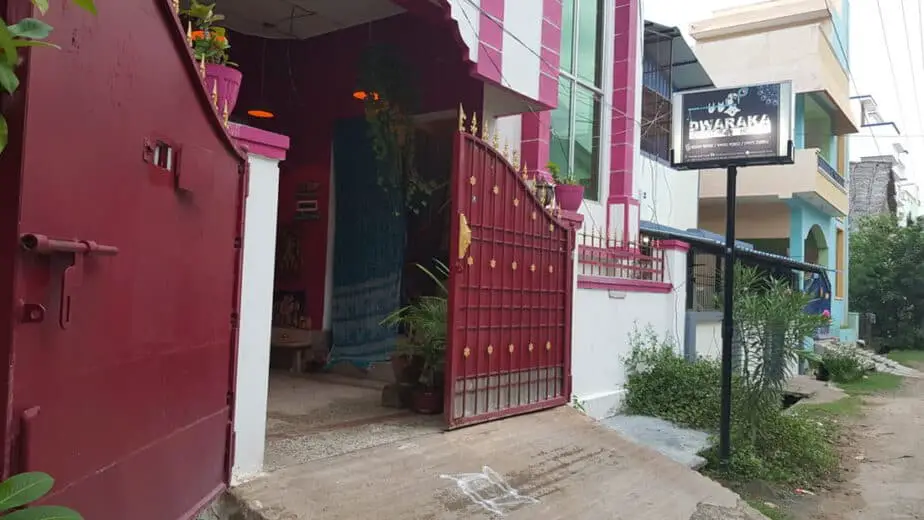 A simple room with hot water showers, a small kitchen, and some rooms have AC. It is run by a super sweet woman and in a quiet location less than 1 mile from Ramana Ashram. WiFi isn't good enough for a digital nomad though.
Sunshine Guesthouse
Another simple room with hot water showers, run by a sweet and helpful family. You can sit with them below and they'll offer you chai, and you can meet the other travelers. The location is just out of town so it's quiet.