I spent a couple of weeks in Pondicherry on my first trip, however, I want to go back with my family and we may only have one day to explore, so I'm wondering…
What are the best things to do on a one day trip to Pondicherry?
Sunrise at Promenade Beach
See Gandhi's Statue
Have a cappuccino at Le Cafe
Take a cycle tour through the French, Muslim and Tamil Quarter
Visit Sri Aurobindo Ashram
Visit Manakula Vinayakar Temple
Get a crepe at Crepe in Touch
Visit the Basilica of the Sacred Heart of Jesus
Cool off at Paradise Island Beach
Surf at Serenity Beach
Scuba diving with Temple Adventures
Dinner at Villa Shanti
Drinks at La' Aqua or Toxic
Dancing at Pub Zipper or Dragon Lounge
Stay at La Villa or Hotel Le Royal Park
If you're coming to do a one day trip in Pondicherry from Chennai or Bangalore, then the above list is an ambitious list.
But of course, there are many other options and you may want to customize your trip a bit. Let's go through each item, talk about the details about why they would be great, then offer an alternative so you have options.
Sunrise at Promenade Beach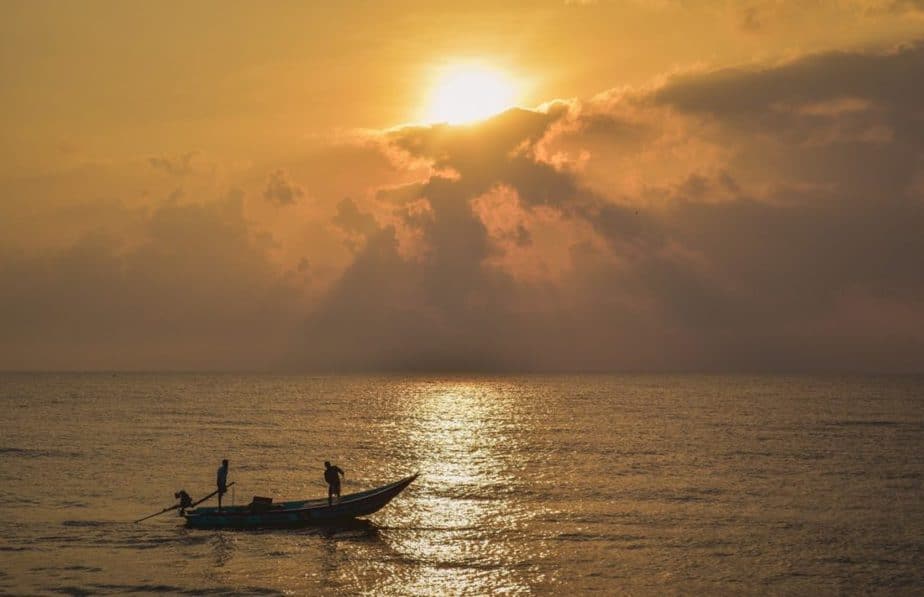 Let's start at 6 AM and watch the sun come up over the Bay of Bengal. The Promenade Beach road is closed until 9 am and each day you can find people taking a quiet morning walk, doing yoga, or meditating.
You'll see groups of men walking and talking. You'll see families who are on holiday. You'll see people running. Others might be painting a painting of the sunrise.
The "beach" has black rocks, not sand, that were put in place to prevent the erosion of the sand.
You can walk down to the south side and see the Old Pier and get a view from out in the ocean. There is some sand down there and you can wade into the water. There is a small beach on the north side if you want to wade in.
It is NOT recommended to go swimming since there are riptides.
If you want to try another beach with fewer people, try one of these:
Serenity Beach: Just north of town by the Nature Loft Resort, take Serenity Beach Rd to the water.
Auroville Beach: Just north of Serenity beach, turn towards the water at Soorya Beach Resort and it's right there.
Karaikal Beach: It's 134 km from Pondicherry, but a very nice beach.
See Gandhi's Statue
As you're walking along the Promenade Beach, you won't be able to miss Gandhi towering over the water. Right in the center of the beach, is a 13-foot tall statue of him that is flanked by 8 granite pillars.
It's the perfect spot to take a selfie or a group photo with friends.
Gandhi isn't the only statue along your walk on Promenade Beach either, you can also find:
Jawaharlal Nehru: He's was India's first prime minister and he's just across the road from Gandhi.
Joseph Francois Dupleix: He's was governor-general of Pondicherry and is positioned at the south end of the beach.
Joan of Arc: The French heroine is in a small park just across the road from the beach.
French War Memorial: It's a tribute to the Indian soldiers who fought with the French in World War I and along the beach road, but on the other side of the road.
Kargil War Memorial: On the north end of the beach, is a tribute that pays respect to the soldiers who died in this conflict with Pakistan.
Cappuccino at Le Cafe
Since we're still at the Promenade Beach, I recommend getting a cappuccino and enjoying it as the sun comes up.
The Le Cafe will NOT win any fancy dining awards, but it's right on the water, it's open 24 hours and it serves espresso, so it's a winner in my mind.
You can order things like a:
Cold coffee
Cafe latte
Cappuccino
Cafe au lait
Cafe Cortado
Espresso
Organic coffees
South India is known to serve "filter coffee" and there are some other good spots which are NOT too far:
Auracafe (17 Goubert Ave): A nice shop that serves Marc's Gourmet Coffee and espressos.
Indian Kaffe Express (3 Rue Dumas St): A well-lit cafe with decent coffee and lattes.
KBS Kofi Bar (1 Law De Lauriston St): It's has a tea stall type of atmosphere you can get a cup of filter coffee and stand to drink it (there are a few seats).
KBSN Kofi Bar (112 Mahatma Gandhi Rd): This one's a little further from the beach, but it's typical South Indian style coffee. It's busy even in the early morning with men standing around. The servers sling dark black coffee, add thick milk, and a bit of sugar. All for 20 RS a cup.
Take a Cycle Tour
Book a cycle tour ahead of time, you can make it the Sita Cultural Center (No-22, Kandappa Mudaliar St, MG Road Area) at 7 AM.
This tour will be crucial for a one day trip because the tour guide is going to give you an insider local perspective. She's great!
You'll ride through the Tamil Quarter and go through backstreets leading to the Basilica of the Sacred Heart of Jesus church. It's one of the only Gothic-style churches in India and it's a little creepy looking, in a good way. The red stone accent the statues and there are large windows with colorful stained glass.
You'll head to the Gourbert Market, and check out the local produce being sold. There is a seafood market as well.
You'll ride through the Muslim Quarter and she can show you beautiful homes that have been standing for generations. I loved the porches, they reminded me of New Orleans. She'll show you a mosque that was mentioned in the Life of Pi (the main character was from Pondicherry).
You'll ride through a fishing village as it wakes up.
And you'll end by riding through the French Quarter and looking at the beautiful homes and colorful doors.
They provide a French or South Indian-style breakfast but don't eat too much because we'll go to a nice breakfast in Pondicherry next.
If you prefer walking, then another option is to take the Pondicherry Heritage Walk. You can do this on your own or with a tour and go at a more leisurely pace. You can see the French Quarter, the ashrams, the book stores, the boutiques, the Muslim Quarter, Tamil Quarter.
Here's some information about how to do this walk on your own.
Get a Crepe at Crepe in Touch
Pondicherry is one of the few cities in India that was colonized by the French, instead of the British… which is helpful for us because French food is far superior to the Brit's bland attempt at cooking 😉
Go for crepes next!
I loved Crepe in Touch. It's a nice cafe that sells art and handicrafts in the opening room. There's a dining room, and a patio on the roof.
That's where I enjoyed the Monts D'Arree crepe. Check out these ingredients:
Bacon
Potatoes with a maitre d'hotel butter (house-made)
Cheese
Fresh cream
It was the first time I had bacon in India, and if you're Muslim I apologize in advance but wow, it was delicious. That particular crepe put me to sleep with all those rich ingredients, but there are other more healthy options:
Brehat (bre-a): Cream cheese, nuts, raisins
Molene (mol-en): Pesto, marinated tomatoes, mozzarella, basil
Belle-Ile (bell-il): Ratatouille, feta cheese, mixed Provence herbs
Ouessant (u-ess-an): Sauteed mushrooms, caramelized onions, fresh cream, parmeggiano
Lorient: Hummus, feta, grilled zucchinis, sauteed mushrooms, tomatoes, olive oil
La Complete: Eggs, ham, cheese
Batz (ba): Eggs, bacon, cheese
Groix (gro-a): Grilled chicken, caramelized onions, fresh cream, parsley
Glenan (gle-nan): Tuna, marinated tomatoes, olives, mozzarella, basil
Saint-Malo: Pork pepperoni, egg, tomato, cheese, special maitre d'hotel butter
Pondy-Brest: Chicken masala, green peas, fresh cream
Galettes Au Sarrasin: buckwheat crepe with greens and vinaigrette
Egg + Cheese
Tomato + Cheese
Egg + Tomato + Cheese
Tomato + Cheese + Chicken
They have sweet crepes as well if that's more your thing.
Sugar and Butter
Sugar and Lemon
Organic Jaggery
Honey
Organic Jam
Nutella
Apple Compote
Chocolate Ganache
Salted Butter Caramel
If you can resist those options, well, I commend your willpower and here are some other options for breakfast:
The Indian Kaffe Express: Pancakes and waffles
Cafe des Arts: French-style breakfasts with fruit and baguettes, eggs, and crepes
Surguru Spot Restaurant: South Indian style breakfast
Baker Spot: French foods
Visit Sri Aurobindo's Ashram
Now let's get back to sightseeing and check out Sri Aurobindo's Ashram.
Sri Aurobindo was once a political activist who moved to Pondicherry to focus on spirituality. His writing has influenced people such as Jawaharlal Nehru, and he was the founder of Integral Yoga.
Today you can see his samadhi (tomb), come to the art gallery to see 1000s of works, check out the library, or join in a group meditation.
Visit Manakula Vinayagar Temple
Not far from the ashram, is the Manakula Vinayakar Temple which is probably the most well-known temple in Pondicherry.
It's dedicated to Lord Ganesha, the elephant-faced God who is the remover obstacles and one of the most popular Hindu deities.
Check out an elephant blessing: The temple elephant regularly comes to the temple to "bless" the devotees.
Seeing an elephant is at the top of my list in India and I missed it when I was there, but maybe you can check it out.
Visit the Churches
You already saw the Basilica of the Sacred Heart of Jesus church, but there are some other churches in Pondicherry to view as well.
Immaculate Conception Cathedral is another impressive church. It's a 300-year-old Jesuit church that's accented in yellow, and out front is a statue of Jesus that makes for a great photo with the church framed behind it.
It's the oldest church in Pondicherry and is a quiet place for reflection.
Cool Off at Paradise Island Beach
If you're getting warm on your one day trip in Pondicherry, let's go cool off at the beach 😎
Paradise Island Beach is the cleanest and quietest beach in Pondicherry. You take a ferry there and it takes ~20 minutes or so. It can take up to an hour if it's crowded, and it is crowded on the weekends.
You may NOT be able to swim actually, there are signs, but you can wade in and you will see people wading in fully clothed.
It's a big beach so if you're a couple, you can head off for some quiet time by yourself.
You can also have little fish eat the dead skin off of your feet in a bath for about 200 RS.
Hours: 9 AM – 5 PM
Surf at Serenity Beach
Another beach that's closer to Pondicherry is Serenity Beach.
The first thing you'll notice about this beach are the colorful fishing boats along the water. There's a surfing school, Kallialay Surf School if you want to hang some ten 😉
For one day, you can get a 90-minute group lesson for 1500 RS per person.
Dinner at Villa Shanti
For dinner, the Villa Shanti is the place for a really really nice meal. It's the place to go when you want to impress your date or partner.
Villa Shanti is a 4-star hotel and is located on a quiet street a few blocks from the Promenade Beach and Joan of Arc Park.
I recommend a seafood dinner, since you're so close to the ocean. Here are some options:
Grilled fish with olive and basil risotto – Kingfish marinated with onions, Dijon mustard severed with risotto with white wine, basil and Kalamata olives, and a side of tomato salsa: 560 RS
Roasted fish with ratatouille – with steamed potatoes, herbs and vierge dressing: 560 RS
Steamed fish with green vegetables – slow-cooked fish served with roasted almonds, fresh vegetables, and lemon butter sauce: 560 RS
Tiger Prawns with carrot, cashew nuts, and spinach – served with carrot mousseline, roasted cashew nuts, buttered spinach and saffron rice with lemon butter sauce: 760 RS
Tandoori fish tikka – Chunks of fish filet marinated with curd, turmeric powder, ginger garlic paste and lemon juice, served with naan bread: 490 RS
Tiger Prawns – Marinated in malai cream, mild floured with Indian spices, grilled with a tandoor, served with yellow or black dhal and roti bread: 760 RS
Minced fish patties – Marinated with Indian spices, pan-fried in Tawa and served with yogurt mustard chutney: 320 RS
Patrani slipper lobster – Steamed Parsi style lobster marinated with Indian spices, wrapped with banana leaves, served with yellow black dhal and roti bread: 780 RS
Tawa fried fish – Marinated with ginger paste, curry leaves, and coriander, coated with flavored dhal and served with lemon rice and tomato coriander sauce: 435 RS
Meen Mollee – Sauteed fish seasoned with Indian spices, cooked in coconut milk and curry leaf: 360 RS
Prawn handi – Medium-sized prawns cooked with onion, garlic, curry leaves and tangy tomato gravy: 410 RS
They have a lot of other options as well like:
French Crispy Beef Patties – Tender and crispy patties with potato, onions and mushroom "fricassee" topped with herb salad and tartare sauce: 450 RS
Grilled beef tenderloin – Cooked the way you would like it with gratin Dauphinois, fried onions, sauteed vegetables, mushrooms or pepper sauce: 540 RS
Lamb chakli kebab – mixed with chopped onion, ginger, fresh coriander finished with Tawa served with lancha and mint chutney: 335 RS
Chef's crepe – Crepe with creamy vegetarian filling served with tomato and basil sauce [Veg]: 350 RS
Butter chicken masala: 320 RS
For dessert, you can have sweet treats like:
French Creme Brulee – Chef's recipe with vanilla cream topped with crunchy caramel: 210 RS
Moelleux au chocolate – A chocolate cake with cashew nuts, cinnamon custard and vanilla ice cream: 260 RS
Chef's crumble – Chef's recipe with apple on a shortbread cookie, salted butter caramel, topped with vanilla ice cream: 260 RS
Trio halwa – Carrot, pumpkin, and beetroot halwa: 220 RS
Shrikhand and candied eggplant – Classic recipe from North India, curd with pistachio and saffron served with a flavored candied eggplant and crunchy green cardamom: 220 RS
Most people spend about 1,500 RS for two people.
There are other great places to have dinner in Pondicherry to wrap up your one day trip. Here are some other restaurant options with different types of cuisine:
Cafe Xtasi: If you want thin-crust pizza, this is the place. One of their pizzas is called the CHEESE BOMB. Can't go wrong there 🙂
Tanto Pizza: Not far away in Auroville, they cook the pizzas on an open-air oven with a range of toppings, even featuring squid pizza.
The Pasta Bar Veneto: If you want pasta, this is the place. You can order alcohol as well.
Le Dupleix: Fine French-Indian fusion dining for a romantic date
#Dilliwaala6: It's like you're eating a wide range of Indian street food, except in a nice restaurant with a much lower chance of getting Delhi belly 😏
Le Chateau: Another romantic restaurant with rooftop seating and views of the ocean. They one of those most extensive alcohol menus in Pondicherry.
Drinks at L' Aqua or Toxic
Some people ask if, alcohol is allowed in Pondicherry? Click that link for all the details, laws, costs, and more recommended places.
The nightlife in Pondicherry is pretty chill and it's nice to go out with friends or to meet a few tourists. The bars close promptly by 11 PM, and you will want to book a table in advance if you're here during the tourist season.
But the alcohol prices can be quite low. Pondicherry is a Union Territory so they keep the taxes much lower than many states. There are many places to have romantic drinks as you gaze out at the ocean. Or you can find a few bars to meet new people. Here are some of the most popular places:
L' Aqua
It's right next to the Bay of Bengal, so you can have a few drinks while looking at the ocean and chatting with friends.
Recommended: Check out the balcony on the first floor. The rooftop is also good. The food is just okay.
Toxic
Toxic is on the rooftop of the well-known Hotel Atithi (they have a beautiful pool). The food is also delicious here, and you can enjoy top-notch drinks with great views. You are further away from the ocean here in Heritage Town.
Some people say they have the best cocktails in town. It's a classy place to sit down and enjoy yourself.
Other Places to Get a Great Cocktail:
The Storytellers' Bar: Cool place for travelers. Their cocktail menu is like reading a novel but do check out the drink the 'The Lighthouse"… Dedicated to one of Pondicherry's most famous landmarks. They also have the Pondy Alligator Colada and other creative options. 165 RS for a beer.
Les Saveurs [White Town]: It's a nice romantic place with a lot of cocktail and alcohol options. 200 RS for a beer.
Chitra's Cuisine [White Town]: They have good food as well, and plenty of liquors, cocktails, and beers. 180 RS for a beer.
Spice Route Rest'o Pub: Lots of cocktails. 150 RS for a beer.
Crosskeys Restropub: Another place with a lot of options. The Flaming Lamborghini sounds fun (Coffee liqueur, Baileys, Sambuca). 120 RS for a beer.
Dancing until Late
If you want to go out and shake what your momma gave you, well then there are a handful of places in Pondicherry.
The Pub Zipper: Popular
It's one of the most popular dance clubs in Pondicherry if you're wanting to be around a big crowd. There are three 'zones' depending on what type of vibe you are into.
Lounge Zone: For drinking, listening to loud music, and having fun
Quiet Zone: If you're wanting to relax and talk to your friends
Smoking Zone
The Dragon Lounge: Speakeasy
If you like the type of place that is further from the beach, then the Dragon Lounge is for you.
It's a rooftop place at the Laila's County Hotel. It's in downtown Pondicherry, and it has a cool modern vibe.
Places To Stay
If you've had a big day and you want to stay in Pondicherry for the night, there are so many good options.
Many of the hotels and resorts are near the beach and you can wake up to beautiful views. Others have a crystal clear swimming pool to stay cool, even when it's blazingly hot outside. Let's check out some of the most highly-rated hotels and guesthouses in Pondicherry:
La Villa: Luxurious Hotel
If you want a luxurious stay in Pondicherry, then La Villa is one of the best options.
It's a 5-star hotel in White Town just a few blocks from the Bay of Bengal and not far from the Sri Aurobindo Ashram.
It has a crystal clear pool and views of the garden from every room.
One room for 2 adults is a bit over 10,000 RS (check here the updated price on Booking.com).
Hotel Le Royal Park
The Hotel Le Royal Park has one of the finest swimming pools in Pondicherry and is a great value.
It's a 4-star hotel located about 1 mile from the ocean. There are four restaurants for you to choose from and 24-hour room service. You can also use the on-site gym and business center.
If you're a digital nomad and want a beautiful RELIABLE place to work from, while you explore Pondicherry… This is it.
You can work US hours into the night, and still order up some food when you finish.
DIGITAL NOMAD TIP: Be sure to check the wifi in your room before agreeing to stay. Your speed could vary significantly from room-to-room.
The cost for 2 people is around 6,600 RS + taxes (click here to check the updated price on Booking.com)
Related Questions:
How Many Days is Enough for Pondicherry?
3 days. Go to a new breakfast place each day. Go shopping at the boutiques. Go to a different beach each day (Serenity, Promenade, Paradise Island). Visit the temples and churches.
What is there to do in Pondicherry in the Evening?
Go to a rooftop restaurant like Toxic, Bay of Buddha, Sky Garden Rooftop Restaurant, Sea Gulls Bar and Restaurant, and enjoy a delicious seafood dinner as you look out at the Bay.
You could watch movies at the cinema in Providence Mall. Take the Heritage Walk through the French Quarter as the sun sets. You could also go dancing at other places like Pub Zipper, Dragon Lounge, Bamboo Bar, Zero House, Asta, and Paradise Lounge.
You could take a class at the Sita Cultural Centre. They offer Indian cooking classes, dancing classes, yoga classes and other creative options.
You could visit a church for an evening mass at places like the Basilica of the Sacred Heart of Jesus or the Immaculate Conception Cathedral.
Is Pondicherry Worth Visiting?
Yes. It's like a chill Goa with more French food like crepes. You can walk along the Promenade Beach and see the third largest statue of Gandhi. Drink delicious French coffee, eat crepes, and have fresh seafood. Stay at a hotel or resort with a nice pool that overlooks the Bay. View some classic architecture in the temples and churches. Meet an elephant at the Ganesh Temple. Or find enlightenment and group meditation sessions at the Sri Aurobino Ashram.
You can check out my post with 23 reasons why Pondicherry is worth visiting.
Is it Safe to Travel to Pondicherry Alone?
I was in Pondicherry alone and I always felt safe. As a woman, you would want to take precautions like dressing modestly, wearing a full-body swimsuit or t-shirt over your swimsuit. If you want to go out at night, ask for a good taxi driver recommendation from your hotel, test him out during the day, and if he is good, get his number and use him if you go out at night as well.
You could also use Ola Cab, which is the Uber of India (Uber is NOT in Pondicherry).
Is Alcohol Allowed in Pondicherry?
Yes. Pondicherry has some of the lowest alcohol taxes in all of India. You can get the best prices in liquor stores, and having drinks at your hotel.
Drinks at bars and restaurants are priced in the same way as you'd pay in most of India. There are many rooftop bars that you can get a delicious cocktail, nice fresh seafood, and enjoy sea views.
You can NOT transport alcohol outside of the territory of Pondicherry though.
For more information about drinking alcohol and the nightlife of Pondicherry, you can read my post: Is Alcohol Allowed in Pondicherry: Laws, Costs, and more