Authentic Indian food is tough to find because using the word "Indian food" is too simple. There are 31 cuisines in India. Plus, there have been many cultural influences on the cuisine in India. But if we were to look at what most Indians eat today, then we could answer the question: What is real Indian food?
Most authentic Indian dishes have a sauce or curry that's made from cumin, coriander, turmeric, ginger, and chilies. Butter chicken (chicken makhani), rogan josh, and biryani were created in India. But chicken tikka masala and vindaloo were not.
Because there is so much culinary variety from region to region across India, there isn't one type of "real" Indian food. Just like we wouldn't just call French or Italian food… European food.
Most Indian food that we eat in America and the UK is actually Punjabi cuisine. Other popular dishes like Thai and Japanese curries have evolved from Indian food to suit the local tastes and traditions.
There so many authentic Indian dishes though that you may even be able to order from the restaurant near you.
In this article, we'll cover what Indians are eating in their homes and restaurants today, and what they aren't. Then go over 31 one dish from each cuisine in India.
First, let's cover one big myth about what is real Indian food…
Is Curry Indian or British?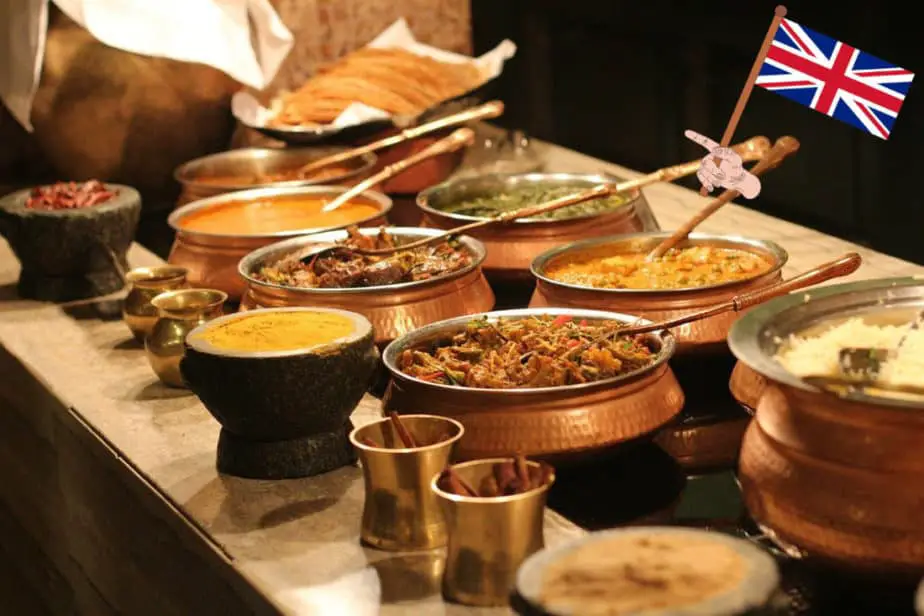 Curry was a word created by British and Portuguese merchants visiting India and first used in a British cookbook in 1758. The British use it to describe all Indian dishes and one Indian language it just means "sauce."
One of the biggest myths about Indian food is that they eat a lot of curry. Yet, many Indian restaurants don't have curry on the menu, and those that do have it for tourists.
Curry powder, which is a pre-mixed blend of spices found across the US, UK, and other countries… isn't sold in India.
In India, cooks will mix in each spice into a recipe in a precise amount and a precise time in the cooking process. Indian dishes can have 20-30 ingredients in many of their recipes.
Cooking in India is very labor intensive, and no chef here could use a curry powder without getting smacked out of the kitchen with a wooden spoon.
What Common Indian Dishes Aren't Authentic?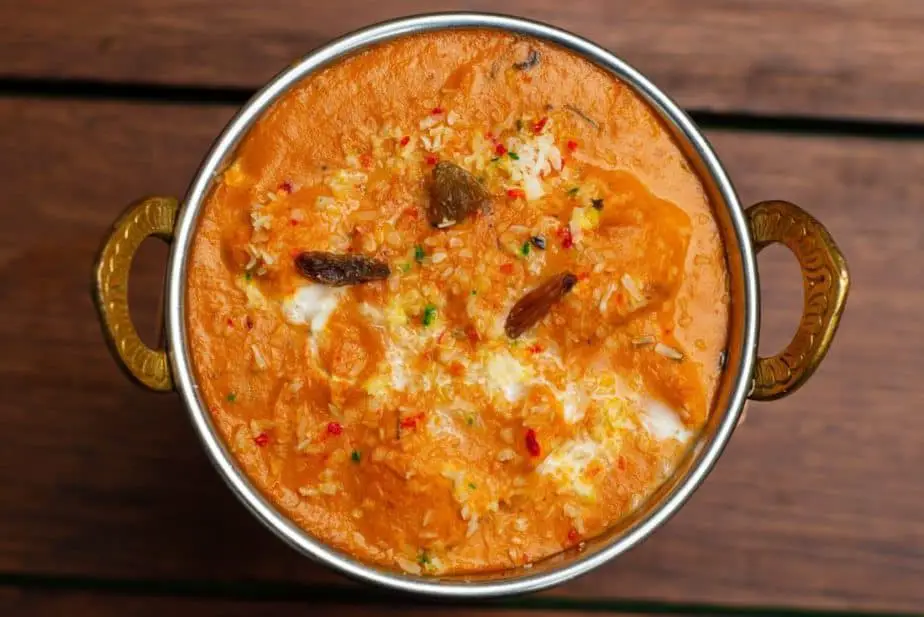 Chicken tikka masala is one of the most popular Indian dishes, yet it was created in Scotland. Mulligatawny soup was invented by the British. Meatball curry didn't originate in India and naan bread is only eaten on special occasions, not at every meal.
Chicken tikka is a real Indian dish though. It is a dry chicken kebab from the Punjab region that is liberally covered and marinated in masala spices.
Yet, one day at an Indian restaurant in Scotland, a British customer said his chicken tikka was too dry… so the Indian chef went to work mixing a can of tomato soup with yogurt, cream, and spices… and voila! chicken tikka masala was born.
In 2001, the Brits were so in love with chicken tikka masala that it was named the national dish.
Mulligatawny soup is another British version of an authentic Indian recipe. Rasam is found at many restaurants in South India.
It is a similar peppery soup that can be eaten with rice or sipped as a soup. Rasam is usually a blend of tamarind juice adding a sour flavor with tomato, chili pepper, cumin, and of course black pepper.
Meatball curry is a Western version of malai kofta. This North Indian dish replaces the beef or chicken meatballs with fried vegetable balls. The gravies are similar as both are tomato-based with coriander and chilies. Yet malai kofta has cumin, cardamom, and heavy cream too.
Naan bread is served at most Indian restaurants, yet is only eaten on holidays and special events in India. Roti or chapati is the flatbread eaten most often.
Roti is made of only wheat flour and water. There are no yeast or dairy products used. Naan is made of white flour, yeast, oil, sugar, and yogurt.
Chutneys aren't just jams in India. Mango chutney is commonly eaten in America and Britain, and is delicious… but in India, there are many varieties of chutney that are totally different.
Coconut chutney, tomato chutney, mint chutney, and many more which are not desserts but dipping sauces for dinner.
Coconut chutney is a creamy wet dipping sauce with only a light sweet flavor from the coconut and is used to dip in savory dosas. The same goes for tomato and mint chutney which are also eaten with breakfast foods like idly and poori.
What is Real Indian Food?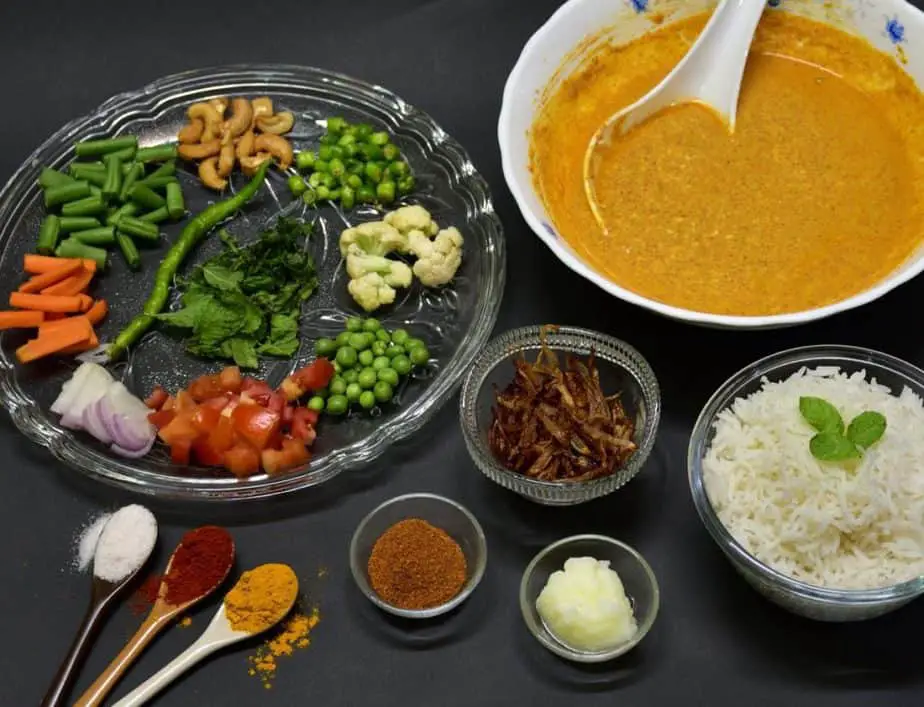 Real Indian food doesn't exist. There are 31 types of cuisine in India and they differ widely. Most American-Indian and British-Indian food is from the Punjabi region in North India, but there are so many varieties to choose from.
One primary aspect of all Indian food are the spices. This is originally why European countries made the dangerous voyage to come here.
Spices are at the heart of Indian cuisine and form a basis for pairing ingredients. There are a few of the common spices in most Indian food:
Cumin
Coriander
Ginger
Turmeric
Garlic
Depending on the dish, there are many other spices that can be used:
Fenugreek
Saffron – the most expensive spice in the world
Cardamom – another one of the most expensive spices in the world
Garam masala – a blend of common Indian spices
Cloves
Nutmeg
Fennel
Poppy seeds
Black mustard seeds
Black cardamom
Star anise
Basil
Cinnamon
Asafetida is one uniquely Indian spice that can be hard to track down (find it online or at ethnic grocery stores). It's a yellow powder smelling of boiled eggs that is taken from a herb from the celery family. It is great at bringing out the flavor of all the other spices though.
Local vegetables are often used in the cuisine, and some of the most common Indian vegetables are:
Onions
Potatoes
Cauliflower
Chilies – there are 40 to 50 varieties in India
Okra or Lady's Finger
Carrots
Green beans
Pumpkin
Cabbage
Zucchini
Spinach
Aubergine
Snake Gourd
Capsicum
Round Gourd
Broccoli
Turnip
Beetroot
Tamarind
Sesame seeds
Chickpeas
Tomatoes
Bottle Gourd
India is the largest exporter of dairy products in the world and Indian dishes make liberal use of ghee (clarified butter), yogurt, milk, and cream.
Some common Indian dishes that are authentic are:
Butter Chicken, also called chicken makhani
Rogan Josh
Tandoori Chicken
Biriyani
Samosas
Authentic Indian Dishes By State and Territory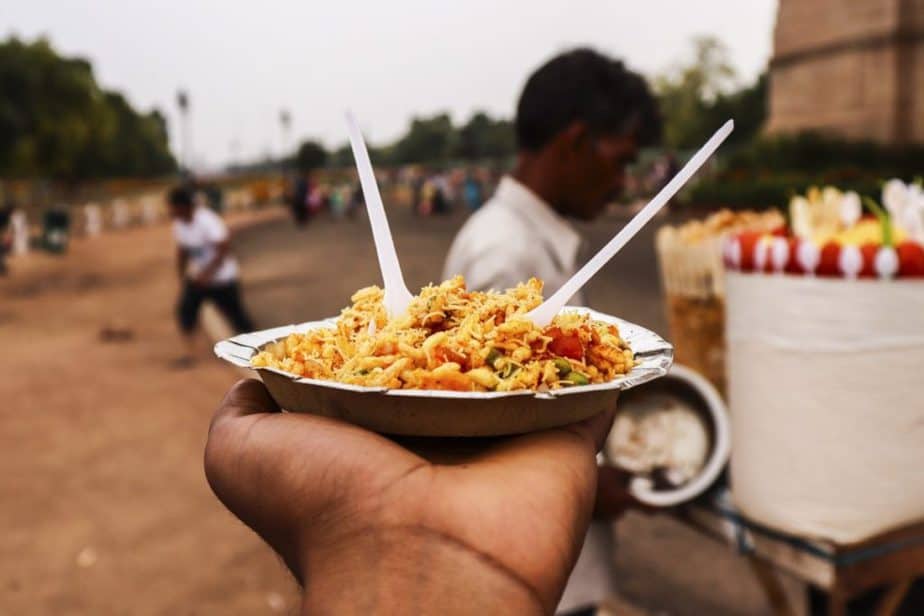 Let's take a culinary tour of India and mention a specialty dish for each of the 31 cuisines… one for each state or territory (except the recently created Telangana which is similar to Andhra Pradesh).
Delhi – Butter Chicken
This iconic dish was created at a restaurant in Delhi in the mid-20th century.
Using spices like garam masala, turmeric, cumin, red chili powder, and salt then mixed with a tomato-based yogurt sauce… if you haven't had it, it's one of the most common Indian dishes around the world. AND it's delicious 😋 
Chhattisgarh – Red Ant Chutney
The locals collect red ants and their eggs from the nests in the area. Then they dry them, crush them, and grind them in a mortar and pestle.
Add in some garlic, ginger, salt, coriander, sugar, and tomatoes, then cook it and… this spicy chutney is ready to eat.
Goa – Bebinca
Bebinca is a pudding and is influenced by the Portuguese who colonized Goa. There are often seven layers in this dish with flour, ghee, sugar, egg yolk, coconut milk, and nutmeg.
It is usually eaten for Christmas.
Tamil Nadu – Masala Dosa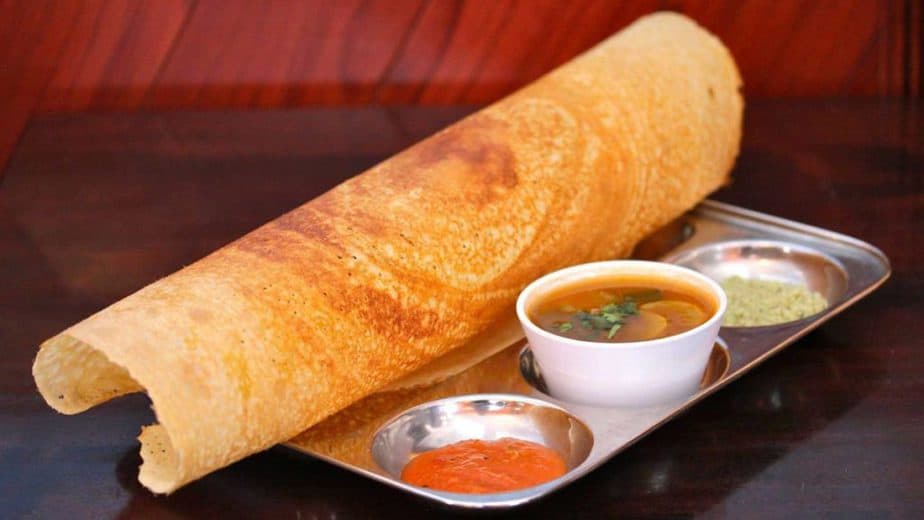 A dosa is a savory thin pancake and a masala dosa is a typical dinner in this Southern state. The pancake is filled with potatoes, onions, masala spices, and local vegetables.
On the side, you have sauces for dipping like sambar and coconut or tomato chutney.
Odisha – Chhena Poda
Chhenna poda is roasted cheese. It was a favorite treat of Lord Jagannath, who is the primary god at the Pur Jagannath temple in Odisha.
West Bengal – Bhapa Ilish
Ilish or hilsa is a type of herring. This dish is a steamed version that is eaten everywhere in this Indian state on the Bay of Bengal.
Mizoram – Bai
Mizoram is a northeastern state in India, and this part of India is much different than the rest of the country.
Mizoram eats a lot of meat and Bai is one dish that resembles Chinese or Thai food. Bai is a soup with pork, bamboo shoots, and steamed vegetables.
Tripura – Berma
Berma is a fermented and dried fish that one of the most popular ingredients in Tripura, another northeast state.
Berma might be an acquired taste and is not tasty until it is cooked. The locals consider it very healthy and is made without oil.
Meghalaya – Tungtap & Jadoh
Meghalaya is another northeastern state and tungtap is a fish chutney, while jadoh is flavored rice.
In tungtap, the fish is charred and mixed with onion, red chilies, and green chili. Jadoh is cooked with meat.
Manipur – Yongchak Iromba
Iromba is a dish of boiled vegetables blended together with a sauce of more fermented fish (ngari) and chili paste.
Nagaland – Bamboo Steamed Fish
Nagaland is another northeastern state and this dish is steamed in its own unique style (Naga Style), then stuffed into hollow bamboo tubes and blended with spices.
Assam – Masor Tenga
Assam is another northeastern state with the large Brahmaputra River running through it.
This tangy fish dish has a tomato-based sauce and is served with steamed rice. Tenga means sour, which mostly comes from the tomatoes.
Arunachal Pradesh – Lukter
Lutker is a simple side dish of dried meat like chicken and chili flakes. Add some rice and dig in!
Sikkim – Phanghapa
Phanghapa is actually a Nepal dish, but Sikkim shares a border with this country so it makes sense.
This pork dish isn't as spicy as most Indian dishes and is only spiced with chilies.
Jharkhand – Marua Roti
Jharkhand borders West Bengal and the marua roti is often eaten for breakfast by laborers and farmers.
Marua or Marwa or ragi is a very healthy millet with nutrients like calcium, fiber, and protein. Onions, chilies, coriander, cumin, and salt are often added for flavor.
Bihar – Khubi ka Lai
Khubi ka Lai is a sweet dessert that can be flat or round like a laddoo. They are made from flour with dried fruit chunks.
Andhra Pradesh & Telangana – Kodi Kura
Andhra Pradesh was recently split in two when the newly formed state of Telangana was born.
Both have similar cuisine and Kodi Kura is a popular dish. It is made of chicken, onions and masala spices. Be careful this one is spicy!
Kerala – Aviyal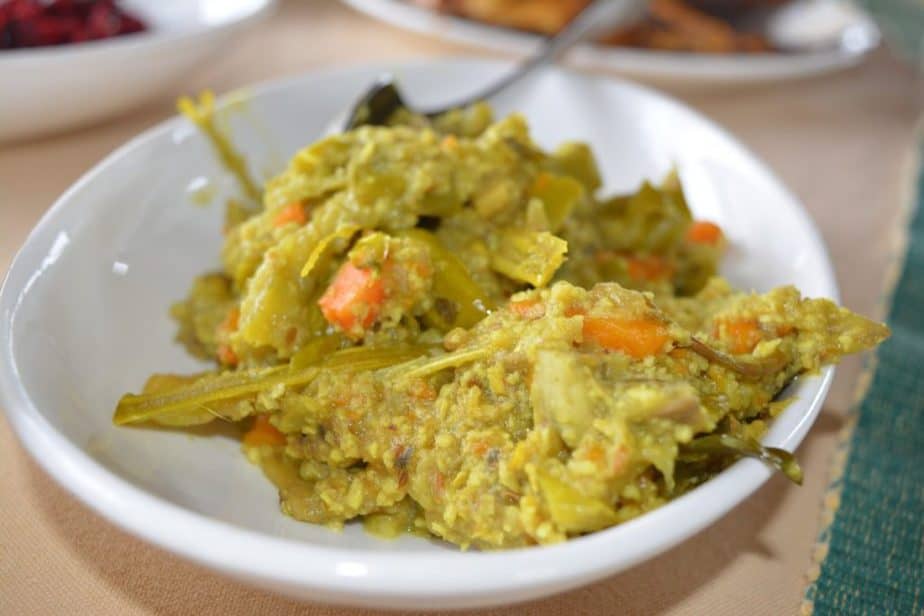 Aviyal is a vegetarian dish with local vegetables, yogurt, and coconut. Onam Sadya is the traditional lunch in Kerala that is served on a banana leaf and similar to a thali.
Karnataka – Chiroti
Chiroti was once eaten by the local royalty and is a dessert that is not sweet. Instead, it is rich and flakey.
Maharashtra – Thalipeeth
Thalipeeth is a flatbread made of wheat, rice, dals, and spiced with coriander and cumin seeds.
Gujurat – Rice Panki
A rice panki is basically a thin rice pancake that is cooked between banana leaves to add aroma to the dish.
Madhya Pradesh – Bhutte ki Kheer
Bhutte ki Kheer is a sweet corn porridge with full cream that makes for a great dessert.
Uttar Pradesh – Shami Kebab
Shami kebabs are little meat patties with egg, spices, and ground chickpeas. Usually, beef, lamb, or mutton is used.
Uttarakhand – Kaapa
Kaapa is a type of spinach made by the local Kumaoni people with daland rice powder paste.
Himachal Pradesh – Sidu
Sidu is a bread made with wheat flour then eaten with dal, ghee, or hari chutney.
Rajasthan – Ker Sangri
Ker Sangri is a dish made of ker (a shrub berry) and sangri (a bean from the Khejari tree). It is spicy!
Haryana – Bajra Roti and Chane ki Sabji
Rotis are famous in Haryana and the Bajra roti is a black millet flatbread and Chane ki Sabji is a chickpea-onion-tomato gravy.
Punjab – Makki ki Roti and Sarson ka Saag
Sarson ka Saag is a spicy vegetarian dish made with mustard seeds, garlic, ginger, and other spices. Makki ki Roti, a corn flatbread, is often served on the side.
Kashmir – Tabak Maaz
Tabak Maaz is a fried lamb or mutton ribs with masala spices, milk, and saffron.
Final Words
There are 31 types of cuisine in India, so it is hard to simplify what real Indian food is. However butter chicken, rogan josh, and biriyani are authentic dishes. Chicken tikka masala, mulligatawny, and meatball curry were created for Western countries. Curry is a British word to describe many Indian foods.
If you're interested in learning more about Indian food, I answered this question in another article: Do Indian Restaurants Sprinkle Cow Urine On Your Food?
Related Articles: