If you're traveling or moving to Chennai, then you might be curious about what you need to pack.
When packing for Chennai, consider that the average high temperature is 92°F (33°C), so wear light breathable fabrics. The Lonely Planet called Chennai the 9th most cosmopolitan city in the world, so while traditional saris are still worn by women and lungis are worn by men… it's also common to wear t-shirts, jeans, and dresses.
Chennai sits on the coast of the Bay of Bengal and has a tropical climate. It's a beautiful and fun place to visit with the perfect blend of traditional South Indian culture and modern cosmopolitan excitement.
It has been ranked highly by the Lonely Planet and in 2015, the BBC named it the hottest city to visit and live in, due to its:
Many beaches like Marina Beach (India's longest beach)
Many historic temples like Arulmigu Thiyagarajaswamy Temple
Better road and public transportation system that less congestion than many Indian cities
If you're planning a trip to Chennai, this article will show you want to pack and what you can leave behind and buy when you get here.
What Do Locals Wear in Chennai?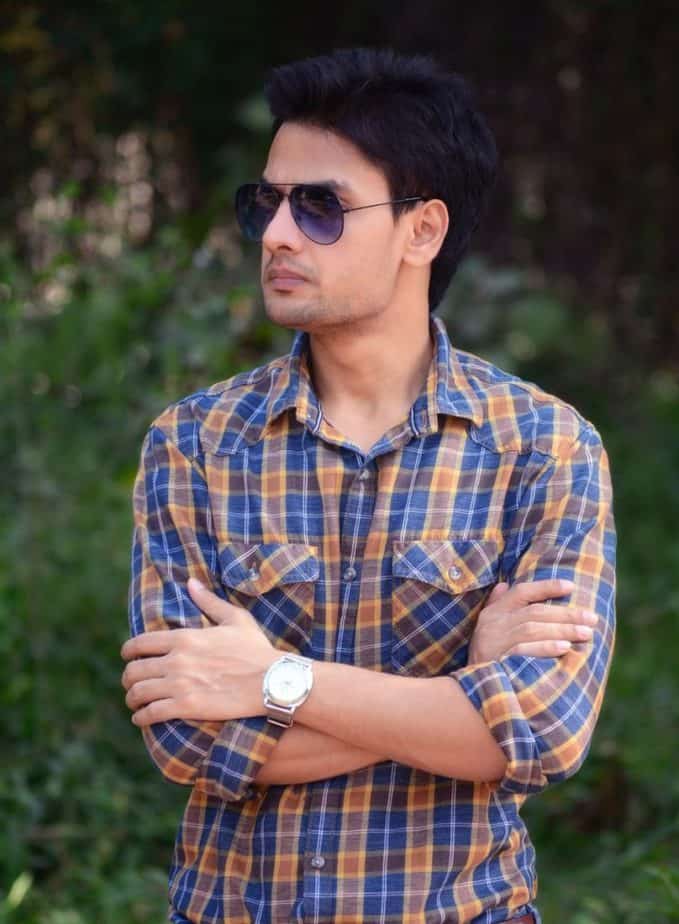 Women in South India tend to be more conservative with their clothing than in big cities in North India or Western cities.
In an office setting, you will still professional women wearing multi-colored silk saris, shalwar kameezes, or shining bangles and necklaces.
Although many offices are more Westernized and wearing a button-up shirt, pants, jacket, and blouse are the norm.
But if you're going to a nice business dinner or event, it would be okay to wear a beautiful little black dress. You should also bring a shawl or scarf though to cover up if it seemed appropriate.
Read more: Can Guys Wear Shorts in India?
What Do Tourists Wear in Chennai?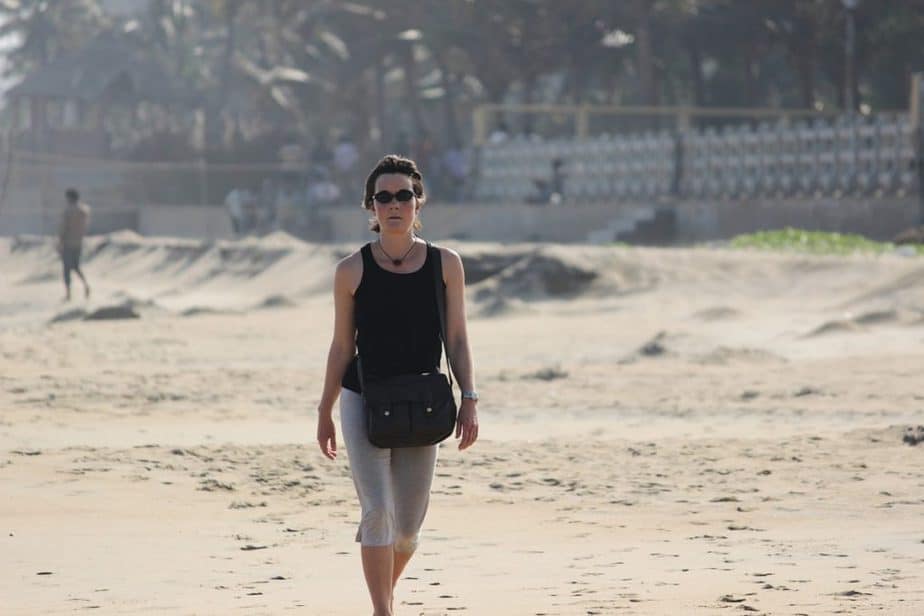 Tamil Nadu has recorded the most tourists of any state in India since 2014 (although admittedly the other states do dispute these numbers are being hard to track).
The locals here are used to seeing Western tourists and are known for being welcoming. They would be forgiving if you were to not be aware of all the customs.
In Chennai it would be okay to wear:
Shorts
Capris
Short sleeve shirts
Tanktops
Light dresses
Temples do have a strict dress code though.
In Hindu temples, women would need to wear long skirts, dresses or pants. Men would need to wear long pants or a dhoti or lungi that goes down to your ankles. You'd also need to wear a button-up shirt.
Some Hindu temples do NOT allow jeans, short sleeve t-shirts, tight leggings, or shorts. You'll also be asked to take your shoes off.
In Islamic mosques, you'd want to wear conservative loose-fitting clothing. Women should wear long skirts or dresses and long sleeves. Muslim and non-Muslim women are encouraged to wear a headscarf or cover their head with a scarf. Men would need to wear long-sleeved shirts and pants. You'll be asked to take your shoes off.
Although some temples are prepared to let you borrow clothing to cover up.
In Jain temples, you should wear clean clothes that you can sit or bow in. Your shoulders and knees should be covered. It is not required that you wear a shawl or cover your head. Although leather is NOT allowed in Jain Temples.
Some temples offer lockers to lock up your prohibited items.
What NOT To Pack For Chennai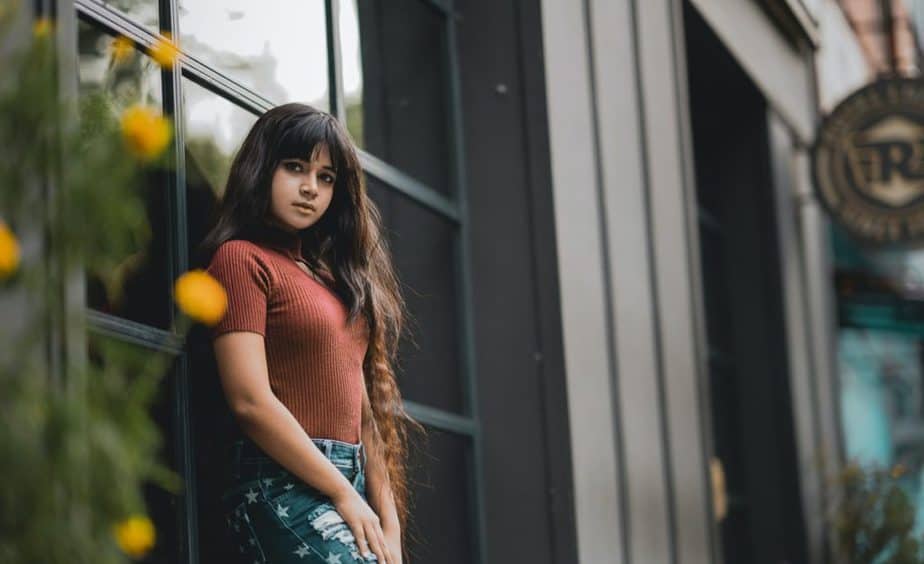 Chennai has 16 major shopping malls, and you can find products as varied as hand-woven silk saris to tailormade suits to Auroville's eco-friendly cotton clothing.
Basically, you do NOT need to pack everything, because whatever you don't pack you can buy in Chennai.
Chennai has a tropical climate for most of the year. Chennai's average high temperature is 92°F (33°C). Even in the coolest winter months like December, the temperature gets up to 84°F (29°C).
There are a number of items you do NOT need to pack for Chennai:
Warm jacket
Heavy sweater
Winter hat
Long underwear
Wool socks
Clothing in India is very reasonably priced. The Indian textile industry is a $108 billion dollar industry.
You could order a tailor-made dress or shirt for as little as $5, and as much as $20 for the highest quality fabrics and craftsmanship.
If you were to buy clothing in stores, the prices are very reasonable compared to other big cities in the world:
Clothing & Shoe Prices

Chennai

Mumbai

Colombo, Sri Lanka

New York, NY

London

Paris

Sydney, AUS

Beijing

Tokyo

Moscow

Dhaka, Bangladesh

Kuala Lumpur, Malaysia

1 Summer Dress in a Popular Store
28.80$
(2174.21₹)
33.25$ (2492.31₹)
20.52$ (1538.46₹)
40.82$
(3059.15₹)
41.02$
(3074.14₹)
41.71$
(3125.85₹)
42.32$
(3171.57₹)
35.10$
(2630.48₹)
44.52$
(3336.44₹)
45.86$
(3436.86₹)
29.05$
(2177.08₹)
32.49$
(2434.88₹)
1 Pair of Jeans (Levis)
28.71$
(2167.79₹)
33.65$
(,522.01₹)
29.22$ (2190.01₹)
54.51$
(4085.12₹)
82.44$
(6178.26₹)
98.05$
(7348.11₹)
69.08$
(5177.03₹)
65.54$
(4911.73₹)
67.71$
(5074.36₹)
85.22$
(6386.60₹)
29.09$
(2180.08₹)
51.76$
(3879.02₹)
1 Pair of Men Leather Business Shoes
33.21$
(2507.41₹)
38.87$ (2913.37₹)
31.61$
(2368.81₹)
134.67$
(10092.51₹)
111.89$
(8385.32₹)
143.91$
(10784.98₹)
111.02$
(8320.12₹)
101.06$
(7573.69₹)
124.21$
(9308.61₹)
114.26$
(8562.93₹)
48.71$
(3650.45₹)
69.58$
(5214.50₹)
1 Pair of Nike Athletic Shoes (Mid-Range)
41.26$
(3115.15₹)
51.59$ (3865.97₹)
59.62$ (4467.76₹)
87.24$
(6537.99₹)
86.69$
(6496.77₹)
104.40$
(7824.00₹)
99.20$
(7434.30₹)
80.65$
(6044.11₹)
80.20$
(6010.39₹)
89.93$
(6739.58₹)
60.82$
(4558.00₹)
67.42$
(5052.62₹)
Source: Numbeo
Chennai has a relatively traditional culture so it'd be smarter to pack more conservative clothing than you might for Goa, Bangalore or Mumbai.
Women do not need to pack items like:
A Bikini swimsuit (a one-piece is better)
Shirts or dresses with low-cut necks
Skirts that are cut above the knee
Skin-tight shirts, shorts, or pants
Halter tops
Shirts with spaghetti straps
I recommend NOT packing these items and purchasing them when you arrive:
Sunscreen
Pain reliever
Toilet paper
Shampoo
Scarf
Mosquito repellent
Charcoal tablets
Anti-diarrhea pills
Electrolyte drink packets
What To Pack for Most People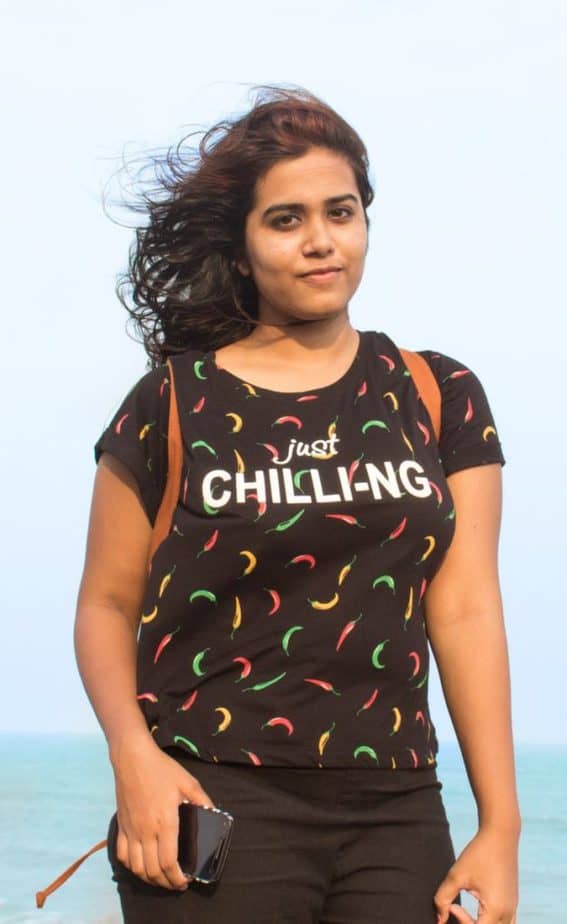 Wearing breathable fabrics like cotton in Chennai is smart.
For most people coming to Chennai, you will want to pack these items:
Shawl or scarf
Daypack
T-shirts: I like merino wool t-shirts that I can wear for multiple days and wash in my sink (check the link for more details)
Long-sleeved button-up shirts
Long dresses or skirts
Jeans
Shorts
Travel adaptor: Ceptics India (check the link for the current prices)
Sandals
Shoes
Earplugs
Eye mask
Sunglasses
Headlamp (for power cuts)
Electric razor
Sleeping bag liner
Medical kit
Face mask
Hand sanitizer
What To Pack For Chennai By Season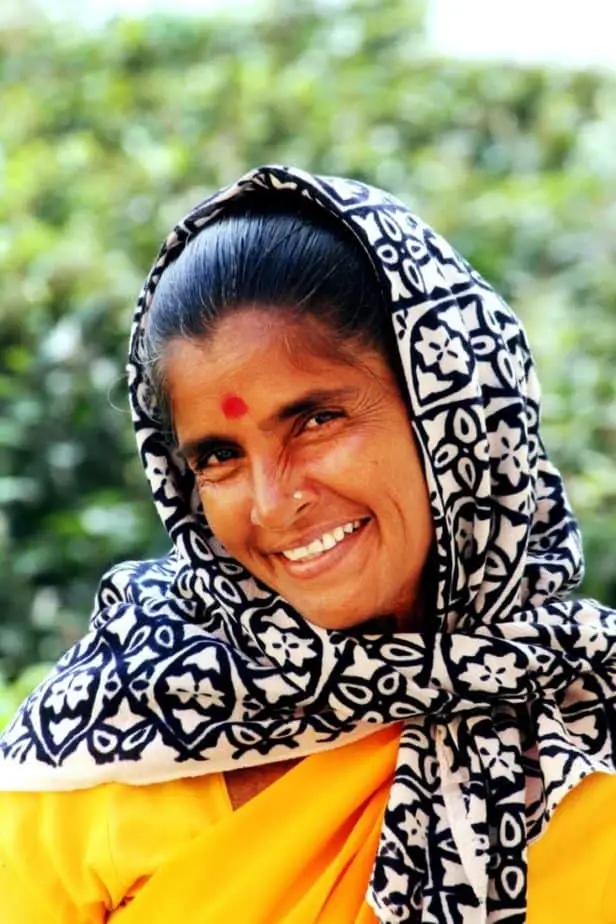 Below you'll find specific recommendations based on the season or month you are visiting Chennai.
Winter: November – February
December is the busiest month in Chennai for tourists, although I recommend January as the best time to visit Chennai.
Chennai's monsoon season runs later than most of India. In November, it may rain for 5 to 10 days. Yet it also might be hot enough to go to the beach or swim in your hotel pool.
It will also get chilly enough at nights and in the morning that you'd want to have a light sweater.
Things to pack for a winter trip to Chennai:
Shoes that can get wet
Raincoat
Umbrella for sun or rain
Light sweater
Rain cover for your luggage or backpack
I use a water-resistant daypack that keeps my computer and camera gear safe that could work well for you too. You can find all the details at the link included.
Summer: March – June
If you're traveling to Chennai in the summer, it will be much less crowded than in winter. The harsh summer heat keeps most tourists away.
The temperatures will be higher than 95 degrees Fahrenheit and could reach 100 degrees.
Bring light breathable clothes and accessories to protect yourself from the heat.
You also won't be able to go outside for most of the day, however you can explore in the morning or evening.
Things to pack for summer in Chennai:
Cotton shirts: I prefer long-sleeved to keep the sun off my arms
Merino wool t-shirts
Sunscreen lotion with SPF 30 or higher
Hat with a brim
Shawl or scarf
Long skirts or dresses
Shorts
Bathing suit
Sunglasses that block UV light
Monsoon: July – Early November
The monsoon in Chennai can be intense with winds and rain coming from the Bay of Bengal.
You will see rain from 9 to 13 days a month starting in July to November.
The temperatures will also be between 96 degrees Farenheit and 86 degrees Farenheit.
Things to pack for monsoon in Chennai:
100% waterproof rain jacket
Waterproof daypack
Poncho
Waterproof shoes like Crocs
Waterproof sandals like Chacos or Tevas
Quick-dry fabrics from REI
Merino wool shirts
Travel underwear from
Dark colors instead of white t-shirts
Thin sweater
Mosquito repellent
Rain cover for your backpack or luggage
Waterproof headlamp
Plastic bags
Summary:
If you packing for a hot tropical climate like Chennai, bring lots of light breathable fabrics. Long-sleeved button-up shirts, t-shirts, and jeans are as accepted as saris and kurtas. But don't worry about packing everything and the kitchen sink. You can buy what you need when you arrive from the extensive shopping options in Chennai.
If you're planning a trip to India, I put together the Ultimate Men's Packing List for a Trip to India with a Free PDF.
Related Articles: