I just booked a hotel for my next vacation in India, but I wanted to make sure it wasn't a sketchy place, so I checked my hotel's star rating. As I did more research, I found that this metric is actually more complicated than it looks…
How to check the star rating for your hotel in India? Look up your hotel on a respected hotel booking site like Booking.com and you'll see stars near the hotel's name in the results. You'll also see the stars at the top of the hotel's main page. Those stars refer to the hotel's star rating.
You may think like I did that a hotel with higher stars is the better hotel. Or that a 5-star in the US is the same as a 5-star hotel in India. However, that may not always be true.
Why is that? And how can you make sure you're getting a safe, clean and amazing hotel for your money? Well, I looked into this and here's what I found…
Planning a trip to India at some point? Check out my free ebook to help you save time and money, and avoid headaches. After +4 years in India, I've made plenty of mistakes, and this guide shares what I've learned so you can have a smoother trip.
What does the Hotel Star Rating System mean?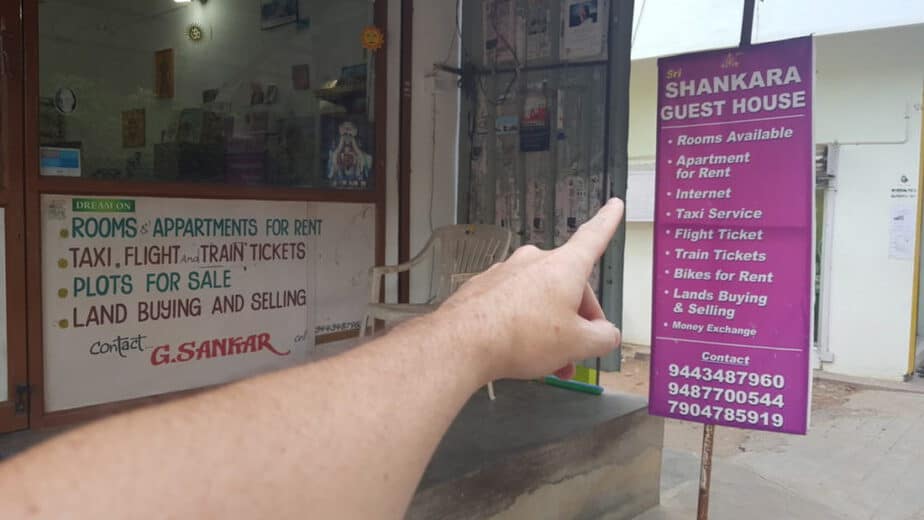 Obviously, the more stars, the better the hotel. But what do the stars mean? What are the differences between 5-stars or 4-stars? Let's take a look at what you get and what you don't get based on how many stars your hotel has.
5-Star Hotel Features
Located in unique, beautiful areas
24/7 room service
Butler, concierge, bellhop and valet service
Rooms with large TVs, marble bathtubs, video libraries, and other luxurious features
Infinity pools, rooftop pools, heated pools, and jacuzzis
24/7 front desk with employees speaking many languages
24/7 turndown services
A number of multi-cuisine restaurants, lounges, cafes, and bars
Beautiful lobby with a garden
Spa, wellness center, fitness center, business center, and more
Other personalized services
AND probably something extra to set them apart
What are the differences between 5-star and 4-star hotels?
Both are high quality but a 5-star hotel has "cover of a magazine" type features. Mostly you're going to get personalized services, like a butler or personal valet, which are included in your bill. Whereas you will need to pay extra for the personalized services when you are at a 4-star hotel.
4-Star Hotel Features
Still considered luxury hotels
Located in safe, convenient, high-end areas
24/7 room service
No personal butler or personal valet
Rooms with big TVs, beds, bathrooms, minibars, cosmetic products, and bathtubs
Large swimming pool
24-hour front desk service
1 or 2 restaurants, lounges, bars, or cafes
Maybe a spa or wellness center
Fitness center
Nice lobby and garden
What are the differences between 4-star and 3-star hotels?
4-star hotels are super nice hotels and 3-star hotels are still pretty great. But a 3-star hotel won't have an option to have a suite and won't have 24-hour room service, so… no chai at 3 am for you 😱
3-Star Hotel Features
Located close to transportation centers, shopping and restaurants
No 24/7 room service. Daytime only.
Valet and luggage services
Large rooms might have ironing, laundry, telephones, nice TVs, bathtubs, shoe polish, hair dryers.
Might have swimming pool
Might have fitness center
24/7 front desk
1 restaurant
Nice Lobby
2-Star Hotel Features
Smaller hotels with only as many as 4 stories
Location is less convenient but still close to public transportation and major city centers
Medium-sized rooms but provides telephones, toiletries and linens
Restaurant might only have breakfast
WiFi in rooms or public areas
Some hotel chains and more individual proprietors
1-Star Hotel Features
Better than non-rated hotels
Located close enough to landmarks and attractions
Independent hotels with local owners
Consistent quality
No bellhop or room service
Cleaning once a day
Smaller rooms with a bathroom, table, chair, linens, and toiletries
Reception services during the day
No restaurant or limited restaurant for breakfast
Telephone in public area
No WiFi
Now let's take a look at real-life examples of popular hotels at a tourist destination. I'm wanting to go to Agra with my Mom and Aunt to see the Taj Mahal, so let's see how much the star rating system means there…
Read more: Best Travel Apps for Your India Trip
Hotels in Agra Compared for a 4-Night Stay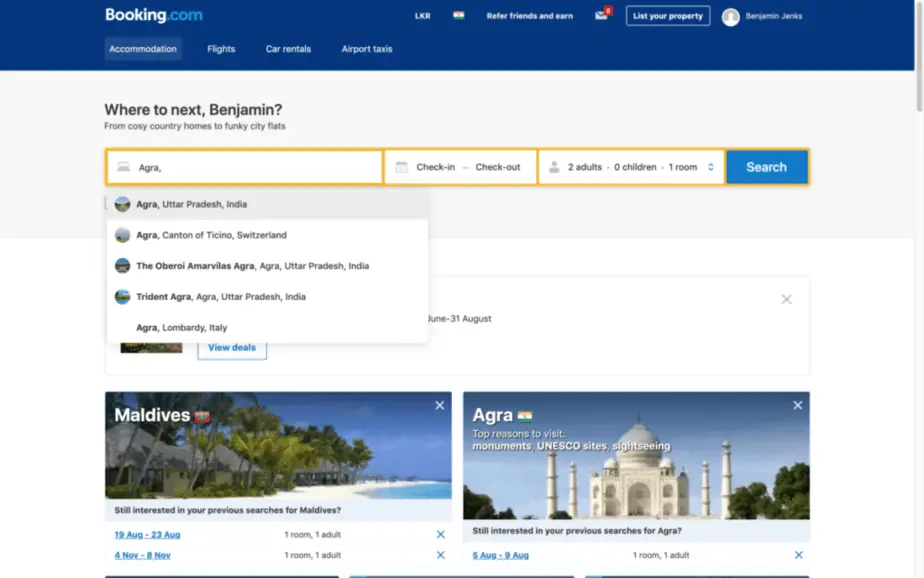 I searched for hotels on Booking.com and looked at the most popular hotels for 5-star, 4-star and 3-star ratings. Here's what I found:
| | | | | | | | | |
| --- | --- | --- | --- | --- | --- | --- | --- | --- |
| Hotel | Stars | Price for 2 adults for 5 nights during Nov | Dist. to Taj Mahal (km) | Pool | Restaurants | Fitness | Spa | Extras |
| Courtyard by Marriott | 5 | 34,603 INR ($497 USD) | 3.8 | Outdoor | 4 | Yes | Yes | Bathrobes |
| Doubletree by Hilton | 5 | 26,375 INR ($370 USD) | 4.5 | Outdoor | 5 (views of Taj Mahal) | Yes | Yes | Business Center |
| Hotel Taj Resorts | 4 | 22,822 INR ($328 USD) | .5 | Rooftop | 1 Multi-cuisine | No | No | 24-hour room service |
| Prime Plaza | 4 | 46,171 INR ($664 USD) | 2 | Outdoor | 3 (views of Taj Mahal | Yes | No | |
| FabHotel Queen Palace | 3 | 8,786 INR ($126 USD) | 1.6 | No | 1 | No | No | Hairdresser |
| Maple Grand | 3 | 21,191 INR ($304 USD) | 1.3 | No | 1 | No | No | Business Center |
As you can see, it seems like the most expensive hotels offer a lounge with views of the Taj Mahal and more restaurants. It also seems like the 5-star hotels have spa services, while the others do not.
Of course, the quality of the lounges and actual experience will vary but it makes me wonder, how a hotel gets a star rating? Is there a magic hotel star fairy somewhere or what? 🤔
Read more: Best Times To Visit India's Popular Destinations
How Does a Hotel Earn a Star Rating?
To earn a star rating, the owner of the hotel applies to the Tourism Ministry in India.
The ministry officials do an inspection and rate the hotel based on 14 criteria such as: quality of rooms, amenities, service, cleanliness, security, safety, and other things that you'd want in a place that you're resting your head.
Then this rating is reviewed every five years. The committee might also conduct surprise inspections.
In the USA, companies like Forbes or AAA are the most trusted rating systems, and you'll find similar organizations throughout the world.
The Rating System Varies by Country
According to Vimal Singh, managing direct for Golden Tulip Hospitality Group in this post…
"The Indian rating system is not as stringent as those in other countries."
Some of the hotels he wants to build in India would be three-star in countries like the USA. Others disagree…
"Our star system is recognized internationally," states M.N. Javed, a deputy director general in the Tourism Ministry.
He says that it is vital to factor in "social standards" such as if the hotel is in a big city or a small town.
Read more: How To Rent A House in India & Not Get Burned
Some Differences Between Hotels in India & Hotels in the USA
As I've traveled to big cities like Chennai and smaller towns in South India, I've noticed that while the hotels are nice and have a unique Indian character, you won't find the same services that you would at hotels in the USA.
Maybe no TV: Most of the hotels I've stayed in have not had a TV.
No heavy blanket or fitted sheet: It is super hot here however if you come in India's winter, it can still get cold at night. Yet I've never seen a big blanket or fitted sheets.
No centralized hot water: There is hot water, it just isn't always available. You need to turn it on 10 minutes before you want to take a shower.
Weak WiFi: The WiFi at most of the hotels I've been too hasn't been widely available in my room and I have to head to public areas (it's also spotty there as well).
On the positive side though, I do feel like I'm a part of the family at some hotels I've stayed at. I've been offered chai, given loads of insider tips, and even offered a bed they were sleeping on since my room wasn't ready, haha.
Also, the price of hotels in India is outrageously cheap. The hotels were always like $15 USD.
Read more: What Can $100 Buy in India?
Related Questions:
Where is the best online site to book a hotel in India?
I like Booking.com (as I've mentioned, haha, is this thing on? 😉 and have had good experiences every time I have used their service.
The hotel owners and employees seem to want to get good reviews and I've always been treated great.
You could also try Expedia, MakeMyTrip, Trivago and more but I haven't used these myself.
How far in advance should you book your hotel?
Booking.com lets you cancel your reservation for free up to a week or less than your arrival date. I will book my room for 6 months in advance sometimes. I have a room booked in Sri Lanka right for my next border run to update my India travel visa.
Is there a rating higher than 5-stars? Is there a 6 or 7-star rating?
There are actually are some hotels with a 6 or 7-star rating that are officially 5-stars but are referred to as 6 or 7-stars.
There are amazing hotels in India that customers and employees might refer to as 6-stars. Like the Leela Palace in New Delhi, the Aman resort near Jaipur, or the super hotels from Oberoi.
You'll have to go to Dubai for a supposedly 7-star hotel though. The Burj Al Arab has been said to have 7-stars. The name translates to 'The Tower of the Arabs' and it is the fourth tallest building in the world and located on the beach. It is the shape of a billowed sail.
Read more: