The first time I went to India, I thought I could get a cheap local SIM card, put it into my iPhone and make local calls easily. That turned out to be FALSE. Now that I live here I figured it out and only pay ~$3 a month for a mobile plan and I use my American cell phone. Here's how it works…
How can you use your American cell phone in India? You can use it in Wi-Fi for free. You could buy an international roaming plan through your provider for $5 to $10 a day. You could rent a smartphone for $6 a day. Or you can buy a local SIM card for your unlocked GSM phone and pay $3 a month.
I'll go through each of these options below, so you can decide which one is right for your situation. The first question is…
Planning a trip to India at some point? Check out my free ebook to help you save time and money, and avoid headaches. After +4 years in India, I've made plenty of mistakes, and this guide shares what I've learned so you can have a smoother trip.
What Do You Need Your Phone for in India?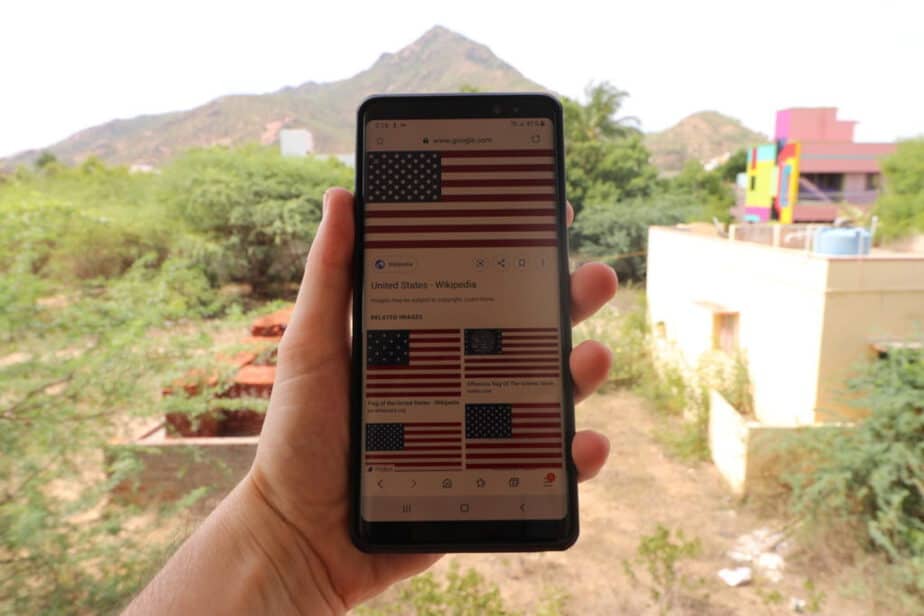 Are you going to be working in India? Just want to keep in touch with family and friends on social media? Or are you trying to disconnect from it all? Even if you do want to get away from the Internet, there are a number of reasons why having a phone might help:
Use Google Maps
Confirm your taxi at the airport
Call your hotel
Make a reservation at your next hotel
Compare prices at a store
Call a taxi driver that you like for another ride
To use free Wi-Fi at the airport and other places, you need a local number
I thought it would be nice to be away from my phone, but when I was new to India, it was actually pretty scary. The first taxi I took from the airport was actually driving the opposite direction of my hotel. I had an international roaming plan though, so I checked Google Maps and realized our error before we were too far off course.
I could NOT get a local SIM card to work in my iPhone on that trip though, so I paid over $150 in international roaming charges for a 3-week trip. I was using AT&T's International Day Pass for $10 a day. It worked great, but I knew on my next trip, I would figure out how to use a local SIM card. My friends paid less than $5 USD for their whole trip.
There are a number of options though, depending on what you need and how much work you want to do.
This post is a part of my series about what to pack for India (for men and women). Check out the full packing list including a free PDF.
Should You Only Use Your Phone in Wi-Fi?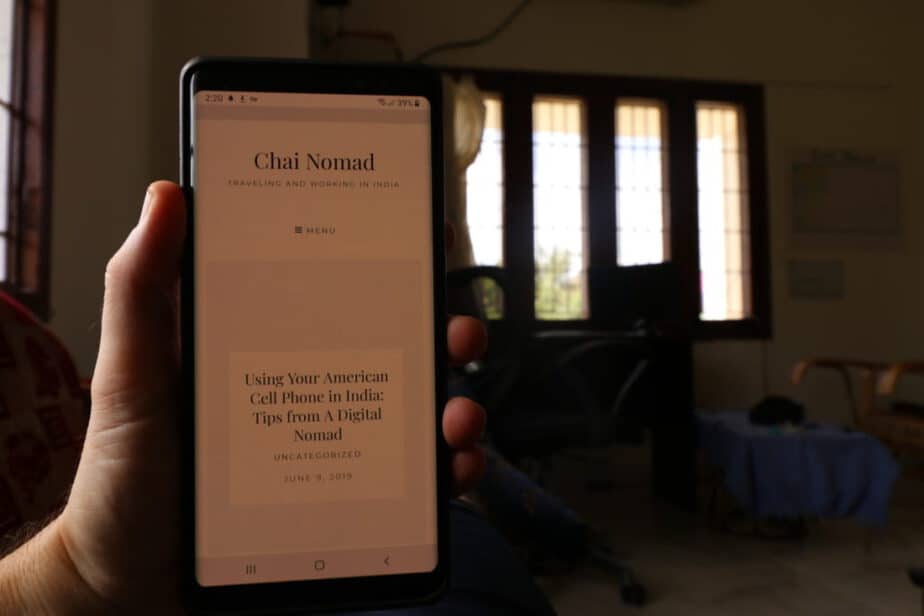 This is the easiest option, that gives you the least amount of options.
Turn your data roaming off, and then just use the Wi-Fi network at your hotel. You may also find local coffee shops and restaurants that will let you connect.
I would not recommend this though. It's very helpful to have the internet when you are out and about. For safety purposes, I would want that. Also for convenience.
The Wi-Fi in the hotels I've stayed in has always been terrible. I've never been able to get a good connection in my room and I usually have to go to a common area. Some of the local restaurants do have good Wi-Fi but if it is busy then the quality does go down.
If you are experienced with how to navigate India though and want to disconnect, this may be a great option for you.
Should You Use International Roaming?
Most of the major cell phone providers offer a reasonable option and this may be the right plan for you if you want something that is easy and don't mind paying more for it. Like I mentioned above, I used AT&T's International Day Pass for $10 a day and it was very reliable, fast and easy.
Here are some basic plans based on your provider (please see your provider for all the details):
Read more: How To Avoid ATM Fees in India
You Could Rent a Smart Phone?
There's a service called Trabug that will rent you a smartphone for the duration of your trip. This is good for someone who is traveling in India on a shorter trip. It's more work than the international roaming plan but it may save you some money.
How does it work? You order it online, then it will be waiting at your hotel room when you arrive. When you are done with it, they will pick it up from you.
The phone has a local pre-paid SIM card with calling and data. It uses a 4G connection. You will also have apps and access to local services, for instance, if you need to book a cab.
The Travel Phone basic plan is $5.99 per day.
2.5 GB daily data. 4G speed
250 minutes daily calling in India
10 daily texts in India
Free incoming calls & texts
80 days is the maximum rental time
You can also rent a Wi-Fi Hotspot.
I've never used this service so I can't personally recommend it, but I may recommend this to my Mom and Aunt when they come. I want them to have a cell phone as soon as they arrive and they won't mind paying a little more.
Read more: What Can $100 Buy in India?
The Best Option: Buy a Local SIM Card for your Phone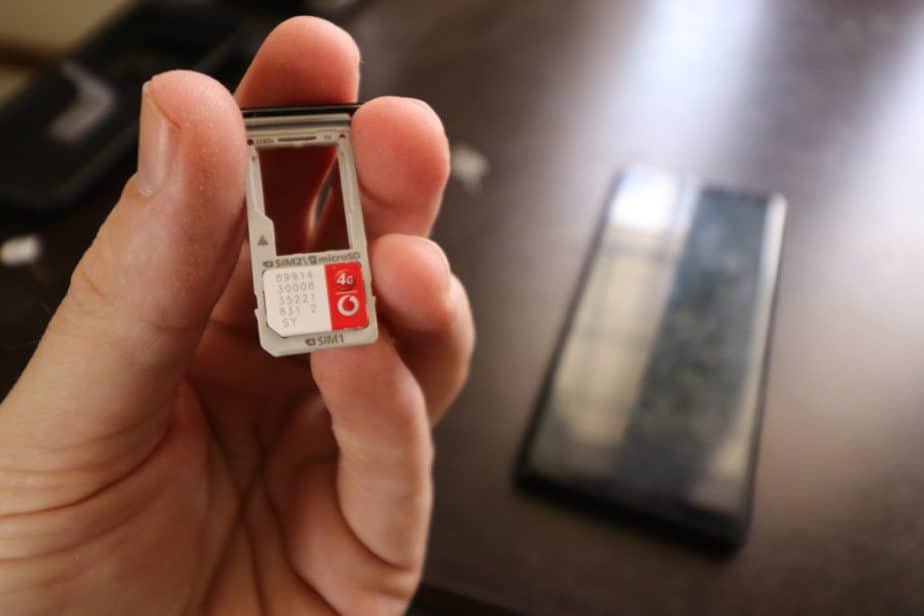 I pay 549 rupees ($7.91 USD) for an 84-day phone plan. I still can't believe I only pay less than $3 USD a month for a cell phone plan, but yep that's it.
For that money, I get unlimited texting and calling. I also have 3 GB of data a day.
I rarely use 3 GB of data in one day. I can work entire 8-hour work day, using mostly Gmail and Google Docs and having some Skype calls and not use it all.
The only time I might run out of data is if I have a large number of Skype calls AND I scroll through my friend's Instagram stories too much 🤓 
If your phone can handle a local SIM card, it will be the best option. It will require a little more work though. Here's what you need to figure out:
Is your Phone GSM or CDMA?
Most of the world (including India) uses the GSM network for their mobile phones. Some networks in the U.S. and Russia use CDMA though. I'll spare you the details on these networks but basically, you need a GSM phone to ensure you can use your phone in India.
T-Mobile and AT&T use GSM.
The bad news is Verizon and Sprint use CDMA. If you use one of these networks, then you would need to use an international plan, rent a smartphone, or buy an inexpensive GSM phone just for your trip.
If you do have a GSM phone, great! There's one more thing you need to check…
Is Your Phone Unlocked?
The reason my iPhone did NOT work the first time I was in India was because it wasn't unlocked. When I was planning my next trip, I looked at AT&T's website to see if they would let me unlock my iPhone and they do… BUT I would have had to pay off the remaining balance on the phone.
For me, it was cheaper to go on Amazon and buy a good Android phone that was unlocked and compatible with the GSM network.
You may be able to call your provider and ask them to unlock your phone for your trip. If you also use AT&T you may have to persuade the operator that:
You are returning to the US
You will continue your contract when you return
If you do NOT live in the US, you may not have a problem, since the U.S. is one of the only major countries that locks most of their cell phones.
Read more: Things Cheaper in India Than the USA
Where Can You Buy a SIM Card?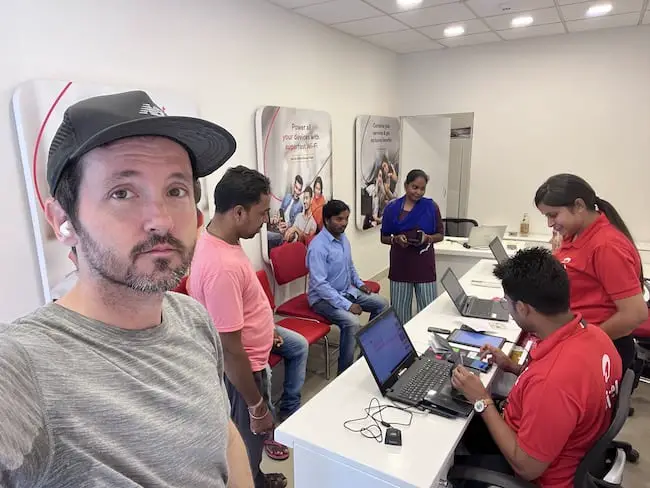 You can buy a SIM card in the airport, at major service providers like Airtel, Vodafone and Reliance. I bought my SIM card at a local internet cafe that is popular with travelers and offers a number of other services for travelers. This is what I recommend if you can find it…
When I bought my SIM card, a nice local guy helped me pick a plan and set me up. In less than 15 minutes, I could make calls and it has worked well. I did NOT show my passport. I did NOT have to fill out any forms. I did NOT have wait 1-4 days to be verified. This is NOT typical since many places you will have to show your passport, fill out forms, and wait to be verified since that's the official protocol.
If I ever need help with the plan, I go back and talk to the same guy; they are very helpful. I live in a small town though and this is a way they get around some official regulations.
The official way to get a SIM card is:
Go to an official vendor (in my research I see the airport and major stores for providers like Vodafone, Airtel and others are best).
Provide identification: passport photo, photocopy of passport details page, photocopy of Indian visa page, proof of home address in country of residence like your driver's license, proof of address in India like your hotel address, and a local reference in India like your hotel's number.
Wait 1-4 days for verification.
Then your SIM card works.
The benefit of the official way is that you can recharge your plan by yourself.
The downside is that not every provider may help you and there is a chance you get a bad SIM card.
If you can find a small business like the one that I found and is generally trusted by the local expats and travelers, then I would recommend that. You could find one on the local Facebook group, if you ask.
Read more: Big List of Tourist Scams in India
Related Question:
How can I call the US from India for free?
You can use Skype or Google Hangouts or Whatsapp or FB Messenger and call for free. My parents are the worst at technology though so I wanted to be able to call their cell phone and I did NOT want to pay international rates… what could I do?
I bought a US Skype number, I think it was $5. It's been 6 months, I call my family every couple weeks and that's all I've ever paid. Maybe I'll have to refresh my credits at some point, but this is a budget-friendly option. I can use it over Wi-FI or with my local data as well.