Kashmir is known for its snow-capped peaks surrounding the peaceful Dal Lake. Unfortunately, it's also been at the center of disputes between India and Pakistan and has sometimes been unsafe for tourists. 
As someone who has traveled extensively through India for over four years, immersing myself in more than ten diverse states, I always wanted to go to Kashmir but kept putting it off until it was safer. 
That is, until I decided to spend a month there in 2023, and I'm glad I did.
So, Is Kashmir safe for tourists? Kashmir is safe for tourists in 2023. A record number of 2.5 million tourists visited in 2022, and numbers are increasing in 2023. Kashmir was the home of the G20 tourism conference. And while it's still one of the most militarized zones in the world, if you practice common sense, you'll have a safe trip to Kashmir. 
Read through to the end, though, so you'll learn from my experiences and can plan a safe trip. 
I was fortunate to spend time in Srinagar, spend the night on a luxury houseboat in Nigeen Lake, eat traditional Kashmiri foods, and head through the mountains to beautiful villages like Sonamarg. 
In this article, you'll learn:
Current situation in Kashmir
History of the Kashmir conflict
Implications of lifting Article 370
My experiences in Kashmir
Why the US State Department advises caution when visiting Kashmir
Tips on safe travel in Kashmir
Let's dive into covering how to stay safe while traveling Kashmir! 
Planning a trip to India at some point? Check out my free ebook to help you save time and money, and avoid headaches. After +4 years in India, I've made plenty of mistakes, and this guide shares what I've learned so you can have a smoother trip.
Is Kashmir Safe for Tourists in 2023?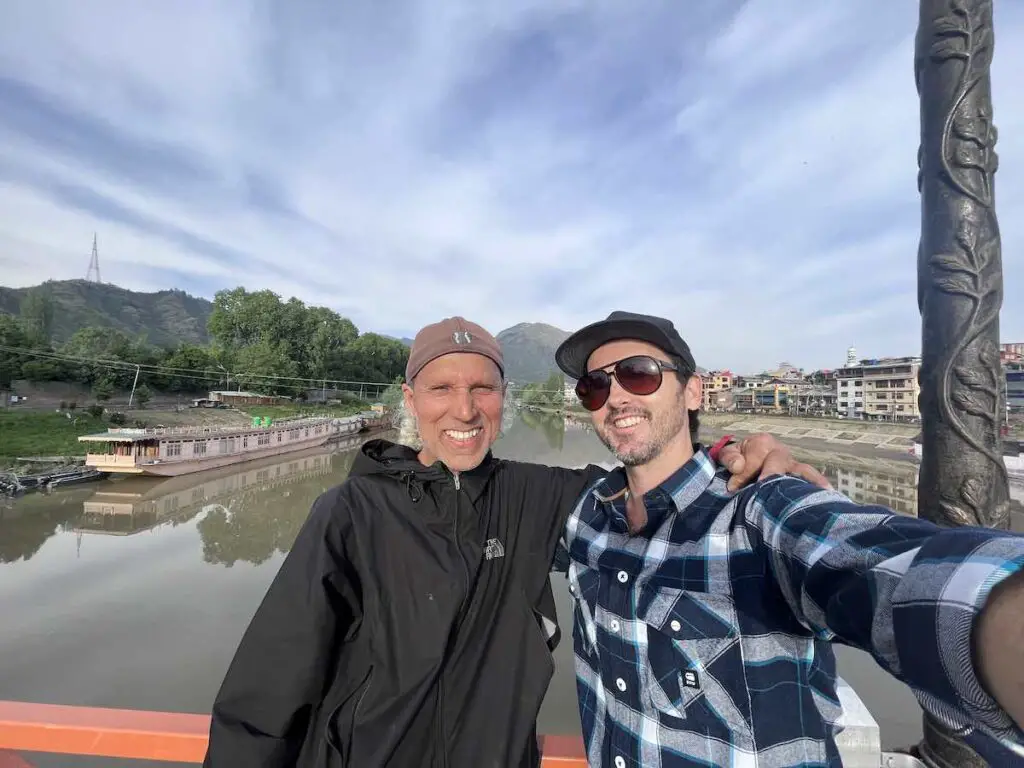 Kashmir is generally considered to be a safe destination for tourists. The number of tourists visiting Kashmir has increased recently, with a record year of tourism in 2022. 
There have been no major safety incidents involving tourists. However, there is always the potential for violence in Kashmir, and travelers should be aware of the risks before visiting.
The security situation in Kashmir can fluctuate, so it is important to check the latest travel advisories before traveling. 
The US State Department currently has a Level 2 travel advisory for Kashmir, meaning travelers should exercise increased caution. 
The UK Foreign Office also has a Level 2 travel advisory for Kashmir, meaning travelers should be aware of the risks of terrorism and civil unrest.
Travelers to Kashmir should take the following precautions to stay safe:
Stay informed about the latest security situation.
Avoid traveling to remote areas.
Be aware of your surroundings and take precautions against petty theft.
Travel with a reputable tour operator.
Be respectful of local customs and traditions.
By following these precautions, travelers can help to ensure a safe and enjoyable trip to Kashmir.
It's worth noting that the local Kashmiri people distinguish between politics and tourism. They pride themselves on their famous hospitality and despite their political opinions, they remain warm and welcoming to tourists. Many of them rely on tourism for their livelihood and are eager to share the beauty and culture of their homeland with outsiders.
When's The Best Time To Visit Kashmir? 
The best time to visit Kashmir is from May to August, when the weather is pleasant and the days are long. However, it is also important to be aware of the monsoon season June through September, which can bring heavy rains and landslides.
Read more: The Best Times To Visit India's Popular Destinations
My Experiences Traveling in Kashmir
I visited Kashmir in June, and I'll quickly cover it, so you can get a sense for what your trip could be like. Then I'll share some tips and move into a brief history of the conflict. 
Flying Into Srinagar
I flew to Srinagar's airport from Delhi, and it's an inexpensive, easy flight. The airport is small so it's easy to find your way. But finding transportation into the city is more challenging. 
You can head to the parking lot and ask for a bus. This is an inexpensive way to get into the city. You will spend about 300 to 500 INR, depending on how many people are in your party. I went with a shared cab since a private cab costs 800 INR. 
There's no Uber or taxi apps, so you're reliant on the "taxi mafi." But they're nice enough guys. 
Who Are The Kasmir Tourist Police? 
The tourist police are a group of citizens who want to help tourists have a good experience. Kashmir understands that the armed military posted around the city is intimidating, so these folks are there to help.
But they weirded me out. 
I met one guy in the parking lot as I was looking for a bus, and I thought he was trying to scam me. He was asking me all sorts of personal questions and taking down my info, and had no sense that this could be invasive. 
Another man tried to do the same. I barely answered them and did my usual bit, where I recorded them on video. I say something nice enough but scammers don't like it so you can usually tell if someone is legit. 
I asked to see their card, and they showed it to me and left me alone after I asked. 
Staying in Srinagar
Srinagar is generally more expensive since it's so touristy, but I recommend finding guesthouses near Boulevard on Dal Lake. Or, if you want a more peaceful trip, head to Nigeen Lake. 
I stayed near Boulevard and had a guesthouse for less than $20 a night. The hosts were great, and the room had heating, which was necessary even in summer. 
There were plenty of restaurants and things to do. In this area, the wifi was solid. 
I felt safe in the area, and the people I met were friendly. There were police stations dotted about with barbed wire around the outside, but nothing much was happening. 
Armed military members are stationed around Dal Lake, but they never spoke to me, and I saw nothing unsafe. 
Staying on a Houseboat on Nigeen Lake
Most tourists stay on a houseboat on Dal Lake, but Nigeen Lake is smaller and more peaceful. I spent a night here, and my boat had another fun family on it. 
The family on my boat had taken their honeymoon here and were now revisiting a special place for them. The wife said it's much safer now than when they came a handful of years ago. 
She said it's one of her favorite places in the world, and that's something others have said as I've traveled India. 
Visiting Sonamarg
The snowcapped mountains and quaint villages are some of the best destinations in Kashmir, and Sonamarg is at the top of the list. 
I hired a taxi from a local agent, and while it was costly, it was worth the trip. It's beautiful and the village of Sonamarg is safe. 
Many motorcyclists were making the trip through the mountains and stopping off here for lunch. 
You can ride a horse up the mountain for even better views. Since it was early summer it was a bit muddy, but aside from that a peaceful place. 
Read more: Is India Safe for Foreigners and Worth Visiting?
Tips for Having A Safe Kashmir Trip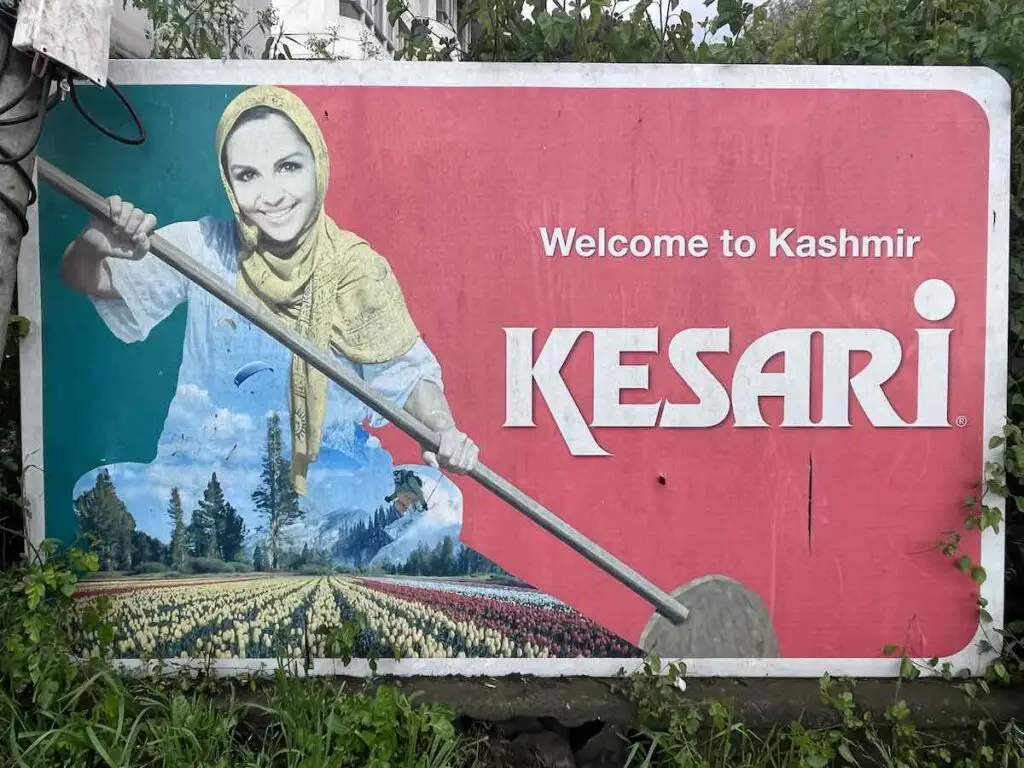 Traveling through Kashmir was an enriching experience for me, but as with any destination, it's crucial to prioritize safety. Here are some guidelines and practices I've learned during my month-long journey:
Avoid Large Gatherings: Steer clear of any substantial crowds or gatherings which can escalate or become targets.
Stay Away from Protests: While the locals have their reasons for dissent, as a tourist, it's wise to avoid getting involved or even being a spectator at any protest or rally.
Be Cautious with Sensitive Topics: Kashmir has a complex socio-political history. While many locals are open to sharing their perspectives, avoid initiating or engaging in discussions that could be seen as sensitive or controversial.
Stick to Popular Tourist Spots: Especially if you're traveling solo or are unfamiliar with the area, it's best to stay in well-trodden paths and popular destinations.
Respect the Local Culture: Kashmir is predominantly Islamic. Dress modestly, be aware of the prayer timings, and be respectful during the holy month of Ramadan.
Get a Kashmiri SIM Card: The SIM cards here are different than in Delhi, so if you have one you'll need a new one. It's wise to get a local SIM card to ensure you're always reachable and can contact someone in emergencies.
Always Inform Someone: Whether it's your hotel manager, a trusted local, or someone back home, ensure someone is aware of your day's plans.
Hire Registered Tour Guides: If you're seeking guidance or planning to explore deeper parts of Kashmir, always opt for registered or recommended tour guides.
Keep Emergency Numbers Handy: Have a list of local emergency contacts, including your country's embassy or consulate, if they have a presence nearby.
Trust Your Instincts: Just as I'd advise in any other place if something doesn't feel right, trust your gut and prioritize your safety.
Being vigilant and respecting local customs and advice was invaluable in ensuring my Kashmir trip was enlightening and safe. Remember, the goal is to immerse oneself in the culture and beauty of the region without compromising on security.
Read more: Tourist Dangers in India
What's the Brief History of the Kashmir Conflict?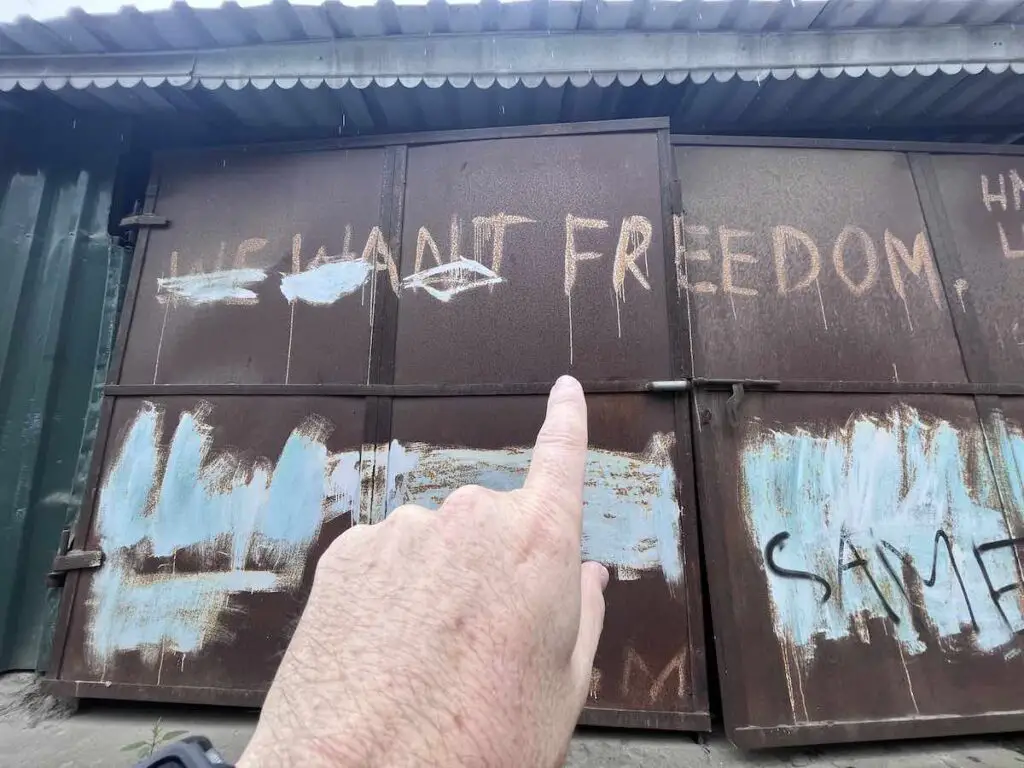 Kashmir, often referred to as "Paradise on Earth," has, unfortunately, been shadowed by a prolonged history of conflict. Before I embarked on my journey to this stunning region, I delved into the origins of its tumultuous past. 
The conflict primarily stems from territorial claims between India and Pakistan, both administering parts of the region but claiming it in full.
Post-independence in 1947, India and Pakistan have fought multiple wars over Kashmir. Over the years, this has led to instances of militancy, curfews, and unrest. 
The situation reached another turning point in 2019 with the revocation of Article 370 by the Indian government, which stripped Kashmir of its special status. This move was met with support and dissent, leading to intensified sentiments and concerns about the region's safety for tourists.
Read more: Books To Read Before Traveling India
Why Does The US State Department Advise Caution In Kashmir?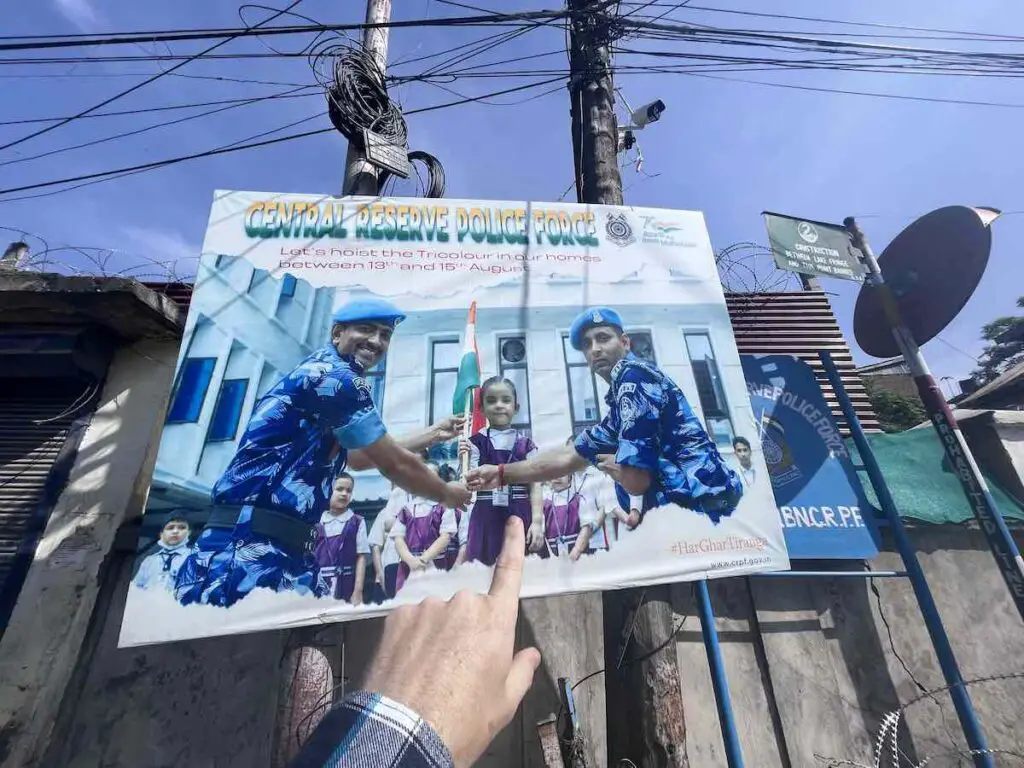 Traveling to over 10 states in India and being on the road for over four years had made me somewhat complacent with checking travel advisories. 
However, before heading to Kashmir, I did what any prudent American traveler would do — check the US State Department's advice on the region. 
Here's an exploration of why the department has historically advised caution regarding Kashmir.
1. Historical Unrest: Kashmir has a tumultuous history marked by disputes between India and Pakistan. This has led to multiple wars and continual skirmishes along the border. The long-standing unrest can sometimes result in spontaneous demonstrations and disruptions that could affect travelers.
2. Terrorism and Civil Disturbance: The region has witnessed incidents of terrorism over the years, with certain militant groups operating from within and outside its borders. While these groups mainly target local security forces, there's always a risk of being in the wrong place at the wrong time.
3. Sensitive Political Climate: Due to its unique political history and significant changes like the revocation of Article 370, the political atmosphere in Kashmir can be quite sensitive. This can lead to unforeseen shutdowns or curfews, especially after significant political events or decisions.
4. Challenging Geographical Terrain: Apart from the political situation, Kashmir's geography comes with its own set of challenges. The region is prone to landslides, especially during the monsoon season, making certain areas inaccessible.
5. Sporadic Communications Blackouts: In times of heightened tensions, the Indian government has previously imposed communication blackouts in the region, cutting off internet, mobile networks, and landline connections. This can be especially challenging for tourists trying to stay connected or updated.
6. Precaution is Better Than Cure: The US State Department's primary responsibility is the safety and security of its citizens abroad. By nature, their advisories tend to be conservative, erring on the side of caution. Even if the on-ground situation may seem calm, the unpredictability of the region necessitates a more cautious approach.
While the US State Department's advisory might paint a cautionary tale, my experience in Kashmir was predominantly positive, with locals being incredibly welcoming and eager to share their stories. 
However, it's always wise for travelers to be aware of official advisories, remain vigilant, and make informed decisions based on a mix of sources and personal judgment.
Read more: Indian vs American Democracy – What Are The Differences?
Is It Ethical to Visit Kashmir?
Before I embarked on my journey to Kashmir, a question that echoed in my mind was about the ethics of visiting a region that has seen so much political and social turmoil. The stunning vistas, serene lakes, and towering mountains are tempting, but it's essential to understand the bigger picture.
Tourism as an Economic Lifeline
Tourism plays a significant role in Kashmir's economy. Approximately 15% of people in the region are directly or indirectly engaged in the tourism sector, which was once the backbone of Kashmir's financial structure. 
In recent years, the annual earnings from tourism exceeded $1.5 billion, a testament to the dependency of many locals on this industry.
The Dual-Edged Sword of Tourism
While tourism brings in much-needed revenue, the heavy footfall of tourists can sometimes strain the region's delicate ecological balance. However, responsible tourism, where visitors respect local customs, support local businesses and reduce environmental impact, can ensure that the region benefits without incurring lasting harm.
Voices from the Ground
During my month-long stay, I had the privilege of staying with a local Airbnb host, on the brink of expanding his business to build a hostel. At times, over steaming cups of Kahwa (Kashmiri tea), we would discuss his dreams and the importance of tourism for him and many others. 
The host family was incredibly warm and welcoming, serving me delicious Kashmiri meals as I tapped away on my laptop. Their children would play in the yard, often waving and shouting gleeful hellos as I ventured out. 
They, and countless other families, depended on travelers like me not just for income but for the cultural exchange and understanding it brought.
The Ethical Standpoint
Visiting Kashmir, in my opinion, is not only ethical but also vital. Boycotting travel to the region means cutting off a primary revenue stream for many families, affecting their livelihoods. However, as tourists, we must be mindful, respect local sentiments, and ensure our travel choices bring more good than harm.
In conclusion, while being aware of the socio-political implications of our travel choices is essential, visiting Kashmir can be a mutually beneficial experience. By supporting local enterprises and fostering understanding through genuine interactions, we can play a small part in Kashmir's long journey to stability and prosperity.
Read more: Common Travel Mistakes for India
Final Thoughts: Is Kashmir Safe for Tourists?
As someone who's traveled extensively across India for over four years, I've been fortunate to witness this vast country's diverse tapestry of cultures, landscapes, and experiences. 
Kashmir, with its ethereal beauty and warm locals, remains a highlight. But the pressing question remains, especially for those considering a trip: Is Kashmir safe for tourists?
Kashmir is safe to travel to in 2023 and more and more tourists are visiting. 
To ensure a safe trip:
– Stay updated with recent developments through reliable sources.
– Avoid politically charged gatherings or discussions.
– Stick to popular destinations and respect the local culture.
– Arm yourself with local contacts and emergency numbers.
The enchanting allure of Nigeen Lake, the charm of local hosts, the unforgettable taste of Kashmiri cuisine, and the myriad of experiences waiting to be discovered make Kashmir a destination worth considering. 
By being informed, respectful, and alert, you can unlock a beautiful chapter in your travel diary. Here's to safe travels and unforgettable memories in Kashmir!
Read more: