Drinking alcohol in Srinagar can be nice if you're relaxing on a houseboat or your hotel balcony looking at the beautiful mountains. With 15,000 foreign tourists visiting the Kashmir Valley in the first half of 2023, I bet other travelers like me are curious about this. 
I spent a month near Dal Lake and was fortunate to enjoy a drink or so, but I had to be careful about how I went about it. As I've traveled India for the last 4 years, alcohol is more common than I thought it would be.
However, finding alcohol in Kashmir was more difficult than in most places. 
Is liquor allowed in Srinagar? Alcohol is not officially prohibited in Jammu and Kashmir, but is difficult to find. Since 65% of the population is Muslim, few people drink, so there aren't many bars, restaurants, or liquor stores. However, it's legal to drink alcohol in Srinagar, and the Jammu and Kashmir government recently allowed six new liquor outlets to open. 
If you'd like to enjoy a drink in "Paradise on Earth," be sure to read the full guide so you can enjoy a cold one without offending anyone. 
Read on to learn about Srinagar's unique alcoholic culture, dive into average costs, and highlight the best bars, hotels, and liquor shops. 
Want to know where to find the finest local brew or the most ambient spot to enjoy a glass of wine? Stay tuned as you learn about the spirited side of Srinagar.
Planning a trip to India at some point? Check out my free ebook to help you save time and money, and avoid headaches. After +4 years in India, I've made plenty of mistakes, and this guide shares what I've learned so you can have a smoother trip.
Is Alcohol Allowed in Srinagar?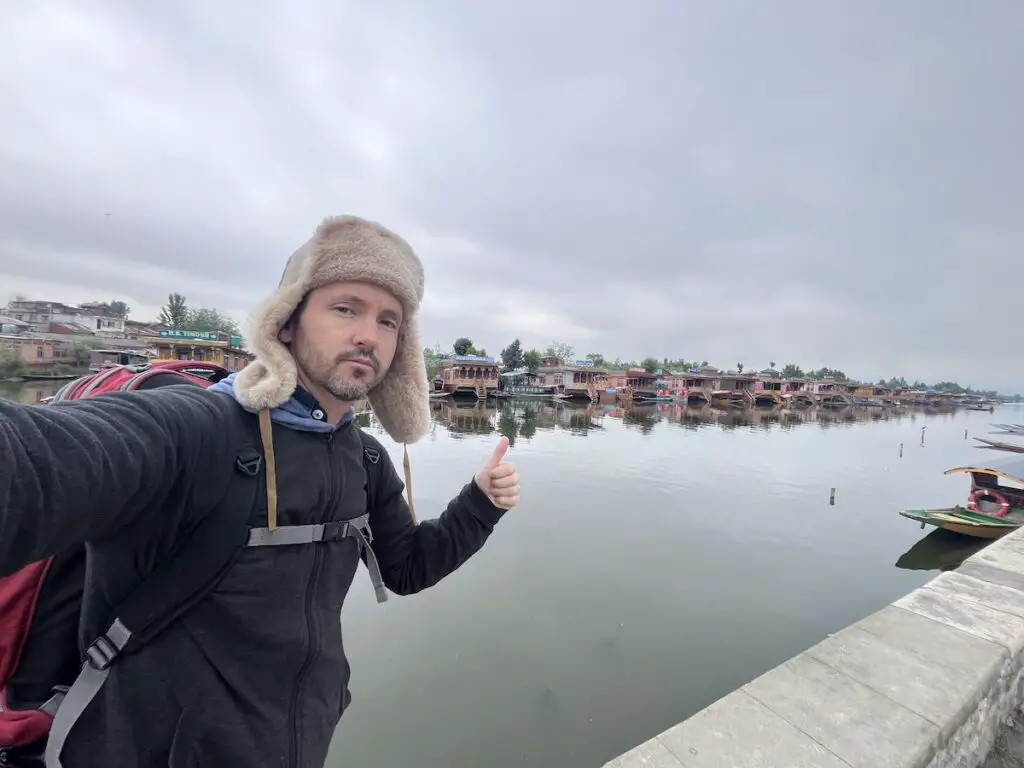 Technically, alcohol is not banned in Srinagar. The government, recognizing the potential boost in tourism, has allowed the sale of alcohol in certain zones. But unlike many other Indian cities, don't expect many bars or liquor shops at every corner (although that may change with recent law updates). 
The rationale behind this moderated approach lies in the predominantly Muslim population of the area. In Islam, the consumption of alcohol is prohibited, making it a sensitive topic. As such, while the state does not have a blanket ban, the social fabric is heavily influenced by religious beliefs that preach sobriety.
Fast fact: In a study from the mid-90s, only 13% of the residents of Kashmir have reported drinking alcohol. 
Cultural and Religious Influence on Alcohol Views in Srinagar
Srinagar, the summer capital of Jammu and Kashmir, has age-old customs, values, and religious principles that unsurprisingly shape the perspective toward alcohol.
With its majestic mosques and traditional houseboats, the peace of Srinagar often masks the silent tussle between a budding modern outlook and firm-rooted traditions. 
Locals, especially the older generation, view alcohol with skepticism if not disdain. Yet, the younger populace, driven by increased exposure and a shift toward global culture, are gradually adopting a more lenient stance. 
Visitors must know this dichotomy and approach alcohol consumption with sensitivity and discretion.
Pro Tip: If you want a drink, your best bet is to ask a friendly hotel employee. The Kashmiri people are known for their hospitality, and as their guest, you can be sure most employees will help you find a cold drink, even if they may not drink. They'll also help you do it in a discreet way. 
My Personal Experience Having A Drink in Srinagar
I stayed in Srinagar near Dal Lake with a nice Airbnb. My host family made meals for me at a fair price, and one day, after a particularly long week of work, I asked if they could get me a drink. 
They got me a small bottle of Indian whisky, and it was good enough. They were friendly about the process, as they had always been, and I just paid them a small finder's fee of 100 INR. 
Then, when I stayed on a houseboat in Nigeen Lake, I shared the boat with another family. As I went out to enjoy the views of the mountains from the back porch on the lake, some of the uncles were enjoying some Jack Daniels that they must have brought with them. 
Staying on a houseboat in Kashmir is a big holiday event, so it makes sense that some tourists may want a strong drink now and again. 
Anyways, the uncles were kind enough to offer me a drink, and it was nice to sit on the comfy back porch of the houseboat and watch the sunset over the snow-capped peaks in the distance. 
Note: Keep an eye on the US State Dept's travel advisories for Kashmir as it's not always safe to visit. 
Read more: Is Kashmir Safe for Tourists? An American Tourist's Perspective After A Month-Long Stay
Best Alcoholic Drinks in Srinagar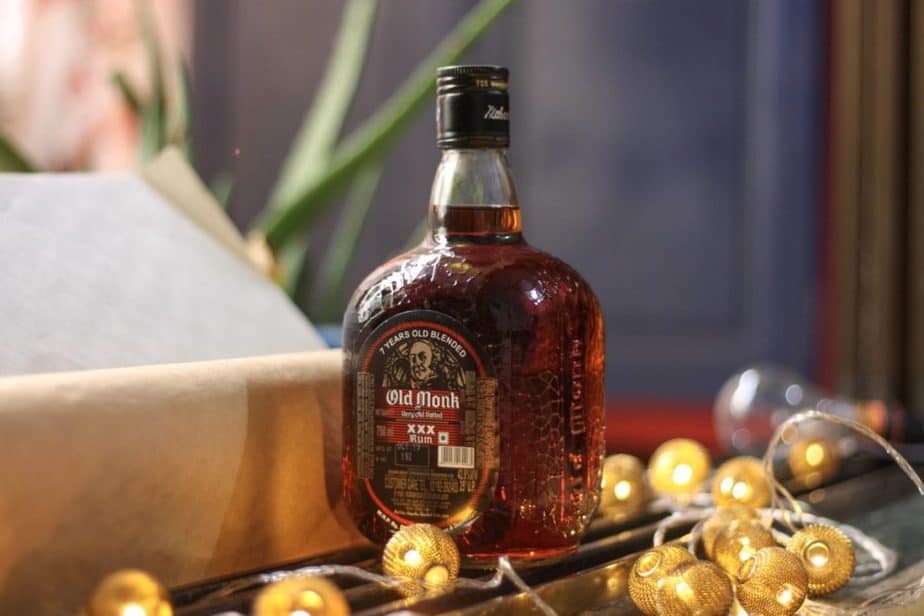 Srinagar, while not renowned for its vibrant alcohol culture, still has a few local brews and popular Indian spirits that travelers might find interesting. Here's a snapshot:
Indian Liquor
While not strictly local to Srinagar, brands like Old Monk, Royal Stag, and Rockford are prevalent. They're a staple in many parts of India and easily available in the licensed outlets of Srinagar.
Local Brews
If you're fortunate enough to befriend a local, they might introduce you to some homemade brews prepared using traditional methods. Remember, these aren't commercially available and are usually shared only in close circles due to the social stigma around alcohol.
Popular Non-Alcoholic Drinks in Srinagar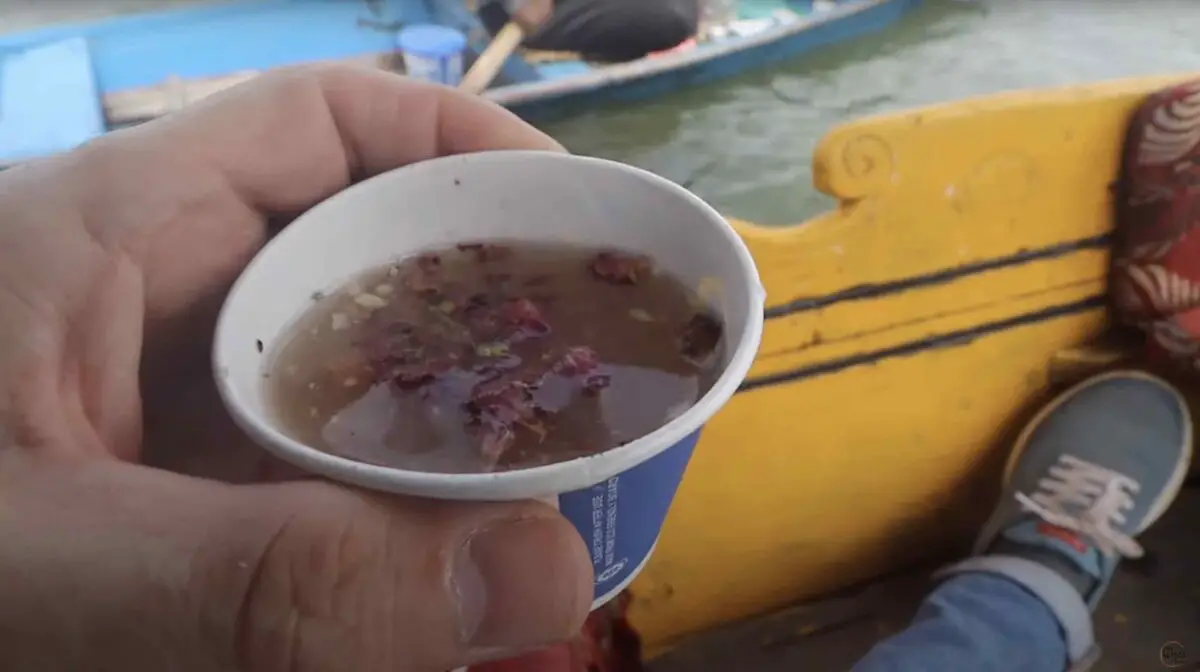 The non-alcoholic beverages of Srinagar are as delightful, if not more. They embody the region's essence and are deeply rooted in its culture and traditions.
Kahwa Tea
Kahwa is a traditional Kashmiri tea made with green tea leaves, saffron, cinnamon, and cardamom. It's typically served with sugar or honey and garnished with chopped almonds. Drinking Kahwa is not just a sensory delight but also a cultural experience.
Pro tip: I tried the Kahwa tea at a nice restaurant but had a better cup during a shikara ride on Dal Lake. I'd give it a try for 50 INR, as long as they add rose petals, honey, and other spices. 
Sherbet-e-Seb
A refreshing apple drink, Sherbet-e-Seb is made from fresh apple juice, mixed with a hint of lemon and sugar. Given Kashmir's abundance of apple orchards, this drink is a must-try when in Srinagar.
Babri Byol
A unique drink made from basil seeds, Babri Byol, is sweet and is known for its cooling properties. Often consumed in summer, it's a local favorite to beat the heat.
To truly appreciate the flavors of Srinagar, it's essential to indulge in both alcoholic and non-alcoholic beverages. While the former offers a sneak peek into the less explored side of the city's culture, it connects you directly to its heart and traditions.
What are the Average Alcohol Prices in Srinagar?
According to my research, the cost of alcohol in Kashmir tends to be a tad higher than the national average, given its remote location and the limited number of licensed sellers. While it's not a hub of nightlife and drinking, the city has its exclusive selection, catering mostly to tourists.
Here's a breakdown of the average prices in Srinagar. 
Table of Average Alcohol Prices in Srinagar
| | | |
| --- | --- | --- |
| Beverage | Average Price in Srinagar (INR) | Average Price in India (INR) |
| Beer (650ml) | 180 – 250 | 150 – 200 |
| Wine (750ml) | 600 – 1200 | 500 – 1000 |
| Indian Whisky (750ml) | 800 – 2000 | 700 – 1800 |
| Imported Whisky (750ml) | 2000 – 5000 | 1800 – 4500 |
| Kashmiri Apple Brandy (750ml) | 1000 – 1600 | 900 – 1500 |
| Local Brews (Litre) | 300 – 500 | 250 – 400 |
It's worth noting that while the prices might seem steep compared to other parts of India, the experience of sipping a drink in the picturesque setting of Srinagar can justify the premium. 
The remote nature of the region and transportation logistics contribute to the slightly higher costs. If you're planning to indulge, ensure you've allocated a fair budget to truly enjoy what Srinagar offers.
Best Liquor Shops in Srinagar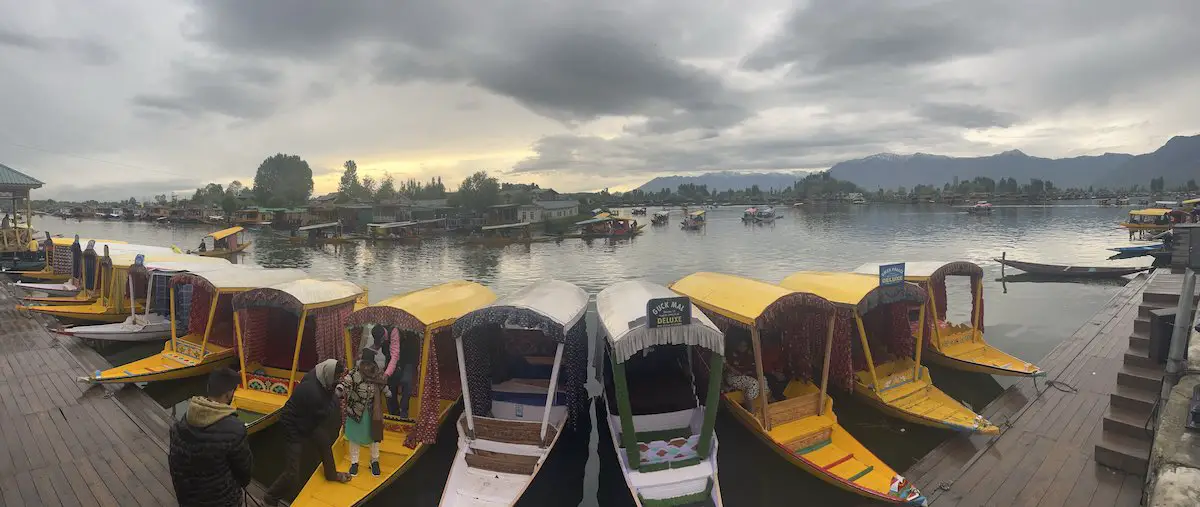 For tourists and locals who indulge, there are some notable places to purchase alcohol.
1. Boulevard Wine Shop:
Location: Near Dal Lake on Boulevard Road near Hotel Zamrud
Description: Conveniently situated near the prime tourist area, although the store doesn't look like much outside, it does sell a decent selection. They charge more than the MRP so you'll pay a premium.  
2. Raju Provisional Store:
Location: On Srinigar-Ladakh Rd south of Dal Lake. 
Description: A store with a varied selection, it's known for its helpful staff and the array of brands available. 
Tips for Buying Alcohol in Srinagar
Get Help from A Friendly Hotel Employee: The Kashmiri people bent over backward to ensure I had a good trip and everything I needed. If you were to ask for help in this regard quietly you can ensure you'll be helped. Because it will be more difficult to find info about this on Google Maps. 
Know the Local Laws: There are liquor shops, but it's essential to be aware of the laws surrounding alcohol purchase and consumption. Remember, it's a sensitive region with deep-rooted cultural norms.
Opt for Known Brands: Given that counterfeit products can be a problem in some parts of India, always choose known brands. If trying local brews, ensure it's from a reputed source.
Shop During Daytime: Most liquor stores in Srinagar operate during standard business hours. It's advisable to make your purchases during daylight to avoid any inconveniences.
Respect Local Sensibilities: If you're consuming alcohol, do so in private and be discreet. Avoid public drunkenness, as it's not only unsafe but also frowned upon.
By purchasing responsibly and understanding the local nuances, tourists can enjoy their stay in Srinagar and savor the unique alcoholic offerings of the region without any hitches.
Best Bars in Srinagar
Though Srinagar isn't known for a bustling nightlife, it does host a select few bars where travelers and locals can enjoy a drink amidst an elegant setting. Most of these establishments are located within prominent hotels, ensuring both safety and quality. Let's dive into some of the best bars you can visit in the city:
Location: Gupkar Road, Srinagar
Nestled within the opulent Lalit Grand Palace, The Chinar Bar exudes old-world charm. The bar is adorned with classic wooden paneling and overlooks the palace gardens. While it offers an array of international liquors, wines, and cocktails, the ambiance truly sets it apart. It feels like you're sipping your drink in a bygone era.
Location: Kralsangri, Brein, Srinagar
With its contemporary decor and panoramic views of the Dal Lake, the Jade Bar at Vivanta is the perfect spot for an evening cocktail. Their menu boasts of international and Indian spirits, wines, and a few signature cocktails. The highlight? Enjoying a drink on the open terrace as you witness a mesmerizing Srinagar sunset.
Location: Maulana Azad Road, Srinagar
The Hotel Broadway has a relaxed poolside bar. Amidst stunning views, you'll find a solid collection of wines, cocktails, and spirits. Whether you're looking to chill with pals or need a quiet moment with your drink, this spot's got you covered. And if you're peckish? Their finger foods and snacks pair well with everything on the menu. Heck, it's even the kind of place where you can have a laid-back business chat or strategize with colleagues. Trust me, the ambiance, paired with a cold drink, makes it a win.
Comparing Alcohol Culture in Kashmir with Ladakh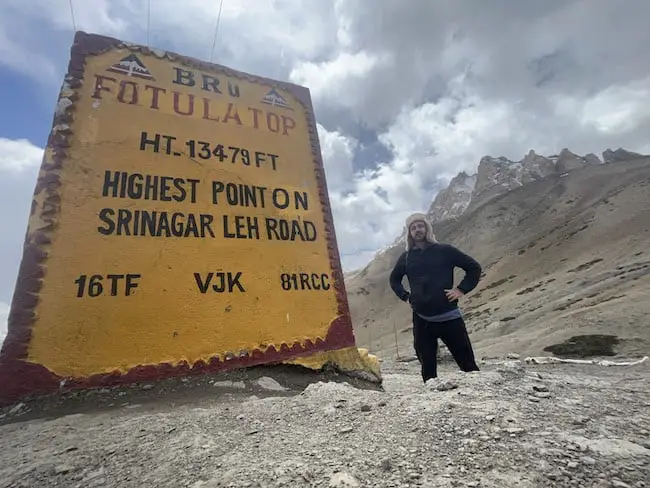 While both Srinagar and Leh in Ladakh share the allure of breathtaking landscapes and a rich cultural tapestry, their approach to alcohol varies considerably. 
With its mixed populace of Buddhists and Muslims, Leh Ladakh has a more liberal stance towards alcohol. The region is dotted with numerous bars and liquor stores. Many tourists and locals freely enjoy their favorite drinks, especially in Leh, without much fuss.
On the other hand, Srinagar's predominantly Muslim population means the city traditionally leans towards conservatism regarding alcohol. While it's not outright banned, the number of establishments serving liquor is far fewer than in Leh Ladakh. Socially, drinking isn't as widespread or accepted, and discretion is advisable.
Moreover, in Leh Ladakh, one can easily find local beverages like Chhang, whereas in Srinagar, the local drinks tend to be non-alcoholic, reflecting the cultural preferences of the majority.
Read more: Check out the full guide to alcohol in Leh, Ladakh for more.
Frequently Asked Questions
Is Kashmir a Dry State?
Kashmir is not officially a dry state. However, due to its predominantly Muslim population and Islamic traditions, alcohol consumption isn't widespread. While it's legal to purchase and consume alcohol, establishments serving it are limited, especially outside major tourist areas.
Can We Carry Alcohol on a Flight to Srinagar?
You can carry alcohol on a flight to Srinagar, but it's subject to airline baggage policies and the permissible limit by volume. The liquor allowance on most Indian flights is 2 liters per person. But always check with your airline and ensure that the bottle is packed securely to prevent leakage or breakage.
Is Alcohol Allowed in Gulmarg?
Gulmarg, a popular tourist destination, has a few hotels and resorts that serve alcohol to their guests. However, as always, it's essential to be respectful of local sentiments and consume responsibly.
Is Liquor Prohibited in Kashmir?
Liquor is not prohibited in Kashmir. However, due to cultural and religious beliefs, its availability is limited, and consumption isn't as socially accepted as in some other parts of India.
What is the National Drink in Kashmir?
The most celebrated beverage in Kashmir isn't alcoholic but a warm, aromatic tea called 'Kahwa'. It's a blend of green tea, saffron, cinnamon, cardamom, and garnished with almonds. Kahwa holds cultural significance, especially during festivities and gatherings.
Final Thoughts
Alcohol is allowed in Srinagar, but it will be more difficult to find given Kashmir's mostly Muslim population. 
My month-long journey in Srinagar revealed a delicate balance – while alcohol is legal in Kashmir, the societal acceptance of alcohol is still evolving.
But nestled amidst breathtaking mountains and overlooking the serene Dal Lake, Srinagar offers a one-of-a-kind experience for travelers, even when it comes to enjoying a drink. 
From sipping whiskey on a luxury houseboat on Nigeen Lake to understanding the cultural nuances in the larger region of Kashmir, the city provides a blend of tradition and transition. 
If you want to stay at a hotel with a bar, the LaLit is the best spot. Your best bet is to bring in a bottle of your favorite spirits and enjoy at your leisure. You can bring 2 liters of alcohol on your flight to Srinagar. 
You will struggle to find liquor stores and bars on Google, so seek help from your hotel. 
Your best bet is to ask a helpful hotel employee to help you out, and they can point you to the nearest liquor store. You may pay a little more, but relaxing with such beautiful scenery could be worth it. 
As you navigate through the streets of this historic city, always remember to respect local customs and norms. 
After all, the beauty of Srinagar isn't just in its landscapes but also in its rich tapestry of traditions.
If there's one thing to take away, it's this: whether or not you choose to indulge in alcohol in Srinagar, always prioritize understanding and respect. 
Read more: