Traveling by bus in India is an inexpensive and interesting way to see the country. The sleeper buses are a great way to get from place to place in relative comfort. While the state-run buses put you next to locals as they travel and are dirt cheap. 
But if you're new to Indian bus travel, knowing how to get started can be stressful and overwhelming.  
Read this comprehensive Indian bus travel guide to learn:
1. Types of Buses in India
2. How To Book Tickets
3. Safety Tips for Indian Buses
4. How To Pack for Indian Bus Trips
5. Navigating Indian Bus Stations
6. Enjoying the Ride: Etiquette and Tips
7. Money-Saving Strategies
8. Exploring Off-the-Beaten-Path Destinations
9. Dealing with Discomfort and Challenges
It would be a waste to plan an India trip and not get to experience its bus journeys. I've been fortunate to travel India over the last four years and have taken many buses.
From the rickety state buses to Bangalore, the laid-back local buses of Goa, or the luxury sleeper buses connecting Hyderabad and Chennai, I've felt the heartbeat of India through its roads, rhythms, and routes. 
So buckle up, and let's embark on a journey of discovery, surprises, and unparalleled experiences as you learn everything there is to know about traveling India by bus. Welcome aboard!
Planning a trip to India at some point? Check out my free ebook to help you save time and money, and avoid headaches. After +4 years in India, I've made plenty of mistakes, and this guide shares what I've learned so you can have a smoother trip.
Types of Buses in India
You have various options for riding Indian buses, each with its own price, comforts, and challenges. 
Government-Run Buses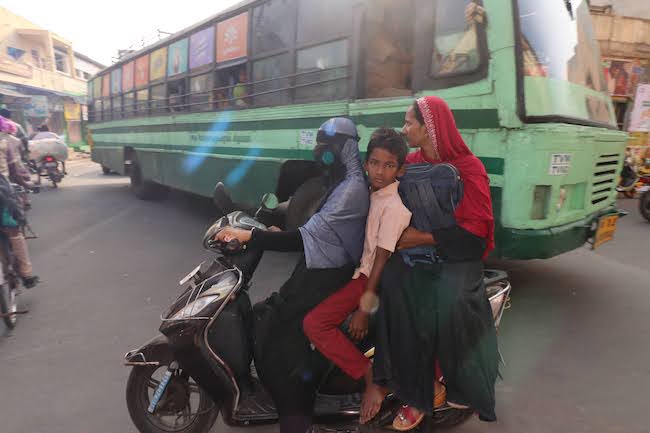 Ordinary Buses
These are the most basic type, with wooden or plastic seats and no frills. They stop frequently and are a great way to soak in the local flavor. But brace yourself – it's going to be a bumpy ride.
Price Range: ₹50 – ₹300 depending on the distance.
Fun Fact: Often, you'll see local vendors hop on these buses at stops, selling snacks and beverages. Do try the masala chai if you get a chance!
 Pro Tip: These buses tend to be crowded, so always monitor your belongings.
Deluxe Buses
A step up from the ordinary buses, these have cushioned seats and make fewer stops. They are a tad more expensive but offer a more comfortable journey.
Price Range: ₹150 – ₹600.
I met many locals on my journey to Bangalore from Tamil Nadu as we zipped through the hills. The price was about $3, and the trip was more than 4 hours, which is one example of how reasonable these prices are.
Private Operators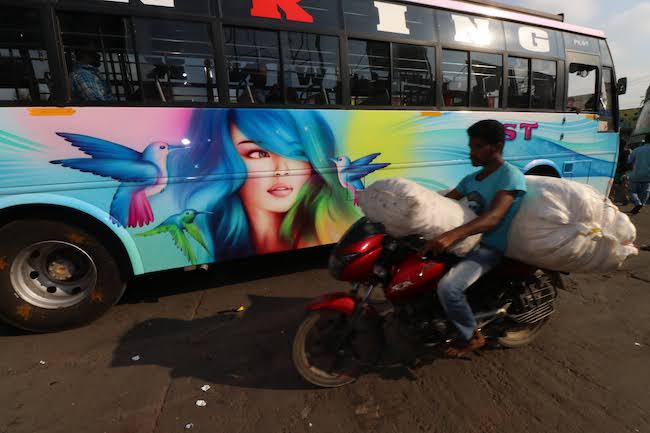 Semi-Sleeper Buses
These have reclining seats, perfect for long journeys. You might also get a water bottle and blanket with some operators.
Price Range: ₹400 – ₹1200.
Pro Tip: Always check reviews before booking with a private operator. Not all are created equal.
Sleeper Buses
Ideal for overnight journeys, these buses have berths (similar to train compartments) where you can lie down and sleep. Some even have AC!
Price Range: ₹600 – ₹2000.
 Fun Fact: The curtains on these bus berths make for an oddly cozy sleep environment. On my way to Kerala, the rhythmic lull of the bus, paired with the rain outside, gave me one of the best sleeps ever!
Luxury/Volvo Buses
These are top-of-the-line buses, often with amenities like AC, WiFi, and food service. They're a bit pricier but are the epitome of comfort in India's bus travel.
Price Range: ₹800 – ₹3000.
Pro Tip: Some routes have scenic beauty, especially in the Himalayan regions. Book a daytime Volvo bus, get a window seat, and thank me later.
Navigating India by bus is truly an adventure in itself. Not only do you save money, but the stories and experiences you collect along the way are priceless. Whether it's a local sharing their lunch with you or a surprise detour through a scenic village, buses in India can turn the journey into a destination. Safe travels!
This article is a part of my series on Getting Around India. I cover all forms of travel including trains, airports, rickshaws, and even elephants. Be sure to check out the other posts!
How To Book Tickets
Navigating India's vast roadways is an adventure in itself. But before we embark on those winding roads filled with stories at every turn, let's get down to brass tacks: booking those tickets. After exploring this country for four years, here's the lowdown on booking bus tickets, whether you're going digital or old-school.
Online Booking Platforms
RedBus

– Pros: 
Extensive network covering almost every corner of India.
User-friendly interface with live bus tracking.
Offers reviews and ratings from fellow travelers.
– Cons: 
They charge a service fee.
Some routes might have limited bus options.
Pro Tip: Look out for RedBus discount coupons and cashback offers. They're a regular feature, especially during festive seasons!
EaseMyTrip

– Pros: 
Not just buses; you can book hotels, flights, and trains, making it a one-stop shop for travel.
Reliable customer service.
Periodic offers and loyalty programs.
– Cons: 
Slightly higher service fees compared to other platforms.
The interface can be overwhelming for first-time users.
Pro Tip: If your international card gets rejected, try another one. My Chime bank card works best, while other perfectly good international cards are not accepted. 
Others (like MakeMyTrip, Yatra, Goibibo)
– Pros: 
Competitive prices and offers.
Comprehensive coverage of routes.
– Cons: 
Some lesser-known platforms may not be as reliable.
Refund policies can vary.
Booking Tickets Offline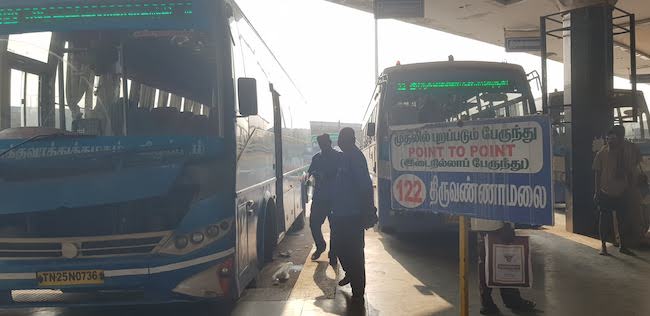 While the digital age has taken over, there's something to be said about the charm of booking tickets the traditional way. 
– Where to Book: Head to the bus station or authorized travel agents. Major cities have dedicated bus terminals with multiple counters based on routes.
– Ask Around At the Bus Stop: The only way to find the right bus is to ask around. Go for the drivers, who often wear brown official-looking shirts for the best info. And ask multiple drivers to be sure you're in the right place. 
Pro Tip: If you're wary of language barriers, have your destination written down in the local language. This can be a game-changer!
Tips for Securing the Best Seats
1. Book in Advance: Especially if traveling during peak season or on popular routes.
2. Window or Aisle? If you're in it for the views, opt for a window seat. If you like a little more legroom and the freedom to move, the aisle's your friend.
3. Check Seat Layouts: Some online platforms show bus seat layouts. If you're traveling solo, a single seat might be more comfortable.
4. Safety First: For overnight journeys, many female travelers prefer seats closer to the front or near other groups of women. Trust your instincts.
5. Ask for AC/Luxury Buses: The prices aren't much higher, and you may enjoy yourself more, especially as a new traveler. 
Understanding Pricing and Peak Travel Times
– Pricing Fluctuations: Just like airfares, bus ticket prices can vary based on demand. Weekends, holidays, and festival seasons usually see a spike.
– Off-Peak Discounts: Traveling on weekdays or during non-festival times can get you better deals.
– Fun Fact: Diwali, Eid, and Christmas are among the busiest travel times in India. If you're traveling during these periods, book way in advance!
Booking a bus ticket in India is more than just a transaction; it's the beginning of a story. Each route has its charm, every co-passenger a tale to tell. So, as you click that 'book now' button or hand over cash at the counter, remember – the journey is just beginning. Safe travels!
Read more: Indian Airport Travel Tips Learned after +10 Flights
Safety Tips for Indian Buses
Traveling by bus in India, with its myriad of landscapes, colors, and cultures flashing by the window, can be both mesmerizing and, at times, overwhelming, especially for foreign travelers. Being on the road for four years and having traversed popular and obscure routes, safety has always been my top priority. 
Here's a distilled version of my experiences and wisdom for anyone seeking a safe and pleasant bus journey in India. Be sure to look for travel advisories before departing.
Safe Travel for Solo Female Travelers
My girlfriend had traveled around India before we met, and she gave me some good points about staying safe. 
1. Seat Selection: Opt for front seats or those close to other women or families.
2. Dress Conservatively: Adapting to local norms can be respectful and make you less of a target. A scarf or shawl can be handy.
3. Be Discreet: Avoid drawing unnecessary attention. For instance, be cautious when consuming alcohol or getting too friendly with strangers.
4. Share Your Itinerary: Always let someone know about your travel plans, even if it's the hotel staff.
Pro Tip: If you're feeling uncomfortable, don't hesitate to voice your concerns. Indians are generally protective and will often come to your aid.
Keeping Your Belongings Secure
1. Less is More: Only carry essentials on the bus. Most buses have limited storage space.
2. Lock It Up: Use a small padlock for your backpack or luggage.
3. Personal Belongings: Always keep essential items like passports, money, and phones close to you, preferably in a hidden money belt.
4. Stay Alert During Stops: Quick tea or meal breaks are common, so always ensure you have an eye on your belongings.
Scams to Be Aware of and How to Avoid Them
1. Overpriced Tickets: Always check the standard prices online or ask locals.
2. False Tour Operators: Ensure you're booking with legitimate operators, especially at bus stations.
3. Unexpected "Tolls": You might be asked for extra money for reasons like tolls or luggage. Confirm with other passengers before paying.
Pro Tip for Foreign Travelers: Familiarize yourself with local currency to avoid being short-changed. Also, consider use Google Translate or your phone to show pictures of what you're looking for. 
Trusted Bus Companies and Operators to Consider
1. Government Bus Services: Almost every state has its own government-run bus service, such as KSRTC for Karnataka and TNSTC for Tamil Nadu. These are generally reliable and safe.
2. Private Operators: Companies like Neeta Tours, VRL, and KPN have built good reputations over the years.
3. Use Online Reviews: Platforms like RedBus and EaseMyTrip have user reviews. Do a quick scan to gauge the credibility of the operator.
On my way from the Chennai airport to Tiruvannamalai, I took a TNSTC bus. Not only was it punctual and comfortable, I saved $40 versus a taxi. 
Like many things, while traveling, safety often hinges on a mix of common sense, local knowledge, and trust in humanity. With these tips in your travel arsenal, you'll explore India safely and with confidence and peace of mind. 
Read more: Dangers for Tourists in India
How To Pack for Indian Bus Trips
Unlike flights, where you have a clear-cut luggage policy, or trains, where you might have the luxury of an entire berth, buses demand a blend of minimalism and preparedness. Let's break down the essentials that should find a spot in your backpack.
What to Bring for Overnight Bus Journeys
1. Comfortable Clothing: Think loose cotton pants and a light T-shirt. Layers are your friend – buses can vary from being too cold due to air conditioning to too warm. You can also pick up cheap warm clothing at the bus station. 
2. Travel Pillow & Blanket: While many AC sleeper buses provide these, it's always good to have a small inflatable pillow and a light shawl or blanket for comfort.
3. Earplugs & Eye Mask: For those who find it challenging to sleep amid noise or light.
4. Personal Entertainment: Download your favorite podcasts, music, or e-books. But remember, the Indian countryside itself can be quite the movie.
5. Powerbank: Not all buses have charging points. Keep your devices juiced up.
6. Toiletries: A mini toothbrush, toothpaste, and face wash can be rejuvenating after an overnight trip.
Navigating Food and Drink on Indian Buses
1. Pack Light Snacks: Nuts, biscuits, or granola bars can be lifesavers, especially if you aren't keen on trying roadside snacks.
2. Water: Always carry a refillable water bottle. While buses do stop for breaks, having water at arm's reach is essential.
3. Avoid Overeating: Stick to lighter meals before and during the journey. Local dhabas (roadside eateries) serve delicious food, but if you're not used to Indian cuisine, opt for less spicy dishes.
After taking a bus from the Ramoji Film Studios in Hyderabad, my sleeper bus stopped at a dhaba, and I had the most delectable samosas. They cost me just ₹10 and remain one of my most memorable meals in India. However, remember, your stomach might not be as adventurous initially!
Essential Items Every Traveler Should Have
1. Hand Sanitizer & Wet Wipes: Given that you'll be on the move, these can be indispensable for quick refreshment.
2. Toilet Paper or Tissues: Not all rest stops will have these, especially if the bus stops beside highways.
3. Basic Medication: Think painkillers, motion sickness pills, and any personal medication. It's good to have a mini first-aid kit with band-aids and antiseptic cream.
4. Local Currency in Small Denominations: For paying at local shops or tips. Many places might not accept cards.
5. Important Documents: A photocopy of your passport, visa, and any ID, stored separately from the originals.
The rhythm of road travel in India differs from many places worldwide. As your bus maneuvers through serpentine ghats, meanders through vast plains, or halts at a bustling local market, having these essentials will ensure the journey is as memorable as the destination. 
Read more: Packing List for India Trip + Free PDF
How To Survive Indian Bus Stations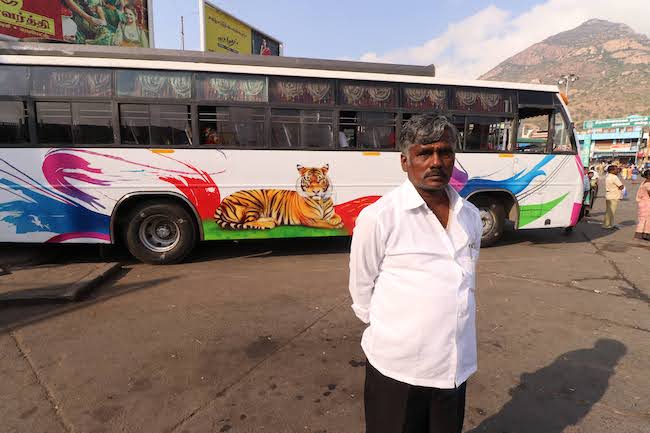 If Indian roads are the veins of this vast country, bus stations are the beating hearts. The hustle and bustle, the cacophony of vendors and announcers, and the sheer energy can be both exhilarating and intimidating.
 Especially for someone new to the scene, it can feel like stepping into a whirlwind. But fear not, for as chaotic as they seem, there's an underlying rhythm to these places, and with these tips, you'll be navigating them like a pro in no time.
Navigating Chaotic Bus Stations in India
1. Arrive Early: Give yourself ample time to figure things out. Bus stations can be huge, with multiple gates and platforms.
2. Station Layouts: Look for station maps or information counters. Larger bus stations, especially in metropolitan cities, often have them.
3. Stay Calm: It's easy to feel overwhelmed but remember, most people are there to help. A calm demeanor goes a long way.
4. Ask Multiple People: I go to bus drivers and ask around. They usually know which buses go where, and stand out since they wear uniforms. Do ask multiple drivers though to verify the info you're getting. 
On my trip to Bangalore, I just showed up at the local bus station and asked around until I found the next bus. When I asked about AC buses, the drivers had a good laugh. But the non-AC state-run bus was a decent trip and I met some good people. 
How to Find Your Bus and Boarding Process
1. Check Your Ticket: It usually has details like the platform number, bus number, or departure time.
2. Ask Around: Don't hesitate. Locals or bus station staff can be incredibly helpful. Sometimes, there are also loudspeaker announcements.
3. Bus Company's Help Desk: Larger operators often have dedicated counters or help desks. Approach them for clarity.
4. Queue Up: Once you locate your bus, there might be a queue, especially during peak hours. It's advisable to join it rather than waiting to one side.
Interacting with Locals and Co-passengers
1. Open Mind, Respectful Approach: Embrace the diversity. You'll meet people from various backgrounds. A smile is a universal language, so start with that.
2. Learn Basic Phrases: Knowing simple greetings in the local language can make interactions smoother. Hindi phrases like "Namaste" (Hello) or "Dhanyawaad" (Thank you) are generally well-received.
3. Personal Space: While Indians are generally warm and might strike up conversations, always respect personal boundaries and trust your instincts.
Is It Okay to Eat the Food at Indian Bus Stations?
1. Street Food Delights: Bus stations can be a foodie's paradise with local delicacies at every corner. From steaming idlis in the south to spicy samosas in the north, there's a lot to tempt your palate.
2. Choose Wisely: Opt for stalls that have a lot of customers, as this usually indicates fresher produce.
3. Watch and Decide: If you see the food being cooked fresh and hot in front of you, it's generally safer.
4. Bottled Water: Always opt for sealed bottled water over tap water.
While Indian bus stations can throw a sensory overload at you, with a mix of patience, preparedness, and a dash of adventure, they can be navigated seamlessly. And who knows, amidst the seeming chaos, you might just find some of your most cherished travel memories. 
Read more: 80 Tourists Scams in India & How To Avoid Them
How To Enjoy Indian Bus Rides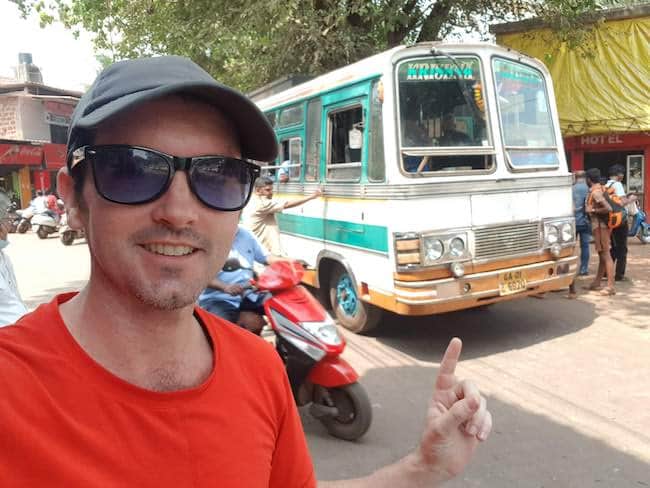 Bouncing along an Indian highway, with the sights and sounds of the country unfolding outside your window, can be one of the most authentic ways to experience India. But to truly enjoy this, one must understand and imbibe a few cultural, practical, and comfort-based norms. 
Here's my guide to making the most of your Indian bus adventure.
Etiquette and Cultural Norms to be Aware of
1. Greet with a Smile: A simple nod or a "Namaste" can go a long way in breaking the ice with your fellow passengers.
2. Mind Your Volume: Whether you're listening to music, watching a video, or conversing, ensure you're not disturbing others.
3. Offering Your Seat: If the bus is full, it's customary to offer your seat to elders, pregnant women, or those with young children.
4. Avoid Public Displays of Affection: India is conservative in this aspect. Respect local sentiments by being discreet.
How to Handle Unexpected Stops and Breakdowns
1. Stay Calm: Breakdowns or unexpected halts can be common, especially on longer journeys. Take it in stride and use the time to stretch or enjoy the surroundings.
2. Stay with the Group: If you're traveling in remote areas, remaining close to the bus or fellow passengers is safer during unplanned stops.
3. Carry Snacks and Water: Handy for times when the stop isn't near any shops or eateries.
4. Inform Someone: If you sense a long delay, inform someone at your destination about the delay.
Pro Tip: Carry a high-quality power bank to keep the electricity flowing to your phone and devices. Having a working phone is essential to staying safe on your bus trip. 
Tips for a Comfortable Journey
1. Essential Gear: Earplugs for noisy rides, a neck pillow for support, and an eye mask to block out unwanted light.
2. Stay Hydrated, But Not Too Much: Drink enough water to stay hydrated but avoid drinking too much to minimize frequent bathroom stops.
3. Layer Up: Temperatures can vary, so dress in layers to easily adjust to the changing environment.
Tips for Each Type of Bus
1. State Buses:
   * Prepare for the Basics: These are no-frills buses. Carry essentials like water and snacks as they may not have frequent stops.
   * Cash is King: Many state buses still operate on cash. Keep smaller denominations handy.
2. Local Buses:
   * Exact Change: The ticket-taking man might not have change, and you don't want to annoy him since he'll help you find the right stop. 
   * Be Ready for a Quick Ride: Local buses stop frequently and might not halt for long. Stay alert.
3. Sleeper Buses:
   * Bedding: While many provide blankets and pillows, it's good to have a light shawl or blanket of your own.
   * Secure Your Belongings: Use a small lock for your luggage for added security.
4. Semi-Sleeper Buses:
   * Leg Space: Unlike sleeper buses, you won't be able to fully stretch. Wear comfortable clothing and consider taking short walks during stops.
   * Reclining Seats: Be courteous. Before reclining your seat, ensure it doesn't inconvenience the person behind you.
Indian bus journeys, like the country itself, can be a beautiful paradox: chaotic yet orderly, tiring yet exhilarating. With these tips, you can immerse yourself in the experience while ensuring your journey is as smooth and enjoyable as possible. 
Read more: Why Do People Go To India To Find Themselves?
Money-Saving Tips for Indian Bus Trips
I saved a bunch of money taking Goa's local buses after arriving by train.
But as exciting as bus travel in India can be, budget constraints are real for many travelers. Yet fear not! With some planning and a dash of local know-how, you can stretch your rupees further without compromising on the experience. 
Here's my treasure trove of money-saving tips accumulated from crisscrossing India on a budget.
Off-Peak vs. Peak Travel: When to Book and Travel
1. Avoid Festive Rush: During major festivals like Diwali, Durga Puja, or Eid, bus fares skyrocket due to high demand. Plan your journeys outside of these times.
2. Mid-Week Savings: Tuesdays and Wednesdays often see lower bookings compared to weekends, making them ideal for snagging a good deal.
3. Night Travel: Overnight buses might be cheaper than day buses, and you save on a night's accommodation too!
Discounts and Loyalty Programs to Consider
1. Booking Apps: Apps like RedBus, MakeMyTrip, and Paytm often have discounts or cashback offers for first-time users.
2. Loyalty Benefits: Frequent travelers can earn points or get discounts on future journeys through loyalty programs on certain booking platforms.
3. Student Discounts: Some state-run bus services offer discounts for students. Always carry a valid student ID if you're eligible.
Pro Tip: RedBus has a generous refund policy, which I've often used as my plans changed. 
Using Local Knowledge and Bargaining
1. Ask Around: Ask locals about standard fare ranges before booking online. They can give you a benchmark for negotiation or validation.
2. Ticket Booths: While online booking is convenient, direct booking at bus stations can sometimes be cheaper. Bargaining is more prevalent for non-AC and local buses.
3. Group Discounts: If you're traveling in a group, you can often negotiate a lower fare per person, especially with private operators.
Websites with the Best Refund Policies
1. RedBus: Known for its straightforward refund policy, especially if you cancel well in advance.
2. MakeMyTrip: They have a 'Zero Cancellation' feature on some routes where you can cancel and get almost your full amount back.
3. Booking Directly: Sometimes, booking directly through the bus company's website can offer more lenient refund terms than third-party platforms.
4. Always Check the Fine Print: Before booking, always read the cancellation and refund policy. It can vary widely between providers.
Read more: How To Avoid ATM Fees in India
Exploring Off-Beat Destinations on Indian Bus Trips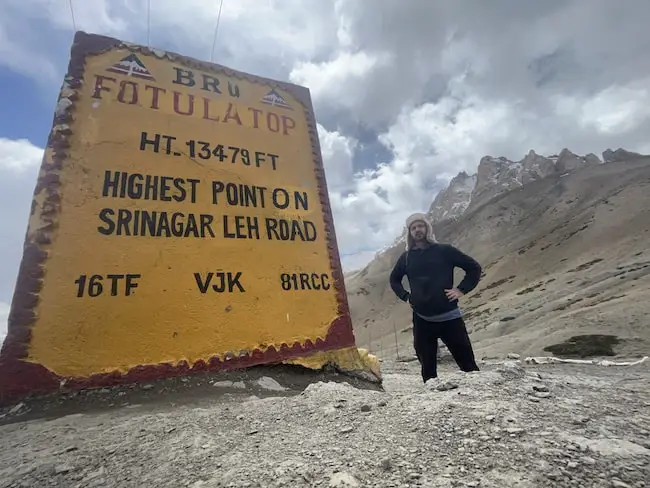 Buses in India aren't just a means of transport; they're a ticket to hidden gems that lie off the well-trodden tourist trails. The real charm of India often rests in its lesser-known locales, and bus travel, given its extensive network, is your key to unlocking these treasures. 
Leveraging Bus Travel to Discover Lesser-Known Places
1. Extended Stops: If you're on a long journey, consider breaking it up. Stay a night or two in smaller towns along the route. These unexpected halts often lead to the most cherished memories.
2. Talk to Locals: On board a bus, strike up a conversation with locals. They're your best guides to hidden gems around their homes.
3. Opt for Regional Transport: State-run buses usually connect more remote destinations than private luxury buses. They might be less plush, but the vistas they lead to more than make up for it.
Best Destinations to Reach by Bus
1. Manali: This beautiful hill station in Himachal Pradesh is well connected by bus from Shimla, Leh, Delhi, and Chandigarh. The winding road offers breathtaking views of the Himalayas. Don't miss the quaint cafes and colonial architecture.
2. Leh in Ladakh: While the road trip from Manali to Leh is legendary among bikers, the bus journey is equally mesmerizing. It's a long, challenging ride, but the landscapes of barren mountains, blue lakes, and pristine monasteries make it worth every bump.
3. Jammu and Kashmir: While Srinagar is a well-known destination, countless lesser-known locales in this region are best accessed by bus. Pahalgam, Pulwama, and Gulmarg are just a few gems waiting to be discovered.
4. Gokarna, Karnataka: If Goa feels too crowded, hop on a bus to Gokarna. Its serene beaches and laid-back vibe make it the perfect spot to unwind. The overnight bus journey from Bangalore offers a comfortable means to get there.
5. Wayanad, Kerala: Reachable by bus from Bengaluru or Kochi, this verdant paradise is home to thick rainforests, aromatic spice plantations, and the beautiful Banasura Sagar Dam. 
6. Khajjiar, Himachal Pradesh: Often dubbed as 'Mini Switzerland', I chanced upon this place on a bus journey from Dalhousie. The vast meadows, dense forests, and a serene lake in the middle, made it feel like a dream.
7. Majuli, Assam: The world's largest river island is best reached by taking a bus to Jorhat and then a ferry. During my visit, the warm-hearted locals introduced me to the island's rich cultural heritage and unique satras (monastic centers).
8. Dhanushkodi, Tamil Nadu: On the eastern tip of India, a bus journey led me to this ghost town, which offers hauntingly beautiful views of the Bay of Bengal meeting the Indian Ocean.
Buses, with their wide reach and the vibrant microcosm of India they encapsulate, are your best bet at discovering a side of India many miss out on. Embrace the detours, relish the unexpected, and let every mile introduce you to a new story. Safe and enlightening travels!
Read more: Off-The-Beaten Path Indian Destinations To Chill & Relax
Dealing with Discomfort and Challenges on Indian Bus Trips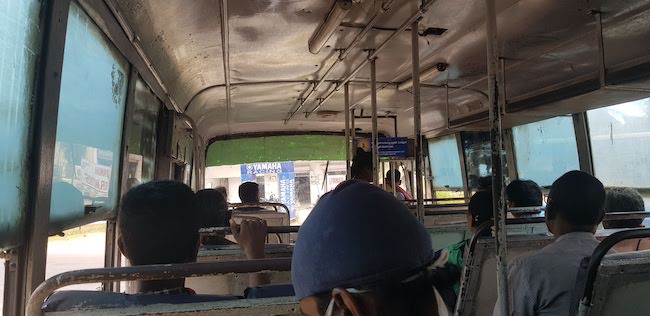 Ah, the Indian bus adventure! A kaleidoscope of experiences – from breathtaking landscapes to the symphony of horns. But it's not all rose-tinted; there are discomforts and challenges along the way. 
Here's a guide on navigating these hurdles, ensuring you're poised to extract the best from your journey.
Health and Hygiene on the Road
1. Stay Hydrated but Mindful: Drink water to stay hydrated but in moderation to avoid frequent bathroom breaks, especially since clean public toilets can be sparse.
2. Hand Sanitizer is Your Best Friend: With the varying hygiene levels at rest stops, always carry and frequently use hand sanitizer.
3. Pack a Hygiene Kit: Wet wipes, tissues, and a small towel can be lifesavers on the road.
4. Avoid Street Food at Bus Stops: While they might look tempting, opting for packaged snacks or fruits is best. If you're feeling adventurous, choose hot, freshly cooked items.
Handling Motion Sickness
1. Choose the Right Seat: Front seats or those above the wheels often experience less turbulence.
2. Look at Distant Objects: Focusing on the horizon or distant scenery can help alleviate symptoms.
3. Avoid Reading: Reading amplifies motion sickness for many.
4. Ginger to the Rescue: Ginger candies or ginger tea can naturally help counter nausea.
5. Stay Ventilated: Ensure a continuous supply of fresh air by adjusting the AC vents or cracking open a window slightly.
Navigating Language Barriers
1. Learn Basic Local Phrases: A few words like 'thank you' ('dhanyavad' in Hindi or 'nandri' in Tamil), 'yes,' 'no,' and numbers can be invaluable.
2. Use Translation Apps: Apps like Google Translate can assist in basic communication. Download the local language offline pack in advance.
3. Gestures and Body Language: While words might fail, universally understood gestures like nodding, shaking your head, or pointing can help in getting your message across.
4. Connect with Younger Folks: English is taught in schools across India, so younger individuals are more likely to understand or speak basic English.
5. Show, Don't Tell: If you're trying to reach a destination, showing a picture or a map can sometimes be more effective than pronouncing a place name.
Final Thoughts
The benefits of Indian bus travel are myriad – from affordability to unparalleled access to off-the-beaten-path destinations. Whether you're looking to immerse yourself in the bustling energy of local state buses or seek the relative luxury of sleeper coaches, there's a bus for every traveler and every pocket. And with platforms like RedBus and MakeMyTrip, securing a ticket has never been easier. 
Yet, like any adventure, it comes with its set of challenges. Staying vigilant about safety, especially for solo female travelers, is paramount. A little caution goes a long way, from safeguarding your belongings to being aware of potential scams. 
Price-conscious travelers have many options, with websites offering great deals and value-for-money ticket prices. However, sometimes the best deals come from a friendly chat with a local or a visit to the bus station itself.
But more than the practicalities, the real allure of Indian bus travel is the stories that unfold, the connections you make, and the landscapes that change with every turn. It's about the chai stall conversations during pit stops, the lullabies sung by mothers to their children, and the collective gasp of wonder when the bus rounds a corner revealing a mesmerizing sunset.
There are good destinations, from Jammu and Kashmir's snow-clad beauty to Gokarna's coastal charm. Yet, sometimes the magic lies in those unplanned detours, the unexpected towns, and the spontaneous friendships.
In conclusion, one must experience its roads, rhythm, and routes to understand India truly.