If you're planning a trip to India and want to explore this incredible country while sticking to your budget, you're in for an unforgettable ride. As an experienced India traveler specializing in budget trips, I've navigated the fascinating world of Indian public transportation and have some insider tips to share with fellow travelers. 
Read on to learn how to get around India, including:
Why you should choose public transportation in India
Dos and Don'ts of getting around India
How to plan trips around India 
Navigating Indian trains
Using India's metros
Taking local and sleeper buses
Offbeat transport options like rickshaws, elephants, camels, and toy trains
Flying across India
FAQs about India's transport options
You'll want to read to the end because if you make a mistake on transportation, this could mean serious delays or even ruin your trip. 
But don't worry! Whether you're dreaming of the Taj Mahal, the bustling markets of Mumbai, or the serene backwaters of Kerala, India's public transport system will take you there without burning a hole in your pocket.
Planning a trip to India at some point? Check out my free ebook to help you save time and money, and avoid headaches. After +4 years in India, I've made plenty of mistakes, and this guide shares what I've learned so you can have a smoother trip.
A Melting Pot of Transportation: Welcome to India!
Before we dive into the nitty-gritty of India's public transport, let's talk about the kaleidoscope of options you'll encounter. 
India's transportation network is a vibrant tapestry comprising trains, planes, buses, metro systems, auto-rickshaws, cycle-rickshaws, ferries, and even elephants. It's a true feast for the senses!
Fun Fact: Did you know that the Indian Railways is one of the world's largest and busiest rail networks, transporting over 23 million passengers daily? It's like a bustling city on wheels!
Why Choose Public Transportation for Your Indian Adventure?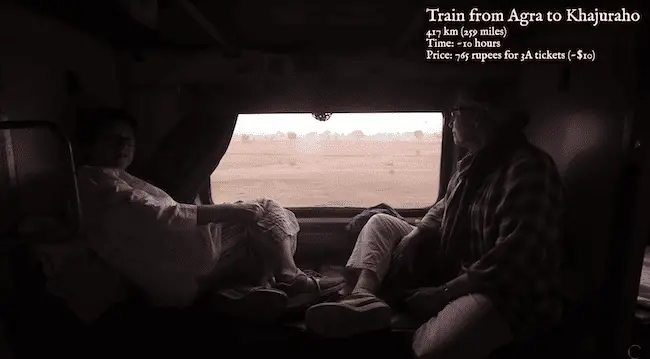 As budget travelers, we often seek experiences that offer value for money without compromising on authenticity. That's where public transportation in India shines like a bright star! Not only is it incredibly affordable, but it also allows you to mingle with locals, experience the local way of life, and create memories you'll cherish forever.
My first train journey with my mom and aunt in India was a revelation. I boarded a sleeper class train from Agra to Khajuraho, a lesser-known place in the heart of India. As the train chugged along, we watched villages and fields cruise past the windows as India's countryside woke up with us, all while sipping chai and chatting with fellow passengers. It was a truly immersive experience that money can't buy!
Top Dos and Don'ts for Getting Around India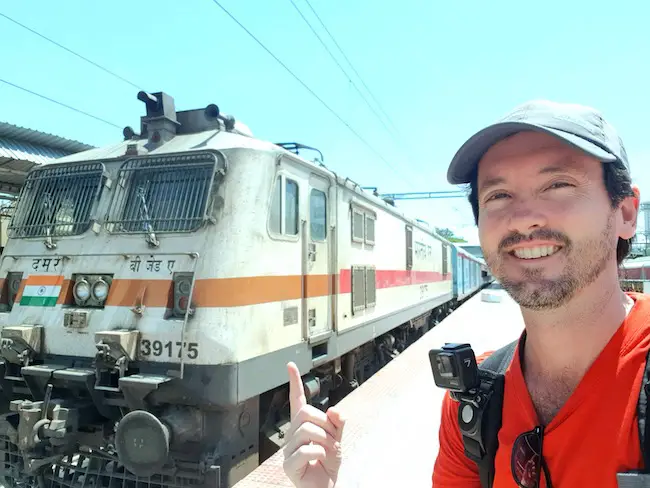 Dos
Dress Code and Etiquette: Dress modestly, and don't call attention to yourself to better fit in with the locals.
Negotiate on rickshaws, some buses, and animal rides. 
Always have water, snacks, and basic hygiene products on buses and trains, as public restrooms may not always meet Western standards.
Plan ahead for trains and buses.
Look for cancellation policies to book an optimal trip while keeping your options open. IRCTC has a solid one for trains, and Redbus has a good one for buses. 
Book at least one trip on Indian Railways. 3AC is best for new travelers. 
Book a sleeper bus to save on accommodation and see more. 
Don'ts
Avoiding Travel During Rush Hours: Rush hours in Indian cities can be overwhelmingly crowded. If possible, plan your travel during off-peak times.
Being Cautious with Personal Belongings: Pickpocketing can happen in crowded places. Keep your valuables secure and be mindful of your surroundings.
Understanding Social Boundaries and Personal Space: India is a warm and welcoming country, but there are many people. You may find people closer than you're used to, and it's normal for them. 
Planning Your Public Transportation Journey
Understanding Timetables and Schedules
Public transportation in India operates on schedules, but keep in mind that "Indian Standard Time" often means things might not be as punctual as you're used to. Be prepared to embrace the famous flexible Indian timing, and you'll be just fine. 
Online resources and apps like Indian Railways – IRCTC, and RedBus are helpful for checking real-time schedules and availability.
Statistic: According to a report by Statista, India had approximately 374 million internet users as of 2021, making it the second-largest online market globally. These digital tools have become indispensable for travelers seeking information on public transport.
Booking Tickets in Advance
While last-minute decisions can be thrilling, booking your train and bus tickets in advance is smart, especially during peak travel seasons. Indian Railways opens its ticket booking window four months in advance, and snagging a confirmed ticket for popular routes can be challenging. 
Plan ahead to secure your seat and avoid disappointment.
I recommend trying to secure your booking at least 1 month in advance for popular destinations such as Delhi to Varanasi or Delhi to Agra. If you enjoy spontaneous travel like I do, I have had plenty of times that I've booked just a few days before as well, but it's a risk. You can also get a decent refund from IRCTC if you have to switch bookings, so there's not much financial risk by planning ahead. 
Pro Tip: If you miss the advanced booking window, don't worry! Many trains have a quota for Tatkal tickets (which means immediately), which can be booked one day before the journey.
Navigating Train Travel in India
The Indian Railways: An Iconic Experience
You simply cannot visit India without hopping on a train. Indian Railways is not just a mode of transportation; it's an experience in itself. From the bustling platforms to the rhythmic clattering of the wheels, it's a symphony of sights and sounds that will stay with you forever.
Choosing the Right Train for Your Journey
Indian trains cater to various travel preferences, from super-fast Rajdhani and Shatabdi expresses to the leisurely journeys on passenger trains. For budget travelers, Sleeper class and Non-AC coaches offer an authentic experience without breaking the bank. If you're up for a splurge, AC coaches provide added comfort.
I think 3AC is a good option for most travelers new to India. The prices are good, you will have some other travelers in your berth, yet you have AC so there's no chance of a terrible sweat-drenched sleepless night. 
Fun Fact: The Vande Bharat Express, also known as Train 18, is India's fastest train, reaching speeds of up to 180 km/h (112 mph). It runs between Delhi and Varanasi.
Read more: The Best Travel Apps for India, including one to help you get food delivered on trains.
Indian Train Classes Explained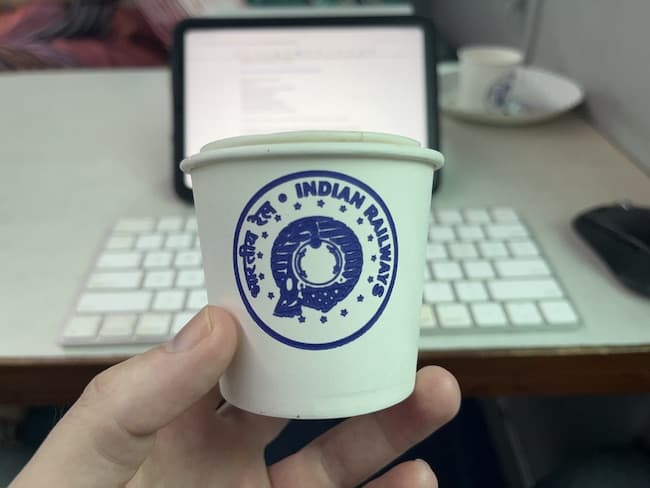 To ensure you have the most comfortable and enjoyable journey, it's essential to understand the various classes available on Indian trains. As your experienced India travel guide, let's dive into each class, from the economical to the luxurious. I'll share some tips from locals that I've learned, including personal stories from my own train adventures.
1. General Class (Unreserved) 
If you're a budget traveler or looking for a truly authentic experience, the General Class, also known as the Unreserved Class, is your ticket to ride. But be warned. If this is your first trip to India, I don't recommend it. 
The seating is unreserved, meaning you may be standing the entire trip if it's crowded. 
However, for a traveler looking to meet locals, you will find the most interesting experience here.
Tips from Locals: In the General Class, it's wise to keep your belongings close and be cautious about pickpockets. Also, be ready to share food and stories with fellow travelers – it's a fantastic opportunity to make new friends!
2. Sleeper Class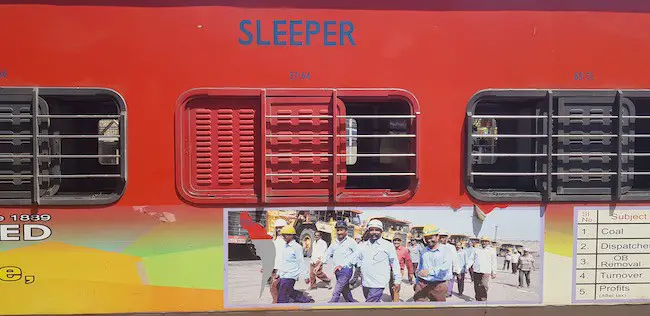 For a more comfortable option that won't break the bank, the Sleeper Class is a popular choice among Indian train travelers. I often choose this class if the weather's not too hot. 
You'll have a designated berth to rest during overnight journeys, and the camaraderie among passengers is an experience in itself. Expect to share stories, snacks, and laughter with your fellow travelers. The Sleeper Class offers a unique chance to connect with people from diverse backgrounds and forge lasting memories.
Tips from Locals: While traveling in the Sleeper Class, remember to stock up on bottled water and some ready-to-eat snacks before boarding, as train vendors may not always have your preferred choices.
3. AC 3-Tier (3AC)
Stepping up the comfort level, the AC 3-Tier is a fantastic choice for those who desire a cozy, air-conditioned journey without splurging on luxury. Each bay consists of six berths, arranged in three tiers on each side. The berths come with curtains, providing privacy and comfort during your trip.
This is the best class for new travelers who want great value AND comfort. 
Tips from Locals: In the AC 3-Tier, bring your own toiletries and a small travel pillow for added comfort. Bring warm clothing too as I've found the AC makes it cold. I often purchase a hoodie or sweatpants before boarding. But do embrace the camaraderie by sharing snacks and conversing with your fellow passengers – you never know what interesting stories you might uncover.
4. AC 2-Tier (2AC)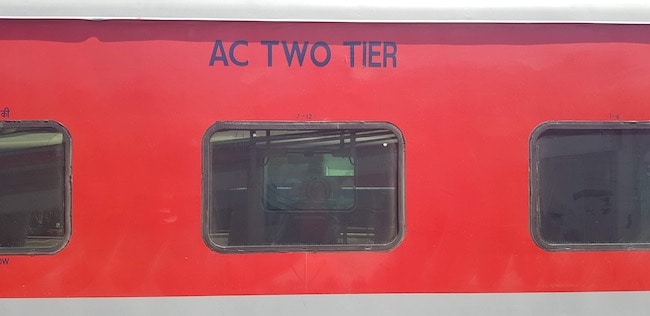 If you prefer a more upscale experience, the AC 2-Tier is an excellent option. This class provides spacious cabins with only four berths in each compartment, offering greater privacy and comfort. The berths have reading lights and charging points to keep your devices juiced up during the journey.
Tips from Locals: While the AC 2-Tier is relatively luxurious, carrying a portable charger for your gadgets is still a good idea, as charging points may sometimes be in high demand. Also, don't be shy to ask for assistance from the friendly train staff – they are always ready to help make your journey more enjoyable.
5. First Class (AC 1-Tier)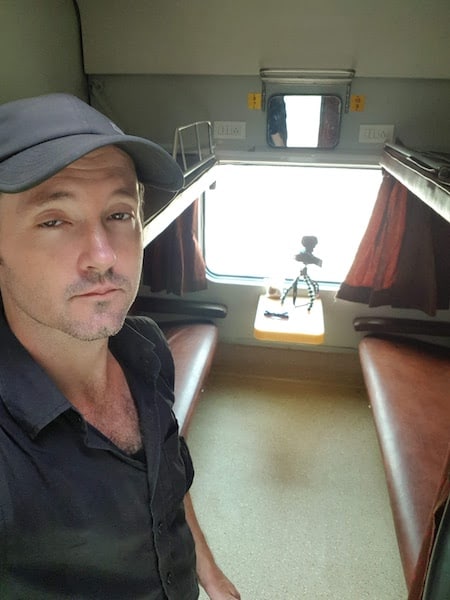 For the ultimate indulgence in Indian train travel, the First Class, or AC 1-Tier, offers more comfort. This class provides exclusive, private cabins with only two or four berths, ensuring a more peaceful journey. First Class travelers are pampered with top-notch amenities, including bedding and meals.
I've met interesting people in my first-class journeys including an Indian cinematographer and another fun older couple. 
Tips from Locals: As you're enjoying the comfort of First Class, take the time to savor the scenic views passing by. And, of course, share your experience with your fellow travelers – they might be curious about the perks of this prestigious class!
Tips for Booking Train Tickets on a Budget
To save money on train travel, opt for slower trains as they tend to be cheaper. For instance, the "Garib Rath" trains are economical, air-conditioned options that connect major cities. 
Additionally, booking tickets through the official IRCTC website can help you avoid paying extra commissions to travel agents. However, I do often use EaseMyTrip as well. MakeMyTrip is another option, but it has never worked with my international cards. 
Pro Tip: You can book with an international card, but it can be more difficult. It's not uncommon for me to try multiple times, and not all my cards will work. I have the best experience with a Chime debit card, which works well on India's Amazon and other online purchases. 
Making the Most of Metro Systems
Metro Systems in Major Cities
Major Indian cities like Delhi, Mumbai, Kolkata, and Bengaluru boast efficient metro systems that provide a smooth and hassle-free way to explore urban landscapes. These modern marvels offer respite from traffic jams and are known for their cleanliness and punctuality.
I have become such a fan I often book hotels near a metro station, so I can more easily navigate the city. This is especially helpful in a place like Delhi or Bengaluru which has larger metros (and more traffic!).
Understanding Fare Structures and Smart Cards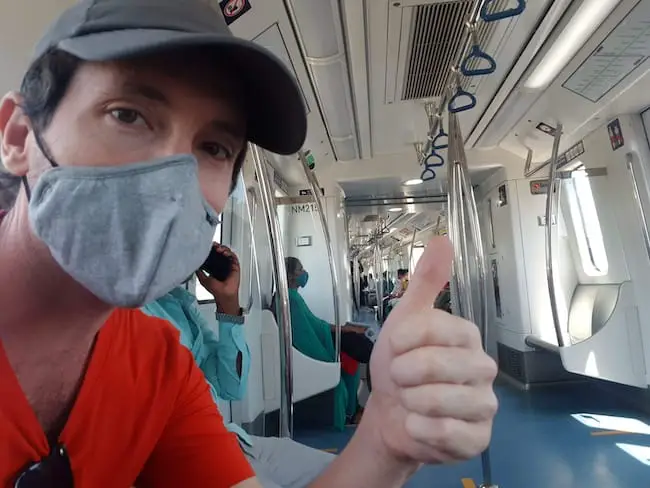 Metro fares are usually distance-based, so be aware of the fare structure before you board. Consider getting a rechargeable "Smart Card" to avail discounted fares and avoid long queues at ticket counters. 
The fares are reasonable, never more than $1, so I usually just buy tickets as I go. However, if it's more crowded like in main stations in Delhi, purchasing a Smart Card could save you 10 minutes of waiting in line.
Fun Fact: As per the Ministry of Housing and Urban Affairs, India had nine operational metro systems in 2021, with more under construction in various cities.
Mastering Local and Intercity Buses
The Heartbeat of Indian Transportation
Buses are the lifeblood of India's public transport, connecting cities, towns, and even remote villages. They come in various flavors, from state-run super-old buses to high-class cool sleeper buses, and are an excellent way to immerse yourself in the local culture.
Taking Local Buses
In local buses, fares may not always be fixed, especially for short distances. Don't be shy to haggle a bit, but always do so with a smile and a respectful attitude. However, the prices are so cheap that you may never need to. 
I once stayed in a suburb of Kolkata and needed to find my way to the metro. While in theory, Google Maps will tell you exactly which buses to take; in practice, it can be hard to see the bus numbers. But the men taking the money on the bus (usually standing at the door calling stops and taking money) are super helpful. I just went to the local stop, asked as the buses came by, and quickly found the right bus. 
Using Sleeper Buses 
A great way to go from one destination to another is sleeper buses. You can go to a site like Redbus and see the options. You can select destinations around the city, so find one near your hotel, and you can spend a cheap night while getting decent sleep.
I like how there are curtains so it's a more private experience than the train, which can be helpful on a tiring journey.
They sway to and fro as you sleep, but I got used to it and slept great on my trip from Hyderabad to Chennai. 
Offbeat Public Transportation Experiences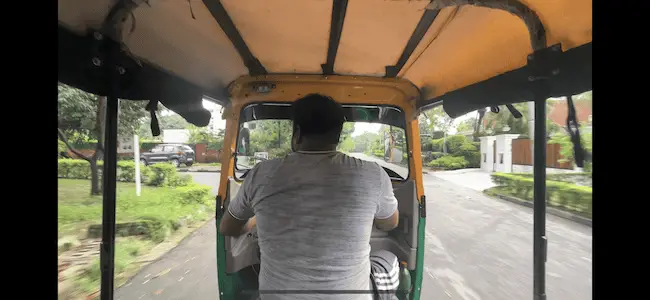 While mainstream public transportation covers the essentials, the real magic of India lies in its offbeat modes of transport. Here are some quirky options that will add a touch of adventure to your journey:
Heritage Trains and Toy Trains
All aboard the nostalgia train! India has several heritage railways, such as the Nilgiri Mountain Railway and the Darjeeling Himalayan Railway. These toy trains chug through picturesque landscapes, taking you back in time.
Tuk-tuks and Unique Commuting Modes
Embrace the local flair by hopping on a tuk-tuk, an auto-rickshaw. These three-wheeled wonders are essential to the Indian transportation mosaic and provide an exhilarating, albeit bumpy, ride.
Elephant, Camel, and Other Animal-Pulled Rides
In the deserts of Rajasthan, you can hop on a camel for a ride across the sand dunes. Or how about experiencing rural charm by hitching a bullock cart ride in some villages? My buddy loved this form of transportation in Tamil Nadu. It's a nostalgic and eco-friendly way to explore.
In Jaipur, you can ride elephants up to the Amber Palace. While there has been fair criticism about this form of transport, considering the animals aren't always treated humanely. 
Traveling by Plane in India
When it comes to traversing India's vast and diverse landscapes, flying can often be the most time-effective way to get around. It's cheap too as you can go most places for less than $100. 
Thanks to a robust network of airports in major cities and an array of domestic airlines, you can reach almost any corner of this vibrant country without spending days on the road or on the rails.
Choosing the Right Airline
India hosts several domestic airlines, including Air India, IndiGo, SpiceJet, Vistara, and GoAir. All offer varying degrees of comfort, price, and punctuality. 
For instance, IndiGo and SpiceJet often have competitive fares and are known for their punctuality. IndiGo is more high-tech, with a solid app you can check in with. But Air India, the national carrier, tends to offer more legroom and baggage allowance, but not-so-good reviews from some passengers. 
Book in Advance, But Not Too Far
One of my personal experiences involves booking tickets for a trip from Mumbai to Delhi. I made the rookie mistake of booking tickets just a few days before my travel date and paid almost double the usual price. 
On the other hand, don't jump the gun and book too far in advance, either. The sweet spot is usually around 1-3 months before your intended travel date. That's when you can usually snag the best deals.
I often book flights 3 weeks before, and it's fine. Set up an alert on Google Flights or Skyscanner with your destinations in mind, and you'll get email notifications as the prices go up and down. 
Consider Off-Peak Travel
If you're flexible with your schedule, consider flying during non-peak hours or off-peak seasons. Flights early in the morning or late at night tend to be cheaper, and so are the flights during the monsoon season. 
Yes, it might mean some adjustments and occasional inconveniences, but the savings can be substantial.
Leverage Price Comparison Tools
Use flight comparison websites like Skyscanner, Google Flights, or Makemytrip to compare prices across airlines and booking platforms. These websites also allow you to set price alerts to get a notification when the fare drops for a particular route.
Connecting Flights Might Save You Money
If you're not in a rush, consider booking connecting flights instead of direct ones. For instance, a direct flight might be quicker but more expensive if you're traveling from Delhi to Kochi. A flight with a layover in Mumbai might take a bit longer but could save you a decent chunk of change.
Save on Airport Transfers
Finally, consider how you'll get to and from the airport. India's ride-hailing services, like Ola and Uber are often cheaper than traditional taxis. Many cities also offer airport shuttle services. In Delhi, for example, the Airport Express metro line is a fast and economical way to reach the city center.
Look for pre-paid taxi services near the exit if you can't find Uber or Ola. In Delhi, the prices start at 500 INR, even for a short trip, which is pricey but better than negotiating with drivers outside the gate. They're experienced at ripping off new tourists. 
Remember, traveling by plane in India is just as much an experience as visiting the Taj Mahal or navigating the bustling streets of Old Delhi. Embrace the journey, and don't forget to look out the window occasionally – the aerial views of India's diverse landscapes are breathtaking.
Final Thoughts: India's Unforgettable Public Transportation
Public transportation is your ultimate ally when getting around India and using transport on a budget. 
For hassle-free train journeys, go for 3AC to start. Try first-class if you can find it. And wait on the general class until you're a pro traveler (I've never taken it after 4 years!). But be prepared to relax in comfortable berths, admire the changing scenery, and converse with fellow travelers. 
Use metros to get around big cities like Delhi, Bengaluru, Kolkata, and Kochi. Book a hotel near a station for easier trips. With air-conditioned coaches and affordable fares, metros provide a refreshing escape from the city's chaos. Zip through traffic and reach your destinations efficiently while rubbing shoulders with locals during your daily commutes.
Take sleeper buses between destinations, and use a site like Redbus.in for easy booking and mostly free cancellations. Local buses offer a unique insight into India's colorful culture and daily life. For dirt-cheap prices, you can hop on buses that take you to hidden gems, remote villages, and offbeat destinations. 
Negotiate on rickshaws and hold on tight. Don't worry in time, you'll get used to the less-than-passive driving tactics! Or try an animal ride if your research says they treat the animal with respect. 
By embracing India's public transportation, you're saving money and opening doors to immersive experiences that will leave you with unforgettable stories. Allocate your travel budget to indulge in local delicacies, explore historical landmarks, and shop for exquisite souvenirs without worrying about extravagant transportation costs.
Remember: No journey is ever the same, so embrace the spontaneity and let India work its magic on you. Happy travels!
Read more: