A workation in Kerala could be the thing to revive you and so you continue to see the joy in working remotely. 
As someone who's traveled around India for over 4 years, I've seen the Himalayan serenity, Rajasthani royalty, and Goan beaches. But it was my workcation Kerala experience that was a top memory. 
The unparalleled blend of natural beauty and work-friendly infrastructure is unmatched.
Here are the 7 best destinations for a workation in Kerala:
1. Kochi – The Vibrant Port City
2. Varkala – The Cliffside Beauty
3. Trivandrum – The Southern Crown
4. Wayanad – The Wilderness Retreat
5. Alleppey – The Venice of the East
6. Munnar – The Tea-Soaked Highlands
7. Thekkady – The Spice Center
If you decide to skip out on the full article, you're going to miss discovering the hidden gems of Kerala that perfectly cater to the digital nomad lifestyle. Plus, you don't want to book the wrong hotel and get stuck with slow wifi. That's a nightmare, not a blissful workation. 
Dive in with me as we explore the best destinations, accommodations, and attractions that offer not just a place to work but an authentic Kerala experience. 
Read on to learn:
Accommodations that will help you work your best
Attractions you can visit during your work breaks
Coworking spaces tailored for productivity
Quaint cafes that serve strong coffee and even stronger WiFi
Potential get-togethers to bond with fellow digital nomads
Buckle up; this is one workcation in Kerala guide you won't want to miss!
Planning a trip to India at some point? Check out my free ebook to help you save time and money, and avoid headaches. After +4 years in India, I've made plenty of mistakes, and this guide shares what I've learned so you can have a smoother trip.
Why Kerala is Great for a Workation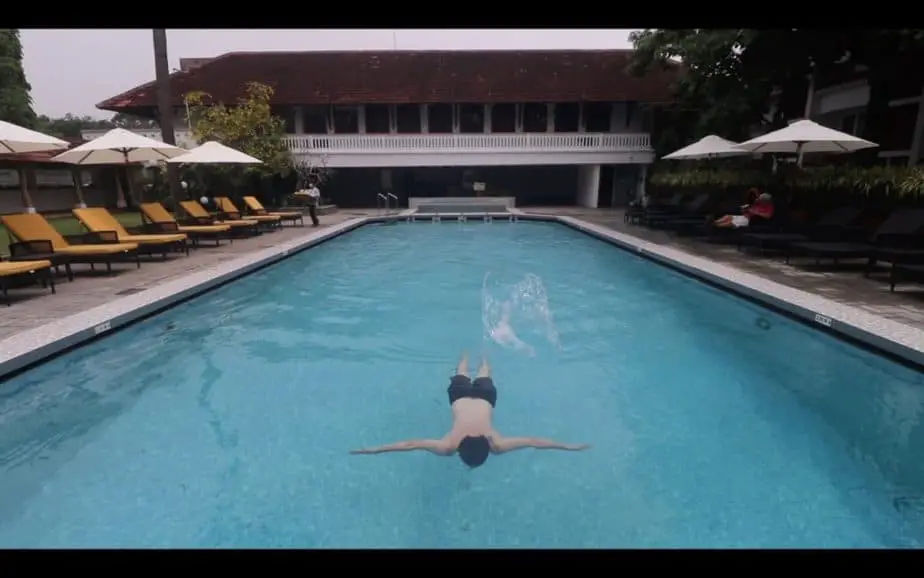 I've spent considerable working online across India, and Kerala stood out like a radiant gem amidst the treasures. 
Let me share the allure that's uniquely Keralan, making it a workation dreamland.
Breathtaking Beaches: From my morning walks on Varkala's cliff-backed beaches to sunsets at Marari, the beaches here aren't just for lounging. With the sound of waves as background music, they can be your perfect remote work spot.
Pristine Cities: Unlike many other parts of India, cities in Kerala, like Kochi and Trivandrum blend urban amenities with maintained cleanliness. It was refreshing to stroll through the neat streets, take breaks in local parks, or simply gaze at the clean cityscapes from a cafe.
Rich Cultural Tapestry: The cultural immersion in Kerala is deep. I often took mid-day breaks to watch a Kathakali performance or learn about the local folklore. These experiences added a new dimension to my workdays, offering relaxation and rejuvenation.
Accessible Nature Retreats: If cities aren't your thing, you can be in places like Wayanad or Munnar within a couple of hours. I remember renting a small homestay amidst the tea plantations in Munnar, where the cool breeze and verdant surroundings boosted my productivity levels.
Warm and Welcoming Locals: Kerala isn't just about places; it's about its people. Engaging conversations with locals, getting work tips, or just discussing the best local cuisines made my workation feel integrated and wholesome.
A workation in Kerala is like wrapping work and vacation into a neat package, topped with diverse experiences. Every day felt like a balance between productivity and the joy of South Indian culture. 
Read more: Is Living in India Hard? A Digital Nomad's Perspective
7 Best Destinations for a Workation in Kerala
1. Kochi (Cochin): The Vibrant Port City
Kochi is a unique city in India. With its cleanliness and Christian cultural influences, it's an easier step for most Westerners. 
From its blend of history to its bustling urban scene, it's a city that doesn't sleep. My memories of Kochi are tinted with walks around Fort Kochi, devouring seafood dishes, and yes, indulging in some beef – a treat for an American like me. 
However, a word to the wise, while the beef is tasty, the fresh seafood here is simply unparalleled.
Best Accommodations with Good WiFi and Workspaces:  
Hotels: I'd strongly recommend the Brunton Boatyard in Fort Kochi. Staying here is an experience, and with their high-speed internet and quiet corners, work becomes a breeze.
Homestays: There are several homestays, but Koder House stands out, with its vintage charm and modern amenities.
Hostels: For solo travelers, The Postcard Mandalay Hall in Fort Kochi is a social hub and offers a conducive work environment.
Must-See Attractions:  
Chinese Fishing Nets: It's a sight to behold, especially during sunset and is great for photography.
Paradesi Synagogue: A testament to the city's diverse history.
Hidden Gem: The quaint David Hall often hosts local art exhibitions, offering a serene escape.
Notable Coworking Spaces:
B-Hub is my go-to. It's not just a coworking space but a community of innovative thinkers.
Notable Cafes with Free WiFi:  
– Kashi Art Cafe: Great ambiance, scrumptious pastries, and reliable WiFi.
– Teapot Cafe: As the name suggests, their tea is a must-try, and the connectivity? Just as good!
Social Get-Togethers for Digital Nomads: The local Loafer's Corner is where you can meet locals and hear about the best social events happening.  
Pro Tip: A local once told me that, while Fort Kochi has its charm, don't miss out on the bustling local markets of Ernakulam. It's where the real daily life of Kochi thrives.
All in all, Kochi feels like multiple worlds rolled into one. Every corner offers a new experience, making it an ideal workation spot for those who thrive on diversity and culture.
Read more: Best Times To Visit India's Most Popular Destinations
2. Varkala: The Cliffside Beauty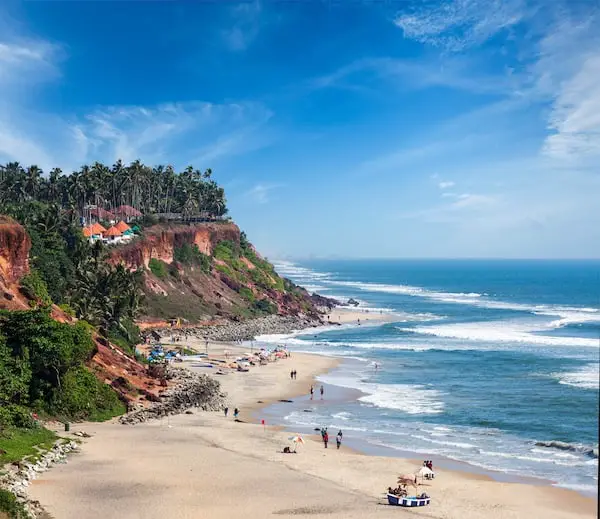 Varkala is the Goa of Kerala. You can find amazing cliffs overlooking the water and a more chill vibe. Post work, your feet will invariably lead you to the North Cliff for a therapeutic swim, merging the rhythms of your heart with the waves. 
The sheer beauty of Varkala's cliffs combined with its laid-back ambiance serves a dual purpose – igniting creativity and ensuring relaxation. It's a place where work doesn't feel like work.
Best Accommodations with Good WiFi and Workspaces:  
Homestays/Hostels: Lost Hostels strike a harmonious balance between tranquility and opportunities for socializing with like-minded travelers. Their open areas are perfect for a working spell.
Must-See Attractions:  
The famed Varkala Tunnel is an architectural marvel and gives a peek into the region's history.
However, the beaches, particularly the ones along the cliff, are the crown jewels of Varkala. The views are therapeutic.
Notable Cafes with Free WiFi:  
Darjeeling Cafe was where I laid my laptop day after day. With a cup of strong coffee in one hand and the cool sea breeze rustling my notes, it felt less like work and more like a leisurely pastime.
Social Get-Togethers for Digital Nomads:  
If you're in Varkala, you cannot miss the sunset beach gatherings. It's the ideal setting to network, share stories, or just unwind after a day of toil.
In Varkala, the blend of nature's magnificence and the charm of a small coastal town makes every day unique. Whether you're working from a cliffside cafe or taking a break to soak in the sunset, Varkala ensures your workation is nothing short of magical.
Read more: Is Pondicherry Worth Visiting?
3. Trivandrum: The Southern Crown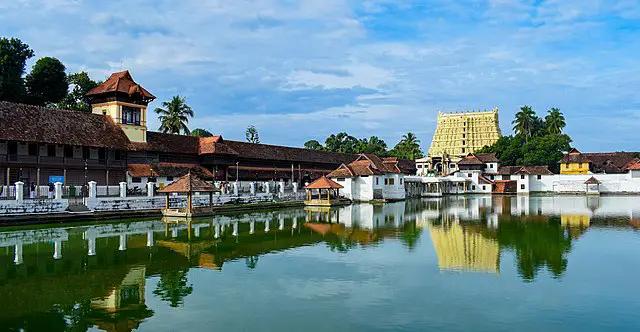 Wandering through Trivandrum is like flipping through the pages of a rich historical novel. As the capital city of Kerala, it marries the urban hustle with remnants of a royal past. I fondly remember my days here, punctuated by visits to the museums post work and relishing the local delicacies at the street stalls.
Trivandrum offers the comfort of a city life, replete with modern amenities, yet is seasoned with cultural landmarks at every turn. Working from here meant I was always a stone's throw away from a new discovery.
Best Accommodations with Good WiFi and Workspaces:  
Hotels: Hycinth Hotel is one of my top recommendations. Besides their luxurious rooms, the quiet lounges with high-speed internet make it a remote worker's haven.
Homestays: Graceful Homestay is a cozy option where the hosts ensure you feel right at home while offering all the facilities a digital nomad craves.
Hostels: For those on a tighter budget, Zostel Trivandrum is a hotspot for solo travelers, making connecting easily while ensuring productive work hours.
Must-See Attractions:  
Padmanabhaswamy Temple is an iconic landmark. Though non-Hindus can't enter, the architecture alone is mesmerizing.
Napier Museum and Zoo: A walk here felt like a journey through time and nature, a perfect mid-week break.
Hidden Gem: Koyikkal Palace, a bit on the outskirts, offers a double treat with folklore and numismatic museums.
Notable Coworking Spaces:  
B-Hive not only provides the right infrastructure but, with its community events, ensures networking and growth.
Notable Cafes with Free WiFi:  
Cafe Jade was my sanctuary. Their menu is as vast as their WiFi bandwidth, ensuring both your tummy and tasks are well taken care of.
Coffee Beans Cafe serves both traditional and international brews, with the added bonus of strong connectivity.
Social Get-Togethers for Digital Nomads:  
The city organizes various art and cultural events, especially at places like Vyloppilli Samskruti Bhavan. It's an excellent place to meet fellow travelers, share tales, and maybe collaborate on new projects.
Pro Tip: A local once told me, "If you're in Trivandrum, don't miss the morning markets. They are as much a feast for the senses as they are a glimpse into our daily lives." And I couldn't agree more.
Trivandrum exudes an old-world charm juxtaposed with the energy of a city. Every alley, every by-lane holds a story, and working from here means being a part of its ever-evolving tale.
Read more: Best Offbeat Places To Relax and Chill in India
4. Wayanad: Nature's Workation Wonderland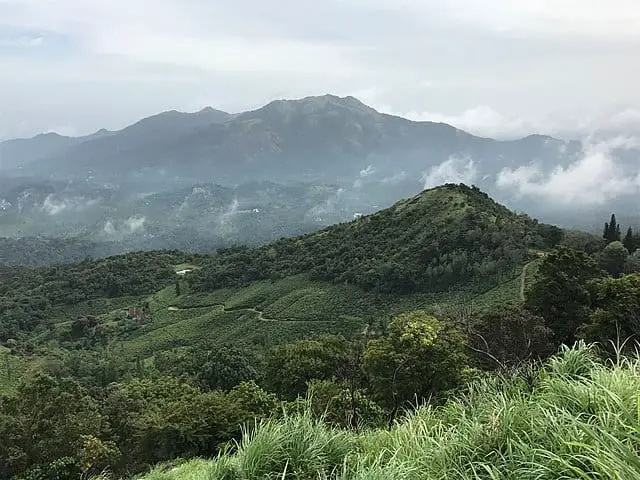 Nestled in the Western Ghats, Wayanad is where time seems to slow down, and nature takes center stage. I remember setting up my work desk facing the vast expanses of verdant hills, with the calls of distant birds as my playlist. Each day here felt like a detox – both for my mind and my digital life.
Wayanad is a retreat from the usual urban hustle. The serenity of Wayanad is unparalleled, and the air, unmistakably fresh. For someone seeking inspiration and a break from city life, Wayanad promises rejuvenation in every breath.
Best Accommodations with Good WiFi and Workspaces:  
Hotels: The Vythiri Village Resort offers luxury amidst nature. Their spacious rooms and dedicated work zones ensure that you're always connected, even while in the lap of nature.
Homestays: I had a memorable stay at Enteveedu Homestay, where the hosts went above and beyond to offer a comfortable workspace, ensuring a perfect work-life balance.
Hostels: Hostel LIT is a haven for backpackers. Amidst the greenery, they've carved out perfect nooks for digital nomads to work from.
Must-See Attractions:  
Edakkal Caves: These are not just caves but a testament to ancient civilization, showcasing carvings that date back thousands of years.
Soochipara Waterfalls: Post work, this was my go-to spot. The cascading water against the backdrop of dense forests is a sight to behold.
Hidden Gem: Kanthanpara Waterfalls is less crowded compared to its counterparts, offering a serene experience.
Notable Cafes with Free WiFi:  
Cafe Cloud was a revelation. Located on a hilltop, the view competes with their excellent coffee and the strong WiFi connection.
1980's A Nostalgic Cafe offers a retro ambience which, combined with their menu and connectivity, makes for a delightful work environment.
Social Get-Togethers for Digital Nomads:  
Given the nature-centric appeal of Wayanad, many travelers and remote workers organize treks and nature walks. Joining one of these is not just refreshing but also a fantastic way to network.
Pro Tip: A local whispered in my ear once, "For the best sunrise, head to Kuruvadweep. It's nature's orchestra at its best." And trust me, it truly was.
In Wayanad, every dawn brings with it a fresh bout of motivation, and every dusk, a sense of fulfillment. It's not just a destination; it's an experience for every digital nomad seeking a blend of work and wonder.
Read more: Can You Swim in Kerala's Backwaters?
5. Alleppey: The Venice of the East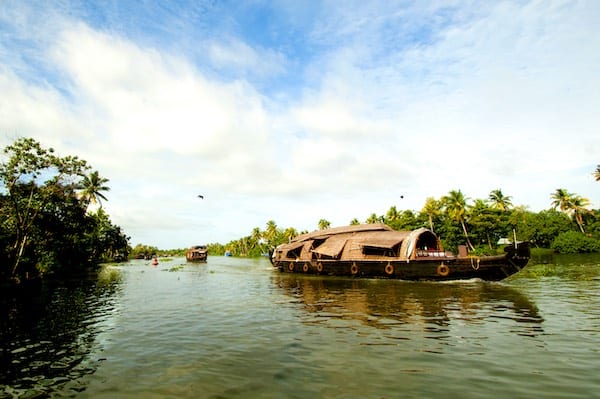 The gentle lull of backwaters, houseboats floating by, and the melodious tunes of nature — that's Alleppey for you. My mornings here started with the sight of local fishermen casting their nets, while evenings saw me relaxing on the deck of a houseboat. If you're searching for a blend of work and leisure, Alleppey is your answer.
If you're really wanting some creative solitude, rent a houseboat and shove off for a few days. What better way to work than watching the marshlands and villages meander by as you stoke the fires of creativity?
With its endless backwaters and tranquil setting, Alleppey is a world away from the bustling cities. The environment stimulates creativity and offers a refreshing backdrop for those virtual meetings.
Best Accommodations with Good WiFi and Workspaces:  
Hotels: Lake Palace Resort is a marvel, stationed on the serene banks of Vembanad Lake. Their rooms offer impeccable views, and their high-speed internet ensures you never miss a deadline.
Homestays: Staying at Green Chromide Homestays was like being part of a local family. With comfortable workspaces and warm hospitality, it's an ideal spot for longer stays.
Houseboats: Imagine working from a boat! Many houseboats are equipped with steady WiFi, making them a unique workspace, and I cannot recommend this experience enough.
Must-See Attractions:  
Alappuzha Beach: With its historic pier and lighthouse, this beach is perfect for evening strolls.
Krishnapuram Palace: Dive into history and admire Kerala architecture at its finest.
Hidden Gem: Kuttanad Backwaters is less frequented and offers an even more peaceful experience than the main channels.
Notable Coworking Spaces:  
Though Alleppey is more traditional in its charm, certain hotels and resorts recognize the digital age's demands and have started offering coworking facilities.
Notable Cafes with Free WiFi:  
Mushroom Cafe is a quaint little place with an array of local dishes, strong coffee, and a reliable internet connection.
Dreamers Cafe & Restaurant offers delightful views of the canals while ensuring that you remain connected digitally.
Social Get-Togethers for Digital Nomads:  
Given Alleppey's appeal, sundowners on houseboats have become a popular gathering. It's a beautiful way to connect with fellow travelers and share stories under the setting sun.
Pro Tip: A kind-hearted local shared, "If you really want to understand Alleppey, take a canoe ride through the smaller canals during sunrise." And it was the most authentic experience I had there.
Alleppey's allure lies in its slow-paced life, rhythmic backwaters, and lush green landscapes. As you drift through its water channels or work with nature as your backdrop, you'll realize why it's a dream destination for many digital nomads.
Read more: Are Crocodiles In The Kerala Backwaters?
6. Munnar: The Misty Mountain Retreat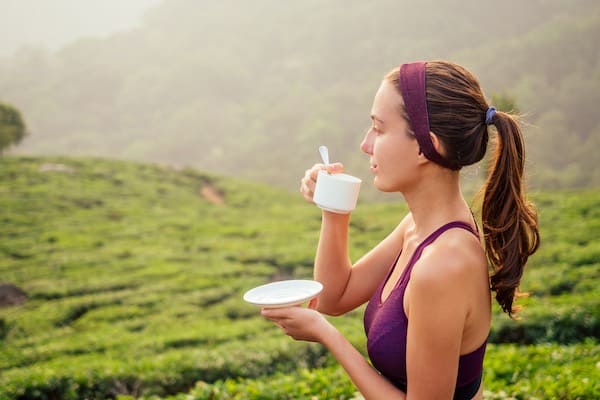 As I ascended the winding roads leading to Munnar, the air turned cooler, and the scent of fresh tea leaves enveloped me. Munnar's sprawling tea gardens, interspersed with patches of wild forests and shimmering lakes, make it a picture-perfect workation spot. 
I vividly recall sipping on fresh brews as I brainstormed ideas, the misty mountains silently keeping me company.
The allure of Munnar is its pristine beauty and tranquil atmosphere. With the backdrop of the Western Ghats, it provides a serene escape from the mundane, stimulating creativity and fresh thinking.
Best Accommodations with Good WiFi and Workspaces:  
Hotels: The Panoramic Getaway is a gem. It offers sweeping views of the tea valleys, modern amenities, and dedicated workspaces for the discerning traveler.
Homestays: Deep Woods Resort isn't just a stay; it's an experience. Nestled amidst dense woods, it provides a unique workspace with all the digital facilities.
Hostels: Munnar Downtown Hostel is perfect for solo travelers or those on a budget, combining the charm of Munnar with the camaraderie of fellow nomads.
Must-See Attractions:  
Tea Gardens & Tea Museum: Understand the journey of tea, from leaf to cup. Walking through the plantations is an experience in itself.
Eravikulam National Park: A haven for nature enthusiasts, it's also home to the endangered Nilgiri Tahr.
Hidden Gem: Lakkam Waterfalls, set amidst rolling hills and dense forests, offers a secluded spot to rejuvenate.
Notable Coworking Spaces:  
Munnar, while more on the traditional side, has seen a few spaces crop up. Tea Town Coworking harnesses the essence of Munnar, blending it with the needs of today's digital world.
Notable Cafes with Free WiFi:  
Rapsy Restaurant serves lip-smacking local dishes. Their WiFi is robust, and the ambiance is cozy, making it a preferred work spot.
The Deli at Chaiwalla is unique; enjoy a sandwich while working with a splendid view of the mountains.
Social Get-Togethers for Digital Nomads:  
Trekking expeditions are popular in Munnar. These are not just a physical activity but a great way to bond with fellow travelers, sharing experiences over campfires.
Pro Tip: An old tea picker once told me, "The best tea is not just tasted but felt." To truly experience Munnar, wake up early, take a walk through the dew-laden tea gardens, and let the serenity sink in.
Munnar is not just a place; it's a mood. It's where nature whispers tales of bygone eras, and each tea leaf holds a story. Working amidst this beauty is an experience that remains etched in memory long after the journey ends.
Read more: Getting Around India – Transport Tips for Planes, Trains, Buses, and Even Elephants
7. Thekkady: The Wilderness Work Hub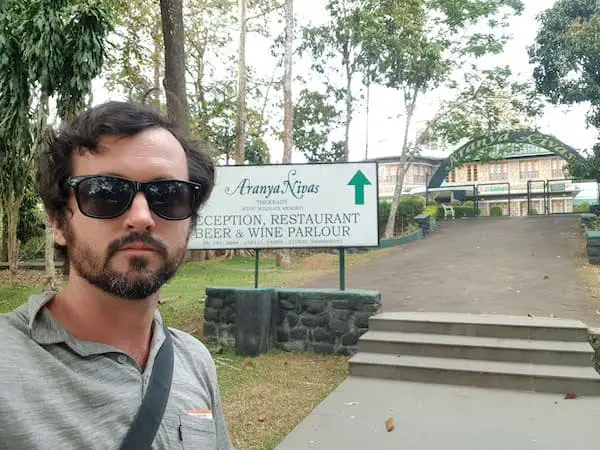 I visited Thekkady with my mom and Aunt, we were taken by the lush tea plantations stretching out over the horizon. The dense forests, the promise of spotting a majestic elephant, and the gentle waters of Periyar Lake — Thekkady was an adventurous detour in my workation journey. 
Here, work wasn't limited to my screen; it was interspersed with nature treks and spice plantation tours.
Thekkady is an enchanting mix of dense forests, wildlife, and spice-scented air. The unspoilt beauty of nature, combined with its unique culture, makes it a stimulating place to work from.
Best Accommodations with Good WiFi and Workspaces:  
Hotels: Aranya Nivas is an experience in luxury amidst nature right in the Periyar Wildlife Sanctuary. With impeccable facilities, including dedicated workspaces and top-notch WiFi, it's the top choice for many.
Homestays: The Shire offers a cozy ambiance, reminiscent of countryside homes, combined with modern amenities ensuring a productive work environment.
Hostels: PepperVine is a favorite among backpackers, with its vibrant community and facilities tailored for digital nomads.
Must-See Attractions:  
Periyar Wildlife Sanctuary: Home to elephants, tigers, and a myriad of other species, a boat ride here is a must. I saw my first elephants!
Spice Plantations: The heart of Thekkady's spice trade, you can explore various plantations, each a sensory experience.
Hidden Gem: The tribal heritage museum offers a fascinating look into the lives and traditions of indigenous communities.
Notable Cafes with Free WiFi:  
Coffee Garden Restaurant is a haven for coffee lovers. Paired with their robust WiFi, it's an ideal place to tackle deadlines.
Allspice Restaurant & Cafe offers a menu rich in local flavors, and the calm ambiance makes it a perfect spot for both work and relaxation.
Social Get-Togethers for Digital Nomads:  
Nature walks and tribal performances are often organized, creating an opportunity to connect with both nature and fellow travelers.
Pro Tip: A local guide once shared, "To understand Thekkady, you must experience it at dawn." Taking his advice, I embarked on an early morning walk, and the serenity I felt remains unparalleled.
Thekkady is not merely a destination; it's an adventure. The intertwining of work with the rhythms of the wild makes every day here an experience of a lifetime. Every email sent and every call taken feels like a seamless blend of the modern with the wild, the digital with the raw.
Read more: How To Make A Budget For Your India Trip
Tips for Workations in Kerala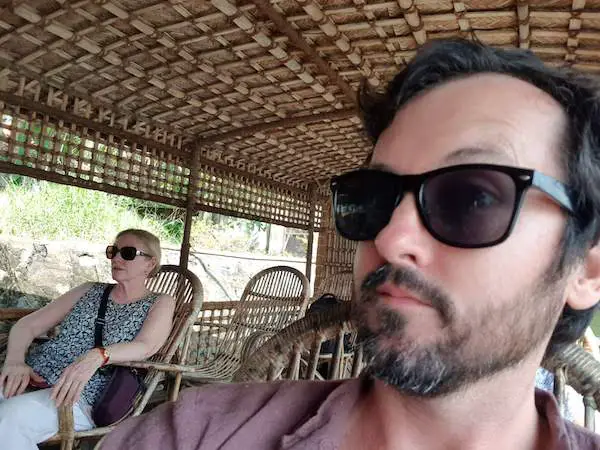 Embarking on a workation in Kerala is not just about changing work locations; it's about immersing yourself in a different culture, rhythms, and landscapes while maintaining productivity. Having spent some incredible months working through the scenic spots of Kerala, here are my golden nuggets of advice:
1. Research Connectivity: While many places in Kerala offer good internet connectivity, some remote areas might have patchy signals. Always check with your accommodation about WiFi speed and reliability.
2. Pack Essentials: Invest in a good power bank, universal plug adapters, and a portable WiFi device as backups. Trust me, they're lifesavers!
3. Adapt to Local Time: Kerala operates on IST (Indian Standard Time). It's crucial to align your work hours, especially if collaborating with teams in different time zones.
4. Savor Local Cuisine: Kerala's culinary delights are unmissable. From spicy seafood to delectable vegetarian dishes, ensure you indulge. A local favorite I recommend is the 'Sadya', a traditional feast served on a banana leaf.
5. Embrace the Pace: Kerala's laid-back pace is its charm. While deadlines matter, take time to enjoy the sunset, sip on local tea, or simply listen to the tales of locals.
6. Explore on Weekends: While weekdays might be work-heavy, use weekends to explore. Whether it's the backwaters of Alleppey, tea gardens of Munnar, or the beaches of Varkala, there's a lot waiting to be discovered.
7. Respect Local Culture: Kerala is diverse and rich in traditions. Always dress modestly, especially when visiting religious sites. Also, be mindful of local customs and festivities.
8. Stay Hydrated and Healthy: The tropical climate can be humid. Drink plenty of water, and maybe indulge in tender coconut water, a local favorite.
9. Connect with Other Digital Nomads: Kerala is becoming a hotspot for digital nomads. Engaging in meetups or joining local digital nomad groups can provide both company and valuable local insights.
10. Plan for the Unexpected: Kerala is vibrant and full of surprises. While you might have a plan in mind, be open to serendipitous adventures. That sudden downpour might lead to an impromptu local music session!
Remember, a workation is as much about the work as it is about the location. While Kerala offers a myriad of sensory experiences, balancing work with exploration is key. Take breaks, breathe in the fresh air, and let Kerala's magic seep into your work.
Read more: How Good Is The Internet In India?
FAQ
1. What is a workation in Kerala?  
A workation in Kerala is a blend of work and vacation, allowing travelers to experience Kerala's beauty while continuing their professional duties, often facilitated by accommodations with reliable WiFi and workspaces.
2. Are there reliable coworking spaces in Kerala?  
Yes, cities like Kochi and Trivandrum offer dedicated coworking spaces. However, many hotels, resorts, and cafes across Kerala have adapted to cater to digital nomads, offering good WiFi and work-friendly environments.
3. Is the internet connectivity reliable for a workation in Kerala?  
Major cities and tourist spots in Kerala have robust internet connectivity. However, it's advised to check with your accommodation in advance, especially in remote areas, and consider a portable WiFi device.
4. When is the best time for a workation in Kerala?  
The ideal time is between October to March, during the cooler months. The monsoon season, from June to September, is picturesque but can be humid and rainy.
5. Is Kerala safe for solo travelers on a workation?  
Absolutely! Kerala is known for its hospitality and is considered one of the safest states in India for solo and female travelers. Always follow general safety guidelines and respect local customs.
Final Thoughts: Embracing the Workation Kerala Experience
In the evolving landscape of remote work, a workation in Kerala stands out as a unique blend of productivity and paradise. As the luscious greenery of Wayanad soothes your eyes during breaks, the vibrant culture of Kochi enriches your evenings post-work. 
Notable destinations like the tranquil backwaters of Alleppey and the mist-clad hills of Munnar offer more than just sights; they offer experiences. While accommodations such as Greenwoods Resort in Thekkady and the homely aura of The Shire ensure comfort and connectivity, coworking hubs in Trivandrum and the numerous cafes like Darjeeling Cafe in Varkala cater to the digital nomad in you with robust WiFi and ambient workspaces.
But a workation in Kerala is not merely about changing your work backdrop. It's about imbibing the essence of a land steeped in tradition, basking in the warmth of its hospitality, and rejuvenating your senses while ticking off tasks.
So, if you're pondering your next work destination, let the allure of Kerala's beaches, forests, and flavors entice you. Embrace the workation Kerala experience, where every workday feels like a mini-vacation.
Read more: