Safely enjoying alcohol in Leh, Ladakh, could make your trip just a smidge better.
Imagine sitting at a rooftop restaurant with a cool drink in Leh's lively main bazaar. All around you are snow-capped peaks and ancient Tibetan palaces and temples.
I've been fortunate to travel across India for over four years, and I am excited to experience every state's essence (12 so far, including 5 territories). I spent a month in Leh in Ladakh and learned all you'll need to know to enjoy a cold one. 
Is liquor allowed in Leh Ladakh? Liquor, wine, and beer are permitted in Leh, Ladakh. Bars and restaurants in Leh offer a diverse range of alcoholic beverages for locals and tourists to enjoy. At Leh's high altitude, alcohol can quickly lead to dehydration and increase the effects, so be cautious.
You won't want to miss out on enjoying the right drink at a chill restaurant while looking at some beautiful mountains, so be sure to read until the end for all the details. 
This guide covers the details of Leh's drinking culture, from the average cost of alcohol to the top bars and liquor shops. 
Let's delve into what to know about drinking alcohol in Leh. 
Planning a trip to India at some point? Check out my free ebook to help you save time and money, and avoid headaches. After +4 years in India, I've made plenty of mistakes, and this guide shares what I've learned so you can have a smoother trip.
Is Alcohol Allowed in Leh Ladakh? A Deeper Dive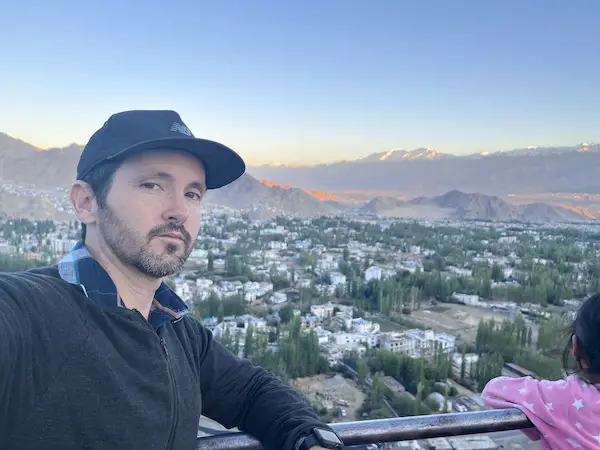 Ladakh, a union territory in India, does not adhere to the strict alcohol bans in a few other Indian states like Gujarat and Nagaland. In Leh, Ladakh, you can legally purchase and consume alcohol. Liquor shops, bars, and some restaurants have licenses to sell alcoholic beverages. 
The law is pretty straightforward, but like every place in the world, public drunkenness or causing a nuisance under the influence can get you into trouble. 
For a detailed understanding of the liquor laws in Ladakh, you can refer to the official Ladakh Liquor Licence and Sales Rules (beware, it's not an easy read).
Health Effects of Drinking at High Altitudes
Drinking alcohol at high altitudes can intensify its effects, making you more prone to its negative repercussions. According to the University of Michigan's Health Services, the reduced oxygen available at higher elevations can lead to symptoms similar to a hangover, even if alcohol isn't consumed. 
Introducing alcohol into the mix can exaggerate these symptoms, leading to increased dehydration and, in turn, more severe altitude sickness symptoms. 
Warning: Don't drink in Leh until you can walk up some steps more easily without passing out (or is that only me?). Then, if you want a drink, try it and see how it goes that night and the next day.
As always, moderation is key, especially in regions like Leh Ladakh, with a considerably high altitude.
My Personal Experience with Alcohol in Leh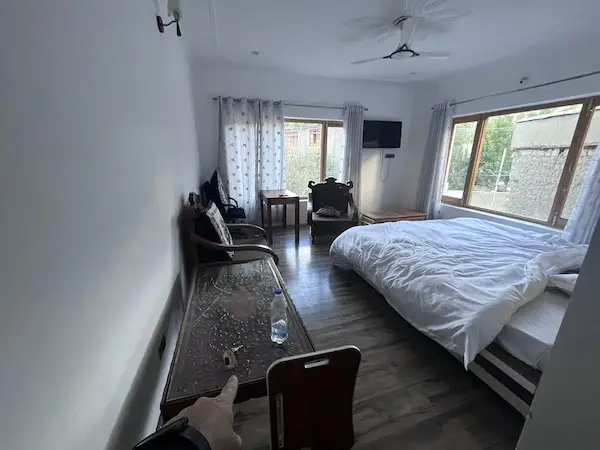 I'm a digital nomad working my way around India and spent a month working from Leh in Ladakh. My job was crazy busy during the month, so I was working 50 to 60-hour weeks. I couldn't complain too much since I had a nice room at Skitpo Guesthouse with big windows to see the mountains as I worked. 
My guesthouse wasn't far from the main bazaar, which has lots of rooftop restaurants, and some of them you can get a beer or cocktail. Lehchen Restaurant was my favorite. The Terrace is also good. They served everything from the locally loved Chang (a type of Tibetan beer) to the smooth Old Monk rum, which many say tastes even better in the cold Leh weather. 
These places became a perfect wind-down spot after a big week. I loved enjoying the view with a drink or even doing a little extra work with a cold one (but let's keep that last part between us). 
The high altitude did affect me, and I often felt short of breath. So I kept my drinks to one and enjoyed a slight buzz without overdoing it. 
Which Alcohol is Best in Leh Ladakh? Dive into the Local Brews
Leh in Ladakh is not just about picturesque landscapes and serene monasteries; it has a rich cultural tapestry that extends to its alcoholic beverages. While international brands have made their way to the bars here, nothing quite compares to local drinks' authentic taste and experience.
Chhang
One of the most popular traditional drinks in Leh Ladakh is Chhang. Not Chang the Thai beer. Chhang is often called Tibetan beer made from fermented barley or rice. It has a mild taste, similar to a light beer or cider. With an alcohol content that usually ranges from 4% to 6%, it's a beverage of choice during local festivals and gatherings. 
At bars, a Chhang glass might cost around INR 100-150, while liquor shops may sell it a bit cheaper at INR 80-100 for a bottle.
Godfather Beer
Among the many beverages you can enjoy in the serene landscapes of Ladakh, Godfather beer stands out as a popular choice for many locals and tourists alike. Originating in India, this beer perfectly complements the region's chilly evenings and scenic beauty.
Godfather beer has two primary variants. The regular lager contains around 5% alcohol by volume, while the Godfather Legendary Strong boasts a robust 7% alcohol content, making it a stronger choice for those who prefer a potent brew.
When dining out in Ladakh, you can expect to pay around 400 INR for a 500ml bottle of Godfather beer.
If you're purchasing from a local liquor store, the price can be considerably lower, typically ranging from 240 INR to 270 INR for the same 500ml bottle.
Araq (or Arak)
Araq is a distilled spirit popular in Leh Ladakh, made primarily from barley. It's much stronger than Chhang, with an alcohol percentage hovering around 30-40%. It has a sharp taste, which can be slightly overwhelming for first-timers. 
A small peg at a bar can cost about INR 200-250, while a bottle at a liquor shop can range from INR 600-800.
Local Wines
Leh Ladakh also has a variety of fruit wines, made from apples, apricots, and other local produce. These wines tend to be sweet, with an alcohol content of about 10-15%. 
A bottle at a local bar could cost around INR 500-700, whereas liquor shops might offer it at INR 400-600.
Alcohol in Leh, Ladakh's Culture
Alcohol holds a special place in the cultural practices of Leh in Ladakh. Beverages like Chhang are more than just drinks; they're symbols of hospitality, celebration, and an intrinsic part of local traditions. 
When visiting someone's home, it's common to be offered Chhang as a gesture of warmth. 
Festivals, ceremonies, and gatherings are often incomplete without these traditional drinks. They serve as a bridge between the old and the new, connecting the younger generation with their roots while also evolving with contemporary tastes.
But Isn't Alcohol Taboo in India?
Alcohol is more taboo in much of India. This is partially due to it being heavily influenced by Vedic principles (a cornerstone of Hindu teachings). Therefore, in many places, you may not find much in the way of bars or alcohol in restaurants. Some states outright ban alcohol.
And then there's Ladakh. Nestled among towering peaks and serene monasteries, this region dances to its own rhythm. While the rest of India remains cautiously restrained, Ladakh has a more relaxed view on alcohol. Here, amidst the crisp mountain air and the stark beauty of the Himalayas, enjoying a local brew or two isn't just accepted; it's a cherished part of the culture.
So, if you find yourself in Ladakh after a riveting journey through India, don't be too surprised if the local bar scene feels a tad more welcoming than the forests back in the plains. It's all a part of India's rich tapestry, where tradition and change coexist in the most unexpected ways.
Read more: How Does Ladakh's Alcohol Culture Differ From Kashmir's? Check out if Alcohol is Allowed in Srinagar.
Average Alcohol Prices in Leh Ladakh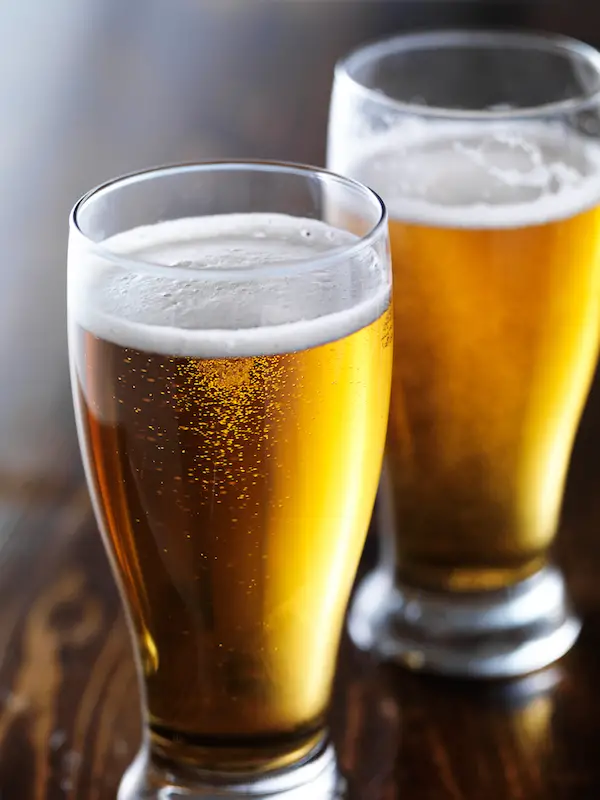 Alcohol Costs in Leh Restaurants & Bars
  Beer: Approximately ₹320
  Liquor (60ml): Ranges from ₹250 to ₹300
  Cocktails: Around ₹600 
Alcohol Costs in Leh Liquor Stores
  Beer: Approximately ₹250
  Liquor: Starting from ₹175 to ₹300 (depending on type and brand)
Examples of Alcohol Prices in Leh Restaurants
Lehchen Bar & Restaurant Prices:
Whisky (60 ml) – Old Vat: ₹250
Beer (500 ml) – Godfather (7% alcohol): ₹400
Brandy (60 ml) – Henisket Oakland: ₹300
Rum (60 ml) – Old Monk: ₹250
Gin (60 ml) – Paradise: ₹300
Cocktails: Screwdriver, Mojito, Lehchen Special Punch, Pina Colada: ₹600 each
Bon Appetit Restaurant Prices:
  Godfather Legendary Strong: ₹240
  Godfather Lager: ₹240
  Kotsberg: ₹270
  Six Fields Wheat: ₹300
  Six Fields Cult Strong: ₹300
Example Leh Liquor Store Prices:
| | | |
| --- | --- | --- |
| Leh Canteen Depot Prices | | |
| Type of Alcohol | Brand | Price (INR) |
| Blended Scotch Whisky | 100 Pipers 12 Years Old | ₹1000 |
| | Vat 69 | ₹700 |
| | Teacher's Highland Cream Whisky | ₹700 |
| | Old Smuggler Blended Whisky | ₹800 |
| | K5 Blended Scotch Whisky | ₹900 |
| Premium Whisky | Blenders Pride Reserve Collection Whisky | ₹500 |
| | Blenders Pride Rare Premium Whisky | ₹450 |
| | Peter Scot | ₹475 |
| Deluxe Whisky | Royal Stag Whisky | ₹374 |
| | Royal Challenge Whisky | ₹325 |
| Value Whisky | McDowell No. 1 Reserve Whisky | ₹300 |
| | Whytehall Deluxe Whisky | ₹279 |
| Imported Blended Scotch Whisky | Chivas Regal 18 Years Old | ₹4500 |
| | Johnnie Walker Black Label | ₹2300 |
| Single Malt Whisky | The Glenlivet Single Malt 15 Years Old | ₹4000 |
| | Glenfiddich 15 Years Old Single Malt Scotch Whisky | ₹3700 |
| Vodka | Smirnoff Vodka | ₹320 |
| | Absolut Vodka | ₹920 |
| Gin | Beefeater London Dry Gin | ₹1075 |
| Rum | Black Bull XXX Rum | ₹220 |
| | Bacardi Rum | ₹275 |
| Imported Wine | Jacob's Creek Shiraz Cabernet 750ML (Red Wine) | ₹850 |
| | Carlo Rossi California White Wine 750 ML | ₹700 |
| Indian Wines | Fratelli Wines Classic Chenin 750ML | ₹420 |
| | Fratelli Sauvignon Blanc Wine 750 ML | ₹530 |
| Brandy | Bejois Blended Grape Brandy | ₹175 |
| | Black & Gold Napoleon French Brandy | ₹275 |
| Beer | Kingfisher Strong Beer | ₹200 |
| | Wood Pecke Refreshing Lager Beer | ₹250 |
| Ready to Drink | Bacardi Breezer Cranberry 275 ML | ₹150 |
| | White Fox Lemon | ₹150 |
Best Bars and Restaurants for Alcohol in Leh, Ladakh
Lehchen Restaurant and Bar
Lehchen offers a surreal experience. Imagine sitting under a canopy of stars with the cool Leh breeze brushing against your face, sipping on your favorite drink. The ambiance captures the essence of Ladakh with a touch of modernity. Indulge in the sumptuous Ladakhi, Tibetan, and Indian cuisines that complement their diverse drink menu. Whether it's dinner or just drinks, the place radiates warmth, making you feel at home amidst the Himalayas.
Location: Chubi, Leh, Ladakh.
Proximity to Main Bazaar: A short 10-minute walk.
Alcohol Variety: A wide range of spirits.
Average Price for 2: Approximately 1200 INR.
The Terrace in Leh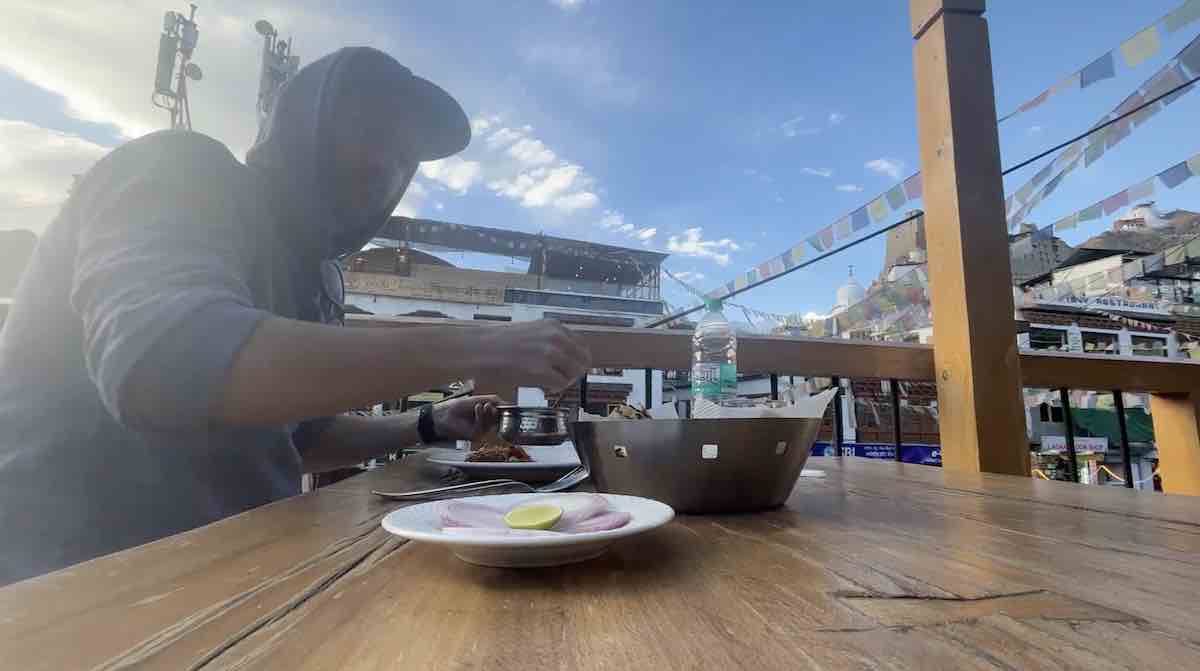 Nestled in the heart of the main bazaar, The Terrace offers an unparalleled view of Leh town. As the name suggests, it has an open terrace where you can enjoy the hustle and bustle of the bazaar below while sipping on your drink. With fairy lights and soft music, it becomes a magical place after sunset. Their menu offers a variety of international and local dishes, making it a preferred spot for both tourists and locals looking to unwind after a long day.
Location: Main Bazaar, Leh, Ladakh.
Proximity to Main Bazaar: Right within the bazaar.
Alcohol Variety: Diverse range, from international labels to local brews.
Average Price for 2: Approximately 1300 INR.
Bon Appetit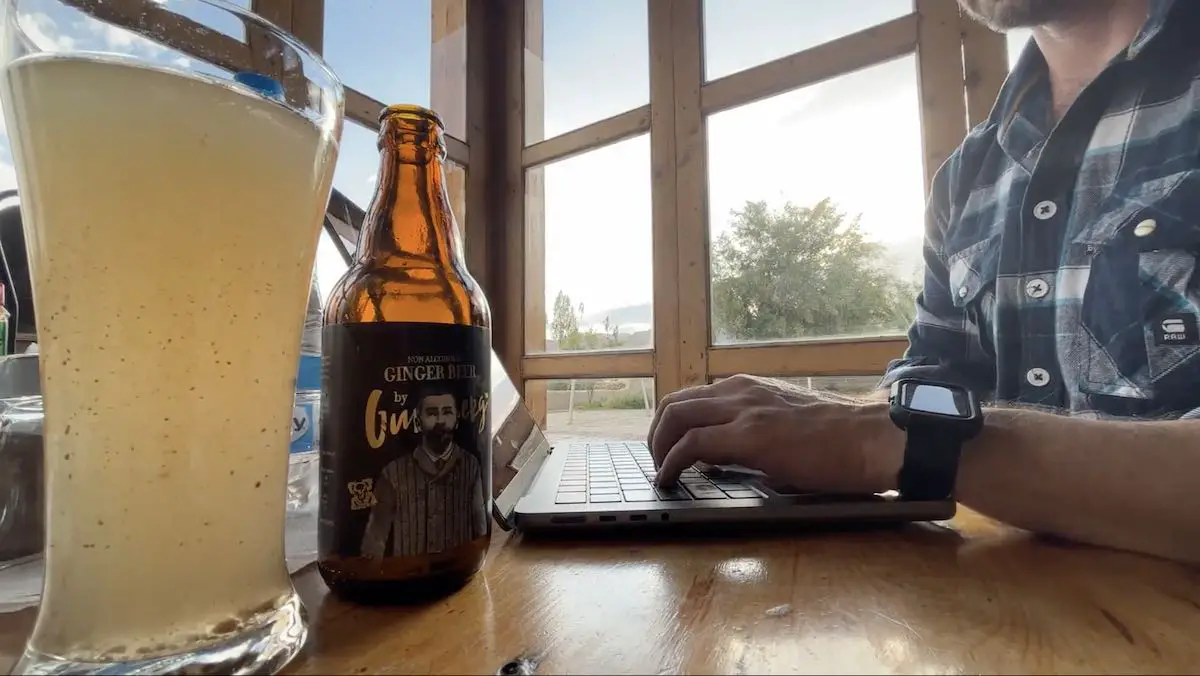 This premium restaurant provides an elevated dining experience in Leh. Known for its minimalist architectural design, Bon Appetit boasts panoramic views of the mountains. With soft background music, ambient lighting, and an extensive drink menu, it's a perfect spot for a romantic dinner. Their dishes are both aesthetically pleasing and delicious. Every sip of your drink is accompanied by the serene beauty of Ladakh.
Location: Changspa Road, Leh, Ladakh.
Proximity to Main Bazaar: Roughly a 15-minute walk.
Alcohol Variety: Eclectic mix of beers and crafted cocktails.
Average Price for 2: Approximately 2500 INR.
Ibex Restaurant
A stone's throw away from the main bazaar, Ibex provides a rustic Ladakhi experience. The decor is simple, with a touch of traditional Ladakhi art. Wooden furniture and dimly lit spaces make it perfect for a quiet dinner. Their food menu leans more towards traditional Ladakhi and North Indian dishes, each having a flavor that pairs well with their alcoholic beverages. It's the kind of place where conversations flow freely, complemented by hearty meals and soulful drinks.
Location: Close to Main Bazaar Road, Leh, Ladakh.
Proximity to Main Bazaar: Just a 5-minute walk.
Alcohol Variety: Local beers, imported spirits.
Average Price for 2: Approximately 1000 INR.
Chopsticks Noodle Bar
A delightful blend of contemporary design with traditional influences, Chopsticks offers a gastronomical journey through Asia. Located slightly off the bustling main bazaar, this place lets you enjoy a quiet evening. With their impressive range of Asian dishes, you can enjoy a bowl of noodles with a glass of wine or perhaps one of their Asian-themed cocktails. The ambiance feels refined, making it a top choice for both families and couples.
Location: Fort Road, Leh, Ladakh.
Proximity to Main Bazaar: About a 10-minute walk.
Alcohol Variety: Wine collection, Asian-themed cocktails.
Average Price for 2: Approximately 1500 INR.
Best Liquor Shops in Leh, Ladakh
While Leh is the main hub of activity in Ladakh, with its bustling bazaars and numerous establishments, here are some liquor shops that travelers have frequently mentioned during their trips:
1. Main Bazaar Liquor Shop
Address: Main Bazaar Road, Leh, Ladakh.
Note: As the name suggests, it's located in the primary market area and is convenient for most tourists.
2. Liquor, Beer, Wine Shop
Address: 4HXF+63Q, Skalzangling, Leh, 194104
Note: Located a few km from the main market, so you'll probably need a taxi if you're staying near the market. It offers a okay variety of liquors. 
Frequently Asked Questions
Is Leh Ladakh a Dry State?
No, Leh Ladakh is not a dry state. Alcohol is legally available in many restaurants, bars, and liquor shops throughout the region. However, it's essential to consume it responsibly, especially given the high altitude.
Can Smokers Go to Ladakh?
Yes, smokers can visit Ladakh. However, due to the thin air and high altitude, it's recommended to minimize smoking. Smoking can exacerbate altitude sickness symptoms. There's no specific ban on smoking, but it's advised to be considerate of local customs and not smoke in public areas.
Is Leh Ladakh Safe?
Leh Ladakh is generally safe for tourists, including those who consume alcohol. However, tourists are advised to drink moderately due to the high altitude. Overconsumption can increase the risk of altitude sickness and other health concerns.
Where to Get Chhang in Leh?
Chhang, a traditional Ladakhi beverage, is widely available in local eateries and some bars. It's a fermented rice or barley drink. To savor the authentic taste, try visiting local establishments or ask locals for recommendations.
Is There a Liquor Shop in Leh Ladakh Airport?
As of the last update, there isn't a dedicated liquor shop inside Leh Ladakh Airport. However, you can find liquor shops in Leh town, a short distance from the airport.
Final Thoughts
Alcohol in Leh Ladakh offers a unique experience with the backdrop of the majestic Himalayas and the region's rich culture. 
Contrary to popular belief, liquor is allowed in Leh Ladakh. On average, one can expect to spend around 500 INR for a drink in a restaurant or bar, and approximately 250 INR in a liquor store. 
Some of the best places to savor a drink include Lehchen Restaurant and Bar, Bon Appetit, and The Terrace in Leh. While indulging, remember the high altitude can intensify alcohol's effects. 
From my personal experience, even a single drink after a day's work was enough to elevate the experience. Breathing could get difficult at times, so moderation is crucial. Where else can you marvel at a Tibetan palace while enjoying a crisp beer? 
Remember to respect local customs, drink responsibly, and savor every moment in this beautiful city nestled in the mountains.
Read more: