A workation in Ladakh is an experience any lover of India will want to embark on. You can be close to serene treks or epic motorcycle trips in the snowcapped Himalayas. 
I spent more than a month traveling and working in Ladakh, so will share all I learned about how can have a memorable (and profitable) workation in Ladkah. 
Here are the top 14 places for a workation in Ladakh.
1. Skitpo Guesthouse, Leh
2. LeHostel, Leh
3. Black Sheep Hotel and Restaurant, Kargil
4. goSTOPS, Leh
5. Paradise Leh Residency
6. Rover's Den Hostel, Leh
7. Hotel Samaya, Leh
8. Zostel, Leh
9. The Silk Route Ladakh, Leh
10. Ladakh Boutique Palace, Leh
11. Lchang Nang Retreat – THE HOUSE OF TREES, Nubra Valley
12. Raybo Hostel, Leh
13. Himalayan Regal House, Nubra Valley
14. The Grand Dragon Ladakh, Leh
If you miss out on reading the entirety, you'd lose a comprehensive guide to making the most of your Ladakh workation adventure. You don't want to get stuck in the wrong location without wifi or miss out on a once-in-a-lifetime experience. 
Read on for location specifics, price ranges, and the all-important wifi strength of each place. After all, in a region where every corner is Instagram-worthy, maintaining strong connectivity is essential!
In the subsequent sections, you'll gain insights on:
Securing Reliable Connectivity: Because you don't want to be left hanging in the middle of an important video call.
Must-visit Attractions in Leh: The places that make the work-hard-play-harder mantra come alive.
Workation Tips for Ladakh: Pearls of wisdom from someone who's been there, done that.
FAQs: Addressing the burning questions most digital nomads have about working from the "Land of High Passes."
Settle in and embark on this enlightening journey, tailoring your workation in Ladakh to perfection.
Planning a trip to India at some point? Check out my free ebook to help you save time and money, and avoid headaches. After +4 years in India, I've made plenty of mistakes, and this guide shares what I've learned so you can have a smoother trip.
Why Ladakh is an Unbeatable Workation Destination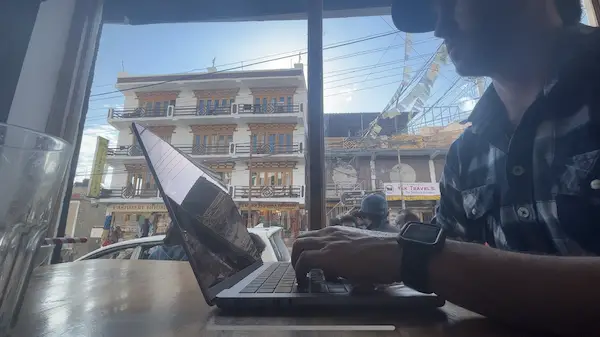 Ladakh, often dubbed as 'Little Tibet', is a realm of extremes. Be it the stark barren landscapes, the ethereal blue of Pangong Lake, or the age-old monasteries perched precariously on hills, the region promises an experience unparalleled. 
But what makes Ladakh an exceptional workation destination?
Surreal Surroundings: Imagine starting your day with the sun rising over snow-capped peaks and ending it by stargazing in one of the world's darkest skies. Ladakh's sheer beauty and tranquility provide an inspiring backdrop for creative thinkers and weary souls alike.
Blend of Tradition and Modernity: While Ladakh retains its ancient Buddhist culture, Leh, its capital, has evolved to cater to modern digital nomads. With several cafes offering a blend of local and international cuisine and decent Wi-Fi, working from here is more feasible than you'd think.
Minimal Distractions: The serenity envelopes Ladakh ensures you remain distraction-free. It's an environment conducive to deep work, where your productivity levels will likely peak.
Holistic Wellness: Many come to Ladakh to embark on spiritual journeys. Engage in meditation sessions, attend Buddhist teachings, or simply take long walks. A workation here can be a transformative experience, both professionally and personally.
Adventurous Breaks: Need a break from work? Indulge in treks, bike rides on the world's highest motorable roads, or camp by serene lakes. The adventurer in you will cherish every moment.
However, a word of caution about the climate: Ladakh sits at an altitude of over 10,000 feet, and while its summers (May to early September) are blissfully pleasant, winters are a different ball game. 
Temperatures can plummet to sub-zero levels, making many regions inaccessible due to heavy snowfall. While the winter landscape is breathtakingly beautiful, it's also challenging. Connectivity can be spotty, and amenities limited. 
Therefore, if it's your first time or if you rely heavily on constant connectivity, plan your workation between May and September for the best experience.
Read more: This Getting Around India Guide will give you tips and hacks to getting to Ladakh and also exploring the area.
My Experience On A Workation in Ladakh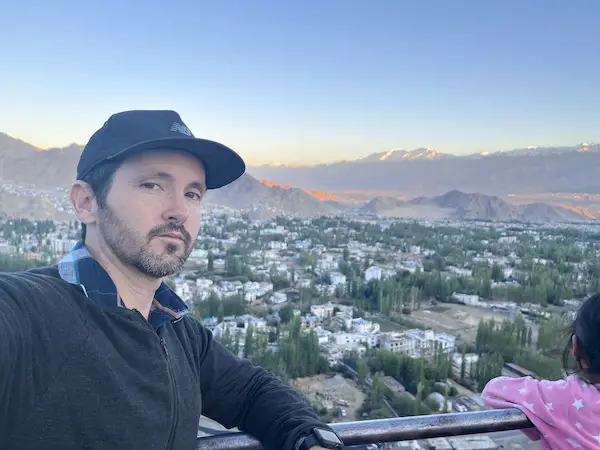 I came in June and July and the temperatures were still a bit chilly at times. I layered up with long sleeve shirts, a sweatshirt, a light jacket, a scarf, and a thick winter hat for the cool days and nights. 
Sometimes it was very nice during the day, but there were times when it got cold in my hotel room, so I used a heater provided by the hotel. I would look for that option even in summer since it can be cold if you're working most of the day. 
It can be harder to find workspaces in Ladakh in your hotel but the list below has some good ones.
The market in Leh is a great place to work with decent wifi at the top restaurants and amazing views. 
Pro Tip: If you're heading to the smaller places, check in with the host in advance and ask about connectivity. I always message the hotel or host in advance and mention I'm working online for 8 hours a day, so what is the wifi speed. The best hosts are quick to respond with that info. They also ensure me they will do whatever is necessary to make sure the speeds are good. If they don't know or are slow to respond, then consider another place!
Read more: Best Workations near Delhi (did Ladakh make the list?)
14 Best Places for a Workation in Ladakh
1. Skitpo Guesthouse, Leh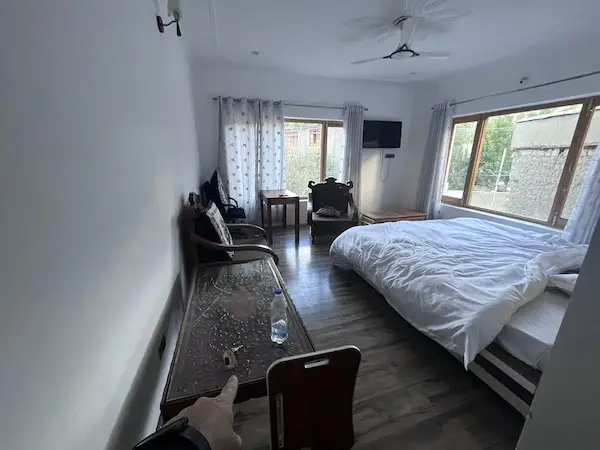 Location: Conveniently located in the heart of Leh town, Skitpo is in close proximity to landmarks like Shanti Stupa and Leh Palace. I could walk to the Palace in 15 minutes after work, and there are many restaurant options just a few minute walk away. 
Amenities: Rooms at Skitpo are comfortably furnished with essentials like heated blankets, power backups, and ensuite bathrooms. Many rooms even offer panoramic views of the surrounding mountains.
Price Range: Mid-tier. Suitable for both budget travelers and those willing to spend a bit more for extra comfort.
Wi-Fi: They offer reliable high-speed Wi-Fi, considering Leh's remote location. However, like most places in Ladakh, it's advisable to have your own backup in case of occasional downtimes.
Best For: Digital nomads who want a blend of convenience and tranquility. Its central location ensures you're never too far from local attractions, eateries, or markets.
2. LeHostel, Leh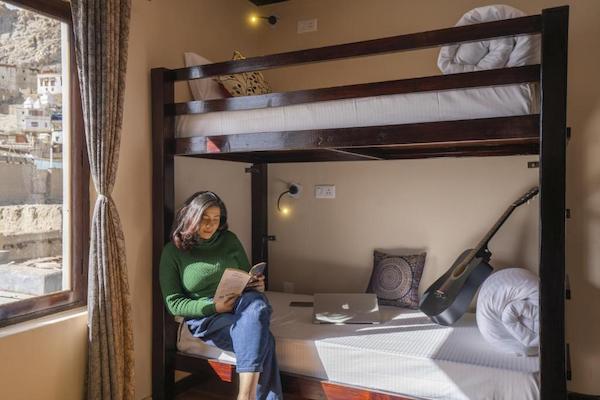 Location: A stone's throw away from the bustling Leh market, making it a hub for explorers wanting to delve into local Ladakhi culture.
Amenities: LeHostel offers dormitory-style rooms, private lockers, a community kitchen, and a vibrant common room adorned with traditional Ladakhi art.
Price Range: Budget-friendly. Ideal for backpackers and solo travelers.
Wi-Fi: Consistent Wi-Fi in common areas. They've made efforts to ensure that digital nomads can stay connected with the outside world.
Best For: Solo travelers and young backpackers looking to make new friends and immerse themselves in the local culture.
3. Black Sheep Hotel and Restaurant, Kargil
Location: Nestled in the picturesque town of Kargil, this hotel offers an excellent starting point to explore attractions like the Suru Valley and Nun Kun Peak. I stayed at Black Sheep because the restaurant is amazing and it's a great place to work. It's a good stopover on your trip from Srinagar to Leh.
Amenities: The Black Sheep Hotel boasts spacious rooms, each furnished with traditional Ladakhi decor, ensuite bathrooms, and cozy sitting areas. The in-house restaurant is a treat, serving local and international delicacies. Try the signature mutton roast!
Price Range: Moderate. A great value for the amenities and service provided.
Wi-Fi: They have a reasonably fast Wi-Fi connection, especially considering Kargil's somewhat isolated location. 
Best For: Those seeking a peaceful work environment amidst natural beauty. Ideal for writers, artists, and remote workers looking for inspiration.
4. goSTOPS, Leh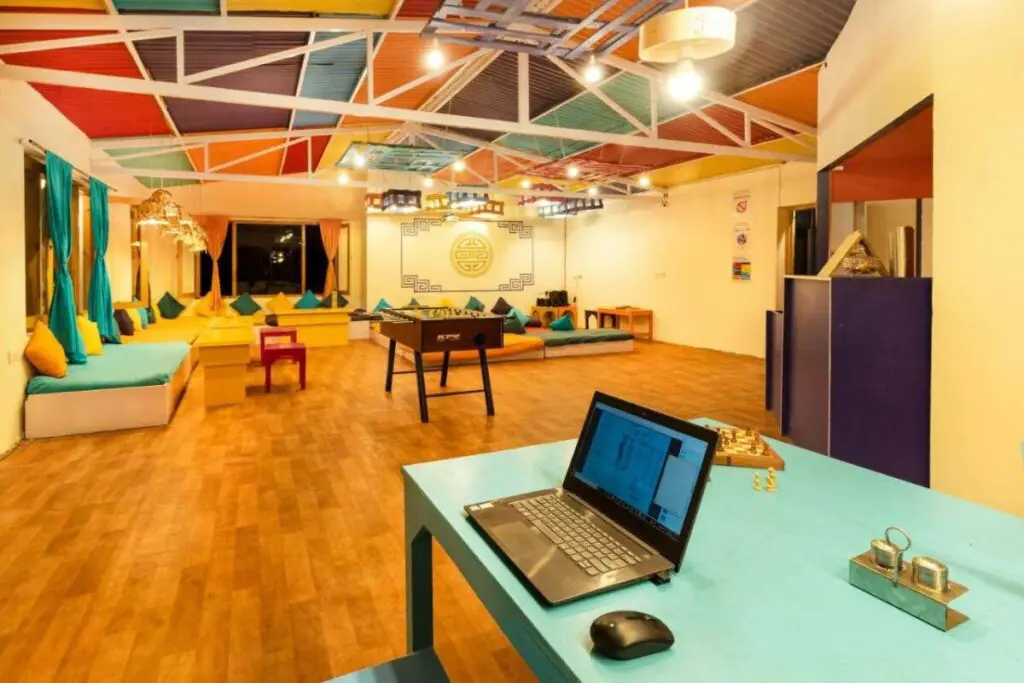 Location: Situated in the heart of Leh, goSTOPS is quite close to major attractions like the Main Bazaar and Namgyal Tsemo Monastery.
Amenities: With both dormitory and private room options, they offer a comfortable stay with facilities like game rooms, a movie lounge, and a rooftop cafe.
Price Range: Budget-friendly.
Wi-Fi: Strong Wi-Fi in common areas and rooms, making it ideal for digital nomads.
Best For: Solo travelers and digital nomads wanting a community feel and regular social interactions.
5. Paradise Leh Residency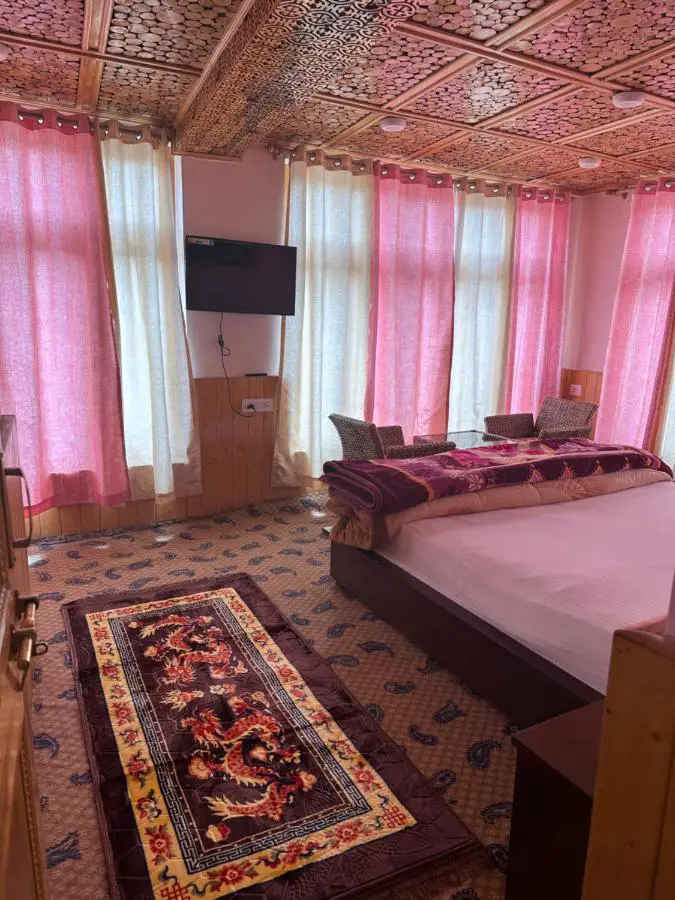 Location: Located at a serene spot in Leh, it's close enough to the city's buzz but far enough to ensure tranquility.
Amenities: The residency offers spacious, modern rooms equipped with all necessary amenities. The rooftop restaurant provides stunning views of the surrounding mountains.
Price Range: Mid-tier to luxury.
Wi-Fi: Reliable high-speed internet, one of the best in Leh.
Best For: Professionals and families looking for a blend of luxury, convenience, and peace.
6. Rover's Den Hostel, Leh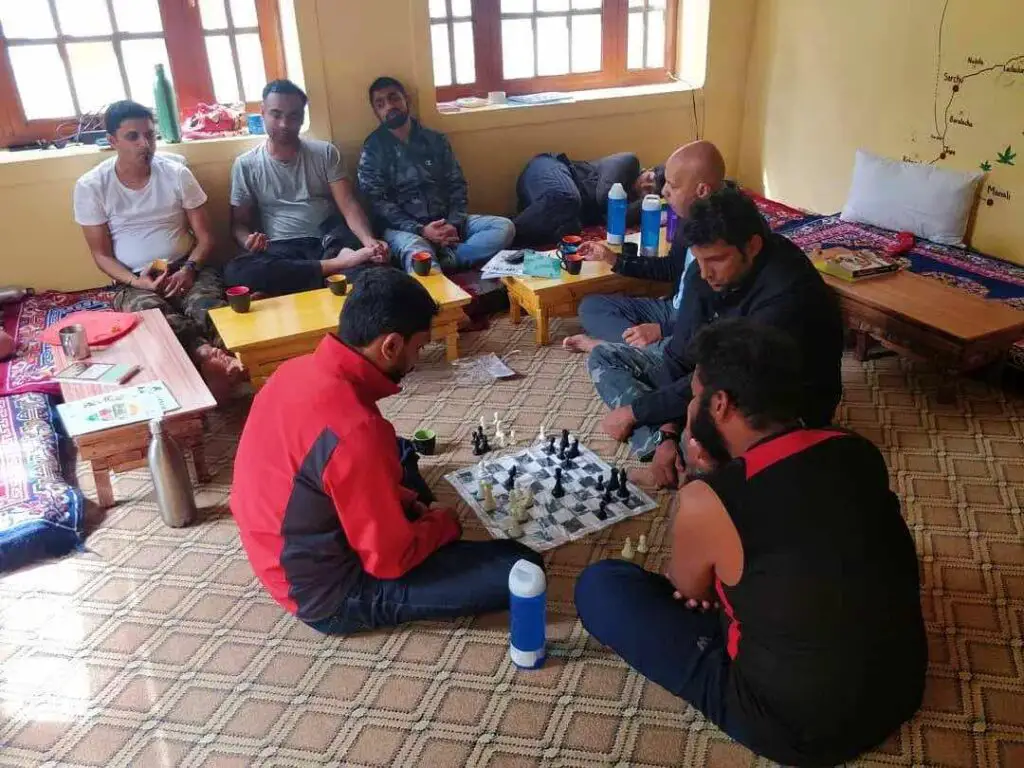 Location: Tucked away in the quieter parts of Leh, this hostel remains conveniently close to the bustling Leh market and other major attractions.
Amenities: Besides the standard dormitory rooms, they also offer private rooms. A communal kitchen and lounge space give travelers a chance to bond and share experiences.
Price Range: Budget-friendly.
Wi-Fi: A consistent connection in the common areas, though it can occasionally be slower in the private rooms.
Best For: Backpackers, solo travelers, and those on a tight budget but not willing to compromise on the essentials.
7. Hotel Samaya, Leh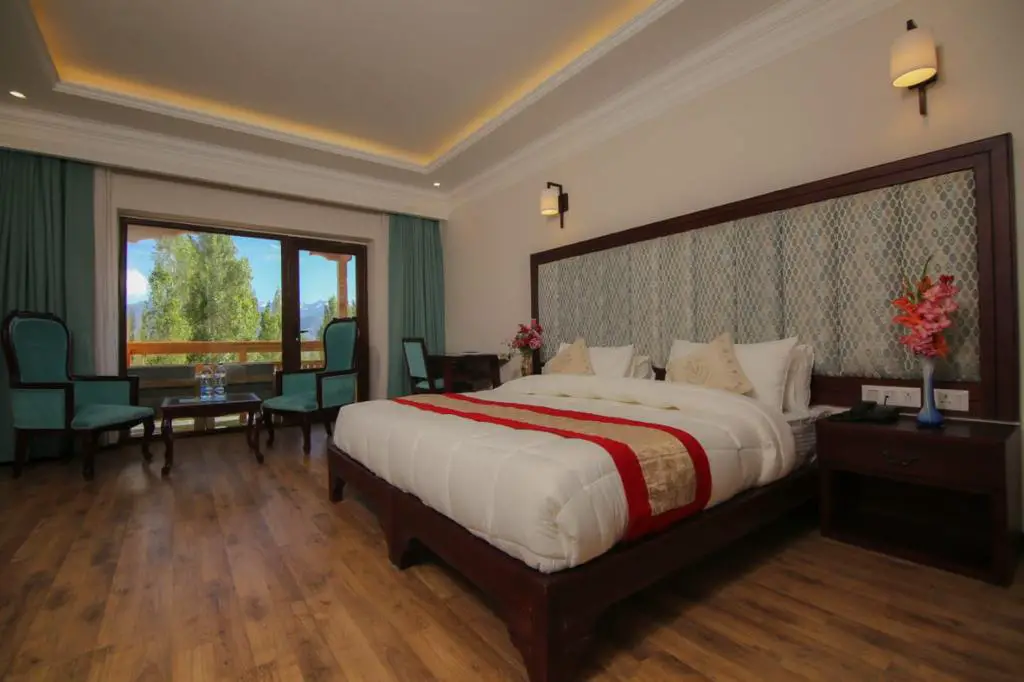 Location: Centrally located, it's a stone's throw away from some of the top attractions in Leh including the Shanti Stupa.
Amenities: Luxurious rooms equipped with modern facilities, an in-house restaurant serving delicious local and global cuisines, and a wellness spa.
Price Range: Premium.
Wi-Fi: Robust and high-speed internet connection throughout the property.
Best For: Those seeking a touch of luxury during their workation, from corporate professionals to couples on a romantic getaway.
8. Zostel, Leh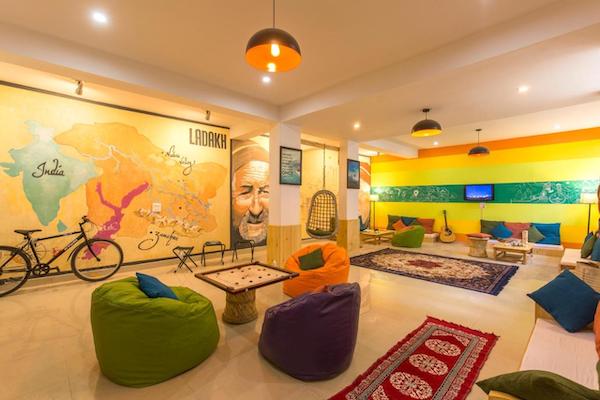 Location: Zostel is perfectly situated, offering panoramic views of the mountains, yet it is just a short walk away from Leh's vibrant town center.
Amenities: A mix of dormitories and private rooms, Zostel is designed keeping the needs of the modern traveler in mind. It also boasts a rooftop cafe and communal spaces.
Price Range: Budget to mid-range.
Wi-Fi: Known for having one of the strongest Wi-Fi connections among hostels in Leh.
Best For: Digital nomads, solo travelers, and young couples looking for a lively atmosphere and the chance to mingle with fellow travelers.
9. The Silk Route Ladakh, Leh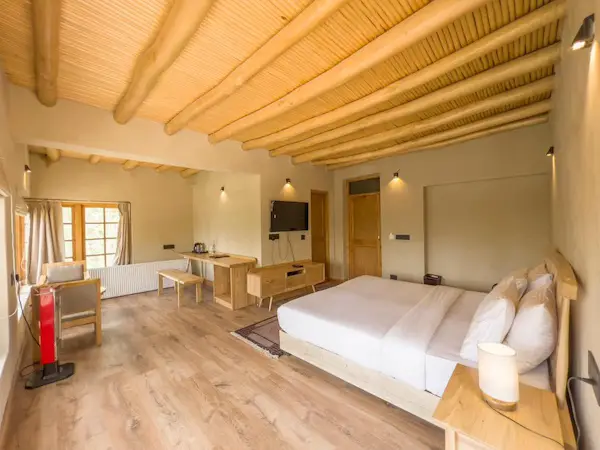 Location: A bit off the beaten path, this place offers unmatched serenity while still being accessible to Leh's major sites.
Amenities: Traditional Ladakhi architecture meets modern comfort. The property also offers guided tours to nearby attractions.
Price Range: Mid-tier.
Wi-Fi: Steady connection, though slightly slower during peak hours.
Best For: Those seeking an authentic Ladakhi experience in a quieter setting, perfect for writers and long-term remote workers.
10. Ladakh Boutique Palace, Leh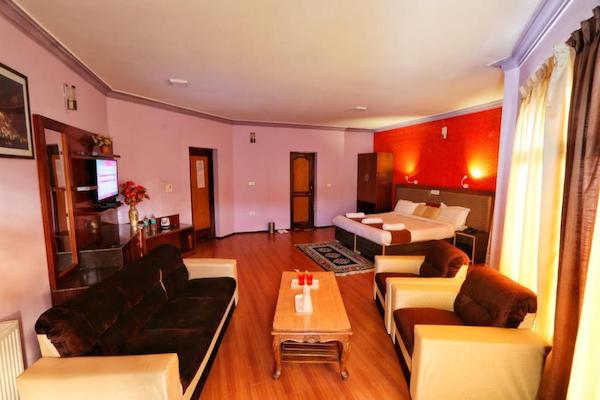 Location: Located near the base of the majestic Stok Kangri peak, the palace offers breathtaking views of the surrounding landscape.
Amenities: Luxuriously appointed rooms, a top-notch restaurant, and a wellness center ensure guests have a comfortable stay.
Price Range: Premium.
Wi-Fi: High-speed and reliable, catering well to the needs of the working professional.
Best For: Travelers seeking a lavish workation experience, be it families, couples, or solo professionals looking for upscale amenities.
11. Lchang Nang Retreat – THE HOUSE OF TREES, Nubra Valley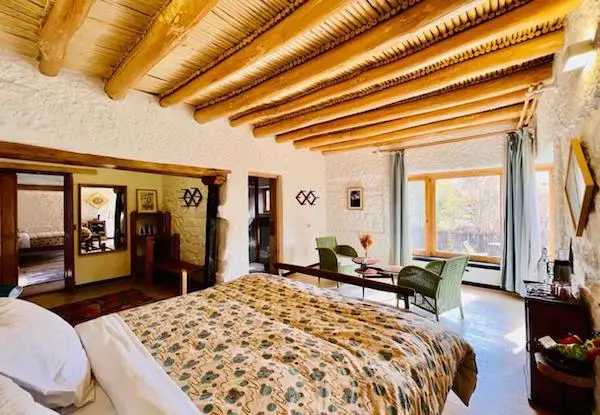 Location: Situated in the mesmerizing Nubra Valley, surrounded by poplar trees and serene landscapes.
Amenities: Reflecting the traditions of Ladakhi architecture, the retreat offers well-furnished cottages, a beautiful garden, and a restaurant serving organic produce.
Price Range: Premium.
Wi-Fi: Reliable high-speed internet, considering its remote location.
Best For: Nature lovers and those seeking solace and tranquility during their workation, it's ideal for creatives and writers.
12. Raybo Hostel, Leh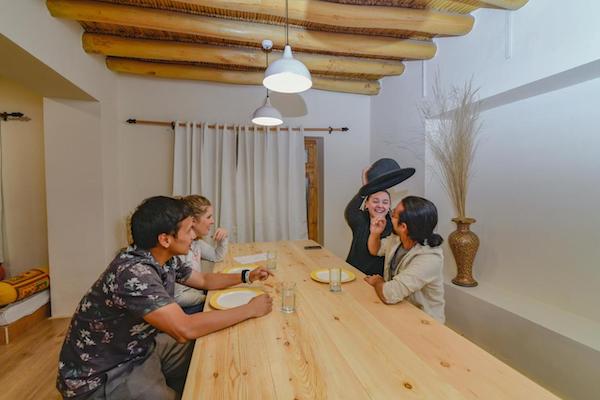 Location: Located in the heart of Leh, making major attractions and the market easily accessible.
Amenities: A vibrant, youthful setting with dormitories, a communal lounge, and a kitchen. Regular events and workshops keep the atmosphere lively.
Price Range: Budget-friendly.
Wi-Fi: Consistent connectivity in communal areas, with occasional downtimes during peak usage.
Best For: Young travelers, backpackers, and digital nomads looking to mingle and share experiences.
13. Himalayan Regal House, Nubra Valley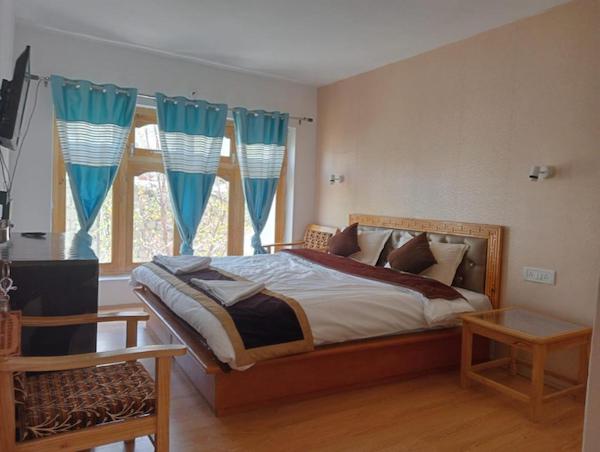 Location: Nestled in Diskit, Nubra, this stay offers an unparalleled view of the iconic Diskit Monastery and the surrounding vistas.
Amenities: Traditional Ladakhi rooms combined with modern amenities. An in-house restaurant serves local delicacies.
Price Range: Mid-tier.
Wi-Fi: Given its remote location, the connection is surprisingly stable, albeit a bit slower.
Best For: Those wanting to be away from the bustling Leh and closer to nature, it's a favorite among long-term travelers and spiritual seekers.
14. The Grand Dragon Ladakh, Leh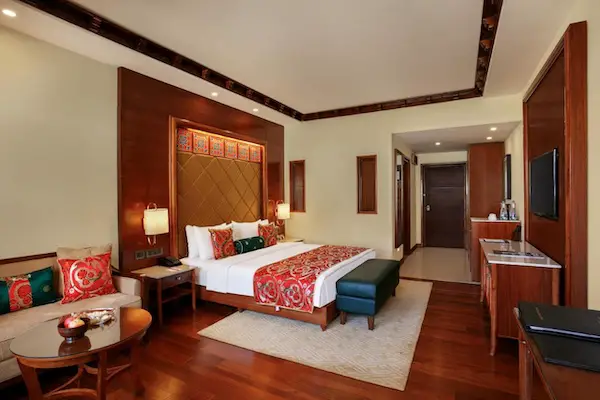 Location: In the heart of Leh, it stands out with its grandeur and prime location.
Amenities: Offering top-notch luxurious rooms, an in-house spa, multi-cuisine restaurants, and even a heated indoor pool.
Price Range: Luxury.
Wi-Fi: Ultra high-speed connectivity suitable for even the most demanding of tasks.
Best For: Corporate professionals, families, and travelers not wanting to compromise on luxury during their stay in the mountains.
Read more: Best Workations in South India
Finding Reliable Connectivity in the Mountains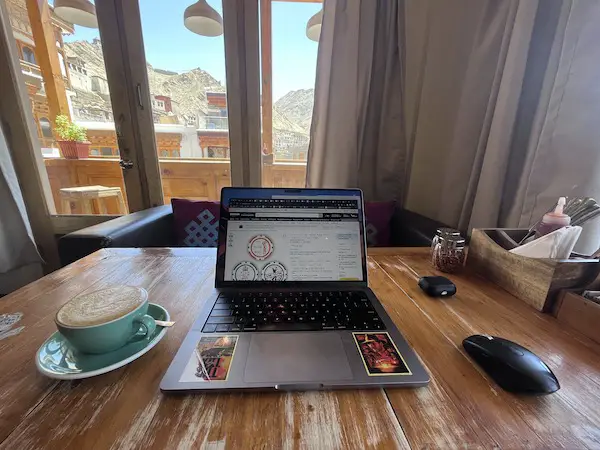 Ladakh, with its rugged terrains and high altitudes, can sometimes be challenging when it comes to staying connected. But over the past few years, the infrastructure has significantly improved. Here are a few tips to ensure you stay connected:
Always have a backup: Carry a portable Wi-Fi dongle. Networks like Jio and Airtel have decent coverage in Leh and some parts of Nubra Valley.
Local SIMs: Consider buying a local prepaid SIM card. They tend to have better network coverage in remote areas.
Wi-Fi Boosters: If you're planning a long-term stay, investing in a Wi-Fi booster can help enhance the signal strength in your accommodation.
Offline Modes: Ensure you have essential apps and documents available for offline use. Google Maps, for instance, allows you to download maps for offline navigation.
Communicate: Let your teams or clients know in advance about the potential connectivity issues, so they are prepared for any delays in communication.
Read more: Best Workations in Kerala
Must-Visit Attractions in Ladakh
Leh Palace: This former royal palace provides a panoramic view of the entire town of Leh and its surroundings.
Shanti Stupa: A white-domed stupa on a hilltop that offers serene sunrise and sunset views.
Magnetic Hill: Experience the optical illusion of cars seeming to roll uphill against gravity!
Pangong Lake: A breathtakingly beautiful lake stretching between India and Tibet.
Confluence of Zanskar and Indus: Witness the magical confluence of two rivers with distinct colors.
Read more: Best Times To Visit India's Popular Destinations
Workation Tips for Ladakh
Acclimatize: Given its high altitude, take a couple of days to adjust before diving into work.
Stay Hydrated: Drink plenty of water to prevent altitude sickness.
Sun Protection: The sun can be intense. Always carry and frequently apply sunscreen. Wear sunglasses and hats.
Local Etiquette: Respect local customs. Avoid pointing cameras at monasteries or locals without permission.
Travel Insurance: Ensure you have travel insurance covering high-altitude sickness and any unforeseen situations.
Read more: How Good is The Internet in India?
FAQ
What's the best time to visit Ladakh for a workation?
 The best time would be during the summer months, from May to September, when the roads are open and the weather is pleasant.
Is Ladakh safe for solo travelers?
Absolutely! The locals are friendly and hospitable. You'll see plenty of tourists in the cities and some popular smaller towns. However, always inform someone about your whereabouts if you're venturing into remote areas.
How can I cope with altitude sickness?
 Acclimatize, hydrate, and avoid heavy meals. If symptoms persist, seek medical advice immediately.
Final Thoughts
Ladakh, often called 'The Land of High Passes', has gradually cemented its position as a premier destination for workations in Ladakh. Its sprawling landscapes and a fusion of tradition and modernity make it a compelling choice for digital nomads.
Skitpo in Leh emerges as a top contender among the best places to anchor your workation. Positioned conveniently, it's just a short walk from the bustling Mall Road, ensuring easy access to an array of restaurants, cafes, and shops. For those on a tight budget, places like Rover's Den Hostel offer affordability without compromising on essential amenities. On the flip side, if you seek luxury, The Grand Dragon Ladakh provides an opulent stay that promises to rejuvenate both your mind and body.
While Ladakh's scenic beauty is its most significant draw, the region has must-visit attractions. From the mesmerizing Pangong Lake to the historic monasteries, every corner of Ladakh narrates a tale of its rich heritage. 
Finding reliable WiFi in this mountainous terrain might pose a challenge, but with some research and by reaching out to hosts in advance, you can secure a strong connection to stay on top of your work. Additionally, local cafes often serve as perfect workspaces, combining delicious Ladakhi cuisine with decent internet speeds.
A workation in Ladakh isn't just about ticking tasks off your to-do list. It's about immersing yourself in a culture that's as vast as its landscapes. It's about discovering hidden gems, forging new connections, and letting the serene surroundings fuel your creativity. Here's to memorable workations in Ladakh, where every day feels like a new adventure. Safe travels and happy working!
Read more: