Workations in South India can move at a slower pace than most of India. I've traveled around India for more than 4 years, but most of that time was spent in South India.
Be it the vibrant tech hubs or the quaint coastal villages, South India constantly surprised me with its ability to cater to every kind of digital nomad.
If you're wondering where to set your laptop down next, let my personal recommendations guide you.
Here are the 10 best destination for workations in South India:
1. Bengaluru – Best Overall
2. Mysore – Best for Yoga Enthusiasts
3. Kochi – Best Luxury Pick
4. Ooty – Best for Peaceful Retreat
5. Hyderabad – Best Culinary Adventure
6. Chennai – Best for Temples
7. Pondicherry – Best Budget Pick
8. Tiruvannamalai – Best Spiritual Retreat
9. Trivandrum – Best for Meeting Other Nomads
10. Gokarna – Best for Beach Lovers
But a workation can become a nightmare if you choose the wrong accommodation or get stuck, so read further for tips on the best homestays, hotels, and hostels. I'll share the top attractions in each place, plus some hidden gems.
You'll also find some good cafes with wifi for working while sipping coffee. Finally I have some tips from locals about finding other digital nomads.
Let's get started now with the best workations in South India!
Planning a trip to India at some point? Check out my free ebook to help you save time and money, and avoid headaches. After +4 years in India, I've made plenty of mistakes, and this guide shares what I've learned so you can have a smoother trip.
Why South India is a Digital Nomad's Paradise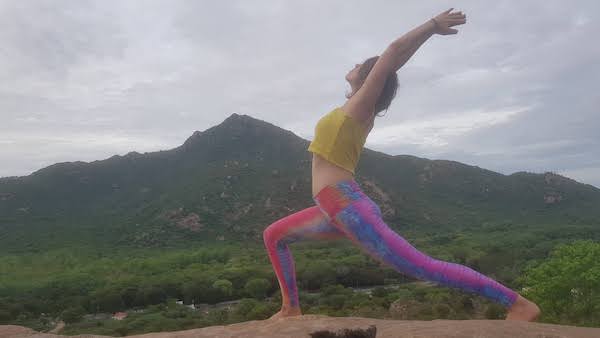 I've spent years working online and traveling around South India. I was fortunate to stay in Tiruvannamalai during the COVID lockdown. Then as I try to see every state in India I've been working from my laptop in places like Chennai, Pondicherry, Kochi, Bengaluru, and more. 
South India is one of my favorite places in the world for culture, and the low cost of living has allowed me to save up to 70% of my income. 
The sheer diversity of South India, with its tech hubs juxtaposed against peaceful coastal towns, creates an impeccable workation blend. Allow me to walk you through my personal odyssey that made me an advocate of South India's workation charm:
Chennai: Settling down near Marina Beach, one of Asia's longest, was invigorating. Imagine clocking out from work, walking down to the beach, indulging in a myriad of street foods, and watching the sun melt into the Bay of Bengal. With its metropolitan buzz, Chennai keeps your spirits high and your productivity higher.
Tiruvannamalai: I spent a good chunk of years in this spiritually-infused town, even during the lockdown. The tranquility here is palpable. Whether you're seeking spiritual growth, or just a serene environment to work in, this town offers both in ample measures.
Pondicherry: The French legacy lives on in Pondicherry's lanes, architecture, and of course, its cuisine. Finding good hotels with robust Wi-Fi was a breeze, and my evenings were filled with inexpensive yet delectable French food. The allure of its beaches and the sustainable community vibe of Auroville further sweetened the deal.
Kochi: This city is a textbook definition of cleanliness meeting luxury. After my work sessions, I often found solace in the luxury hotels and their world-class amenities. Plus, the backwaters' serenity, just a stone's throw away, acted as the cherry on top.
Hyderabad: Say "biryani", and my mind immediately wanders to Hyderabad. Work lunches here were feasts, with the city serving the best biryani I've ever tasted. The juxtaposition of its historical landmarks and contemporary workspaces is what makes it stand out.
Gokarna: Think Goa, but without the crowd. Gokarna offers a similar vibe, with its pristine beaches and chilled-out aura. It's an ideal spot to balance work and leisure, ensuring you're never too far from a rejuvenating break.
These places, each with its unique vibe and offerings, convinced me of one thing: South India is not just a great place for travel; it's a digital nomad's dream come true.
Read more: Workations near Delhi
Workations in South India: 10 Best Destinations
1. Bengaluru: The Silicon Valley of India
This is the best place for workations in South India because you will find the most likeminded souls. 
Known as the Silicon Valley of India, Bengaluru (formerly Bangalore) is a bustling metropolis with a vibrant tech and start-up ecosystem. Its pleasant climate year-round combined with the perfect mix of urban life and green spaces makes it an ideal destination for digital nomads.
Plus, the food is great. Try the podi masala dosas and uttapam! 
Best Hostels, Hotels, and Homestays:  
Jungle Hostel: A vibrant spot tailored for younger travelers and backpackers.
The Ritz-Carlton, Bengaluru: For those seeking luxury while working.
The Hub: It's a coliving and coworking space with multiple floors and social events planned in. 
Must-See Attractions:  
Lalbagh Botanical Gardens: A serene green space in the heart of the city.
Bangalore Palace: An architectural marvel reminiscent of the city's royal history.
Hidden Gem:  
Rasta Café: Located on the outskirts, it's a perfect getaway from the city bustle.
Best Co-working Spaces:  
WeWork: Multiple locations around the city catering to the needs of professionals and start-ups.
91Springboard: A collaborative workspace with a vibrant community.
Cafes with Wi-Fi:  
Art of Delight: Great ambiance with reliable Wi-Fi.
Koramangala Social: A cafe by day and a lively bar by night, offering a unique work-play environment.
Local Tip: While the city is known for its IT hubs, don't miss out on exploring areas like Basavanagudi and Malleswaram to get a taste of old Bangalore. And if you're in town on a Sunday, indulge in a traditional South Indian breakfast at Vidyarthi Bhavan.
Read more: Is Bangalore Overrated?
2. Mysore: The Royal Heritage City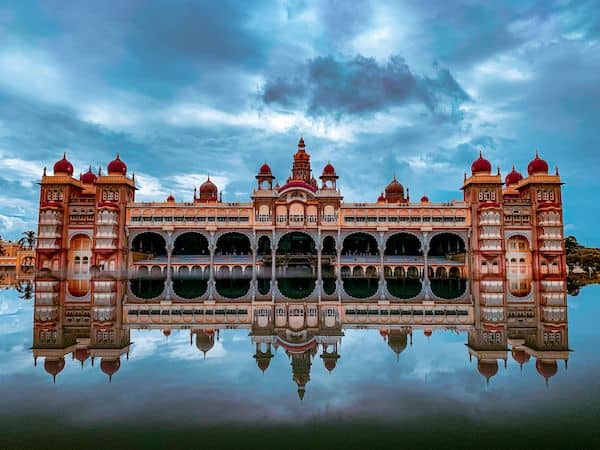 Mysore, now officially known as Mysuru, resonates with a rich tapestry of history, culture, and natural beauty. Less chaotic than the major cities, it offers a relaxed environment, making it an ideal setting for focused work combined with leisurely exploration. The pleasant climate, majestic palaces, and aromatic incense and sandalwood factories lend it a unique charm.
Best Hostels, Hotels, and Homestays:  
Zostel Mysore: A backpacker's delight located close to the city center.
The Royal Orchid Metropole: A heritage hotel with old-world charm.
Must-See Attractions:  
Mysore Palace: A magnificent structure that tells tales of the city's regal past.
Chamundi Hill: A spiritual site offering panoramic views of the city.
Hidden Gem:  
Ranganathittu Bird Sanctuary: Located a short drive away, it's a paradise for birdwatchers.
Best Co-working Spaces:  
MyWorks: A modern co-working space offering a range of facilities for freelancers and professionals.
The Hub Mysore: Not just a workspace, but a community of thinkers and creators.
Cafes with Wi-Fi:  
Old House: A quaint café with a vintage feel, perfect for a day's work.
Café Aramane: Offers delicious South Indian treats along with strong Wi-Fi.
Local Tip: Spend an evening at the bustling Devaraja Market. It's a sensory overload with colors, scents, and sounds, offering a glimpse into the daily life of Mysore. Don't forget to pick up some Mysore Pak, the city's famous sweet delicacy, from a local shop.
Read more: Best Times To Visit India's Most Popular Destinations
3. Kochi: The Queen of the Arabian Sea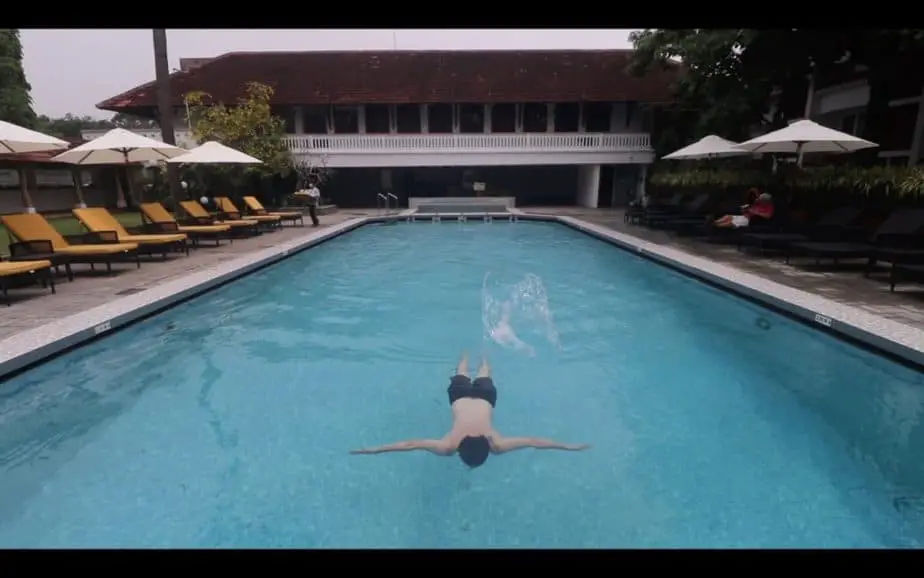 Kochi, or Cochin, is a vibrant city that beautifully amalgamates history, culture, and modernity. With its colonial-era charm, intricate network of backwaters, and bustling ports, Kochi has an eclectic atmosphere. The gentle breezes from the Arabian Sea and the serene beauty of the backwaters provide the perfect backdrop for a productive workation. 
Kochi is cleaner than most Indian cities and is a bit more luxurious in Fort Kochi. Come for a premium stay or if it's your first time in India, it'll help you acclimate to the culture. 
Best Hostels, Hotels, and Homestays:  
Fort Kochi Hostel: Located in the heart of the historic area, ideal for backpackers.
Grand Hyatt Kochi Bolgatty: A luxury option with a view of the waterfront.
Thomas Homestay in Fort Kochi: Experience traditional Keralite hospitality in a heritage home setting.
Must-See Attractions:  
Fort Kochi: Walk through the historic streets, and see the Chinese fishing nets.
Mattancherry Palace: A Dutch palace that's home to some of India's best mythological murals.
Hidden Gem:  
Kashi Art Café: A tranquil space that combines art with delicious food.
Best Co-working Spaces:  
Wospace: A vibrant co-working community encouraging innovation and collaboration.
B-Hub: A space fostering startups, freelancers, and professionals.
Cafes with Wi-Fi:  
Teapot Café: A quaint spot with a cozy ambiance, ideal for working.
Qissa Café: A space characterized by its colonial architecture and a menu filled with diverse delights.
Meet Other Nomads:  
Cultural events at David Hall: Regular events from music to art exhibitions offer networking opportunities.
Local workshops in Fort Kochi: A hub for artists, Fort Kochi often holds interactive workshops and events.
Local Tip: While in Kochi, try a sunset cruise through the backwaters. It's a serene experience, and you might even spot some dolphins if you're lucky. For the culinary adventurers, a visit to a local toddy shop is a must – not just for the toddy, but for the spicy, flavorful seafood dishes.
Read more: Best Workations in Kerala
4. Ooty: The Blue Mountains Beckon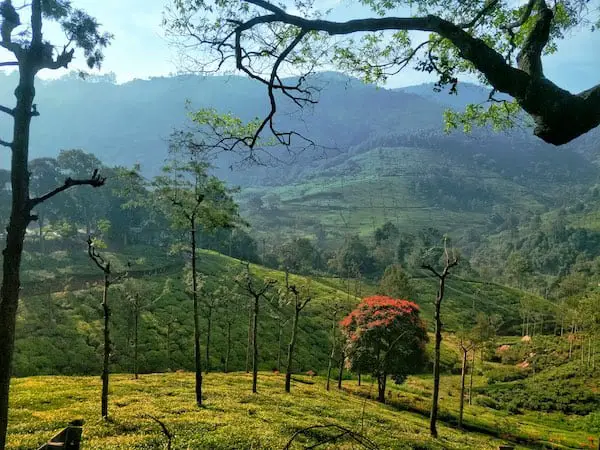 Nestled amidst the Nilgiris, Ooty's temperate climate and lush greenery offer a refreshing backdrop for work. The aromatic tea gardens, colonial architecture, and the charming Ooty toy train create a serene and inspiring environment, making it a digital nomad's paradise.
Best Hostels, Hotels, and Homestays:  
Zostel Ooty: A haven for backpackers, it offers panoramic mountain views.
Taj Savoy Hotel: A taste of colonial luxury surrounded by sprawling gardens.
Belmont Retreat Homestay: Located amidst verdant landscapes, this cozy homestay offers a personalized experience with a touch of local culture.
Must-See Attractions:  
Ooty Botanical Gardens: A sprawling green expanse with rare plant species.
Ooty Lake: Take a serene boat ride or simply stroll around the lake's periphery.
Doddabetta Peak: The highest peak in the region, it offers breathtaking views.
Hidden Gem:  
Emerald Lake: A tranquil spot away from the usual touristy hustle, ideal for meditation or quiet reflection.
Best Co-working Spaces:  
Work Ooty: A serene environment with all essential amenities, catering especially to digital nomads.
Cafes with Wi-Fi:  
Café Coffee Day on Commercial Road: Apart from the signature brews, the strong Wi-Fi is a boon for remote workers.
Willy's Coffee Pub: A quaint setting with good coffee and speedy internet, ideal for work sessions.
Meet Other Nomads:  
Ooty's Annual Tea and Tourism Festival: A vibrant event where one can network while sipping on some of the finest teas.
Nature Walks and Treks: Organized by local groups, they offer a chance to meet fellow travelers and share experiences.
Local Tip: For a genuine taste of Ooty's culture, head to the local market early in the morning. You'll find fresh produce, homemade chocolates, and aromatic oils. And if you're staying at Belmont Retreat, Mrs. Johnson, the owner, makes a mean homemade breakfast featuring local delicacies that you shouldn't miss.
Read more: Best Time To Visit South India
5. Hyderabad: The Nizami Hub of Tradition and Technology
Hyderabad seamlessly blends modernity with heritage. The bustling IT sector (earning it the name Cyberabad) juxtaposed with age-old monuments makes for a unique workspace ambiance. The city's culinary delights, particularly its world-renowned biryani, can turn any work break into a gourmet experience.
You have to try the biryani here! 
Best Hostels, Hotels, and Homestays:  
Nomad's Nest: A preferred choice for backpackers, offering a comfortable stay with city views.
ITC Kakatiya: Luxuriate in Nizami grandeur at this 5-star hotel.
Golkonda Fort Homestay: Experience traditional Hyderabadi hospitality in the shadows of the iconic fort.
Must-See Attractions:  
Charminar: An iconic monument and mosque that's the symbol of Hyderabad.
Golkonda Fort: A majestic fortress known for its acoustic wonders and panoramic views.
Salar Jung Museum: One of India's largest museums, showcasing a vast collection of art and antiques.
Hidden Gem:  
Paigah Tombs: Intricately designed tombs from the Paigah family, showcasing stunning Deccani architecture, often missed by mainstream tourists.
Best Co-working Spaces:  
Collab House: Located in Jubilee Hills, it offers a vibrant community of entrepreneurs and freelancers.
iKeva: With its multiple locations in the city, it caters to various professional needs, complete with high-speed internet and comfortable workspaces.
Cafes with Wi-Fi:  
Beyond Coffee: Overlooking the serene waters of Durgam Cheruvu, it's an ideal spot for work with a view.
The Roastery Coffee House: Renowned for its artisanal coffee brews and a serene ambiance conducive to productivity.
Meet Other Nomads:  
Hyderabad Startups Meetup: Regular events connecting startups, digital nomads, and tech enthusiasts.
Hyderabad Trekkers Club: Embark on weekend treks and nature walks while networking with fellow wanderers.
Local Tip: Don't miss out on the city's unique breakfast dish, *Hyderabadi Haleem*, available in various eateries during the early hours. If you're staying near the Golkonda Fort area, the nearby street vendors serve some of the best samosas and Irani tea – a perfect snack during work breaks.
Read more: Getting Around India Transport Tips for Planes, Trains, Buses, Taxis, and even Elephants
6. Chennai: The Cultural Capital by the Bay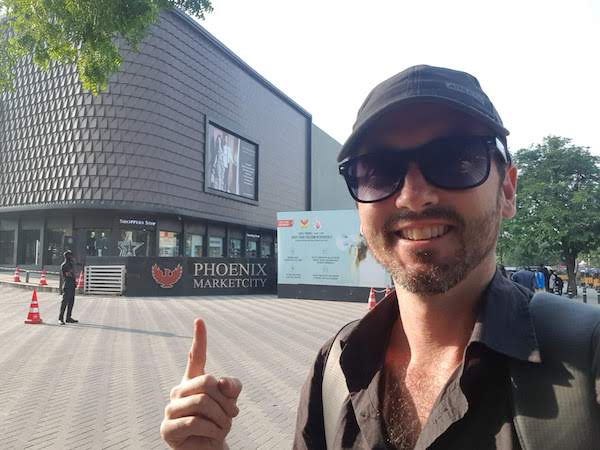 Chennai, historically known as Madras, offers a harmonious blend of tradition and modernity. The city boasts a rich cultural heritage, accentuated by its Carnatic music, classical dance, and temples. Its proximity to Marina Beach, one of Asia's longest beaches, offers a rejuvenating escape post-work, with the golden sands and roaring waves providing a therapeutic backdrop. 
You can find really modern areas of Chennai, but I like that it's a bit crazy and fun. I like to stay near the Metro so I can explore the whole city easily. 
Best Hostels, Hotels, and Homestays:  
Elements Hostel: An eco-friendly space that draws backpackers and solo travelers.
Taj Coromandel: Experience luxury in the heart of Chennai, with a blend of rich design and modern amenities.
Lakshmi's Homestay: Located in Mylapore, this place offers an authentic Tamil household experience.
Must-See Attractions:  
Kapaleeshwarar Temple: A historic temple, showcasing the Dravidian architectural style.
San Thome Basilica: A Neo-Gothic style church, believed to be built atop the tomb of Apostle Thomas.
Government Museum: A multi-purpose museum with rich collections spanning various disciplines.
Hidden Gem:  
DakshinaChitra: A living history museum, offering a glimpse into South Indian heritage and art.
Best Co-working Spaces:  
Workafella: Situated in multiple locations, it's designed for ultimate professional convenience.
Regus Olympia: Located at the city's business district, it provides a modern workspace environment.
Cafes with Wi-Fi:  
Ciclo Café: A cycling-themed cafe, ideal for both work and relaxation.
Amethyst: Housed in a restored mansion, it's a haven for freelancers seeking tranquility and good food.
Meet Other Nomads:  
Chennai Entrepreneurs Meetup: Connect with local entrepreneurs, freelancers, and digital nomads.
Chennai Outdoor Adventures Club: For those looking to blend work with adventure, this group organizes regular outings.
Local Tip: Indulge in the city's culinary delights, especially the traditional *filter coffee* and *dosa*. A morning walk by the Marina Beach followed by breakfast at the local eateries offering steaming idlis and medu vadas is a must-have Chennai experience.
Read more: Is Bangalore Better Than Chennai?
7. Pondicherry: The French Riviera of the East
Pondicherry, affectionately known as "Pondy," exudes a tranquil and colonial charm that's unparalleled. This erstwhile French colony still holds onto its European essence, with pastel-colored buildings and cobblestone streets. Its laid-back atmosphere, combined with an eclectic mix of French and Indian culture, makes it a serene work environment. 
Here, you can wrap up your work, stroll through the French Quarter, or relax by the Promenade Beach.
Try the premium French restaurants. You can get fine dining for less than $10. 
Best Hostels, Hotels, and Homestays:  
Micasa Hostel: A popular spot for backpackers, featuring a chill vibe and a central location.
Le Dupleix: A boutique heritage hotel that was once the residence of the French Mayor.
Villa Helena: A quaint homestay offering the charm of the French era combined with modern comforts.
Must-See Attractions:  
Aurobindo Ashram: A peaceful retreat dedicated to Sri Aurobindo and The Mother.
Promenade Beach: Perfect for evening strolls, watching the sunrise, or meditating.
White Town: A picturesque neighborhood filled with colonial-era buildings and vibrant streets.
Hidden Gem:  
Arikamedu: An archaeological site showcasing remnants of an ancient Roman trade center.
Best Co-working Spaces:  
WORKAFELLA: A vibrant coworking space offering a mix of work and leisure.
The Hub: A cozy space perfect for freelancers, with plenty of workshops and networking events.
Cafes with Wi-Fi:  
Café des Arts: A cozy French café, perfect for work and authentic crepes.
Baker Street: Treat yourself to a range of pastries and bread while working in a comfortable ambiance.
Meet Other Nomads:  
Pondicherry Backpackers Meetup: Connect, collaborate, and share stories with fellow travelers and digital nomads.
Auroville Community: Attend events and workshops, a perfect opportunity to network and meet like-minded individuals.
Local Tip: Dive deep into the local cuisine, which is a blend of French and Tamil flavors. Don't miss out on a visit to Auroville, a universal town where people from all nationalities live in harmony. It's not just a place but an experience in itself.
Read more: Is Pondicherry Worth Visiting?
8. Tiruvannamalai: The Spiritual Sanctuary
Tiruvannamalai is not just a town; it's an experience of profound spiritual awakening. Home to the sacred Arunachala mountain, it is a beacon for seekers from all over the world. The rhythmic chants from the Annamalaiyar Temple, the quietude of the ashrams, and the presence of many enlightened beings make it a serene backdrop for deep work and introspection. Finishing tasks with the view of the Arunachala is truly transformative.
Stay near the Dreaming Tree as it's the best place to meet people and the wifi is decent. Find good deals on the Tiruvannamalai Facebook group. 
Best Hostels, Hotels, and Homestays:  
Sparsa Resort: A tranquil resort close to the main temple, offering holistic living experiences.
Arunai Anantha Resort: A comfortable stay option with modern amenities and traditional aesthetics.
Lakshmi's Nivas: A cozy homestay run by a local family that provides an authentic experience of living in the town.
Must-See Attractions:  
Arunachaleswarar Temple: A grand temple dedicated to Lord Shiva, representing the fire element.
Sri Ramana Ashram: The spiritual home of the renowned sage, Sri Ramana Maharshi.
Girivalam Path: The circumambulation route around Mount Arunachala, considered highly auspicious.
Hidden Gem:  
Virupaksha Cave: A serene meditation spot once inhabited by Sri Ramana Maharshi.
Cafes with Wi-Fi:  
Dreaming Tree: A peaceful café offering delightful Indian meals, great chai, and steady Wi-Fi.
Meet Other Nomads:  
Full Moon Gatherings: Every full moon, seekers and travelers gather for the Girivalam, providing an excellent opportunity to connect.
Meditation and Satsang Sessions: Many ashrams and retreat centers host regular sessions where one can meet fellow spiritual seekers and nomads.
Local Tip: Embrace the town's spiritual nature. Attend the local Pujas at the temple, take part in guided meditations, and if you're up for it, wake up early for a sunrise trek up Arunachala. The energy of this town is said to aid in deep introspection, making it perfect for those looking for both productivity and spiritual growth.
Read more: Tiruvannamalai Travel Guide
9. Trivandrum: The Coastal Capital
Trivandrum, or Thiruvananthapuram, is Kerala's vibrant capital that offers a mix of rich history, modern amenities, and serene beaches. With its ancient temples, bustling markets, and proximity to the backwaters, it's a location that offers a rich cultural experience alongside the necessary amenities for a digital nomad. A work session followed by a stroll along the Shangumugham Beach is the perfect wind-down.
Best Hostels, Hotels, and Homestays:  
Uday Suites: Located near the airport, it provides top-notch facilities with the added bonus of a beach view.
Ginger Hotel Trivandrum: A budget-friendly option that doesn't skimp on comfort.
Manor Backwater Homestay: Nestled close to the serene backwaters, it offers an authentic Keralan living experience.
Must-See Attractions:  
Padmanabhaswamy Temple: An architectural marvel and a spiritual center dedicated to Lord Vishnu.
Kuthiramalika Palace: A historic mansion showcasing Kerala's traditional architecture and craftsmanship.
Napier Museum: Dive into Kerala's rich history and cultural heritage.
Hidden Gem:  
Priyadarshini Planetarium: A less explored attraction offering celestial shows and a deeper look into the universe.
Best Co-working Spaces:  
B'hub: A dynamic coworking space that also conducts events, fostering a sense of community.
Cafes with Wi-Fi:  
Café Mojo: A modern café with a variety of brews, delicious pastries, and reliable Wi-Fi.
Indian Coffee House: A legendary chain with its spiral architecture, offering traditional snacks and strong coffee.
Meet Other Nomads:  
Art and Cultural Festivals: Trivandrum frequently hosts art and cultural festivals where you can meet artists, travelers, and locals.
Tech Meetups: Given the city's emerging tech scene, there are regular meetups and events for tech enthusiasts.
Local Tip: When in Trivandrum, indulge in the local cuisine. The city offers some of Kerala's best seafood. Also, considering the city's easy-going pace, try adjusting your work schedule to start early, so you have ample time to explore in the evenings.
10. Gokarna: The Tranquil Beach Retreat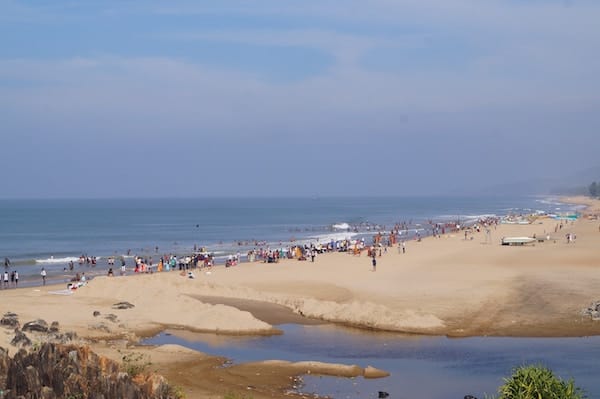 Gokarna, often termed as the quieter counterpart to Goa, is a coastal town known for its pristine beaches and sacred temples. Imagine working with the soothing sound of waves in the background and taking breaks to meditate at centuries-old temples. The town provides an ideal backdrop for those looking to combine productivity with peace.
Best Hostels, Hotels, and Homestays:  
Kudle Beach View Resort & Spa: Offering stunning views of Kudle Beach, it ensures both luxury and comfort.
Zostel Gokarna: A favorite among backpackers, providing a social environment with a relaxing ambiance.
Namaste Yoga Farm: A unique homestay experience, allowing guests to practice yoga amidst nature.
Must-See Attractions:  
Mahabaleshwar Temple: An important pilgrimage site that houses the Atmalinga.
Om Beach: A naturally formed Om-shaped beach offering mesmerizing sunsets.
Koti Tirtha: A sacred water tank surrounded by temples, providing a peaceful environment.
Hidden Gem:  
Half Moon Beach: A secluded beach spot that's less frequented by tourists, perfect for quiet reflection or reading.
Cafes with Wi-Fi:  
Café 1987: Known for its eclectic menu and robust Wi-Fi, it's a favorite among remote workers.
Mantra Café: Offering panoramic sea views, delectable food, and a decent internet connection.
Meet Other Nomads:  
Beach Yoga Sessions: Many travelers and digital nomads join early morning or sunset yoga sessions at the beaches.
Hostel Events: Hostels like Zostel often organize social events, making it easy to network and meet like-minded travelers.
Local Tip: Gokarna's beaches are spread out, so it's a good idea to rent a scooter for ease of mobility. Also, while the town is generally safe, it's recommended to avoid secluded beaches at night.
Tips for Your South India Workation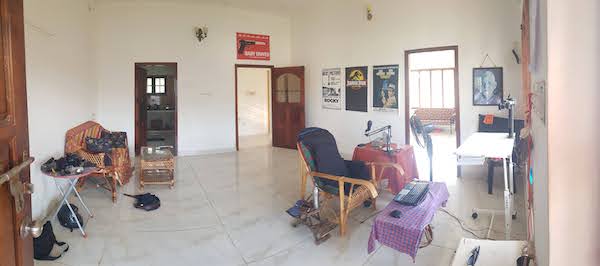 1. Prioritize Strong Wi-Fi:  
The essence of a successful workation is connectivity. Before finalizing your stay, message hosts on platforms like Booking.com and Airbnb. Their responsiveness and the specificity of their answer about Wi-Fi speeds can hint at the quality of your upcoming stay. Trust those who offer exact numbers over vague assurances.
2. Homestays Over Hotels:  
While hotels offer a certain standard of luxury and convenience, homestays provide an authentic experience. You get to immerse yourself in local culture, cuisine, and stories – a refreshing break from work.
3. Smaller Places, Bigger Savings (But Be Vigilant):  
Destinations like Tiruvannamalai can be easier on the wallet. However, amenities like high-speed Wi-Fi might not be a given. It's essential to research and communicate clearly with potential hosts to avoid connectivity disappointments.
4. Join Local Facebook Groups:  
For almost every popular South Indian destination, there's a Facebook group teeming with locals, expats, and fellow travelers. These platforms can be goldmines for real-time reviews, recommendations, and even exclusive deals. Don't shy away from seeking advice or sharing your experiences.
5. Taste the Local Cuisine:  
South Indian food is more than just dosa and idli. Every region has its culinary specialities, from the tangy curries of Tamil Nadu to the seafood delicacies of Kerala. Eating local is a treat for your taste buds and offers a peek into the region's culture and traditions.
6. Work-Life Balance, South India Style:  
Don't get too wrapped up in work. Allocate time to explore, meditate in a local temple, or simply soak up the sun at one of the many pristine beaches. South India's diverse landscape offers numerous avenues to relax and rejuvenate.
7. Embrace the Local Time:  
Remember, IST (Indian Standard Time) is often jokingly referred to as 'Indian Stretchable Time'. Things might not always run punctually. Cultivate patience and factor in some buffer time for your plans and schedules.
8. Safety First:  
While South India is generally safe for travelers, always take the usual precautions. Avoid isolated areas at night, keep your valuables secure, and always let someone know your whereabouts.
9. Attend Local Events and Workshops:  
Whether it's a yoga class in Kerala, a pottery workshop in Pondicherry, or a classical dance recital in Chennai, participating in local events can provide a refreshing break from work and an opportunity to mingle.
10. Trust but Verify:  
While it's essential to trust and immerse yourself in local experiences, always verify any information, especially when it relates to your work essentials. Check and double-check connectivity, transport options, or any services you might need for your work.
Remember, a workation in South India is not just about the work; it's about striking a harmonious balance between productivity and soaking in the rich tapestry of culture, cuisine, and natural beauty that the region offers.
Read more: India Travel Hacks Learned After 4 Years
Frequently Asked Questions: Workations in South India
1. Why choose South India for a workation?  
South India offers a diverse landscape ranging from pristine beaches to majestic hills, bustling cities to tranquil towns, rich historical sites to modern hubs, all conducive to a unique workation experience. The region is known for its warm hospitality, delicious cuisine, and diverse culture.
2. Is the internet connectivity reliable for work in South India?  
Major cities like Bengaluru, Chennai, and Hyderabad are IT hubs and have robust internet connectivity. However, in smaller towns, it's advisable to communicate with your host about Wi-Fi speeds. Always have a backup option, like a local SIM card with data, for emergencies.
3. Are South Indian cities safe for solo travelers?  
Yes, South Indian cities are generally safe for solo travelers, including women. However, like any other destination, it's always best to take general precautions, avoid isolated areas late at night, and stay informed about local customs.
4. What's the best time to plan a workation in South India?  
The ideal time for a workation in South India is during the winter months, from October to March, when the climate is relatively cooler and pleasant.
5. Can I find coworking spaces in South India?  
Absolutely! Cities like Bengaluru, Chennai, and Hyderabad have a plethora of coworking spaces. Even smaller towns like Kochi and Pondicherry have started catering to the digital nomad community.
6. What are the visa requirements for working remotely in India?  
It's essential to ensure you have the appropriate visa. While a tourist visa might suffice for short workations, for extended stays or if you're earning from an Indian entity, you might need a business visa. Always check with the Indian consulate or embassy in your country.
7. What's unique about South Indian cuisine?  
South Indian cuisine is a delightful blend of flavors, from spicy to tangy to sweet. It's predominantly rice-based, with dishes like dosa, idli, sambhar, and a plethora of curries. Each state has its specialties, and vegetarian food is as popular as non-vegetarian options.
8. How do I commute within South Indian cities?  
Public transport options like buses and autos are widely available. Additionally, app-based taxi services like Ola and Uber operate in most South Indian cities, making commutes easy and convenient. Chennai, Banaglore, and Kochi have metros too.
9. Are there any cultural sensitivities I should be aware of?  
South India, with its rich heritage, has specific cultural norms. It's respectful to dress modestly, especially in religious places. Always ask before taking photos, especially in temples. Understanding and following local customs and etiquettes will enhance your workation experience.
Remember, a workation is all about the balance between work and relaxation. With its myriad offerings, South India ensures that while you stay productive at work, you also enrich your soul with unique experiences and memories.
Conclusion
Embracing a workation in South India is truly a transformative experience, blending the serenity of nature, the allure of culture, and the ease of modern amenities. 
Cities like Chennai, with its expansive Marina Beach and robust urban vibe, and Pondicherry, a haven of French aesthetics and serene beaches, exemplify the diverse landscape of South India. 
For those looking to delve deep into spirituality and tranquility, Tiruvannamalai provides the perfect backdrop. 
Alternatively, destinations such as Trivandrum and Gokarna offer a harmonious blend of tradition and modernity, complemented by pristine coastlines. In terms of attractions, the blend of ancient temples, vibrant markets, and lush natural landscapes ensures a rich palette of experiences. 
Accommodations, too, range from luxurious hotels in Hyderabad to quaint homestays in Ooty or even spiritual retreats in Tiruvannamalai.
Embarking on a workation in South India is not just about changing your workspace; it's about immersing yourself in a tapestry of experiences that invigorate the soul while ensuring productivity. 
Each destination here, with its unique offerings, promises a work-life harmony that's both rejuvenating and enriching. Whether you're a digital nomad or just someone looking to break the monotony of the traditional work setting, South India awaits with open arms and endless possibilities.
Read more: