A solo trip to India can be a trip you can remember for the rest of your life.
By traveling alone, you'll see the friendly locals firsthand and meet travelers from around the world who've come to dive into this sometimes chaotic, other times peaceful mecca. 
I should know. I've traveled India for more than 4 years and have mostly explored by myself. I'm trying to see every state in India as I work online. So, I hope to share some of my favorite spots with you. 
Here are the top 17 destinations for solo trips in India:
1. Varanasi – Best Overall
2. Goa – Best for Meeting People
3. Kolkata – Best for Street Food
4. Bangalore – Best for Workations
5. Kerala – Best for New Travelers
6. Ladakh – Best for Mountain Lovers
7. Kashmir – Best for Adventurers
8. Pondicherry – Best Budget Pick
9. Mumbai – Best for Luxury Vibes
10. Jaipur – Best for History Buffs
11. Delhi – Best for Cultural Diversity
12. Chennai – Best for Coastal Views
13. Chandigarh – Best for Modern Architecture
14. Amritsar – Best for Spiritual Quests
15. Mysore – Best for Yoga Enthusiasts
16. Rishikesh – Best for Spiritual Healing
17. Andaman and Nicobar Islands – Best for Beach Lovers
If you decide not to read this comprehensive guide, you'll miss out on local tips, hidden gems, and invaluable advice that only someone with years of solo travel in India can provide. 
In this article, we'll deep-dive into these incredible destinations, highlighting the best beaches, accommodations, attractions, hidden treasures, cafes, and bars. Additionally, you'll get insider tips to make your solo trips in India unforgettable.
So buckle up as we explore everything you need for a fulfilling solo adventure, from safety precautions and transportation options to gastronomic delights and social avenues. 
Let's start planning the perfect solo trip to India!
Planning a trip to India at some point? Check out my free ebook to help you save time and money, and avoid headaches. After +4 years in India, I've made plenty of mistakes, and this guide shares what I've learned so you can have a smoother trip.
Top 3 Picks for Solo Travel in India
Read more: Average Costs To Travel India for a Month
Is Solo Travel Safe in India?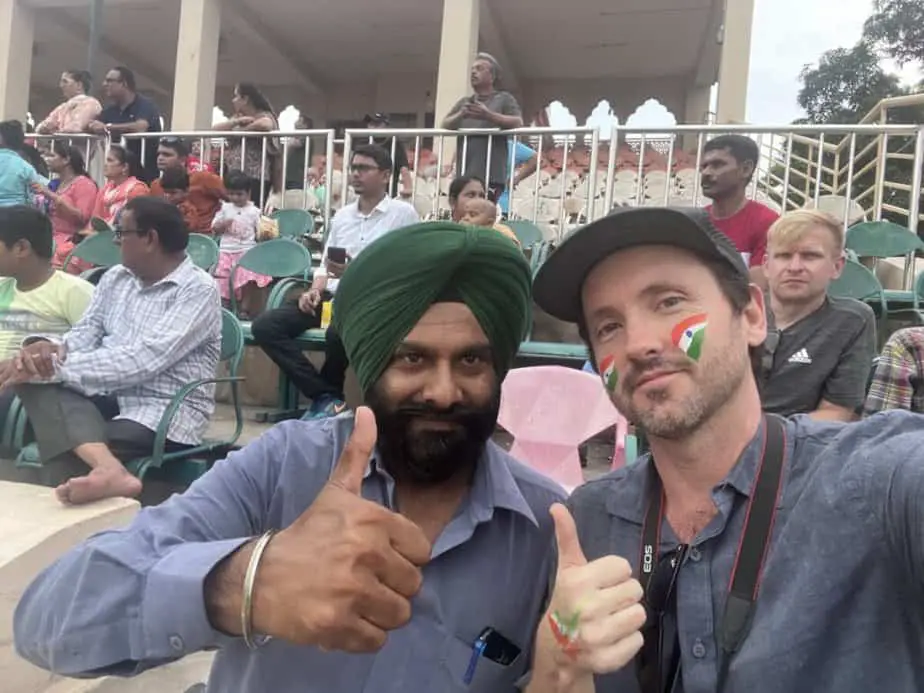 India is a safe place for solo travelers, as long as you practice common sense safety tips. Don't be too friendly with strangers.
Don't disclose your accommodation details to strangers
Don't drink alcohol.
Always keep your belongings secure.
Avoid walking alone in secluded areas, especially during the night. 
Get a local SIM and keep it full of data (it's cheap!).
Register your details with your embassy, and keep the local emergency number (112) handy. Women should take extra precautions, like avoiding public transport late at night.
I've traveled to India for 4 years and have not found myself in any unsafe situations. I also still practice these common sense tips, the same as I would in New York City or another big place. 
Read more: Common Mistakes When Traveling India
Why Choose India for Solo Travel?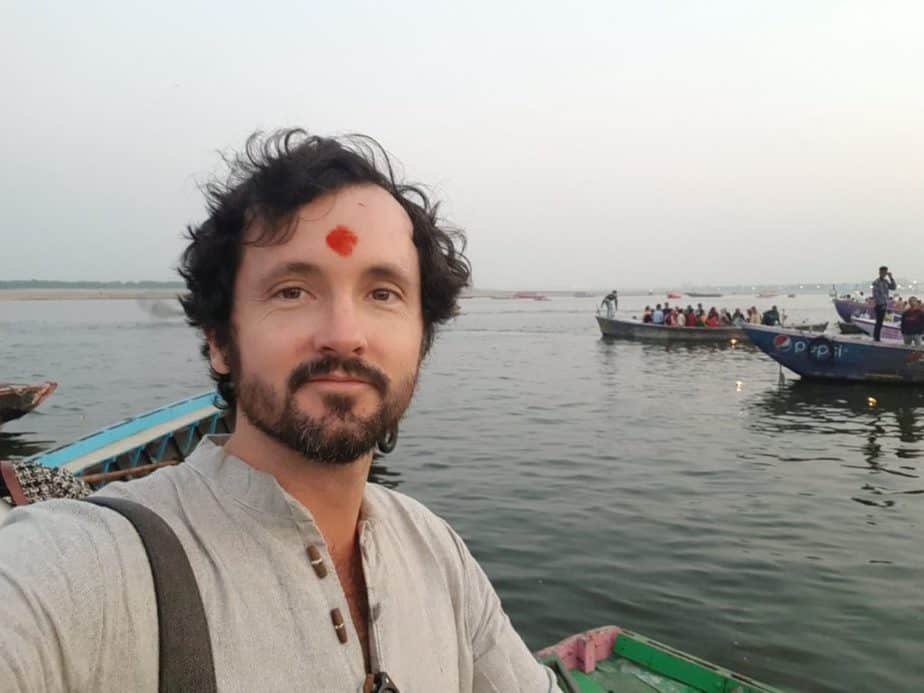 As an avid traveler who has explored India for more than four years, including an extensive period in South India, I can attest to the country's magnetic allure for solo travelers. Here are the main points that make India a must-visit:
Rich, Historical Culture
Yoga and Meditation Retreats
Adventure Activities
Workation Opportunities
Social Interactions
Affordability
Rich, Historical Culture
India's rich, historical culture sets it apart from other destinations. With its sprawling temples, ancient forts, and myriad of festivals, India offers more cultural richness and diversity than most other countries. A solo trip here is as much an educational experience as it is an adventure.
Yoga and Meditation Retreats
India is the birthplace of yoga, and it shows. There are countless authentic yoga and meditation retreats nationwide catering to all levels of experience. Having personally attended several classes and retreats, I can vouch for the transformative impact they can have on your life. Check out Tiruvannamalai for meditation, or Rishikesh or Mysore for yoga. 
Adventure Activities
If you're an adventure junkie, India has you covered. From trekking in the mountains of Ladakh to wildlife spotting in the jungles, there's never a dull moment. I've even stayed on a riverboat and taken mountain tours, each offering its own unique thrill.
Social Interactions
Indians are incredibly warm and welcoming, always curious to learn about different cultures. This makes it incredibly easy to make local friends. Cities like Delhi, Mumbai, and Goa are hotspots for travelers, meaning you'll never be short of social interactions.
Affordability
One of the most appealing aspects of India is its affordability. The lower cost of living enables you to extend your stay and experience more of what the country has to offer, from grassroots adventures to high-end luxury.
India's tourism department also an easy place to get a visa for most countries and it's pretty inexpensive. I have a 10-year visa and I paid a couple hundred dollars. You can get a 5-year visa online pretty quickly and cheaply. 
Workation Opportunities
During the lockdown, I worked from my South Indian apartment with a view of a holy mountain. The fast Wi-Fi and serene surroundings proved that India, often dubbed the "Silicon Valley of Asia," is perfect for digital nomads. Whether it's Bangalore's bustling tech scene or Goa's laid-back beach vibe, you'll find the ideal spot for a workstation.
17 Best Solo Trips in India
| | | | | |
| --- | --- | --- | --- | --- |
| Destination | Label | Best Accommodation | Best Attractions | Best Cafes/Bars |
| Varanasi | Best Overall | BrijRama Palace | Ghats, Kashi Vishwanath Temple | Brown Bread Bakery |
| Goa | Best for Meeting People | Taj Fort Aguada | Beaches, Anjuna Flea Market | Artjuna Cafe |
| Kolkata | Best for Street Food | The Oberoi Grand | Victoria Memorial, Howrah Bridge | Flurys |
| Bangalore | Best for Workations | The Ritz-Carlton | Bangalore Palace, Lalbagh Botanical Garden | Third Wave Coffee Roasters |
| Kerala | Best for New Travelers | Kumarakom Lake Resort | Backwaters, Tea Gardens | Teapot Cafe |
| Ladakh | Best for Mountain Lovers | The Grand Dragon | Pangong Lake, Magnetic Hill | Gesmo Restaurant |
| Rishikesh | Best for Spiritual Healing | Ananda in the Himalayas | The Beatles Ashram, Triveni Ghat | Little Buddha Cafe |
| Pondicherry | Best Budget Pick | Villa Shanti | Auroville, Promenade Beach | Cafe des Arts |
| Kashmir | Best for Adventurers | The Lalit Grand | Gulmarg, Dal Lake | Chaai Jaai |
| Mumbai | Best for City Vibes | The Taj Mahal Palace | Gateway of India, Marine Drive | Leopold Cafe |
| Jaipur | Best for History Buffs | Rambagh Palace | Amer Fort, City Palace | Anokhi Cafe |
| Delhi | Best for Cultural Diversity | The Imperial | Red Fort, Qutub Minar | Indian Accent |
| Chennai | Best for Coastal Views | Taj Fisherman's Wharf | Marina Beach, Kapaleeshwarar Temple | Amethyst Cafe |
| Chandigarh | Best for Modern Architecture | Taj Chandigarh | Rock Garden, Sukhna Lake | Backpackers Cafe |
| Amritsar | Best for Spiritual Quests | Hyatt Amritsar | Golden Temple, Jallianwala Bagh | Kesar da Dhaba |
| Mysore | Best for Yoga Enthusiasts | Radisson Blu | Mysore Palace, Chamundi Hills | Old House |
| Andaman and Nicobar Islands | Best for Beach Lovers | Taj Exotica | Radhanagar Beach, Cellular Jail | Anju Coco Cafe |
1. Varanasi – Best Overall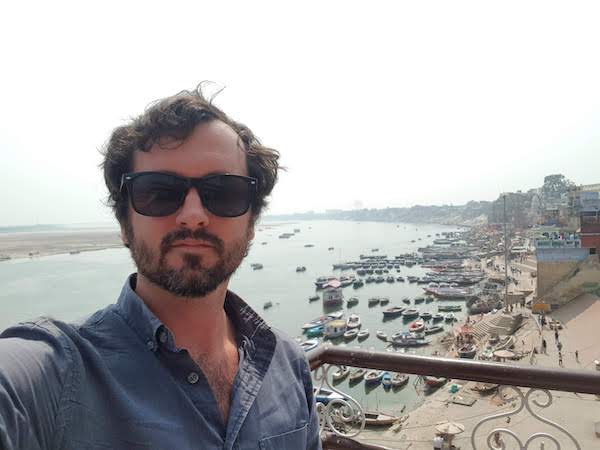 Varanasi, often called the spiritual heart of India, offers an unparalleled experience that is rich in culture, history, and spirituality. A solo trip here is nothing short of transformative. The city provides a blend of chaos and serenity that can be overwhelmingly beautiful.
As a solo traveler, you get the chance to dive deep into self-discovery, thanks in part to the spiritual setting and the myriad experiences that range from tranquil to electrifying.
Must-See Attractions:
Ganga Aarti at Dashashwamedh Ghat: A mesmerizing ritual performed daily at sunset. 
Kashi Vishwanath Temple: One of the most important Hindu temples, dedicated to Lord Shiva.
Manikarnika Ghat: The primary cremation ghat; a place that offers a poignant view of life and death.
Sarnath: Located just 10 km from Varanasi, it's where Buddha gave his first sermon.
Hidden Gems:
Alamgir Mosque: Also known as Beni Madhav Ka Darera, this mosque offers a panoramic view of Varanasi.
Ramnagar Fort: A 17th-century fortress that offers a peek into the life of the Maharajas of Varanasi.
The lesser-known Ghats: While the main ghats are often crowded, ghats like Assi or Tulsi offer a quieter experience.
Where to Stay:
Budget: Wander Station. You want to stay near the Ganges, and this hostel has beautiful views of the river from the roof. There are plenty of social activities happening and common areas where you can make a travel buddy. 
Mid-range: Ram Bhawan Residency. You'll be in a similar location near the ghats, but have privacy. There's also a yoga room and shared kitchen. 
Luxury: BrijRama Palace. If you have the budget, this is the place to stay in Varanasi. Overlooking the Ganges with a history of the best guests for decades, you can't go wrong here. 
Where to Meet People:
Brown Bread Bakery: A popular café near the Dashashwamedh Ghat, it's a great place to meet travelers and locals alike. They offer an array of organic food options and a cozy setting.
The Beer Café: If you're looking for a bar setting, this place offers a variety of international and local brews. 
Mukti Cafe & Coworking Space: Ideal for digital nomads looking for a place to work while meeting like-minded individuals.
Varanasi is an experience like no other, especially for solo travelers. The city not only allows you to explore its intricate lanes and ancient temples but also offers a journey within, making it the best overall destination for solo travel in India.
Read more: Complete Guide to Do's & Don'ts in Varanasi for First-Time Travelers
2. Goa – Best for Meeting People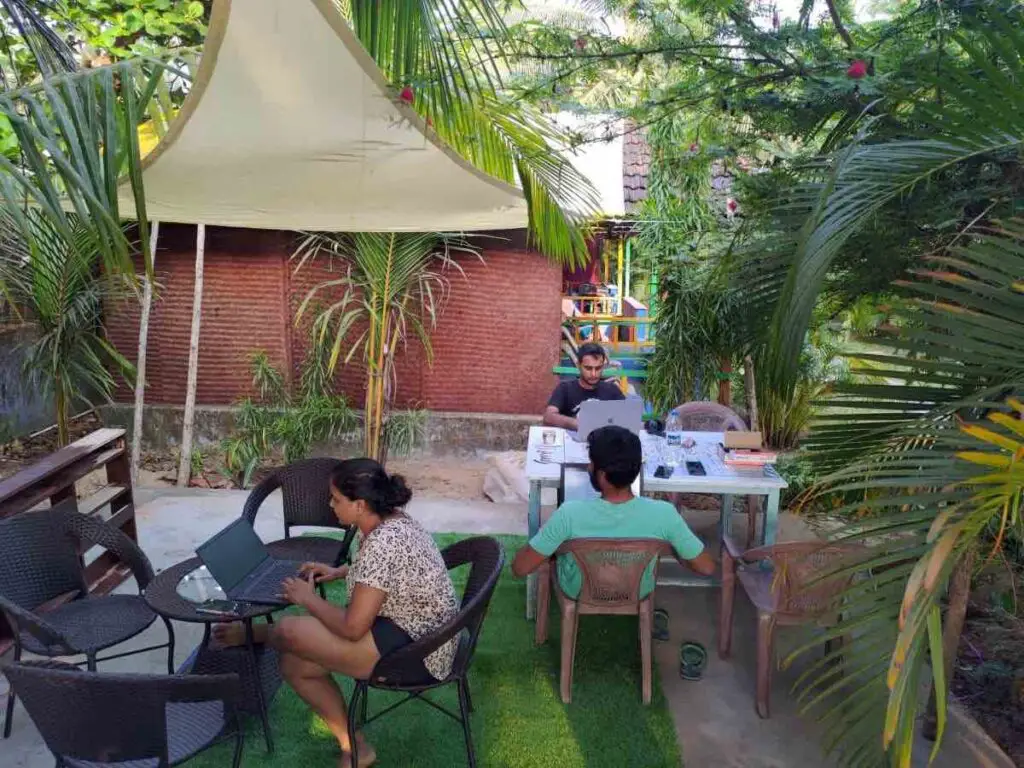 Goa isn't just India's party capital; it's a melting pot of cultures. It offers both serenity and exhilaration in equal measure. 
Its expansive beaches, vibrant nightlife, and a laid-back atmosphere make it an ideal destination for solo travelers looking to meet new people. Whether you're an extrovert looking to socialize or someone who simply enjoys observing the world go by, Goa has a place for you.
Must-See Attractions:
Anjuna Beach: Famous for its Wednesday flea market and beachside parties.
Arambol Beach: Famous hippie beach with great nightlife and live music. 
Fort Aguada: A 17th-century Portuguese fort overlooking the Arabian Sea.
Dudhsagar Waterfalls: One of India's tallest waterfalls, located on the Goa-Karnataka border.
Old Goa: The site of churches that are UNESCO World Heritage Sites, like the Basilica of Bom Jesus.
Hidden Gems:
Kakolem Beach: A secluded beach perfect for solitude.
Cab de Rama Fort: Offers panoramic views of the sea and is less crowded compared to other forts.
Spice Plantations: Learn about local spices and enjoy a different side of Goa.
Where to Stay:
Budget: Hostel Mandala, Anjuna: Located in North Goa, Anjuna is one of the most happening beaches. This hostel is clean, near the beach, and has a common area that's fun to chill in.
Mid-range: Secret Garden, Arambol. Situated close to Arambol, I stayed here for a month and there's a restaurant and bar you can meet other travelers. The cabanas are nice and the wifi is good. You're far enough away to get good sleep, yet close enough that you can walk to the parties in 10 minutes. 
Luxury: Taj Fort Aguada. Combines luxury and natural beauty, offering beachfront access and all the amenities you'd want. 
Where to Meet People:
Twice in Nature: Chill nightlife in Arambol. The open mic on Mondays is super popular and free. 
Tito's Lane: Tito's is the place to be in Baga Beach, the most popular beach in North Goa.  
Clay Coworking: Clay has the fastest wifi I found in Goa at this premium coworking space if you want a workation in Goa. Plus, after work, you're a short walk from Anjuna Beach. 
Read more: Solo Trips in Goa – The Best Places To Stay
3. Kolkata – Best for Street Food
The cultural capital of India, Kolkata is a haven for those who have an affinity for history, arts, and most importantly, food. As a solo traveler, you'll never really feel alone in the city that's renowned for its warm hospitality and delectable cuisine. It blends colonial architecture, intellectual forums, and culinary delights.
I took a street food tour here trying vendors who'd been serving delicious food for more than 100 years. I'm never going to forget those flavors! 
Must-See Attractions:
Victoria Memorial: A grand marble building that serves as a museum and a tribute to India's peak of the British era.
Howrah Bridge: An engineering marvel that's one of the busiest bridges in the world.
Sundarbans: The largest delta and mangrove forest in the world, located on the outskirts of Kolkata.
Hidden Gems:
College Street: Home to Kolkata's intellectual hub, the Coffee House, and countless bookstores.
Dakshineswar Kali Temple: A less-crowded but spiritually enriching temple complex.
Mullik Ghat Flower Market: A kaleidoscope of colors and fragrances, this market is one of Asia's largest flower markets.
Where to Stay:
Budget: Guten Tag Hostel. Located near Park Street, it's a quirky, affordable option for solo travelers.
Mid-range: Polo Floatel. Stay on a houseboat on the river. The location is great to explore downtown Kolkata. And you can meet people at the bar and restaurant on the roof. I met a Bollywood actress! 
Luxury: The Oberoi Grand. Known for its classical style and modern luxury, it provides an unmatched experience.
Where to Meet People:
Deck 88: A bar and lounge at The Astor Hotel, perfect for meeting locals and tourists alike.
Terreti Bazaar: An early morning Chinese food market where you can meet fellow food lovers.
Indian Coffee House: This place has been a hub for conversations and strong coffee for centuries. It's on College Street and worth spending a few hours.
From the sizzling pans of street-food vendors to the intellectual debates in historic cafés, Kolkata offers a unique blend of experiences catering to all solo travelers. Its bustling markets, historic sites, and mouth-watering street food make it the best destination for food lovers.
Read more: Best India Travel Hacks That I've Learned After 4 Years in India
4. Bangalore – Best for Workations
Known as the "Silicon Valley of India," Bangalore (or Bengaluru) is a thriving metropolis that perfectly blends the traditional with the modern. What sets Bangalore apart as a workation destination is its vibrant startup culture, abundant co-working spaces, and an eclectic mix of leisure activities—making it ideal for those who want to balance work and travel.
Must-See Attractions:
Lalbagh Botanical Garden: A sprawling garden offering a serene environment perfect for short breaks.
Bangalore Palace: A Tudor-style palace that gives you a taste of the city's historical grandeur.
Cubbon Park: A popular park ideal for jogging or simply taking a leisurely walk.
ISKCON Temple: A spiritual oasis located in the heart of the city.
Hidden Gems:
Art of Living International Center: A campus offering various wellness and spiritual programs.
Chitra Santhe: An annual art market open for just one day a year.
Rasta Café: A 24/7 café located on the outskirts of the city, perfect for late-night drives.
Where to Stay:
Where to Meet People:
The Hub: A coworking space in downtown Bengaluru with coliving and social options for the digital nomad types like myself. 
WeWork: Various locations across the city offer co-working spaces where you can network.
Toit: A popular brewpub where locals and expats often mingle.
Dialogues Café: A unique space where you pay for time, not for what you consume, fostering conversations and networking opportunities.
5. Kerala – Best for New Travelers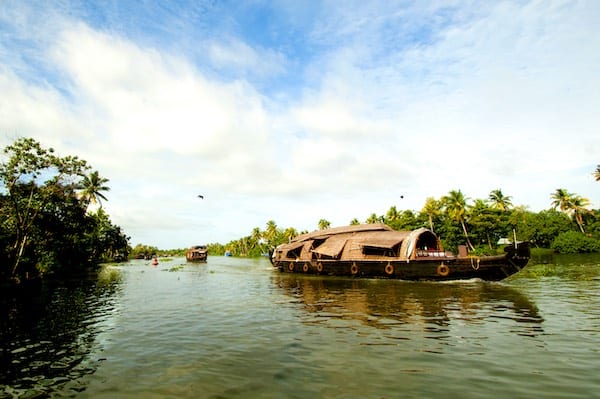 Often referred to as "God's Own Country," Kerala is the epitome of natural beauty and cultural richness, making it ideal for new travelers. The state offers a well-organized tourism structure, friendly locals, and experiences that range from the backwaters of Alleppey to the tea gardens of Munnar.
You can stay in Kochi and explore from there. 
Must-See Attractions:
Alleppey Backwaters: A must-visit for a houseboat stay and to experience the backwaters.
Munnar: Known for its tea gardens and lush green landscapes.
Periyar National Park: A wildlife sanctuary offering safari experiences.
Kochi: A port city with a mix of Dutch, Portuguese, and English historical influences.
Hidden Gems:
Varkala Beach: A cliffside beach that is less crowded but equally stunning.
Ponmudi: A lesser-known hill station perfect for trekking.
Kumbalangi: A model fishing village that offers a taste of local life.
Where to Stay:
Budget: Zostel Alleppey. Offers a social atmosphere where you can head to take a houseboat on the backwaters. 
Mid-range: Bloom Boutique Waterfront Fort Kochi. Fort Kochi is the best place to stay here if you want to walk to restaurants and shops. 
Luxury: Forte Kochi. Premium heritage hotel with a swimming pool, and an ancient natural spring once used for special rituals. Your IG will thank you if you stay here. 
Where to Meet People:
Art Café, Kochi: A charming café perfect for meeting other travelers and art enthusiasts.
Kashi Art Café: Located in Fort Kochi, it's a hub for artists and tourists alike.
The Rice Boat: A floating restaurant in Kochi, ideal for enjoying local cuisine while socializing.
Kerala's varied landscapes, well-maintained tourist spots, and warm hospitality make it a great starting point for those new to traveling alone. Whether you're exploring the busy streets of Kochi or relaxing in the tranquil backwaters of Alleppey, the state offers an array of experiences for every type of traveler.
Check out the destinations for the best workation in Kerala!
6. Ladakh – Best for Mountain Lovers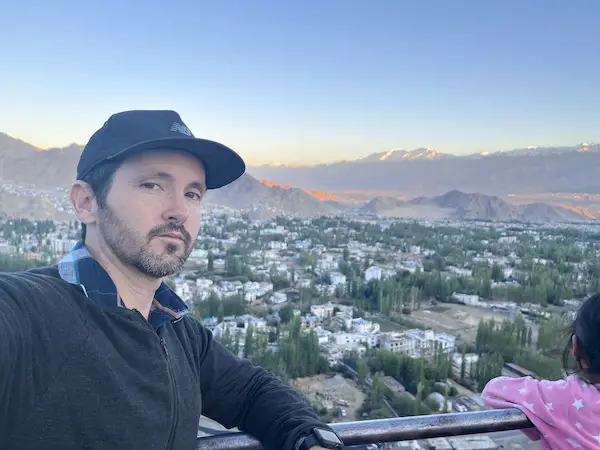 Ladakh, situated in the northernmost part of India, is a paradise for mountain lovers. Its rugged terrains, stunning landscapes, and spiritual monasteries offer a unique travel experience. The region is particularly great for solo travelers because it's less crowded than other tourist destinations, allowing for more solitude and reflection.
You'll find all sorts of travelers here, from Indians to most nationalities. You can stay near the mall in the center of town, which I think is one of my favorite spots in India. There are plenty of rooftop cafes to hang out and meet people, before heading into the mountains. 
Must-See Attractions:
Pangong Lake: Known for its azure blue waters and is a must-see for its sheer beauty.
Leh Palace: An ancient palace offering panoramic views of Leh and its surrounding areas.
Nubra Valley: Famous for its sand dunes and double-humped camels.
Hemis Monastery: One of the oldest and largest monasteries in Ladakh.
Hidden Gems:
Tso Moriri Lake: Less visited than Pangong but equally stunning.
Diskit Monastery: Offers sweeping views of Nubra Valley.
Markha Valley Trek: A less crowded trekking trail offering solitude and scenic beauty.
Where to Stay:
Budget: LeHostel: A backpacker-friendly accommodation with a social atmosphere.
Mid-range: Gomang Boutique Hotel. A comfortable paradise among the mountains in Leh.
Luxury: The Grand Dragon Ladakh: A premium hotel in Ladakh with views of the mountains and a convenient location near the market.
Where to Meet People:
Café Jeevan: A cozy café known for its local and international cuisines.
Gesmo Restaurant: Popular among travelers and a great place for networking.
Open Hand Café & Bazaar: A fair-trade café that provides a great work environment along with quality coffee.
Read more: Best Places for a Workation in Ladakh
7. Rishikesh – Best for Spiritual Healing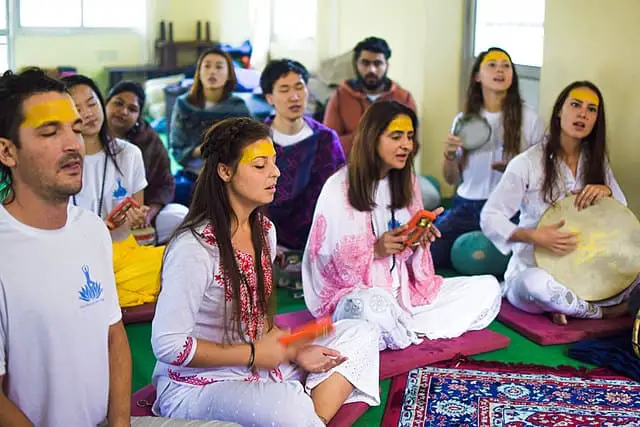 Situated on the banks of the holy Ganges River, Rishikesh is a hub for spiritual seekers and adventure enthusiasts alike. Known as the "Yoga Capital of the World," this serene town offers an array of ashrams and yoga institutes. For the solo traveler, Rishikesh is an opportunity to delve into spiritual practices, attend wellness retreats, and enjoy the majestic Himalayan backdrop.
Must-See Attractions:
The Ganges Aarti at Triveni Ghat: A spiritually uplifting experience.
Lakshman Jhula and Ram Jhula: Iconic suspension bridges offering panoramic views.
Rajaji National Park: For those who love wildlife and nature.
Hidden Gems:
The Beatles Ashram: Once frequented by the Beatles, it's now a part of Rajaji National Park.
Vashishta Gufa: An ancient cave offering a tranquil space for meditation.
Neer Garh Waterfall: A less crowded spot ideal for nature lovers.
Where to Stay:
Budget: Live Free Hostel: Known for its communal atmosphere and beautiful views.
Mid-Range: Hill Top Swiss Cottage: Unique cozy decor in the quieter Tapovan with beautiful views of the hills from your balcony and a restaurant on-site. 
Luxury: Aloha on the Ganges: Offers luxury rooms with plenty of things to do on the resort and a nice in-house restaurant to relax at. 
Where to Meet People:
Little Buddha Café: A laid-back café with an international crowd.
Freedom Café: Located near the Lakshman Jhula, it's a great spot to meet fellow travelers.
The Hive Rishikesh: A co-working space suitable for digital nomads looking for a spiritual backdrop.
Read more: Why Do People Go To India To Find Themselves?
8. Kashmir – Best for Adventurers
Known as the "Paradise on Earth," Kashmir is an adventurer's dream come true. With its vast landscapes of rolling hills, beautiful gardens, and high mountain peaks, the region offers a plethora of adventure activities such as trekking, skiing, and river rafting.
Start in Srinagar and spend a night on a houseboat. It's a good way to meet other travelers, I met a nice Indian couple with a cute kid who had come back after having their honeymoon here. 
Then head into the mountains for treks and the picturesque village life. 
Must-See Attractions:
Dal Lake: Known for its houseboats and Shikara rides in Srinagar.
Shalimar Bagh: A beautifully designed Mughal garden in Srinagar.
Gulmarg: A hill station famous for its skiing resorts.
Pahalgam: Popular for trekking, golf, and stunning views.
Hidden Gems:
Nigeen Lake: Stay on a houseboat here for a more serene experience than Dal Lake. 
Aru Valley: A less frequented meadow near Pahalgam.
Shankaracharya Temple: Offers a panoramic view of Srinagar.
Chatpal: An offbeat, untouched spot perfect for solitude seekers.
Where to Stay:
Budget: GoStops, Srinagar: A hostel offering budget-friendly yet comfortable lodging.
Mid-range: Hotel Royal Plaza: Ideally located for those looking to explore near Dal Lake. You want to stay near Boulevard since there are solid restaurants along here and it's nice to take walks along. 
Luxury: Wangnoo Heritage Houseboats on Nigeen Lake: I'm glad I stayed on Nigeen Lake because it's super peaceful and not as touristy as Dal Lake. 1 or 2 nights is enough so you can watch the sunset and sunrise over the mountains surrounding the lake. 
Where to Meet People:
Books & Bricks Café, Srinagar: A cozy café with a selection of books, perfect for meeting like-minded travelers.
Downtown Café & Grill, Srinagar: A contemporary space for casual dining and networking.
Off The Road Café, Gulmarg: A café in the heart of the adventure activities, serving hot meals and warm conversations.
Whether you're an adrenaline junkie or someone looking for serenity in the mountains, both Ladakh and Kashmir offer enriching and transformative experiences. With adventure and stunning natural beauty at every corner, these destinations are perfect for solo travelers seeking something out of the ordinary.
Read more: Best Places for Photography in India
9. Pondicherry – Best Budget Pick
Pondicherry, with its quaint French architecture and stunning beaches, is the perfect budget-friendly destination for solo travelers in India. The cost of living is relatively low, which allows you to enjoy many experiences without burning a hole in your pocket.
I enjoyed fancy French dinners for less than $10 and walked along the beach. 
Auroville is not far and is a weird little commune with a huge golden dome. 
Must-See Attractions:
Auroville: The experimental township aiming for human unity is a must-visit.
Promenade Beach: Perfect for a relaxing walk.
Sri Aurobindo Ashram: Offers a tranquil experience.
White Town: Known for its charming French colonial architecture and restaurants.
Hidden Gems:
Serinity Beach: A quieter beach perfect for solitude and surfing.
Bharathi Park: A tranquil green space ideal for relaxation.
Chunnambar Backwaters: A less-visited spot offering boating and natural beauty.
Where to Stay:
Budget: Micasa Hostel: A cozy, affordable option, perfect for backpackers.
Mid-range: Villa Shanti: Situated in the French Quarter, it offers a fusion of modern comfort and traditional architecture. It's more on the luxury range, but worth the money. 
Luxury: La Villa: A 19th-century French manor turned into a luxury boutique hotel.
Where to Meet People:
Café des Arts: A popular café among tourists and locals alike, perfect for meeting new people.
Artika Café Gallery: Offers a blend of art, coffee, and conversation.
Sita Cultural Center: A great place to take a class—like cooking or yoga—and meet like-minded individuals. I liked the city bike tours in the morning. It's a great way to get an overview of what you can see in Pondy. 
Read more: Is Pondicherry Worth Visiting? 23 Reasons It Is!
10. Mumbai – Best for City Vibes
Mumbai, the financial capital of India, is a city that never sleeps and is buzzing with energy 24/7. With its mix of high-end malls, street markets, nightlife, and cultural spots, the city offers a range of activities that can suit any traveler's needs. 
The local train system and cabs make it convenient for solo travelers to explore the city.
I was nervous to visit Mumbai, even after traveling India for years. But it didn't disappoint. It has modern skyscrapers next to historic heritage markets. This place is a must-visit! 
Must-See Attractions:
Gateway of India: An iconic monument that's a must-visit.
Marine Drive: Ideal for a sunset stroll.
Chhatrapati Shivaji Maharaj Vastu Sangrahalaya: Offers a peek into India's rich history.
Juhu Beach: Famous for its street food and sunset views.
Hidden Gems:
Sewri Fort: A less-visited historical monument offering stunning views.
Dr. Bhau Daji Lad Museum: Showcases the cultural heritage of Mumbai.
Global Vipassana Pagoda: A meditation hall near Gorai, inspired by the Shwedagon Pagoda in Myanmar.
Where to Stay:
Budget: Backpacker Cowies, Colaba: Centrally located and offers basic amenities at a budget price. This is the neighborhood you want to stay if it's your first trip to Mumbai. 
Mid-range: Abode Bombay: A boutique hotel offering a unique Mumbai experience.
Luxury: The Taj Mahal Palace: One of the most luxurious hotels in Mumbai, overlooking the Gateway of India.
Where to Meet People:
Prithvi Café: A buzzing café adjacent to Prithvi Theatre, perfect for meeting art enthusiasts.
Leopold Café, Colaba: One of Mumbai's oldest restaurants and a great spot for networking.
Ministry of New: A chic co-working space ideal for digital nomads and solo travelers looking to work in a social environment.
Pondicherry and Mumbai offer contrasting experiences but are equally enriching for solo travelers. While Pondicherry provides a serene, budget-friendly escape, Mumbai offers the hustle and bustle of city life, with endless opportunities to meet new people and soak in the culture.
Read more: The Best Destinations if You Have 6 Weeks To Explore India
11. Jaipur – Best for History Buffs
Jaipur, the capital of Rajasthan, is a paradise for those who love history and architecture. Also known as the Pink City, it is part of the Golden Triangle tourist circuit, and its palaces, forts, and colorful bazaars make it a feast for the senses. 
The city is safe, easy to navigate, and popular, which makes it suitable for solo travelers. I recommend staying in a homestay that caters to solo travelers. I met some Rajasthani royalty at the Dera Jaipur. The wife had amazing stories of the history of Jaipur and beautiful pictures in her family room. 
Must-See Attractions:
Amber Fort: A majestic fort with an impressive architectural style.
City Palace: A royal residence with courtyards, gardens, and fascinating museums.
Jantar Mantar: An astronomical observatory that's a UNESCO World Heritage site.
Hawa Mahal: Known for its intricate "Palace of Winds" facade.
Hidden Gems:
Galtaji: An ancient Hindu pilgrimage site featuring temples and natural springs.
Sisodia Rani Garden: A multi-level, quiet garden that's often overlooked.
Chulgiri: A Jain temple offering panoramic views of the city.
Where to Stay:
Budget: Zostel Jaipur: Located in the heart of the city, offering dormitories and private rooms.
Mid-range: Dera Jaipur: Amazing hosts and this place made me feel right at home. The room was spacious and comfortable with big windows and a solid place to work. 
Luxury: Rambagh Palace: A former royal residence turned luxury hotel offering a regal experience. If you are going to spend to stay in a palace, you might as well do it here since Rajasthani palaces are amazing. 
Where to Meet People:
Tapri Central: A tea café popular among students and young professionals.
Bar Palladio: Offers an exotic and luxurious atmosphere, attracting a chic crowd.
Café Samsara: A garden café ideal for those looking for a peaceful place to meet like-minded travelers.
Read more: Best Gifts To Bring Home From India
12. Delhi – Best for Cultural Diversity
Delhi, the capital of India, is like several cities rolled into one. Its rich history spans millennia and diverse culture that includes influences from Hinduism, Islam, Sikhism, and modern Western influences, it offers a vibrant, multi-layered experience for solo travelers.
There's so much to see in Delhi. I recommend a spot near the Metro so you can get around the city easily. I recommended some good places to stay. 
Paharganj is the backpacker neighborhood that is good for younger folks but has some challenges. I recommend a couple other neighborhoods for those wanting a bit more relaxed vibe. 
Must-See Attractions:
Red Fort: An iconic symbol of India's history.
Qutub Minar: A 73-meter high tower that is a UNESCO World Heritage site.
India Gate: A war memorial and a symbol of national pride.
Humayun's Tomb: Another UNESCO site, known for its Mughal architecture.
Hidden Gems:
Majnu ka Tila: A Tibetan colony offering authentic Tibetan food and crafts.
Sunder Nursery: A newly restored park with Mughal-era monuments.
Champa Gali: A hidden lane filled with cafes, boutiques, and art spaces.
Where to Stay:
Where to Meet People:
Kunzum Travel Café: A café where travelers share stories and plans over coffee.
Social, Hauz Khas Village: A café-cum-co-working space that is perfect for networking.
The Piano Man Jazz Club: A popular spot for live music and meeting fellow music enthusiasts.
Both Jaipur and Delhi offer immense opportunities for solo travelers interested in history and cultural diversity. While Jaipur entices with its royal legacy and stunning architecture, Delhi captivates with its blend of old-world charm and modern dynamism.
Read more: Best Solo Trips from Delhi
13. Chennai – Best for Coastal Views
Located on the southeastern coast of India, Chennai (formerly known as Madras) is a bustling metropolis known for its deep cultural roots and scenic beauty. As a solo traveler, you can explore the city's art, music, dance, and culinary scenes, while also enjoying the tranquility and natural beauty of its beaches.
Chennai is a top destination in South India and a quick flight from Delhi. I recommend visiting South India as it's a bit more "small town" than North India and the people are friendlier. 
Must-See Attractions:
Marina Beach: One of the longest beaches in India, perfect for a sunrise or sunset walk. Come in the morning for a quiet beach walk. Go at night to see a fun spectacle with food and horse rides and carnival atmosphere. 
Kapaleeshwarar Temple: An ancient temple dedicated to Lord Shiva.
Government Museum: One of the oldest museums in India with rich archaeological collections.
Santhome Cathedral: A historically significant Christian pilgrimage site.
Hidden Gems:
DakshinaChitra: An open-air museum showcasing South Indian heritage.
Tholkappia Poonga: An eco-park dedicated to the conservation of native plants and trees.
Elliot's Beach (Besant Nagar Beach): Less crowded than Marina Beach, with a peaceful atmosphere.
Where to Stay:
Where to Meet People:
Amethyst Café: Located in a colonial setting, it's a great spot to meet locals and tourists alike.
The Flying Elephant: A bar and restaurant where you can enjoy live music and meet new people.
Café de Belita: A co-working space known for its creative atmosphere.
Read more: Is Bangalore Better Than Chennai?
14. Chandigarh – Best for Modern Architecture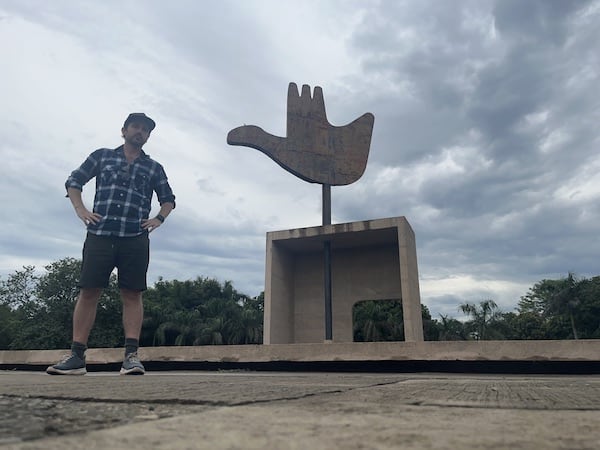 Chandigarh, the capital of both Punjab and Haryana, is unique in being the only planned city in India. Designed by Swiss-French architect Le Corbusier, the city is a treat for anyone interested in modern architecture and urban planning. 
The city is clean, green, and extremely well-organized, making it an easy and safe destination for solo travelers. 
You'll want to check out the architecture and museums for some creative inspiration. While walks by the lake at night are a lot of fun and good places to meet locals. 
Must-See Attractions:
Rock Garden: An open-air exhibition hall featuring sculptures made from industrial and home waste.
Sukhna Lake: A man-made reservoir that's perfect for boating or a leisurely walk.
Capitol Complex: A UNESCO World Heritage site designed by Le Corbusier.
Leisure Valley: A continuum of various theme gardens that run through the city.
Hidden Gems:
Japanese Garden: A serene space divided into two phases, featuring pagodas and waterfalls.
Topiary Park: A small park featuring plants clipped into animal shapes.
Terraced Garden: Known for its beautifully landscaped terraces.
Where to Stay:
Where to Meet People:
Books n Brew: A café perfect for book lovers and remote workers.
Hops n Grains: Chandigarh's first microbrewery, a great place to socialize.
Innov8 Coworking Space: A co-working space that's ideal for networking with professionals and digital nomads.
Chennai and Chandigarh offer two entirely different but equally enriching experiences. Whether you want to soak in the coastal beauty and rich culture of Chennai or marvel at the modernist architecture of Chandigarh, both cities offer unique attractions for solo travelers.
Read more: Best Off-Beat Places To Relax in India
15. Amritsar – Best for Spiritual Quests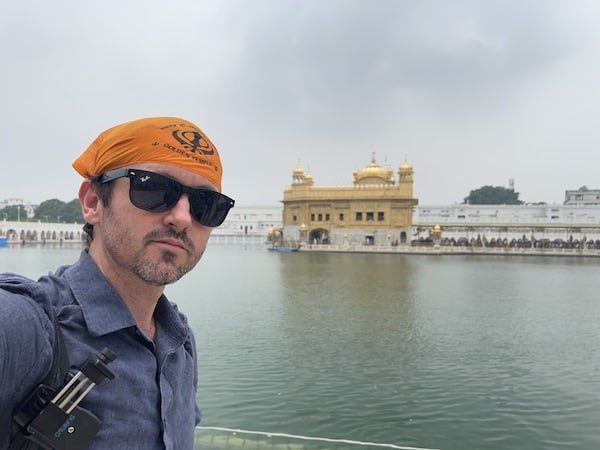 Amritsar, located in the northern state of Punjab, is a city steeped in history, culture, and spirituality. 
Known for the stunning Golden Temple, the city provides a serene and contemplative atmosphere. Solo travelers will find it an excellent destination for self-discovery, meditation, and learning about Sikh history and culture.
You won't need long here, but the Golden Temple is a must-see and the hospitality of the Sikh people is inspiring. Look for a good homestay! 
Must-See Attractions:
Golden Temple (Harmandir Sahib): This iconic Sikh shrine is a must-visit for its awe-inspiring architecture and the peaceful atmosphere.
Jallianwala Bagh: A historical garden and memorial of the tragic massacre that took place in 1919.
Wagah Border: Watch the famous border-closing ceremony between India and Pakistan.
Try the Amtrisar Kulcha. 
Hidden Gems:
Partition Museum: A lesser-known museum dedicated to the history and stories of the Partition in 1947.
Qila Ahluwalia: An ancient fort that now houses markets and offers a panoramic view of the city.
Pul Kanjari: A historical rest stop near Wagah Border, built by Maharaja Ranjit Singh.
Where to Stay:
Budget: Backpacker's Nest: A cozy, economical hostel offering a community atmosphere.
Mid-range: 4N Homestay: Situated close to the Golden Temple, it offers modern amenities.
Luxury: Taj Swarna: An upscale hotel offering world-class amenities and services.
Where to Meet People:
Kesar Da Dhaba: Popular eatery famous for its local cuisine, a place where you can meet locals and tourists.
The Beer Café: A relaxed bar to enjoy a beer and meet new people.
Café Chokolade: A co-working café where you can work on your laptop, enjoy some coffee, and meet like-minded individuals.
16. Mysore – Best for Yoga Enthusiasts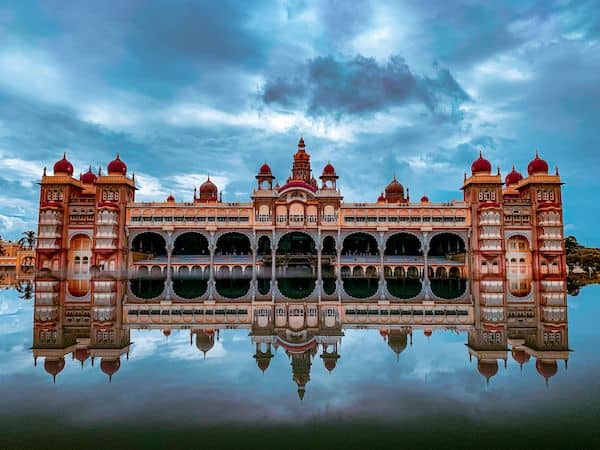 Mysore, in the southern state of Karnataka, is often considered the yoga capital of India. The city's tranquil atmosphere, rich history, and moderate climate make it an ideal place for those who want to delve deeper into yoga or even train to become instructors.
My girlfriend raved about Mysore and the warm community of yogis. It's got some palaces too that are amazing to stroll through. 
Must-See Attractions:
Mysore Palace: A breathtaking historical palace that lights up on Sunday evenings and during the Dussehra festival.
Chamundi Hills: Offers a panoramic view of the city and is home to the Chamundeshwari Temple.
Karani Mata Temple: Popularly known as the Rat Temple, it's unique and worth a visit.
Hidden Gems:
Blue Lagoon Lake: A quiet and less-visited spot for nature lovers.
Rail Museum: Offers an insight into the history of railways in India.
Karanji Lake: A butterfly park and an aviary make this a lovely place for a walk.
Where to Stay:
Where to Meet People:
Depth N Green: A juice bar and café frequented by yoga enthusiasts.
Opium Bar: Great ambiance and a variety of cocktails make this a good place to socialize.
MyBoTree: A co-working space where you can connect with locals and other travelers, ideal for those on workations or in need of productive time.
Whether you're seeking spiritual enlightenment in Amritsar or a healthier way of life in Mysore, both cities offer unique experiences that cater to your needs as a solo traveler.
17. Andaman and Nicobar Islands – Best for Beach Lovers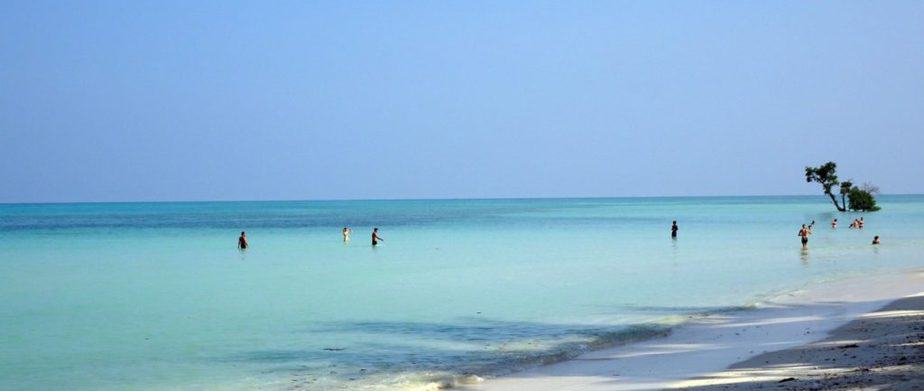 With turquoise blue waters and pristine beaches, the Andaman and Nicobar Islands offer a tropical paradise for beach lovers. It's an excellent destination for solo travelers who want to escape the hustle and bustle of mainland India. Scuba diving, snorkeling, and water sports are aplenty, as are opportunities for island hopping.
Must-See Attractions:
Radhanagar Beach: Often cited as one of Asia's best beaches.
Cellular Jail: Also known as "Kala Pani," it's a colonial-era prison turned museum.
Mahatma Gandhi Marine National Park: For snorkeling and exploring marine life.
Hidden Gems:
Limestone Caves in Baratang: Less visited but stunning natural formations.
Ross & Smith Islands: Connected by a natural sandbar, these twin islands are a must-see.
Mundapahad Beach: A relatively unexplored beach perfect for solitude seekers.
Where to Stay:
Where to Meet People:
Anju Coco: A lively café where you can socialize and enjoy local seafood.
Nico Bar: Known for its beachfront location and excellent cocktails.
Full Moon Café: A cozy place to meet fellow travelers and enjoy homemade food.
Whether you're drawn to the spiritual richness of Rishikesh or the coastal beauty of the Andaman and Nicobar Islands, both destinations offer a treasure trove of experiences perfect for solo adventurers.
Solo Travel in India: Tips and Essentials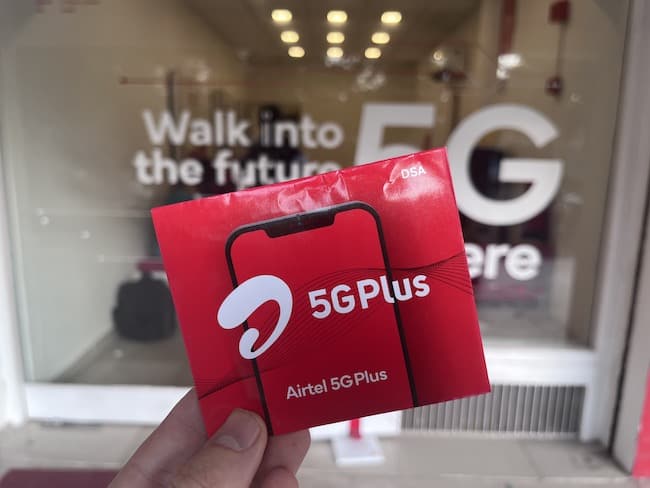 Traveling solo in India can be a life-changing experience, offering an opportunity to discover not just the diverse landscapes and cultures of the country, but also to delve deep into your personal interests and passions. 
However, solo travel does require a bit more preparation and caution, especially in a country as vast and complex as India. Here are some less common tips and essentials that can make your solo journey a more enjoyable and safe experience:
Getting a SIM Card
Having a local SIM card is crucial for navigation, booking transport, and staying in touch. You can purchase a prepaid SIM card at the airport itself. All you'll need is a passport-sized photo and a copy of your passport and visa. Popular carriers include Airtel, Vodafone, and Jio. 
Don't Disclose Your Accommodation
Never tell strangers where you're staying. If someone asks, it's okay to be vague. For instance, you can say you're staying "near the main market" or "close to a popular landmark," without giving away the specific name of your accommodation.
Female Solo Travelers
If you are a solo female traveler, it may be helpful to wear a fake wedding ring and carry a photo of a (real or imaginary) husband, especially while visiting smaller towns or rural areas where local norms may be more conservative.
Act Confident
Even if you're not entirely sure of where you're going or what you're doing, act confident. Walk purposefully and avoid appearing lost or confused, as this can make you an easy target for scams or pickpocketing.
Local Emergency Number
The emergency number for police in India is 100. For medical emergencies, dial 102, and for fire, dial 101. It's a good idea to also have the contact details of your country's embassy or consulate. Store these numbers in your phone and keep a written copy in your bag.
Dress Conservatively
Dressing conservatively is not just about respecting local culture. It can also minimize unwanted attention. This is particularly important in religious places like temples, where modest attire is often a requirement.
Use Registered Transport Only
Always opt for registered taxis or auto-rickshaws. Many cities in India have specific pre-paid taxi booths near train stations and airports. Use these wherever possible.
Trust Your Instincts
If something or someone doesn't feel right, trust your gut and remove yourself from the situation. Don't worry about seeming rude; your safety is the top priority.
Keep Digital and Physical Copies
Keep both digital and physical copies of your important documents like passport, visa, travel insurance, and any prescriptions for medicines you may be carrying. Store them separately from the originals.
Local Language Basics
While English is widely spoken, knowing a few basic phrases in the local language can go a long way, not only in emergencies but also in enriching your travel experience.
Food Safety
To avoid the notorious "Delhi Belly," stick to freshly cooked food and bottled or purified water. Avoid salads or juices from street vendors.
By being prepared and aware, solo travel in India can be a rewarding and enriching experience. Make sure to enjoy the diversity and vibrancy that each region has to offer while taking necessary precautions.
Read more: Using Your Cell Phone in India
Tips for Meeting People and Socializing in India
India is a diverse and culturally rich country, where traditions and modernity coexist. It offers myriad opportunities for solo travelers to meet people and immerse themselves in the local culture. Here's how you can make the most of your solo trip to India by meeting locals and fellow travelers:
Cafés and Coworking Spaces
1. Goa:  Hostel Mandala is not just a hostel but also a community space where travelers hang out, participate in events, and share stories.
2. Bangalore: The Art of Delight, located in MG Road, is not only famous for its delicious desserts but also for its warm ambiance, attracting a young and diverse crowd.
3. Mumbai: Kala Ghoda Café in the historic Kala Ghoda district is a hub for artists, writers, and freelancers, making it a great place to meet new people.
4. Delhi: The Social in Hauz Khas Village is a part café, part co-working space where you can enjoy good food, work, and make connections.
Community Spaces and Events
1. Auroville, Pondicherry: The visitor's center and Matrimandir are great places to meet people who are interested in spirituality, sustainability, and community living.
2. Jaipur: Look out for the Jaipur Literature Festival, usually held in January or February, which attracts a global audience and offers numerous networking opportunities.
3. Kolkata: Join a cooking class or a Bengali literature workshop at the Calcutta School of Music or similar community centers.
4. Chennai: Spaces like the Backyard often host cultural events, workshops, and meet-ups, providing a platform to interact with locals and expats.
Local Events and Festivals
1. Varanasi: The Ganga Aarti held every evening at the Ghats is a mesmerizing experience and provides an opportunity to meet other travelers and locals.
2. Kerala: If you're traveling during August-September, don't miss the Onam Festival. Participate in a community feast known as 'Sadya.'
3. Amritsar: Visit the Golden Temple and partake in the community kitchen ('Langar') where you can meet people from all walks of life.
4. Ladakh: The Hemis Festival, usually in June or July, is a colorful affair that provides a glimpse into local traditions and is a good place to meet like-minded individuals.
Other Tips for Socializing
1. Local Guides: Hiring a local guide for a day can not only enrich your travel experience but also help you understand social norms and make local friends.
2. Language Exchange: Apps like Tandem can pair you with locals looking to exchange language skills, offering you a chance to learn some useful phrases and make new friends.
3. Be Open but Cautious: While it's good to socialize and meet new people, always prioritize your safety. Meet new acquaintances in public spaces and let someone know where you're going.
4. Public Transport: Trains and buses are not just a means to get from one place to another; they are also a good place to strike up a conversation with locals.
5. Join Group Tours: In Kerala, I did a backwater tour and there were a few groups of people from Europe and India. We had fun for a few hours and could have hung out with them more since they were staying in Kochi too.
Meeting people in India is easy if you're open to embracing the country's diversity and rich cultural tapestry. Whether you're visiting a café, attending a festival, or simply exploring, every place offers an opportunity to make new friends and enrich your travel experience.
Read more: Culture Shock in India – Prepare Yourself!
FAQs Related to Solo Trips in India
What is the Average Cost of a Solo Trip in India?
The cost of a solo trip in India can vary significantly based on your travel style, the destinations you choose, and how long you plan to stay. 
Budget travelers can expect to spend as little as $20-$30 per day, covering basic accommodation, meals, and local transportation. 
Mid-range travelers may spend between $50-$100 per day for more comfortable accommodations, dining, and activities. 
For a luxury experience, the sky's the limit, but a budget of $200-$300 per day will cover high-end hotels, fine dining, and private tours. 
How Can I Meet People Traveling in India?
Meeting people on a solo trip in India is relatively easy if you're open to social experiences. Cafés, coworking spaces, and hostels are great places to meet other travelers. Engaging in community events or local festivals can also offer rich opportunities for socializing. Apps like Meetup, Facebook Groups, or even travel-specific platforms can connect you with like-minded individuals.
For a more culturally immersive experience, consider signing up for local workshops or guided tours where you'll not only learn something new but also meet people with similar interests.
What are the Must-Have Apps for Solo Travel in India?
Having the right apps can make your solo travel experience in India smoother and more enjoyable. Google Maps and Ola or Uber are essential for navigation and transportation, respectively. Apps like Zomato can guide you to the best dining options in your area.
For communication, WhatsApp is widely used, and a translation app can be handy for decoding local languages. For accommodations, consider apps like Booking.com or OYO Rooms for quick and reliable hotel bookings.
How Can I Stay Healthy While Traveling Solo in India?
Staying healthy is especially important when you're traveling alone. Stick to bottled or purified water and avoid tap water completely. Be cautious with street food; while it's delicious, your stomach might not be accustomed to the local spices and cooking methods. 
Carrying a basic first aid kit with essentials like antacids, antiseptics, and medication for common ailments can be a lifesaver. Always opt for travel insurance that includes comprehensive medical coverage.
Consult the US State Department website, Australia's government site with travel advisories and your doctor for any vaccinations you may need before the trip.
Final Thoughts
Embarking on a solo journey through India is not just a trip; it's an unparalleled experience that offers enriching moments at every turn. Whether you're a mountain lover heading to Ladakh, a foodie exploring the streets of Kolkata, or a spiritual seeker finding solace in Varanasi, India has something magical to offer for every solo traveler. 
You've learned about a comprehensive list of 17 must-visit destinations catering to different interests and budgets. 
From the picturesque beaches of Goa to the modern architecture of Chandigarh, there is no shortage of places to discover. 
You've also delved into practical aspects like how to get a SIM card, emergency numbers, and safety tips specific to India. Alongside, you've checked out top-notch accommodation and dining recommendations to suit all kinds of travelers. 
Finally, we've shared multiple ways to meet people and socialize, enriching your solo adventure.
If you're still unsure where to start, my personal recommendation would be Varanasi for its incredible spiritual ambiance and cultural richness. For meeting people and enjoying a social atmosphere, Goa is hard to beat. 
If you're looking for a mix of work and leisure, consider a workation in Bangalore's bustling tech scene. 
Always remember, your trip is what you make of it, so choose destinations and activities that resonate with your own interests and passions.